A coffee table is that one last piece of the puzzle that can either make or break the aesthetics of your living room. Your table of choice will not only compliment your room's setting but also enhance it by being the centre of attraction.
Of course, this depends on how you prefer to use your coffee table, either place it in your living room or place it in an open area like a patio to enjoy your evening tea. The shape and size of the table will also differ depending on how many people you plan to host if you need extra storage space to keep books, magazines, etc.
Each table is meant for a different purpose and you must ascertain that before making a purchase. Below mentioned is a list of top 10 best coffee tables in India that you should consider buying.
Best Coffee Tables in India
1) Corazzin Wood Square Coffee Table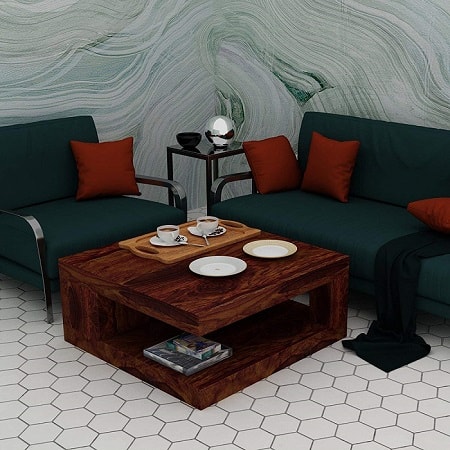 Pros:
1) Unlike many other tables in this range, this one is primarily made out of Sheesham wood while solid wood is also used.
2) This is possibly one of the most versatile tables in this list as it can be used in your living room or in a separate area where you prefer to have a silent moment with a cup of coffee.
Also Read : Best Coffee Grinders in India
3) It includes an unorthodox design which leaves quite a lot of space toward the bottom for keeping your books or anything else.
Cons:
1) Portability will be an issue if you plan to move the coffee table around.
2) Also, this particular table isn't suitable for placing in an open like a garden while its design is best suited for indoor use.
Check Price : Amazon
---
2) DriftingWood Sheesham Wood Andy Coffee Table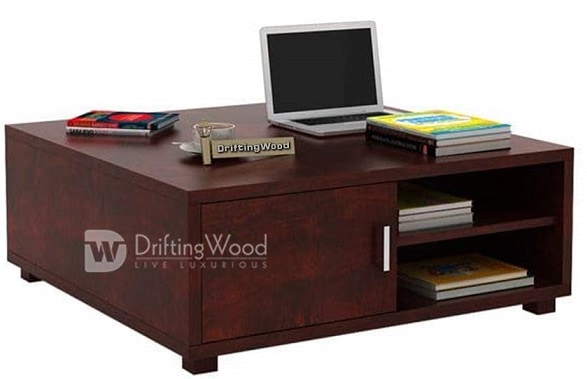 Pros:
1) Built using premium materials, it is hard to find a better coffee table in this price range.
2) This elegant table not only looks good but also offers a lot of features to make it stand out.
3) For starters, there are two open and two closed shelves on either side of the table giving you ample space to store all your books.
Also Read : 10 Best Office Chairs in India
4) The table is fairly large and is made out of Sheesham wood and has a mahogany finish.
5) Some basic assembly will be required and all the instructions are included in the box.
Cons:
1) You will get a conventional design with this table, which isn't a bad thing, but there could be a better design at this price.
2) The price is a little higher than our top coffee table option, though not exorbitant.
Check Price : Amazon
---
3) Crystal Furnitech Avia Coffee Table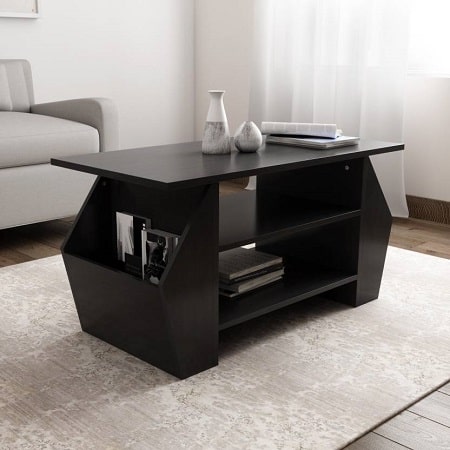 Pros:
1) This coffee table from Crystal is designed to house a host of your books, magazines, and other table accessories.
2) Aside from a couple of spacious shelves below the table top, you will find two more vertical spaces that are meant to hold all your reading material.
Also Read : 10 Best Table Fans
3) The two side bins are made with an angular design that helps them offer some extra space on the inside.
4) Overall, the table has an elegant textured finish in wenge colour which will make it stand out.
5) This table will require assembly which will be provided by the company itself so that you can have a peace of mind.
Cons:
Not everyone prefers to have their furniture made out of engineered wood.
Check Price : Flipkart
---
4) Ikiriya Solid Wood Coffee Table with 4 Stools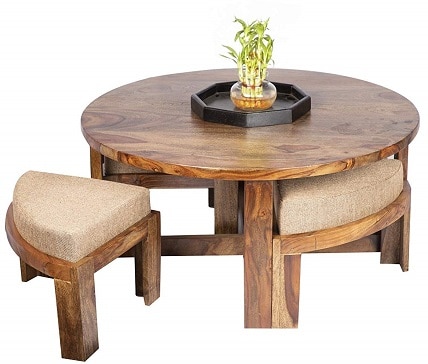 Pros:
1) For the people looking for a coffee table for their patio will find this one from Ikiriya best suiting their needs.
2) It has the perfect size for being placed in a veranda and the best part is that the table also includes four cushioned stools that fit inside the table itself.
Also Read : 10 Best Printers For Small Business and Home
3) Both the table and stools are made out of solid wood and do not require any kind of assembly before using them.
4) The fit and finish of the table is excellent and is non-compromising.
Cons:
The pricing of this centre table or coffee table may out of budget for most. Apart from this, there isn't any space, other than the table top, to keep your newspapers and magazines.
Check Price : Amazon
---
5) DriftingWood Sheesham Wood Liddle Coffee Table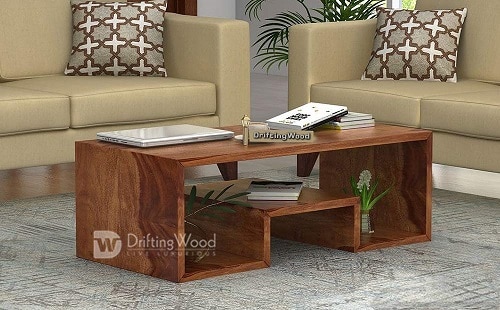 Pros:
1) Minimalism is something this table strongly stands by as it comes with a contemporary design unlike any other table in this category.
2) As far as shelves are concerned, almost all the space under the tale is accessible and is divided into three parts to make it easy for you.
3) The company has used Sheesham wood and has given the table a finish that speaks for itself.
Also Read : Best Indoor Security Cameras
4) For having a cup of coffee while reading or for working on a laptop while sitting comfortably on the floor, this table is for everything.
Cons:
If you are looking something to keep in the open, then this wouldn't solve your purpose. Also, you won't find any closed shelf in this table.
Check Price : Amazon
---
6) Flipkart Perfect Home PureWood Sheesham Coffee Table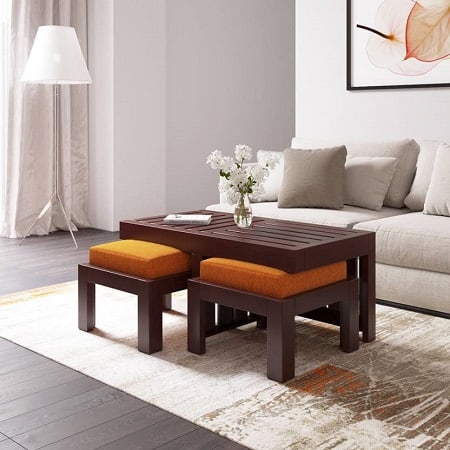 Pros:
1) Built-in seating is something that not many coffee tables usually offer but is great to have and this table from Flipkart does offer.
2) Made out of pure Sheesham wood, the table and the stools are sturdy and are designed to have a long life.
3) Both of them have a smooth mahogany finish and have soft cushions for the seats.
Also Read : 10 Best 4K Monitors in India
4) They come pre-assembled and will be ready to use when they're delivered at your convenient time.
Cons:
1) Ideal for a couple of people or to be placed in small rooms, this coffee table may look off if you plan on using it in a central location or in a large room.
2) There isn't any storage below the table top as the space is used for stools.
Check Price : Flipkart
---
7) Flipkart Perfect Homes PureWood Sheesham Coffee Table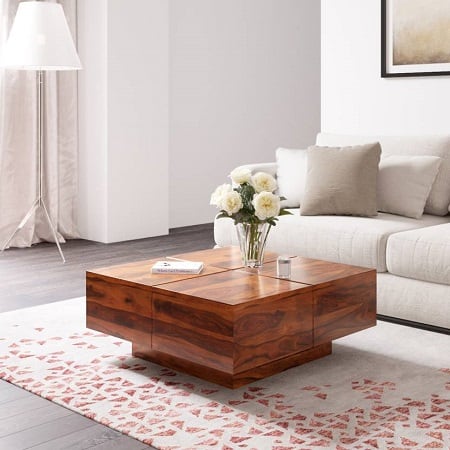 Pros:
1) A perfect union or sophistication and elegance is portrayed by this table which comes with a contemporary design that is sure to grab some attention from your visitors.
2) Coming from Flipkart, you can stay assured of the product quality and after-sales support.
3) The coffee table is made from Sheesham wood and has a teak finish which looks absolutely fantastic.
Also Read : Best Wi-Fi Routers Under Rs. 1,000
4) This modern table will be delivered to your place in an assembled state and you wouldn't be required to do any assembly work.
Cons:
1) All the space under the table is wasted as the designer hasn't offered any storage space despite having ample to offer.
2) Moving it around wouldn't be easy as it lacks wheels for easy movement.
Check Price : Flipkart
---
8) VK Furniture Sheesham Wood Foldable Coffee Table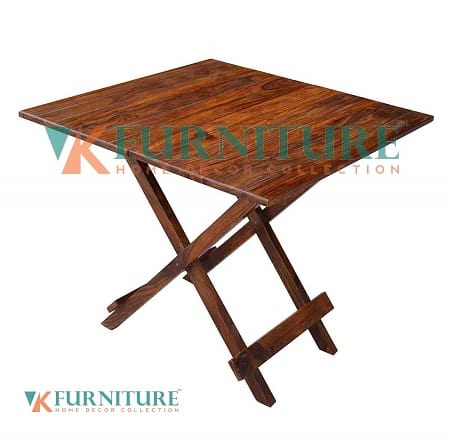 Pros:
1) Made using the best quality Sheesham wood, this table is designed to least a really long time.
2) The best part about this coffee table is that you can fold and move around with ease, which would otherwise be a cumbersome process without any folding capabilities.
Also Read : 5 Best Espresso Coffee Machines
3) Given its compact size, you can use it as a corner table or place it in a patio for having that perfect afternoon tea.
Cons:
1) Repeated folding and unfolding may lead to damaging the product, so should moving it around too often.
2) Plus, the size of the table is not too big and you must keep your particular need in mind before getting this one.
Check Price : Amazon
---
9) Urban Ladder Altura Solid Wood Coffee Table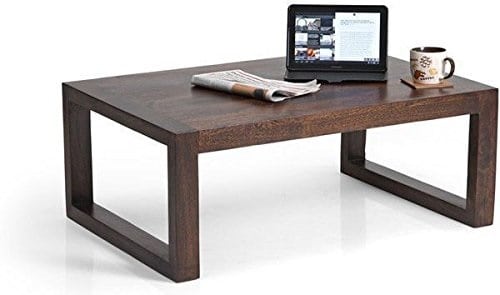 Pros:
If sophistication and minimalism is something you strongly favour then you will definitely like the coffee table from Urban Ladder.
This simple yet elegant-looking table is versatile enough to be placed anywhere and if you like sitting on the floor while having a cup of coffee, while reading, or to work on your laptop then this table would be even better.
The company has made this table out of solid mango wood and has a walnut finish which further adds to the table's looks.
Cons:
Its pricing may seem on the higher side especially since it doesn't offer anything more than a basic table. There is no storage space below the table and all you get is the table top.
Check Price : Amazon
---
10) Cello Orchid Centre Table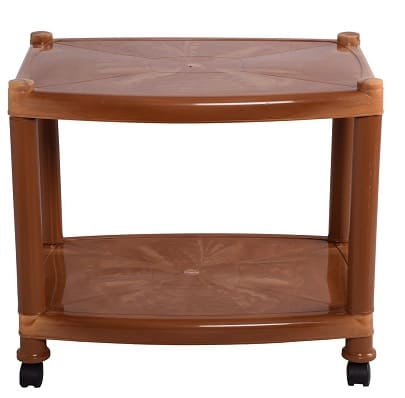 Pros:
1) On a tighter budget, a plastic table can prove to be an economical solution that will fulfil your needs adequately.
2) Cello, as a brand, is known for its great plasticware and this table wouldn't be an exception.
3) You are also getting rotatable wheels on all four legs which will make it easier to move around.
4) Plastic not only makes the table lighter but also makes it resistant to any kind of corrosion or water damage, while you can clean it equally easily.
Cons:
Plastic isn't the strongest material to make a table with. This plastic table isn't the best-looking one around and wouldn't add anything aesthetically to your room.
Check Price : Amazon
---
Also Read:
1) Top 10 Best Electric Storage Water Purifiers
3) Top 10 Best Storage and Instant Geyser Water Heaters
4) Top 10 Best Water Filter Pitchers in India