Searching for the best water purifier in India ?
Search No More !!
In this modern world, people fall sick for what they had instead of what they didn't. Water is an essential nutrient for our body and if that is contaminated, then it would cause multiple organs to malfunction at the same time. For a healthier life, one must ensure that the drinking water in their house is in its cleanest possible state.
When you head over to the market, you'd find a lot of water purifiers that might or might not fit your needs. Here, we have created a comprehensive list of all the purifiers that you can get one for yourself and your family.
Best Electric Storage Water Purifiers in India
1. Kent Grand Plus TDS 8L RO + UV +UF Water Purifier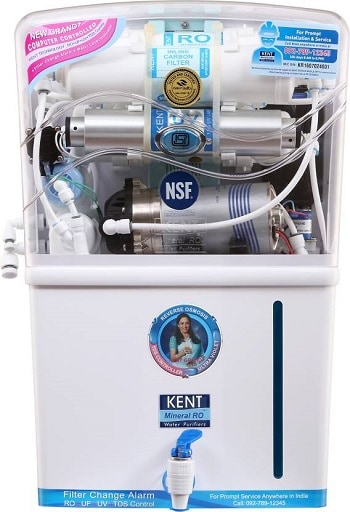 1) For the Indians, Kent is a household brand when it comes to water purifiers.
2) Their Grand Plus water purifier comes some of the most sophisticated technologies to provide you with the purest water possible.
3) It has a transparent upper body that shows you all the machinery that works to give your clean water.
4) As a storage water purifier, this product from Kent can hold up to 8 litres of water and has a filtration capacity of 15L/hr.
Also Read:

1) Best Current Mixer Grinders
5) The company has used food grade plastic for making the storage tank so that the water stays pure inside.
6) It uses RO, UV, and UF filters for cleaning the water also has built-in SMPS too keep itself safe from voltage fluctuations.
Check Latest Price : Amazon
---
2. Livpure LIV-PEP-PRO-PLUS+ 7L RO + UV +UF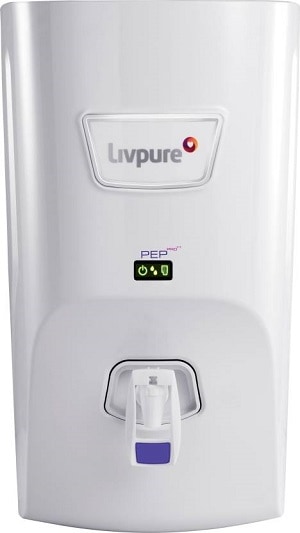 1) Coming from a relatively newer company in the space, Livure has become one of the market leaders.
2) It has a modern and urbane design that will compliment your kitchen. There is a convenient tap that is designed for single-handed usage to add to your convenience.
3) With that, another convenient feature is the indicator panel that shows when the purifier is on, in the process, or when the tank is full.
4) This purifier from Livpure uses the best technology available in the market, including RO, UV, and UF for water purification.
Also Read : Best Ceiling Fans
5) The storage capacity of the machine is 7 litres and it can clean 12 litres of water in an hour.
Check Latest Price : Amazon
---
3. Kent Ace Mineral RO TM 7L RO + UV +UF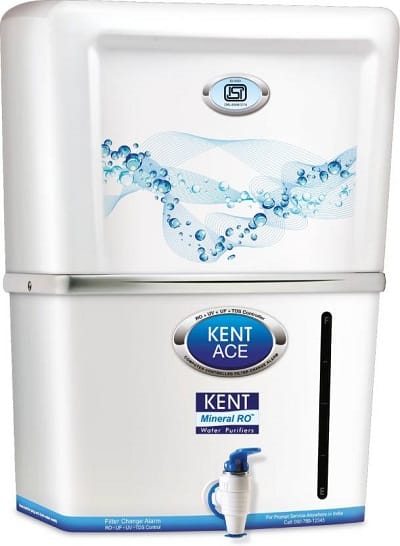 1) There are chances that you want a smaller purifier but don't want to compromise on the brand.
2) Kent has a perfect solution for you with their Ace Mineral water purifier that has a storage capacity of 7 litres.
3) Moreover, the top portion of the purifier is closed, and you can't see anything inside it like other Kent products.
4) However, there is an indicator window to check the water level in its tank.
5) For its operations, the purifier uses the best of Kent's technology to deliver you the cleanest possible water.
6) Its computer operated 11W UV lamp along with RO and UF work together to achieve that level of cleanliness.
7) Its leak-proof design and built-in SMPS make the deal even better.
Check Latest Price : Amazon
---
4. Blue Star Majesto 8L RO + UV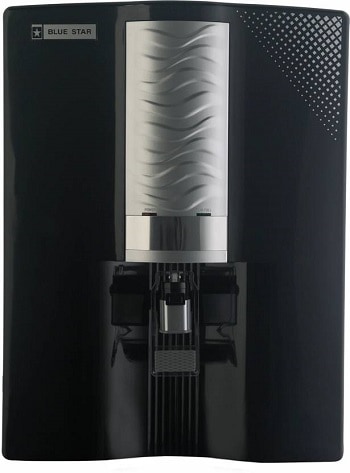 1) Better known for its air conditioners, Blue Star now also makes quality water purifiers.
2) The company has surely taken care of the aesthetics of its products as this water purifier is made available in three different colour combinations that you can choose to suit your kitchen.
3) It uses 6-stage purification process that includes double layered RO+UV protection for delivering cleaner water.
4) It has a tank full indicator along with child lock to prevent any wastage of the stored water.
5) While the internal storage of the water purifier is 8 litres, the machine comes with a purification capacity of 285 litres in a day.
6) With the product, the company offers a year of warranty.
Check Latest Price : Amazon
---
5. Livpure Magna 11L RO + UV +UF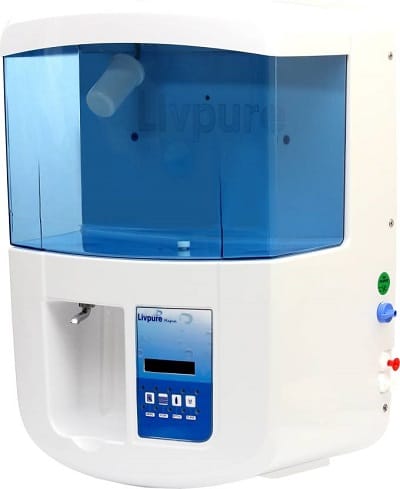 1) The people looking for a larger water purifier with storage can stop here and have a look at this one from Livpure.
2) Though it comes with a conventional design, it can hold up to 11 litres of water, which is much more than any of the water purifiers mentioned above.
3) The water tank is also transparent on this machine so that you can clearly see through it.
4) To give you more convenience, the company has included a touch panel to operate the purifier.
5) It uses a 6-stage filtration process with RO, UF, and UV for clean and safe water for your family.
6) This is an online exclusive-only product and can be purchased from Flipkart only.
---
6. Aquagrand EPIC 17L RO + UV + UF + TDS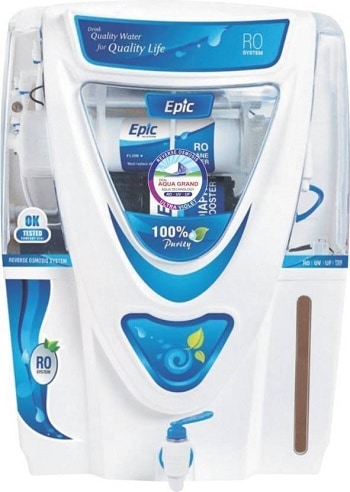 1) Aquagrand has an offering in the budget segment that offers quite a large water storage capacity of 17 litres.
2) This is an ideal storage size for the ones having large families and need to refill the water purifier multiple times in a day.
3) With this product in place, you can get rid of all that hassle. There are see-through portions on the front that let you see the inside of it.
4) Like most of the modern water purifiers, you get the water purified using RO, UV, UF, and TDF filters.
5) With all these technologies, you can expect the machine to keep the water perfect for your drinking.
6) You will be getting a year of warranty with this product.
Check Latest Price : Amazon
---
7. Kent Maxx 7 L UV + UF Water Purifier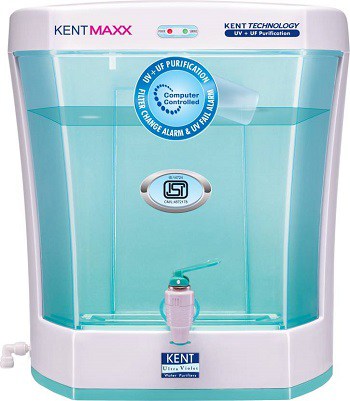 1) This one from Kent is an inexpensive solution for your water purification needs and it gets the job done pretty well.
2) This model doesn't work on RO technology, but it has UV and UF to keep you safe from the microorganisms that might dwell in your drinking water.
3) Moreover, being a Kent product, you can rest assured for its quality.
4) Over at the front, there is a large see-through panel that lets you see the large storage tank that has a capacity of 7 litres.
5) The water purifier can itself clean up to 60 litres of water in an hour.
6) The company has also included the alarms for filter change and in case UV lamp fails. This will keep you from drinking unsafe water.
Check Latest Price : Amazon
---
8. Eureka Forbes Smart UV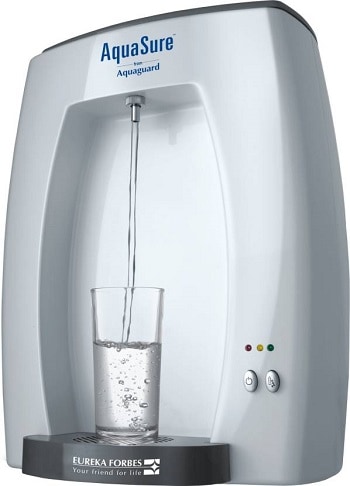 1) Over the past many years, Eureka Forbes has been known as one of the biggest water purifier brands in the country.
2) Their smart UV filter is a bit different product from the rest of them mentioned in this list.
3) For starters, it uses just a UV lamp to get rid of the microorganism in the water, which makes it much thinner and lightweight.
4) The flow rate on this machine is quite impressive as the company claims it to be 2 litres per minute.
5) Its activated carbon filter ensures even better cleaning of the water.
6) Plus, there is a holder tray where you can keep the glass to fill and you don't need to hold it for the time being.
Check Latest Price : Amazon
---
9. Blue Star Majesto 8 L RO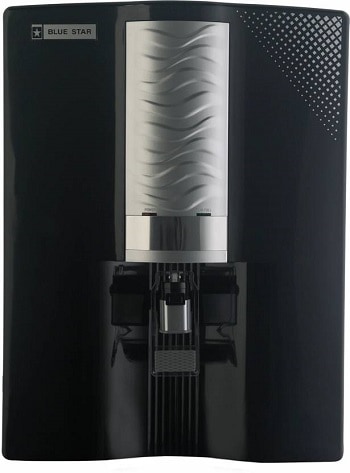 1) Similar to the one mentioned above, Blue Star has yet another purifier in this list that is perfect for all kinds of needs.
2) In terms of design, this one looks exactly the same as the previous but there is a difference of technology used and price.
3) With all the core add-ons from the company still intact in this machine, you can the water purified through RO.
4) With its storage capacity of 8 litres, the purifier itself is made out of high-quality ABS plastic that keeps the water from contaminating.
5) The 6-stage water purification, child lock, and full tank indicator still come standard as features on this one, too.
Check Latest Price : Amazon
---
10. Eureka Forbes Aquasure Aqua Flo DX UV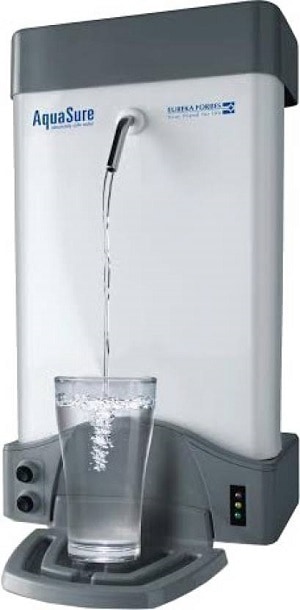 1) Being one of the biggest names in the industry, Eureka Forbes has products across all price segments to please a wider customer base.
2) This water purifier from the company has a rather traditional look and uses UV lamp to clean the water.
3) It uses dual cartridges to double the protection of the water you drink.
4) There is an auto turn off feature for the UV lamp which turns it off after 10 minutes of idle time, thus, saving some energy.
5) Voltage stabilizer comes built right into it and has a glass holding tray to keep your glass while they are being filled.
6) This one, too, has a water flow rate of 2 liter per minute.
Check Latest Price : Amazon
---
Also Read:
10 Best Budget Cool Mist Room Humidifier in India
Best Table Top Wet Grinders in India
Top 10 Best Current Mixer Grinders in India