Unlike adults, kids need entirely purposefully designed headphones that particularly suite their unique needs. The kids' headphones are generally smaller in size for obvious reasons and are also made out of more durable materials to avoid being damaged easily.
As the physicians prescribe, these headphones should limit their maximum audio output to 85dB in order to protect the sensitive ears of children.
Popular audio brands make headphones especially for kids and you can get them in plenty of colourful designs to please the juniors. Below mentioned are some of the best kids headphones that you can buy currently.
10 Best Kids Headphones in India
1) JBL JR300BT Kids Wireless On-Ear Headphones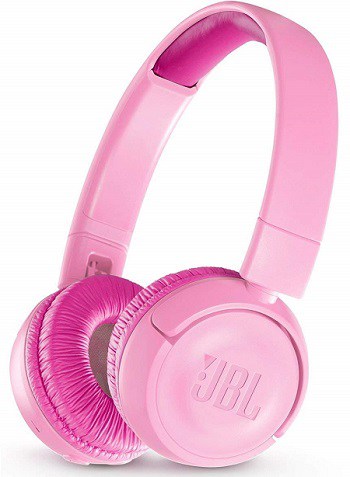 Pros:
1) Made available by JBL, you can expect the signature JBL sound quality from this headphone for kids.
2) The ear cushions are quite large and soft, so is the headband, for a comfortable experience for much time.
3) This is a Bluetooth headphone and offers a battery life of over 12 hours, which should last at least 10 days considering the recommended 1-hour daily usage for kids.
Bluetooth Earphones Under Rs. 1000
4) It is designed for kids and has its maximum volume capped at 85dB, which is also recommended for young kids.
Cons:
1) This model is currently available only in pink colour which may not be preferred by some kids.
2) JBL does offer it in the blue colour option but it isn't as easily and readily available.
Check Price : Amazon
---
2) iClever Kids Wired On-Ear Headphones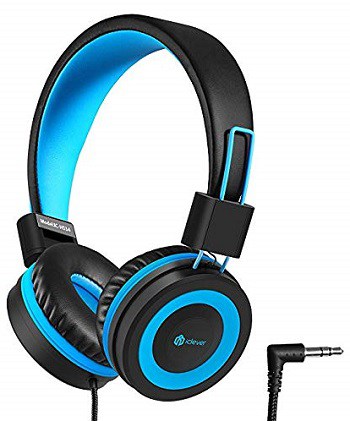 Pros:
1) These headphones with a bright blue colour are sure to visually impress your child.
2) The young ones aren't always careful with their things, that's why the company has made this product extremely flexible allowing them to withstand rough use.
3) From headband to the ear pads, everything is cushioned and the headphone uses the standard 3.5mm jack enabling connectivity with a range of platforms.
​​​​​In Ear (IEM) Headphones Under Rs.1500
4) Design specifically for kids, these headphones will aptly fit your child and are relatively lightweight.
5) Plus, they have their audio output limited, keeping your child's health in check.
Cons:
1) Wired headphones aren't always as convenient as their wireless counterparts.
2) Since this isn't from a popular brand, you may have a hard time if something goes wrong.
Check Price : Amazon
---
3) JBL JR300 Kids Wired On-Ear Headphones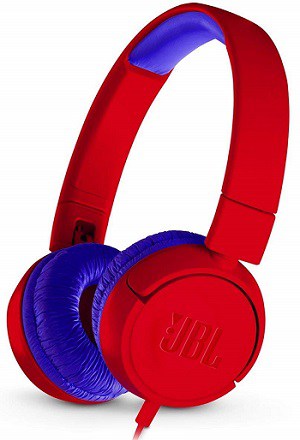 Pros:
1) If for some reasons, the Bluetooth headphones from JBL above didn't interest you, then the company also offers their wired option.
2) Offering the same JBL's signature audio output, these headphones come with bright red and blue exterior and are made out of durable plastic that'll last for really long.
3) Their foldable design means you can carry them around in small bags.
Wireless Headphones Under INR 2000
4) Besides offering an extremely comfortable fit, the headphones come with JBL Safe Sound to keep the volume level within the prescribed limits.
5) If getting a refurbished item wouldn't bother you, then you can save more than half the headphone's price by going for that option.
Cons:
1) For a wired headphone for kids, this product appears pricier than the competition.
Check Price : Amazon
---
4) Mpow Kids Wired On-Ear Headphones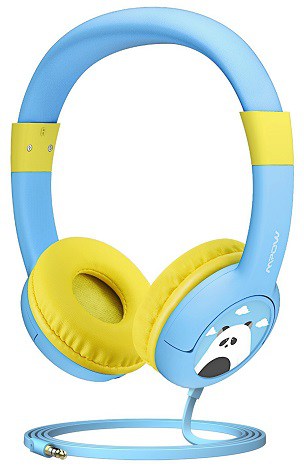 Pros:
1) Coming from a growing brand like Mpow, the headphones are designed to offer a great experience your kids of age 3 and up.
2) For starters, it has a really fun blue and yellow colour scheme and the headphone itself is designed to fit kids while also ensuring their health by keeping the loudness in check.
3) An interesting feature included is Share Interface that allows the headphone user to share the audio with another user over a wired connection to another headphone.
4) Wires and other plastic are food-grade is sturdy enough to last a really long time.
5) The company offers a warranty of 18 months.
Cons:
1) This particular model of headphones from Mpow is available only in a single colour option.
Check Price : Amazon
---
5) iClever BoostCare HS01 Kids Wired On-Ear Headphones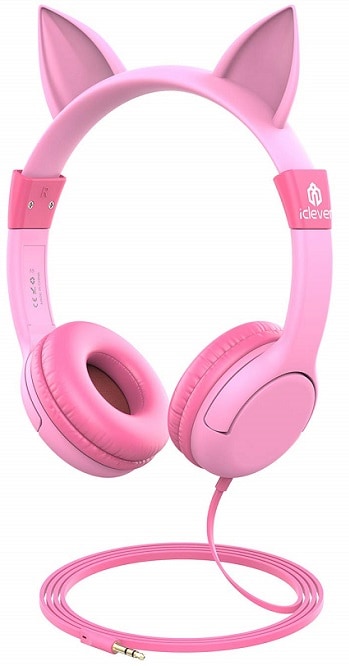 Pros:
1) Given your kid likes this headphone, the iClever HS01 is probably one of the best headphones available for kids currently.
2) Like the other model in this list, this one too comes with a flexible body that will be really hard for your kid to break.
3) Every part is made out of soft material and the headband is adjustable to allow comfortable wearing experience.
4) Kids as little as of 3 years of age can wear this and its audio output is limited to 85dB to keep them safe.
Cons:
1) None
Check Price : Amazon
---
6) Qushar Kids Wired On-Ear Headphones
Pros:
1) Made out of durable and high-quality materials, this headphone will last for a really long time even if your child is a little rough with them.
2) Even the cable attached to these headphones is of premium quality being nylon braided making it strong and tangle-free.
3) The earcups are entirely adjustable to fit your junior perfectly and they can also be folded inward to store it in tight spaces.
4) Both the earcups and headband are adequately padded for the added comfort.
Cons:
1) The seller imports this headphone from outside India so you shouldn't expect any kind of after-sales support or warranty.
2) This headphone won't work for younger kids of age below 8 years.
Check Price : Amazon
---
7) MEE Audio Kidjamz 3 Kids Wired Over-Ear Headphones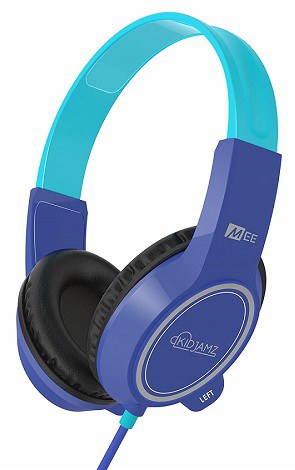 Pros:
1) Giving comfort the paramount importance, MEE has made this headphone with a pair of over-ear cups that sit comfortably around your kid's ears which allows them to use the headphones for long.
2) There is a concealed switch included to raise the volume level for listening in a noisy environment.
3) The cable included is high-quality and tangle-free and comes with a 3.5mm jack ensuring compatibility with a range of devices.
Cons:
1) Durability of this headphone is nothing to write home about.
2) If you want your child to use this headphone on a flight then the sound output may not be adequate to be audible over the loud engine buzz.
Check Price : Amazon
---
8) Festnight EP05 Kids Wired On-Ear Headphones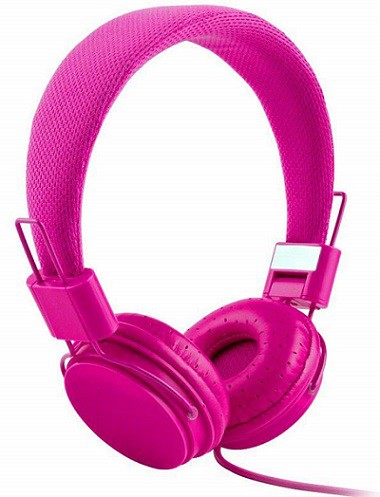 Pros:
1) Available in a range of colour options, your kid is sure to find the one he or she likes the most.
2) The headband, in particular, comes with a thick cushion covered with a soft, perforated fabric.
3) The earcups move up and down to adjust according to the wearer and offer a snug fit while also being foldable.
4) It uses the standard 3.5mm headphone jack and the cable measures 3.6 feet in length.
Cons:
1) Just like the other headphone mentioned above, this one too is an imported product and wouldn't come with any kind of manufacturer or seller warranty and after-sales support.
2) The headphone is designed for both kids and adults so it might not fit young children and also doesn't have the 85dB loudness cap.
Check Price : Amazon
---
9) ONOTIC Kids Wired On-Ear Headphones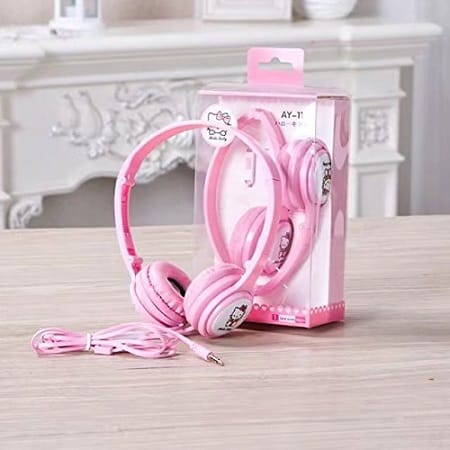 Pros:
1) To start with, you will find a good quality flat cable that doesn't tangle as easily as a normal cable, which is a plus for this budget headphone.
2) The cable itself is 120cm long which should be sufficient for most normal use cases for kids.
3) Another good thing about this headphone is that you can almost entirely fold it to be carried around in tight spaces.
4) The audio quality is quite appropriate, especially for the asking price.
Cons:
1) The audio sensitivity or the loudness isn't capped at 85dB which is the prescribed maximum limit for kids, instead, it goes up to 105dB.
2) It comes with just a month of warranty and is available only in a pink colour option which isn't preferred by everyone.
3) There isn't any padding on the headband.
Check Price : Amazon
---
10) Philips SHK1031 Kids Wired On-Ear Headphones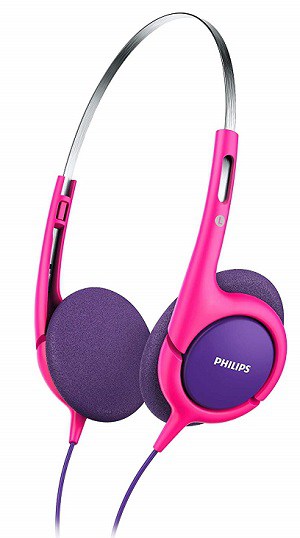 Pros:
1) If you fear that your junior might break their all-new headphones in a couple of days then you can get this headphone as it comes with a steel rim that wouldn't break as easily.
2) This headphone from Philips is ultra-lightweight which shouldn't be a burden for your kid's head.
3) Coming from a brand like Philips, you can rest assured when it comes to warranty and support.
4) The headphone limits the maximum audio to 85dB as it is meant for children.
Cons:
1) This model from Philips is a very basic headphone for kids and offers minimal features. Its size itself is quite small and is ideal only for younger children.
2) The audio quality leaves a lot to be desired even though it is one of the cheapest products out there.
3) Neither does it impress on the comfort side for its lack of a cushioned headband and proper earcups.
Check Price : Amazon
---
Also Read:
1) Top 10 Best iems Under Rs. 5000
2) 10 Best Over Ear Headphones Under Rs. 1000 in India
3) Top 10 Wireless Bluetooth Over-Ear Headphones Under Rs. 3000