What is a Dishwasher?
As the name suggests, a dishwasher is a mechanical device that cleans dishes and utensils. A dishwasher removes soiling from your dirty cutlery through cleansing, spraying hot water, rinsing and drying, all with a touch of a button.
Why use Dishwasher?
If you want to give yourself a break from doing the dishes or if you are too tired of the tantrums put by your maid, then dishwashers could be your life saviour!
Here are some of the reasons for which you should consider buying a dishwasher:
1) Automatic dishwashers are more water efficient than regular hand wash.
2) It's effortless and time saving, so that you can concentrate on more important works!
Also Read: 1.5 Ton Window Air Conditioners
3) Kills germs and bacteria very efficiently.
4) Its environment friendly and budget friendly.
5) Reduces stress, especially during parties and events.
Things To keep in Mind While Buying a Dishwasher
Some of the common thoughts before buying a dishwasher include queries like: How frequently you are going to use the dishwasher?
Do you intend to run smaller or bigger loads? Do you need a portable or a built in dishwasher? Etc.
However, more than anything else, here are some of the things that you ought to take into consideration before buying a dishwasher:
Installation:
Before you buy a dishwasher, it's important to redo your counters. Most dishwashers are designed to fit into a 35×24 inch cavity. Portable and Free Standing dishwashers requires hassle free installation. Always opt for a professional/ company provided installer.
Technical Specifications:
1) Noise levels should preferably be between 40-50 dB
2) Types of Racking: Third racks, Adjustable or Removable racks or Silverware caddies.
3) Specialized cleaning systems: sanitization cycle, steam cleaning, glass care cycle and extra clean cycle.
Also Read : 10 Best Air Coolers in India
4) To reduce energy usage, look for efficient features like soil sensors, half load options, drying cycles and speed or eco wash cycles.
5) Energy and water saving considerations.
Warranty and Customer Service:
Most companies provide a warranty of 2 years on product.
Types of Dishwashers
Besides variations in technical specifications, the dishwashers come in various finishes and types. The most popular finishes are: stainless steel, glossy and matte.
A dishwasher can be of a standard size of 18" (6-8 place settings) or 24" (12-14 place settings). 12- 14 place settings dishwashers can have a standard size of 60 cm width, 82 cm height and 60 cm depth, and is sufficient for 4-6 people. Here are some of the types of dishwashers that you can install in your kitchen:
Free standing dishwashers ( portable)
Fully or Semi- integrated built in dishwashers ( Not portable)
Best Free Standing Dishwashers in India
1 Bosch Free Standing 12 Place Settings SMS60L18IN
This is the best dishwasher available !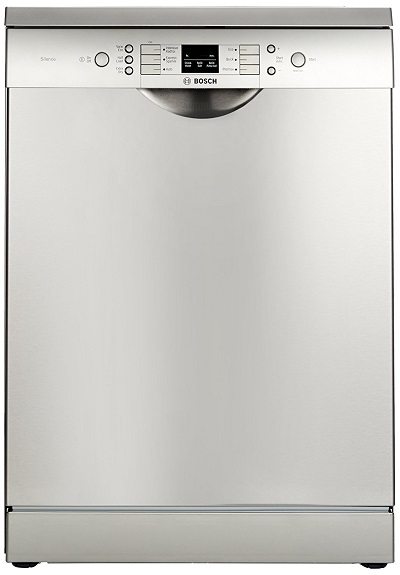 This unit is best known for its hygienic cleansing, electricity saving and automatic program features.
Also Read: 1 Ton Split AC in India
With 100% lifetime guarantee against water damage and glass protection technology, the Bosch Free Standing dishwasher is going to be your sturdy kitchen aid for years to come.
Exclusive Features:
Eco Silence Drive with top shower, aqua sensor and load sensor.
6 wash programs: Intensive kadhai, Auto, Express Sparkle, Eco, Quick and Pre Rinse at different temperature range.
Inner-tub made of stainless steel/ Polinox.
Time Delay feature for 1- 24 hours.
With 70oC water heating capacity, each wash kills 99.9% germs and bacteria.
Pros:
Effortlessly cleans super greasy stains including those of masalas, curries and milk.
Eco Silence Drive feature helps save electricity (1kW energy consumed per use).
No need to pre- rinse vessels.
10 years rust through warranty of dishwasher's inner tub
Cons:
Not suitable for non-stick, hard anodised or aluminium containers.
Installation from Bosch may take upto 5 – 6 days.
Check Price : Amazon
---
2 IFB Neptune VX Fully Electronic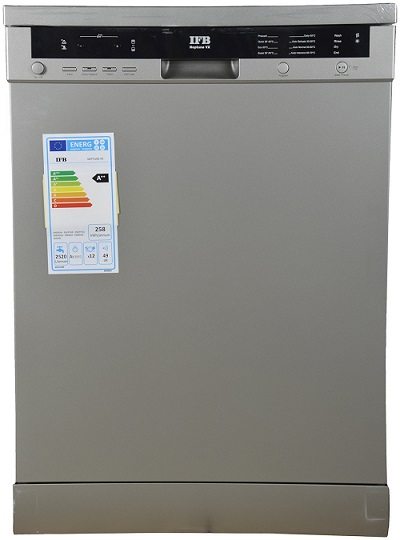 IFB Neptune VX is the perfect pick for those who use dishwasher on a regular basis, thanks to its energy efficiency of 0.9 kWh.
Also Read : 10 Best Air Coolers Under Rs. 6000
The Jet wash mode can help you clean the comparatively less dirty utensils like tea and coffee mugs in a short and efficient manner within flat 18 minutes.
Exclusive Features:
Water softening device (up to 60dh) optimizes detergent usage.
Flexible half load mode and adjustable racks for custom space.
Energy efficiency with A++ rating.
Only 9L water consumption
9 washing programs: economic, hygiene, normal, pre- wash, quick, super, auto delicate, auto normal and auto intensive at different temperature range.
Pros:
Energy saving dishwasher.
4 shelves of upper rack and adjustable racks provide better loading capacity.
Jet washer mode helps to do away with less greasy utensils in a jiffy.
Cons:
IFB official detergents are a little costly.
Check Price : Amazon
---
3 Bosch Free Standing 12 Place Settings (White) SMS60L12IN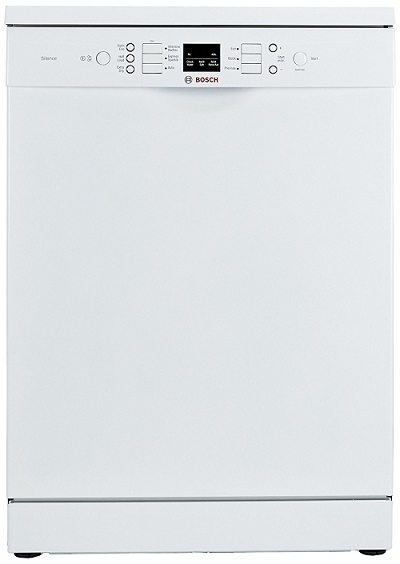 Quite similar to the Bosch's Silver inox variant in features, the Bosch Free Standing 12 Place Settings Dishwasher (White) is comparatively a cheaper option.
Also Read : 10 Best Rated Split Air Conditioners
Compared to the steel body in 18IN, this one comes in a white painted body and has higher water consumption in Eco Mode. Additionally, the lower tray holds the dishwasher tablet dishwasher mechanism in 18IN.
Exclusive Features:
6 programs: Intensive Plus, Normal Express, Auto, Eco, Party and Pre Rinse at different temperature ranges.
Special Options: Half Load and Vario Eco
Childproof Control Lock.
2 years warranty on product and 10 year warranty against rusting on inside of tub.
Pros:
With minor technical differences, it is much a cheaper option than the Bosch's silver inox version.
Low noise level.
Load Sensor and Half load option automatically detects the size of the load and subsequently manages water and electricity consumption intelligently.
Cons:
Short Power cord
Filter is quite fragile so take extra care to avoid damage.
Check Price : Amazon
---
4 LG Free-Standing 14 Place Settings Dishwasher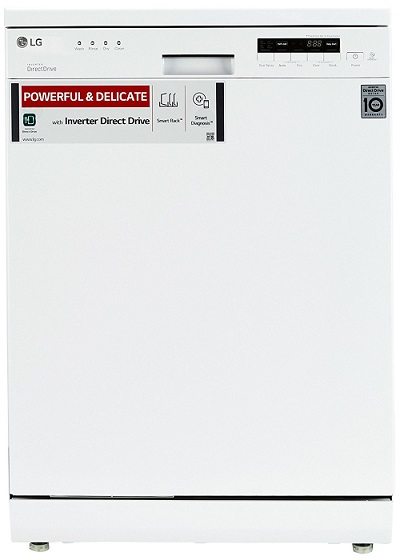 If you are looking for more usable space in a compact design, then this unit might be the answer for you. Thanks to the Invertor Direct Drive Motor Technology, it is eco-friendly, less noisy (45 dB) and energy saving.
Exclusive Features:
5 Programs: Dual Wash, Auto, Eco, Gentle and Quick.
1- 19 hour time delay feature.
Special features: LED display, child lock, aqua stop, extra hot, auto restart, refill indicator, delay start and triple filter.
14 place capacity
Pros:
Invertor Direct Drive Motor technology helps saves electricity and comes with a 10 year warranty.
Smart rack system (with height adjustable racking) ensures more space availability and flexibility.
Better service promise with the automatic Smart Diagnosis System
Cons:
A little high in price as compared to others.
Check Price : Amazon 
---
5 IFB Free Standing 12 Place Settings (Neptune FX)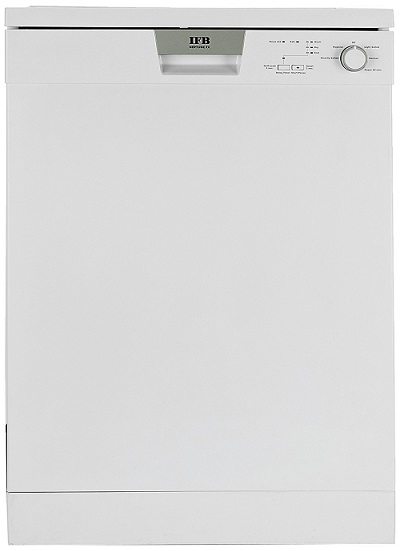 If you live in an area that supplies hard water, then the IFB 12 Place Settings dishwasher can give a tough resistance with its automatic water softening device.
Exclusive Features:
Natural drying system.
12 space capacity with adjustable and foldable upper basket.
5 wash programs: Auto delicate, Super 50 min, Auto intensive, Auto normal and Prewash
Pros:
Automatic water softening device up to 60dh, which increases the efficiency of detergents.
Heavily Soiled Program helps remove tough dirt
Adjustable and flexible racks.
Cons:
Noisier (52 dB) than others.
Check Price : Amazon
---
6 Bosch SMS60L02IN 12 Place Setting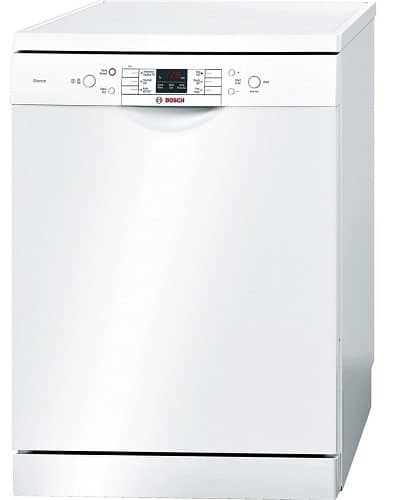 With the Kadhai70 program, the Bosch SMS60L02IN is perhaps the most eligible Indian kitchen helping aid. Whilst the Aqua stop feature checks spillage of water, the delay timer helps you to select pre-set timings and programs for your washes.
Exclusive Features:
6 wash programs.
Height adjustable top basket and 2 foldable plate racks in bottom basket with button suspension.
Aqua stop feature for leakage control.
Child-lock option and Glass protection technique.
Delay timer and Loading Sensor.
Pros:
Special LED indicators for salt refill and rinse aid refill.
50% wash cycle time reduction to save time and energy.
24 hour time delay option.
Cons:
Utensils need to be fully soaked in water for perfect cleaning.
No half load option.
1 Year Manufacturer Warranty only.
Check Price : Amazon
---
7 Siemens Free Standing 12 Place Settings SN26L801IN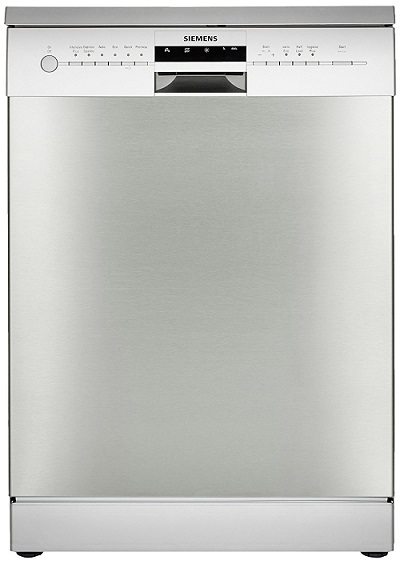 Packed with dozens of features, this dishwasher from Siemens is one of the most advanced dishwashers currently available in the market. From intelligent and automatic sensing to time and energy saving provisions, this dishwasher is perhaps the best pick at 40k.
Exclusive Features:
6 washing programs and 3 wash options.
Special sensors: Aqua sensors and Load sensor with automatic detergent detection and dosage assist basket.
2 years comprehensive warranty and 10 year anti- rust warranty for inner cavity.
Hydro mix glass care protective system for better durability.
Automatic reset start technology and IQ drive cleaning technology.
Pros:
Additional top shower and speedier dishwasher that reduce 60% of the wash cycle time at a cheaper price tag.
Efficient detergent and water distribution system ensures better cleaning.
Plastics can be used safely in Eco mode. Extra drying system ensures complete finish with no traces of oil or grease at the end of the cycle.
Cons:
Noisy (52dB) compared to others.
Check Price : Amazon
---
8 Siemens Free Standing 12 Place Settings SN26L201IN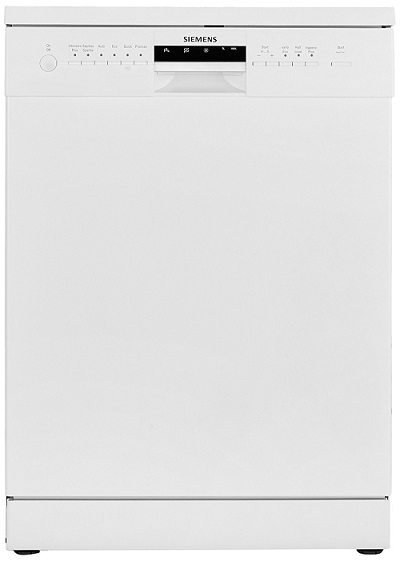 With the iQdrive motor technology, the Siemens SN26L201IN dishwasher model is virtually wear free, long lasting and one of the most efficient. While the Half load and Pre Activated Vario speed feature saves time, the Hygiene Plus and the express Sparkle feature doesn't lets you compromise on quality.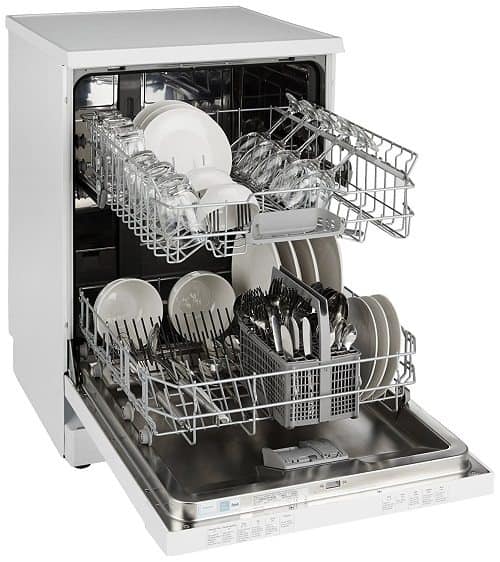 Exclusive Features:
7 segment display with 4 wash temperatures and 24 hour triple water protection technology.
Continuous start delay option.
Vario Speed and 3 Stage Rackmatic
Inherent heat drying technique.
Aqua sensing and IQ drive features ensures adequate detergent, water and electricity usage.
Pros:
46dB noise level ensures lesser noise than other products of the same range.
4 wash programs helps in adjusting to all types of washing needs.
Front adjustable feet for convenient usage.
Cons:
More energy consumption
No child lock feature.
Check Price : Amazon
---
9 IFB Free Standing 12 Place Settings (Neptune WX)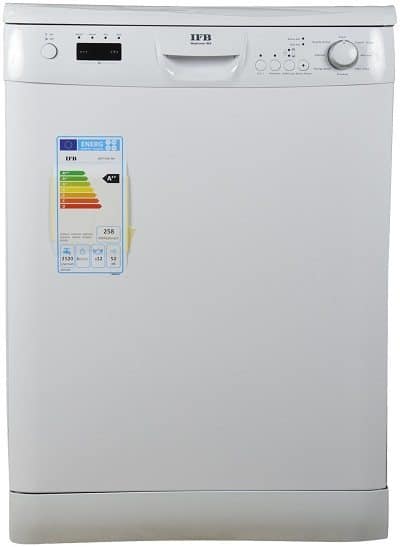 With a slight modification from the IFB Neptune VX version, this unit is better in terms of features and energy consumption. Adjustable racks, steam drying and heavily soiled programme are some of the most prominent features of the IFB Neptune WX dishwasher.
Exclusive Features:
9 wash programs: crystal, crockery, expresses, heavy soiled, extra heavy soiled, mix load, pots, energy saver and pre wash.
Flexible hard load water softening.
Adjustable racks.
2 years comprehensive warranty.
Steam drying and extra heavily soiled programme follows 3 stages to remove even the slightest traces of dirt.
Pros:
A wide range of automatic wash programs helps in customizing our washing needs.
3 in 1 wash option with detergent, salt and rinse aid ensures better cleaning in one go.
Height adjustable racks ensure better flexibility.
Cons:
High water (22.7 L) and Electricity consumption (2.2 KW) with borderline noise levels (52dB) when compared to other products of the same price range.
Check Price : Amazon
---
10 Elica WQP12- 7605V SS (12 Place Settings, Silver)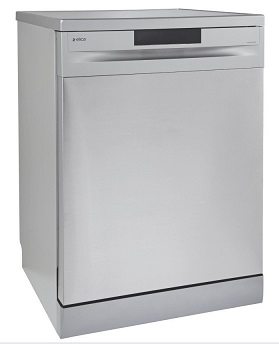 It is one of the cheapest available heavy duty dish washer that will be a perfect match for Indian homes. The 12 place setting can load cutlery of different shapes and sizes. The controls are very basic and thus the machine can be easily used even without a demo.
Exclusive Features:
5 wash programs: Intensive, Rapid, Pocket Handle, Eco, Quick.
Soft Touch Key controls.
Efficient 1 Hour Wash Cycle
Pros:
One of the cheapest free standing dish washers available in the market.
Easy to use because of very basic control features.
Efficient energy and water consumption.
Cons:
Only 1 year manufacturer warranty on the product.
Requires soaking of utensils before washing.
Moderate drying efficiency.
Check Price : Amazon
---
Which dishwasher do you use ?
Are you satisfied with customer service ?
Please comment below.
---
Also Read:
Top 10 Best Storage and Instant Geyser Water Heaters in India
10 Fully Automatic Top Loading Washing Machines
Top 10 Best Front Loading Washing Machines in India
Top 10 Best Microwave Ovens To Buy in India
10 Best Medium Budgets Led TV's
Top 10 Best Air Coolers Under Rs. 10,000 in India
7 Best Split Air Conditioners with High Cooling in India