Do you like running or jogging? Feel like starting early morning runs to stay fit?
If yes, then you need to own a good pair of running shoes to get the most out of your daily runs. It doesn't matter if you are preparing for a marathon or just doing it stay fit, a decent pair of running shoes can go a long way. But with so many brands and models, which running shoes to choose from?
Thankfully, there are many running shoes available for women too these days which can be a little intimidating in the start but is actually for the good. Because, when you have more options, you find it easy to choose the product which suits all your needs perfectly.
So, to help you out in choosing the ideal running shoes for yourself, we have listed down a few factors to consider and a list of running shoes which are perfect for women.
How to Choose Running Shoes for Women
Before you start looking at the shoe models, make sure that you consider these factors and features so that you can choose an apt model for yourself.
Check the Heel Drop of the Shoes
Another thing to check is the heel drop level offered by the running shoes. If you suffer from Achilles or calves issues then you would need a high heel drop running shoes. These shoes provide 12mm difference between the height of the heel and the toe.
However, if you don't face any such problems then going with a low heel drop running shoes will be better. This type of running shoes will offer you speed and smooth transition while giving you shorter and sharper movements.
Consider Comfort and Durability
Make sure that when you are looking for running shoes for yourself, you always go with the one which is comfortable and long-lasting. Avoid buying cheap shoes because they won't be able to provide you with any quality or comfort and might also lead to some injuries if not careful.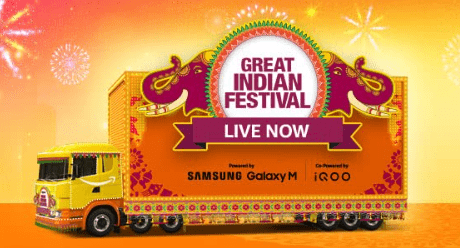 Choose a running shoe which will be comfortable because it will work better with your body and will offer it the support it needs while running.
Top 10 Best Running Shoes for Women
Here is a list of running shoes which are perfect for women and will make your running exercises even more fun.
1. Adidas Women's Adiray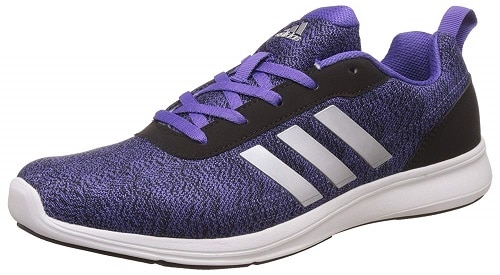 The Adidas Adiray 1.0 shoes are the best pair of running shoes for women although they are a little expensive. But, if you want good quality running shoes for daily runs or marathon training then Adidas will be the best choice for you.
This low heel drop and lightweight shoe design features a 3-stripes execution which makes it a better fit for your foot.
Also Read : 10 Best Yoga Mats in India
And the synthetic and mesh construction ensures breathability and durability at the same time.
Pros:
Lightweight
Low heel drop
Better Fit
Breathable and durable
Cons:
Best Buy : Amazon
---
2. Lotto Women's Sancia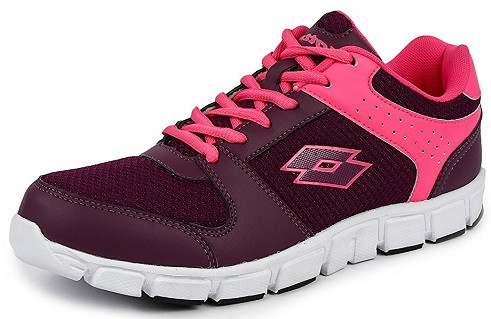 Lotto is another popular brand known for its sports products and its women's sancia running shoes is definitely a great product for women runners. This pair of running shoes is made out of mesh and has a flat heel which makes it quite comfortable to wear while providing your feet with adequate stability.
It also has a great design which makes it sturdy and a great fit and offers an excellent grip as well. Apart from running, you can also use it for the hilly and rocky terrain. It is also lightweight which ensures smooth and strain-free runs at an affordable cost.
Pros:
Affordable
Amazing grip
Great design
Lightweight and comfortable
Cons:
Not suitable for big broad foot
Best Buy : Amazon
---
3. Power Women's Slip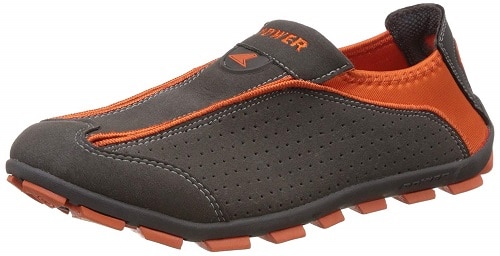 This pair of women's running shoes from Bata is not only easy and comfortable to wear but also comes with a great fitting, making it an ideal product for women of all shoe sizes.
The upper of this pair of shoes is made up of heathered fleece mesh and includes an elastic detailed corner which adapts to the feet of the user easily.
Also Read : 10 Best Multivitamin Tablets
Also, the memory foam insole offers you cushioning and comfort all day while the outsole has deep flex grooves along with rubber pods for a better grip. And, it doesn't cost a fortune too which makes it a perfect choice for most women runners.
Pros:
Affordable
Adapts to your feet
Offers proper cushioning
Better grip
Cons:
Made out of synthetic material which can be slightly hard on your foot
Best Buy : Amazon
---
4. Reebok Women's Meteoric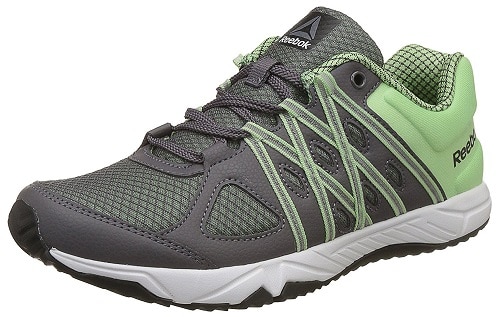 Let's be real. If you are searching for the perfect running shoes, then what could be better than Reebok Running Shoes after the Adidas shoes? Reebok Women's Meteoric Run Lp Running Shoes is undoubtedly one of the best products in the market, albeit a little costly.
This woman's running shoes are a flat-heeled, casual, mesh constructed pair of shoes which offer great fitting and an amazing cushioning at the sole too. Apart from being comfortable, it is also lightweight and gentle to use and has an attractive design too.
Pros:
Great fitting
Proper sole cushioning
Comfortable and lightweight
Cons:
Best Buy : Amazon
---
5. Sparx Women's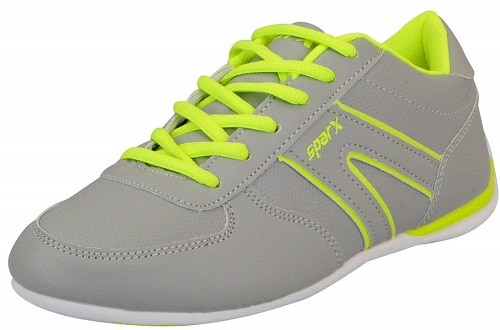 This is one of my favorite pair of running shoes for women because it not only looks great and feels great but is quite affordable too.
Sparx Women's running shoes offer both comfort and style which makes it a great product for casual and daily use.
It is soft and flexible and offers you with both stability and support to cover long distances with great ease.
Also Read : 12 Best Protein Bars in India
This pair of running shoes is also lightweight which makes it easier to run and transition smoothly, making it perfect for daily runs.
Pros:
Affordable
Trendy and comfortable
Offers stability and flexibility
Lightweight
Cons:
Slightly hard on your heel
Best Buy : Amazon
---
6. Red Tape Women's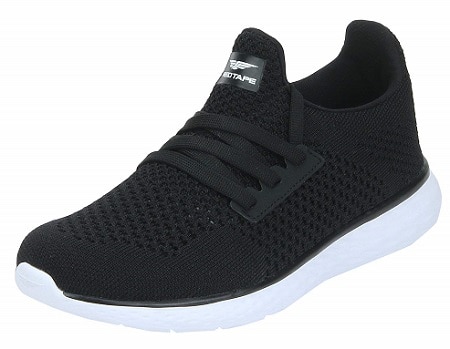 Red Tape is a popular footwear brand which is known to manufacture both casual and sporty shoes and their women's running shoes are certainly great for regular runners. This pair of running shoes has a flat bottom and is made out of mesh which offers comfort and stability to your feet.
And it also feels lightweight and looks stylish which makes it ideal for a casual usage as well. The material is durable and the sole made out of rubber EVA will easily keep you relaxed and comfortable throughout the day.
Pros:
Flat heel
Trendy and stylish
Comfortable
Lightweight and durable
Cons:
Needs regular maintenance
Best Buy : Amazon
---
7. BEONZA Branded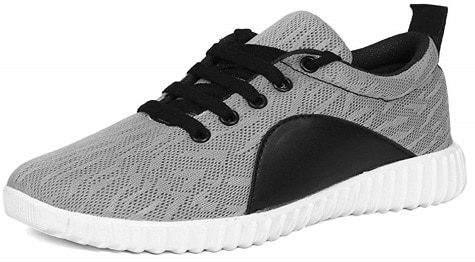 Another affordable and effective pair of sports shoes for women which is ideal for running, gym, etc. is Beonza Supersoft Running Shoes.
It is designed using a high-quality mesh material which results in high comfort and breathability. And while being completely effective, it looks stylish at the same time too.
This pair of running shoes is perfect for casual daily use and can also be paired with your casual or classy apparels.
Also Read : Best Foot Massager in India
Trust me, with this shoes, you won't get tired any time soon and will easily be able to run for a long distance to build your stamina and strength.
Pros:
Stylish looks
Ideal for running, gym, and sports
Comfortable and Flexible
Affordable
Cons:
Not ideal for practicing for marathons
Best Buy : Amazon
---
8. Puma Women's Blur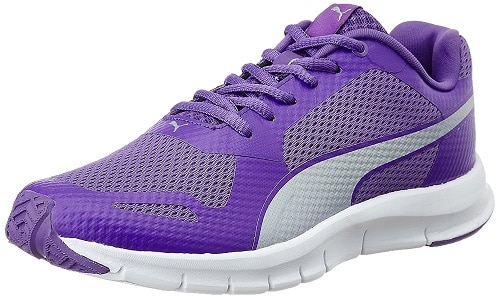 Puma Women's Idp Running Shoes are low heel drop shoes made out of mesh which offers breathability and softness to your toes. It offers an amazing cushioning and comfort which makes this pair of running shoes perfect for everyday use as well.
This pair of women's running shoes as well as it offers both comfort and protection. However, this is an expensive product, especially when there are a few other running shoe models which deliver the same features but at a much lower cost.
Also Read : 7 Best Most Reliable Orthopaedic Mattress in India
But if it is brand and quality that you want then this is the ideal product for you.
Pros:
Built out of high-quality mesh
Offer support and breathability
Comfortable and flexible
Durable
Cons:
Best Buy : Amazon
---
9. A-Star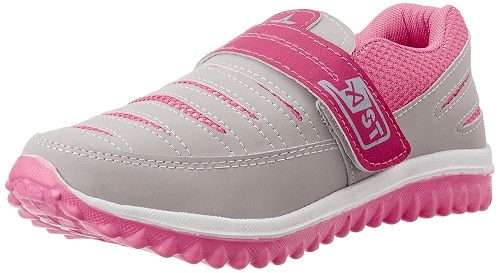 A-Star Running Shoes for women are quite comfortable and easy to wear while being easily affordable which makes them the best running shoes for casual runs. This type of running shoes will allow you a smooth and properly cushioned run, regardless of the miles that you would be clocking on the way.
It is highly responsive, flexible, and ensures a natural transition so that you can maintain a normal gait. As a result, with this pair of running shoes, you can run both different speeds and distances, making it ideal for marathon practices too.
Pros:
Affordable
Responsive and flexible
Ideal for marathons too
Cons:
Made out of cheap quality material
Best Buy : Amazon
---
10. Xpose Women's Cutielite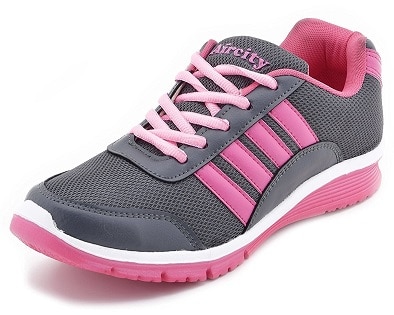 This is one of the cheapest and perfect running shoes for women who are planning for casual daily runs. Xpose Women's Running Shows has a minimalist design which makes it lightweight and comfortable to use.
And the five-point shoelace ensures a good grip while the cushioned ankle provides you with adequate comfort.
Also Read : 10 Best Fitness Band Under Rs 2000
This pair of running shoes also features a padded foot bottom, shock-absorbent anti-skid sole, adjustable straps, etc. which makes this shoes more functional and convenient to use.
Pros:
Cheap
Minimalist design
Proper grip
Cushioning and Adequate support
Cons:
Mismatch with the shoe size
Best Buy : Amazon
---
Try the Shoes in Person
After you have an idea that which type of shoes will be suitable for you, it is important that you try on the shoes before actually buying it. So, make sure that you go to a footwear store and try the shoes on before you purchase it.
Yes, you can still buy the shoes online and get some discounts but avoid purchasing a shoe model which you haven't tried in a shop even once. Also, make sure that you try the shoes at the end of the day when your foot is swollen. This will ensure that you choose the right size and are comfortable in your shoes when your feet are tired as well.
Types of Running Shoes
Depending on the gait of a runner and the support and cushioning required while running, there are majorly 4 types of running shoes available in the market: Neutral, Minimalist, Maximalist, and Stability.
Neutral Running Shows
This type of shoes is ideal for runners which even gait and offers both stability and cushioning to the users. Even people with moderate to high arches will find neutral running shoes comfortable as it focuses on proper padding for comfort but isn't too heavy to use.
Minimalist Running Shoes
One of the most popular types of running shoes is minimalist running shoes which offer protection to your foot and nothing else. They are constructed with the assumption that your feet don't need any additional support and will get back to its normal stride when there is a chance to spread out.
So, if you have a normal gait and don't require additional cushioning or flexibility then a minimalist shoe would be ideal for you.
Maximalist Running Shoes
In case you are preparing for a big marathon or if you are suffering from a joint pain then a maximalist shoe would be a better choice for you. This type of shoes come with more padding than any other shoe types which can often make them bulky but perfect for covering long distances.
They are super comfortable and would be a great choice for you if you are a little unstable on your feet.
Stability Running Shoes
Finally, we have the stability shoes which are used by mild over-pronators as it can guide and offer support to you to keep your gait normal. This type of shoes is sturdy and protective and helps against any unexpected motion or injuries. Also, they are more rigid and heavier than neutral shoes because they have extra postings to structure the shoe's foundation.
---
Also Read:
1) Top 10 Best Monopods in India
2) An Interview With Ritty Tacsum From Malta
3) Top 10 Best Travel Adapters in India