Are You Searching For The Best Travel Camera in India ?
Search No More!!
A lot of people often love to click pictures when they travel to different locations. I am one of them too which is why it is important that we purchase a good quality camera if we wish to capture our experiences properly.
You might feel that purchasing a high-end and more technologically advanced camera from the start would be a wise choice, but it is not. Because until you get a hang of photography and how to manipulate angles successfully, your camera will remain just a piece of metal for you.
So, getting a compact and sturdy travel camera in the start is actually a better decision. I, myself, researched a lot when I bought my first DSLR and I still wish that I had done a little more planning before I purchased it.
In this guide, I have listed down the best entry-level cameras that can be considered for beginners.
---
Table Of Contents:
Things to Consider When Purchasing a Travel Camera
There are many things that you should ask yourself before you start looking at the different camera models. You need to consider the weight, size, complexity, and several other things before you actually go ahead and purchase a camera.
Here are a few things that you should definitely consider when choosing a travel camera for yourself.
Consider the Type of Camera
There are several types of cameras available in the market which differs from each other in terms of weight, size, price, etc. So, make sure you check them out and look at both the pros and cons before deciding for yourself.
Point and Shoot Camera
For people who aren't travel professionals and don't care much about photography controls, a Point and Shoot camera would be a good choice. It will allow you to take amazing photographs without having to bother too much with the settings.
However, you won't be able to manually set the photograph settings or take pictures in raw. But, it is certainly the least expensive option as a travel camera.
Also Read : Top 10 Best Travel Adapters in India (2020)
Mirrorless Cameras
If weight, size, etc. matters to you a lot then a Mirrorless camera would be an ideal choice for you. A mirrorless camera doesn't include a mirror reflex optical viewfinder. As a result, it is lightweight but still allows you to change the lenses.
Another great thing about this camera is that it shows you the real-time effect of ISO and Aperture adjustments. So, you don't have to guess too much about the outcome and know that what you see is what you actually get.
Digital SLR Cameras
Although Mirrorless cameras have given DSLRs a tough competition, DSLR still comes out at the top in terms of quality. Ideally, a DSLR camera is great for action photography and wildlife photography. While mirrorless cameras are good, they don't offer as many lens options as a DSLR camera.
So, if you want more lens options, faster focus, and more control over photo manipulations, then DSLR is the best choice. Sure, it is a little bulky but it will allow more flexibility to you.
Also Read : Top 10 Best Tripods in India
Underwater Cameras
If you plan to take a lot of underwater photographs then you would need to check out a waterproof camera. These cameras will not only take amazing pictures underwater but will also allow you to capture the marine life on film.
There are many point and shoot cameras which can click decent photographs underwater. However, GoPro is still considered the best choice for underwater photography.
---
Are you planning to take a video too?
Another important thing that you should consider is if you are planning to make videos and vlogs too. If the answer is yes, then you might need to consider a camera with a good resolution option. Also, a flip screen would make it convenient for you to take the shots.
---
What is your overall budget?
Let's face it, the budget plays a major role when choosing a travel camera for yourself. You don't want something too costly initially because taking care of your camera equipment is no piece of cake. Your camera bag could get lost or stolen while traveling so, always make sure you spend a reasonable amount of money at the start.
---
Consider Some Additional Camera Features
Make sure that you check out for some additional features too. One of the most important and convenient features is the inbuilt Wi-Fi in your camera. This allows you to connect the camera with your phone on the go, allowing you to transfer pictures when you are traveling too.
---
Best Travel Cameras for Beginners
Here is a list of the best travel cameras that you can consider when you are just starting out.
Budget-Friendly Cameras for Travel
1. Nikon D3400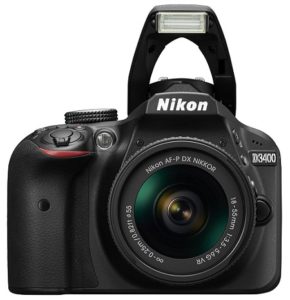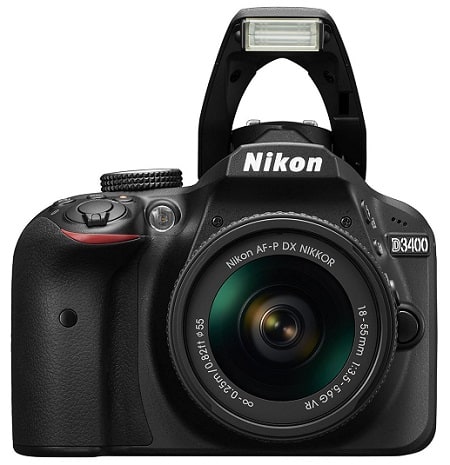 1) Nikon D3400 is one of the best beginner cameras in the market which is both easy to use and budget-friendly.
2) This amazing camera has a fast shooting mode and clicks amazing quality photographs and videos.
3) The 24.2-megapixel camera, 5 FPS burst rate, and 4K UHD movies allow you to capture everything vividly.
Also Read : Top 10 Best Travel Adapters in India
4) You can also keep it connected to your phone with the help of Snap Bridge and transfer photos and videos whenever you want.
5) With its user-friendly interface, you will learn the basics of photography in no time at all and will be able to take creative shots as well.
Pros:
24.2-megapixels camera
Fast shooting mode
Budget-friendly
Bluetooth connectivity
User-friendly
Cons:
Check Price : Amazon
---
2. Sony DSC-W800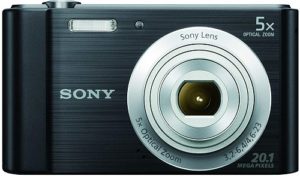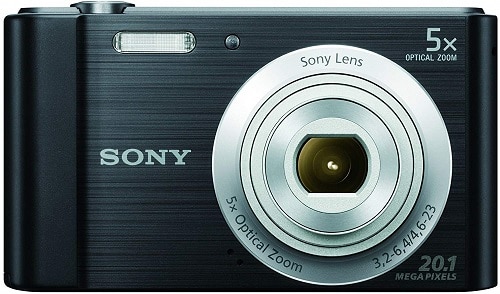 1) One of the most affordable cameras in the market, Sony DSC-W800 is made for people who are looking for the minimum functionality.
2) This point and shoot camera is designed to click photographs whenever you are traveling without any need to adjust any setting or funcationality.
3) It is ridiculously inexpensive while offering you some amazing features.
4) It has a compact design, large zoom range, easy mode for beginners, and is quite easy to use as well.
5) Since it charges using a micro-USB cable, you don't have to carry an external charger with you too.
Pros:
Inexpensive
Easy to Use
Compact Design
Lightweight
Uses micro-USB cable for charging
Cons:
Minimum functionality
Not suitable for low-light conditions
Cannot shoot 1080p HD videos
Check Price : Amazon
---
3. SJCam SJ4000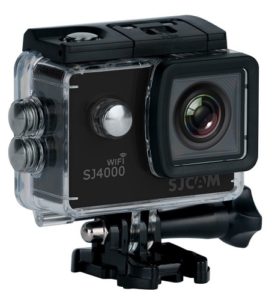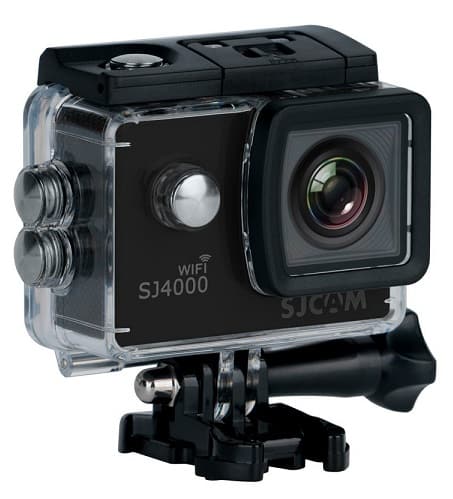 1) One of the most budget-friendly and efficient action cameras available on the market, SJCam SJ4000 is a great choice for people are interested in action photography.
2) It shoots photographs as 12 megapixels which are vivid and colorful while taking equally amazing videos at 1080 resolution.
Also Read : Top 10 Best Tripods in India
3) The wide-angle lens takes in more of the landscape, giving you the feel of a GoPro product at a much affordable price.
4) With its HD Display, you know what you are shooting and the water-proof casing allows you to shoot underwater too.
5) It also supports WiFi so you can transfer photos to your mobile or the cloud in one simple click.
Pros:
Budget-Friendly
Videos at 1080 resolution
Water-proof
WiFi capabilities
Includes an HD display
Cons:
Unclear Underwater Images
Low Battery life
Easy to Break
Check Price : Amazon
---
Best Cameras for Action Photography
4. GoPro Hero 6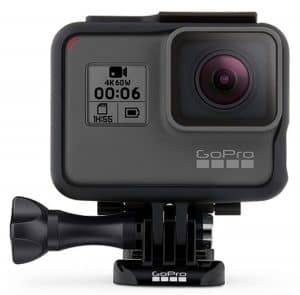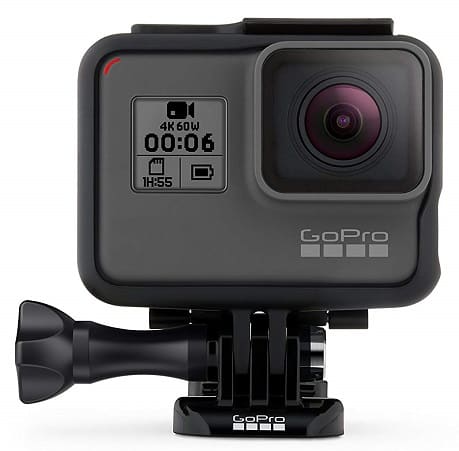 1) One of the best action cameras on the market currently, GoPro Hero6 gives twice the performance of Hero5.
2) With its new GP1 chip, it offers the best images and videos to the users and also allows them to capture slo-mow videos as well.
Also read : 10 Best Handbag for Women Under Rs. 500
3) The image stabilization feature allows users to capture smooth images and the camera works great in low-light conditions too.
4) Like other Hero5 products, it is waterproof up to 10m and can be housed to take further deep in the water.
5) This is a perfect camera for taking videos while cycling, trekking, diving, and so on.
Pros:
Slo-Mow Playbacks
Works in Low-light
Waterproof
Cons:
Check Price : Amazon
---
5. GoPro Hero 5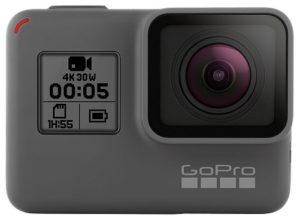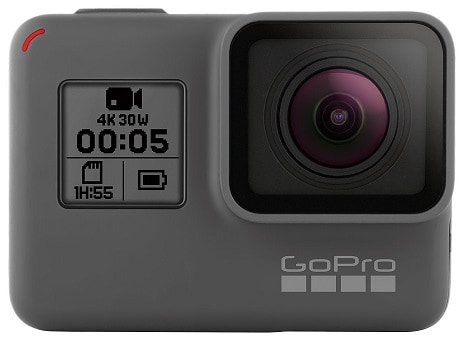 1) If you want a good underwater action camera to use, then you should definitely consider GoPro Hero5 Black.
2) With its rugged and waterproof exterior, you can take videos at 4K wherever you go.
3) The simple display allows you to control your photo and video compositions and also make it easier to see the captured shots.
Also Read : 10 best travel adaptors in India
4) With this GoPro model, you can also manually set the ISO, exposure, aperture, etc. and can shoot photographs in RAW mode too.
5) And the numerous video and photo options allow you to take some gorgeous videos and time-lapse photos as well.
6) This is why it is a perfect action camera for beginners as it is easier and convenient to manipulate than previous GoPro models.
Pros:
Allows you to set ISO, aperture, etc.
Takes RAW photos
Water-proof
Includes small display
Cons:
Heats up quickly
Low battery life
Check Price : Amazon
---
Best Full-Frame Cameras for Travel
6. Nikon D810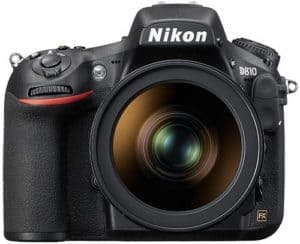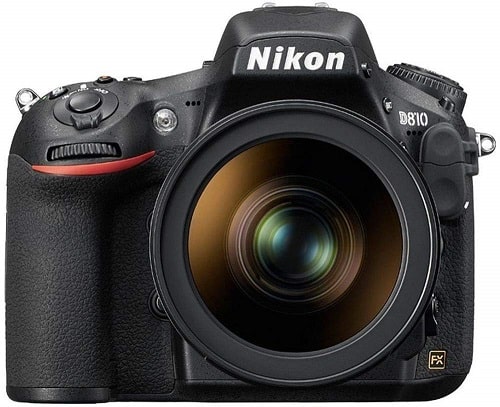 1) For travelers who are serious about their photography, Nikon D810 is one of the best choices in the Nikon series.
2) This Full-Frame camera is powerful and competes with the Canon's exceptional 5D Mark model.
3) With this amazing camera, you will get 36.3 megapixels, a built-in WiFi, and higher resolution settings.
Also Read : Top 10 Best Camera Straps
4) So, you can take both amazing photographs and videos with this versatile camera.
5) It also has an amazing autofocus which works even in the dark and the ISO settings on this camera are pretty great too.
6) This is the ideal camera for shooting landscapes, portraits, and almost anything you could lay your hands upon
Pros:
Shoots high resolution and sharper images
Works great in the dark too
Has a Built-in WiFi
Offers 36.3 Megapixels
Cons:
Quite expensive
Heavy and bulky
Offers lower burst rate
Check Price : Amazon
---
7. Canon EOS 6D Mark II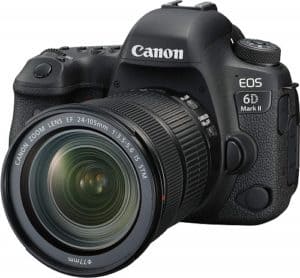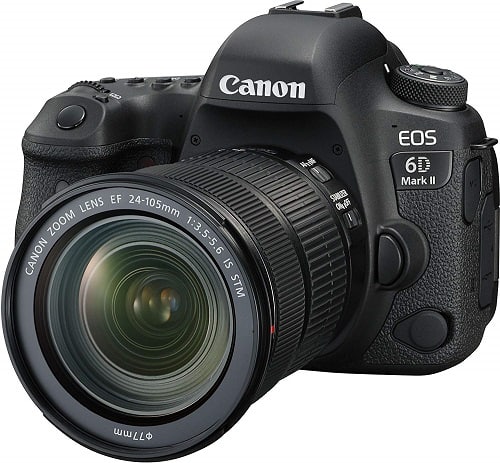 1) While this is Canon's least expensive full-frame camera, Canon 6D doesn't compromise on the quality or the functionality.
2) It is a powerful camera which is lightweight and takes amazing videos at 1080 resolution.
3) This camera's 20.2 megapixels and 4.5 FPS burst rate are decent for photography and work well in low light situations as well.
4) Apart from that, it also includes additional features like WiFi connectivity, GPS capabilities, etc.
5) Also, since it is lightweight and smaller in comparison to other full-frame DSLRs, it is more convenient to carry around, making it an ideal choice for travelers.
Pros:
Lightweight and Small in Size
Good in Low-Light Situations
Includes WiFi, GPS, etc.
Cons:
Still quite expensive
Autofocus is slow
Check Price : Amazon
---
Best Cameras for Videos and Vlogging
8. Nikon D5500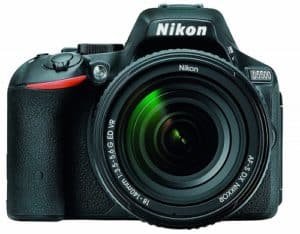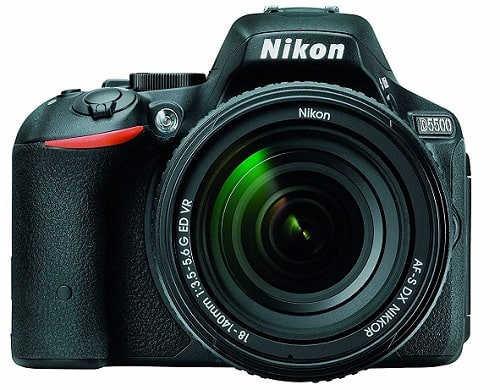 1) One of the best beginner DSLRs for shooting amazing videos and vlogs is Nikon D5500.
2) With its touchscreen interface, fast autofocus, and a fully articulating screen, you can shoot vlogs and videos at an excellent quality.
3) Due to its long battery life, you can shoot videos the entire day and the built-in WiFi will allow you to transfer it immediately to your laptop for editing.
4) It has a 24.2-megapixel camera and a burst rate of 5 FPS which makes it really great at shooting photographs as well.
Pros:
Excellent video shooting quality
Fast Auto-focus
Fully-articulating screen
Long Battery Life
Built-in WiFi
24.2-megapixel camera
Cons:
Check Price : Amazon
---
9. Sony Cybershot DSC-RX100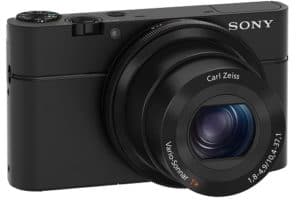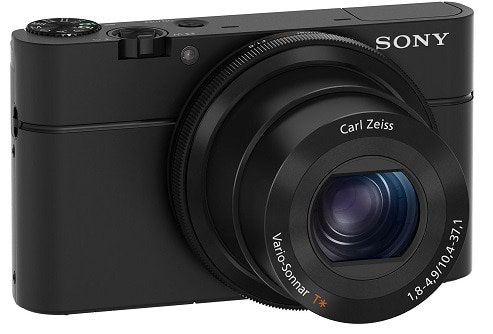 1) For people who are looking for a compact and easy to use camera for their traveling, Sony Cybershot DSC-RX100 is the perfect point and shoot camera to consider.
2) It offers users some really amazing fast shooting speeds while offering you good photo and video quality as well.
3) So, you can click motion shots with great ease too.
4) The camera is slim and sleek which makes it quite lightweight and convenient to carry around as well.
Pros:
Compact and Convenient
Fast Shooting Speeds
Amazing Video and Photo Quality
Cons:
Expensive
Has a Slippery Design
Check Price : Amazon
---
10. Samsung NX Mini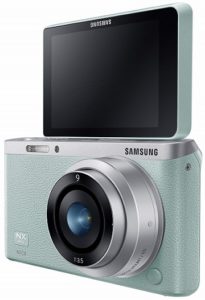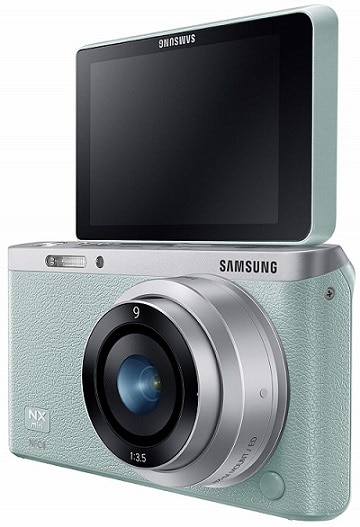 1) If you are looking for a camera for clicking selfies and recording vlogs, then Samsung NX Mini is the camera for you.
2) This mirrorless camera is quite slim and comes with several amazing features like touchscreen interface, 180-degree flip screen, 1080p HD filming, etc.
3) It also has a long battery life and features fast autofocus and fun selfie features for making your vlogs more interesting and fun.
4) With the built-in WiFi, you can immediately share your selfies and videos online too!
Pros:
Good for Vlogging
Selfie Features available
Flip Screen
Long battery life
Cons:
Not good for low-light conditions
Slightly expensive
Check Price : Amazon