A fully spec'd out gaming PC cannot be justified without an equally fantastic gaming monitor that offers some of the best specifications to make use of your PC. Newer ultrawide gaming monitors take the things a notch above by offering a more immersive experience that will leave you nothing but impressed.
Depending on the specification supported by your graphics card, you must go for the highest possible display resolution and look for the minimum response time while higher the better idiom stands correct for refresh rate. Syncing features from AMD and Nvidia can further improve the experience by preventing screen tearing.
Also Read: 10 Best Laptop Cooling Pads in India
Below mentioned are the Ultrawide gaming monitors that offer everything to do justice to your gaming rig, no matter how spec'd out it is.
1) Acer Predator Z35P bmiphz 35-inch Curved Ultrawide Gaming Monitor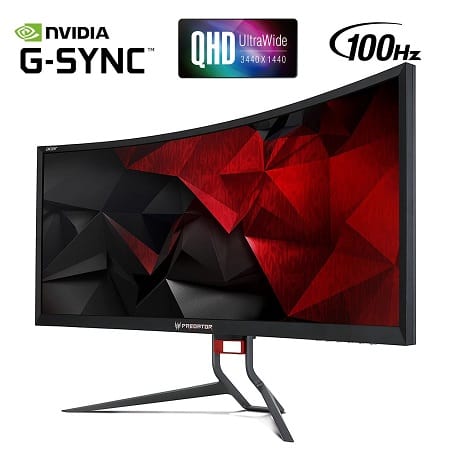 Pros:
1) Gaming will be a pleasure on this 35-inch monitor from Acer that comes with a QHD resolution of 3,440 x 1,440 pixels.
2) With that massive size, the display is also curved, giving you a more immersive experience not only at gaming but also at whatever you do, like consuming media.
3) It supports Nvidia G-Sync for working flawlessly with Nvidia graphics cards, which are pretty much standard for PC builds.
Also Read: Top 10 Best Quality Wireless Mouse Under Rs.1000
4) With a native refresh rate of 100Hz, capable of going up to 120Hz, and response time of 4ms, you should get a supreme gaming experience, given you own a high-end gaming rig to support those high resolutions and frame rates.
Cons:
1) Managing a display this large and curved on a table could be quite a bit cumbersome.
2) The standard refresh rate for this display is 100Hz, while several other monitors raise the bar at 144Hz. Its pricing puts it out of reach for many users.
Check Price : Amazon
2) LG 29UM69G 29-inch Ultrawide Gaming Monitor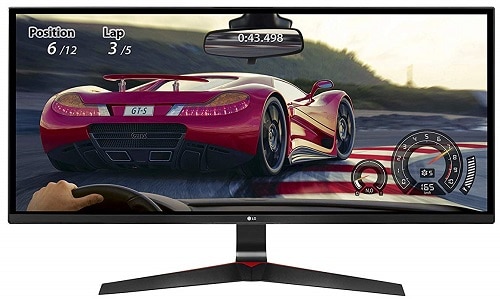 Pros:
1) On the budget side of the spectrum, LG a gaming-centric monitor on offer that carries a decent set of specifications and features to enhance your gaming experience.
2) The monitor has a host of built-in configurations to bring the best out of your games, including Black Stabilizer that improves the black levels, while AMD FreeSync prevents screen tearing.
3) This 29-inch ultrawide 21:9 monitor has a 1080p resolution with 1ms response time and 99% of sRGB coverage.
Also Read : 10 Best Wired Mouse Under Rs. 500 in India
4) It also natively supports split screen functionalities.
Cons:
1) While the display quality itself is decent, the build quality, unfortunately, isn't; that applies to the display frame and the base.
2) The resolution of this display isn't supported by Apple MacBooks and you should avoid this combination.
Check Price : Amazon
3) Acer Predator Z35 35-inch Curved Ultrawide Gaming Monitor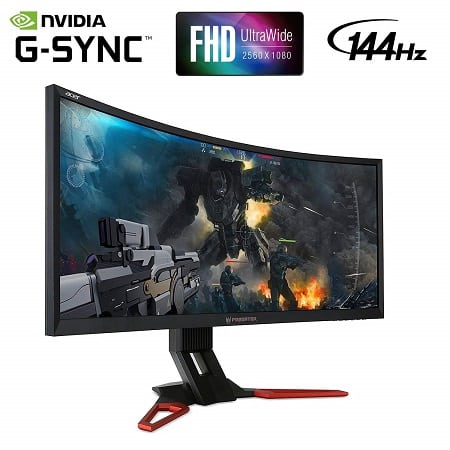 Pros:
1) Need a similar form factor as the Z35P but can do with a slightly lower resolution? This could be the right gaming monitor for which comes with a resolution of 2560 x 1080 pixels spread across a 35-inch curved display for a top-notch experience.
Also Read : Top 10 Best Gamepads in Under Rs.1000 For Gaming
2) The response time of this panel is 4ms and offers an improved refresh rate of 144Hz. It comes with support for Nvidia G-Sync for the best viewing experience and the monitor itself is entirely adjustable.
Cons:
1) The after-sales support offered by Acer doesn't match the standard of other established companies in this space.
2) To enjoy refresh rates as high as 144Hz, you must have a high-end PC build to make use of these features.
Check Price : Amazon
4) LG 34UC79G Curved Ultrawide Gaming Monitor
Pros:
1) With this dedicated gaming monitor, LG has given a range of adjustment options for the display to match your eye level.
2) For its superior compatibility with AMD cards, FreeSync has been included that ensures a smooth framerate while gaming at 1080p.
Also Read : 10 Best Gamepads Under Rs. 10,000
3) The icing on the cake is the 144Hz refresh rate offered along with a response time of 1ms, both of which are rare at this price point.
4) This 21:9 ultrawide display comes with a resolution of 2560 x 1080 pixels.
Cons:
1) Given its price, the display resolution could have been a little higher to ensure a better gaming experience.
2) The peak brightness of the display panel is 250 cd/m², which lower than what others offer. While gaming, the display at times has a hard time touching its peak refresh rate and it may be noticeable to hardcore gamers.
Check Price : Amazon
5) Samsung LC49HG90DMU 48.9-inch Curved Ultrawide Gaming Monitor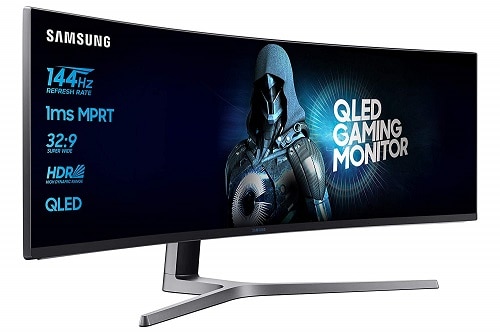 Pros:
1) Packing a look similar to two standard 16:9 monitors stacked side-by-side, this premium monitor from Samsung offers arguably the best image quality with its QLED panel.
2) It offers an excellent 1ms of response time and 144HZ refresh rate, both of which will spoil you.
3) The display measures 48.9 inches diagonally and supports AMD's FreeSync 2 technology that also allows playing HDR content.
Also Read : 10 Best Gaming Headphones Under INR 2000 With Clear Cut Sound
4) The monitor has its settings and features customised for gamers but also offers several multitasking customisations that even please the professionals.
Cons:
1) The asking price of this gaming monitor is ridiculously high, given it comes with Samsung's premium display technology.
2) Even at this price, the display resolution is limited to 1080p vertically. Lack of Nvidia's syncing standard means many users won't get to benefit from it.
Check Price : Amazon
6) ASUS ROG Swift PG348Q 34-inch Curved Ultrawide Gaming Monitor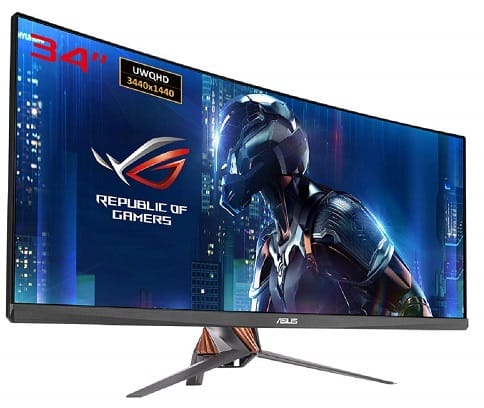 Pros:
1) This award-winning gaming monitor is an almost perfect choice to pair with a top-of-the-line graphics card. It is designed to work best with an Nvidia card with the inclusion of G-Sync technology that helps keep the frames in check for a butter-smooth gaming experience.
2) The design is fine for gaming setup and it also has LED effects built-in along with a bunch of proprietary features like GamePlus, GameVisual, and Flicker-Free among others.
Also Read : Best NAS Device in India
3) It has a 34-inch 1440p panel in 21:9 aspect ratio offering a refresh rate of 100Hz and a response time of 5ms.
Cons:
1) Holding a pretty hefty price tag, this monitor isn't in reach of everyone. The backlight luminance could be problematic because of its use of an IPS panel.
2) You might have to fiddle with the display settings to get the contrast just right for gaming.
Check Price : Amazon
7) LG 34UC99 38-inch Curved Ultrawide Gaming Monitor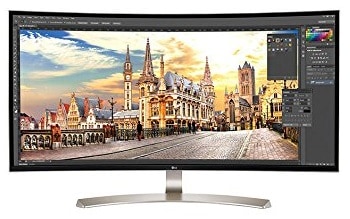 Pros:
1) Designed for people willing to both work and game on their computers, this LG monitor sits right in the middle by offering a more professional design while packing gaming-centric display features.
2) For starters, it comes with the convenience of using it with a MacBook using a single USB C cable. For enabling gaming, LG has added support for AMF FreeSync, which, paired with 1ms of response time, offers great motion blur reduction over its large 38-inch QHD+ panel.
Also Read : Best NAS Device in India
3) The display is rated to offer excellent colour accuracy for critical work.
Cons:
1) This particular model is several years old now but still retails for a high retail price.
2) The refresh rate of the display used is 75Hz, which isn't particularly high when compared to other dedicated gaming monitors.
Check Price : Amazon
8) LG 25UM58 25-inch Ultrawide Monitor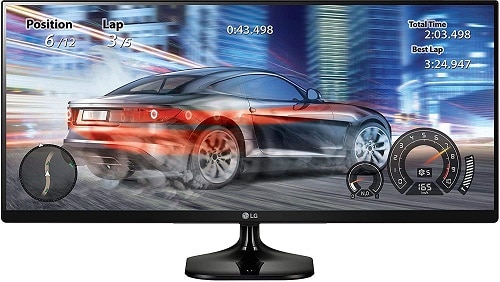 Pros:
1) Without digging a hole in your pocket, LG has managed to offer a decent ultrawide monitor that features a respectable feature set.
2) Though not dedicated for gaming, the company has included a couple of features like Game Mode—with 3 pre-sets—along with Black Stabilizer and Dynamic Action Sync to better its gaming performance.
Also Read: 10 Best USB Microphones in India
3) In terms of response time, you can expect a minimum 5ms result while the refresh rate maxes out at 60Hz.
Cons:
1) Being an ultrawide monitor with an aspect ratio of 21:9, the 25-inch display size me seem small, especially considering the reduction in display height.
2) The display cannot be adjusted to match your eye level which may trouble you if you plan on using it for extended durations. A single HDMI port may be limiting.
Check Price : Amazon
9) LG 29UB67 29-inch Ultrawide Monitor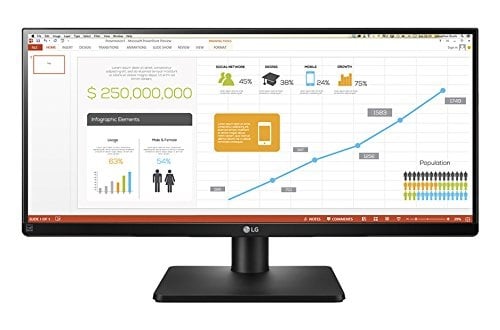 Pros:
1) Meant for generalists, and not just for gaming, this LG monitor offers a fair bit of everything to please and average persons who want to do a little bit of everything.
2) This 29-inch panel gets sufficiently bright at 300cd/m² and offers 5ms response time along with a refresh rate of 60Hz, which is the bare minimum for all cases.
Also Read: Top 10 best audio interfaces in India
3) LG has included plenty of ports, including an HDMI, DVI, DisplayPort, audio out, and four USB ports.
Cons:
1) The included speakers on this monitor are disappointing and produce underwhelming audio.
2) This model from LG is a few years old and isn't dedicated to gaming, so the experience may be iffy if your expectations are anything higher than a basic monitor. It could've been priced a little lower.
Check Price : Amazon
10) Dell Alienware AW3418HW 34-inch Curved Ultrawide Gaming Monitor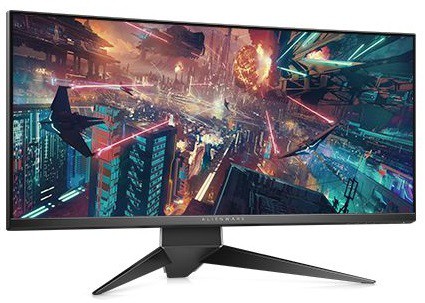 Pros:
1) With the inclusion of Nvidia G-Sync, the monitor is capable of offering smoother gameplay with no screen tearing, especially at its asking price. Part of Dell's gaming division Alienware,
2) This monitor comes with a striking design, particularly on the back along with minimal bezels on the front.
3) This curved panel has several pre-set modes and features that can be applied while gaming.
Also Read: Top 10 Best MIDI Keyboard Controllers in India
4) Coming to the display specifications, you are getting a 34-inch panel with 3440 x 1440-pixel resolution with a refresh rate of 120Hz and a response time of 4ms.
Cons:
1) The display quality can be a bit underwhelming for some mainly because of being an IPS panel that tends to bleed backlight from the sides.
2) Connecting it with a newer MacBook Pro over USB Type-C and a DisplayPort adapter isn't always a seamless experience.
Check Price : Dell
---
Also Read:
2) 10 Best Laptops for YouTube Creators in India
3) Best Gamepads Under Rs. 10,000 in India