In a world full of devices with inbuilt cameras like your tablet, smartphone, laptops, console, etc. you might still need a dedicated webcam for many reasons.
You just assembled a custom pc for gaming or production work and need to video chat with your clients, or loved ones.
You want to get into game streaming on twitch/youtube.
You want a better-quality video call than your crappy inbuilt webcam.
There may be many reasons, but it is always a difficult choice when there are so many available.
Today we will help you select the one according to your needs. The webcam market is dominated by Logitech, but there are others too.
Top 10 Best Webcam For Youtube / Twitch in India
Let us get on with our list.
---
*Best for Gaming / Streaming
1. Logitech C920 PRO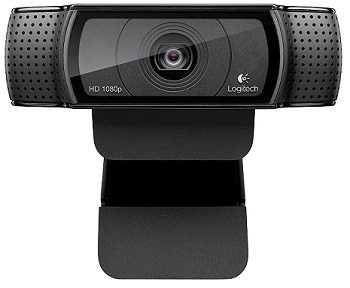 This one here by Logitech has the perfect price-to-performance ratio. It is good for recording as well as regular video calls.
If your looking for a webcam to stream on Youtube, Twitch or record any teaching course then this is best option for you. Put some proper lights and a decent mic for a professional recording experience.
Also Read : 10 Best Gaming Keyboards Around Rs. 2000
Pros-
Full HD 1080p recording.
H264 Video Compression helps with file size.
Built-in Dual Stereo Mics help in capturing crisp audio.
Face Detection and Motion Tracking help keep everything in focus and clear.
Cons-
Check Price : Amazon
---
2. Logitech C922 Pro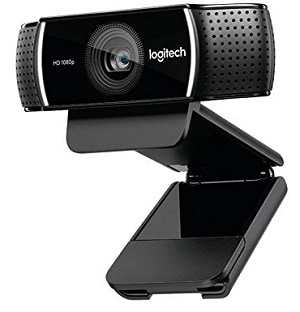 Yes, a sub category. This camera is not much different from the one above it.
The only significant difference is that this one allows the user to stream directly on platforms like YouTube/ Twitch and can also record at 60 FPS in 720.
This one is better in low light conditions and also comes with background replacement technology , which allows you to put any background scene with your live image and stream freely.
Also Read : 12 Best Drawing Tablets in India
Between C922 and C920 , I will suggest C920 as it's lower in price and offers nearly same video quality except 60fps. The green screen background removal software if not quite good yet and can be bought separately for other webcams also.
Check Price : Amazon
---
3. Microsoft LifeCam HD 3000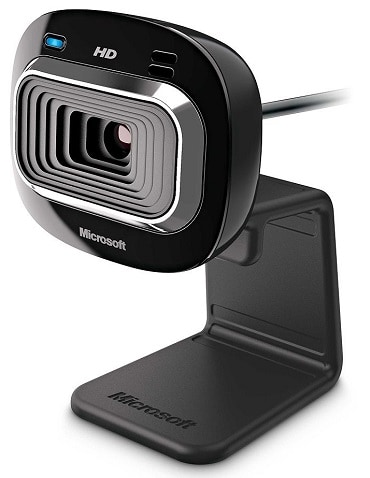 Microsoft is an old and reputed company. It makes very few hardware products. This is their lowest end offering.
Also Read : 10 Best Gaming Headphones Under Rs. 5,000
If you compare the Logitech C270 from above and this one , then this one features a wide angle lens while the Logitech C270 is more zoomed in. Being a Microsoft product , it is integrated easily in your windows.
Pros-
Can record video.
TrueColor technology helps in making the quality better.
Also works with Smart TVs.
Cons-
Could have slightly more resolution for price.
1-year warranty.
Check Price : Amazon
---
4. AUSDOM HD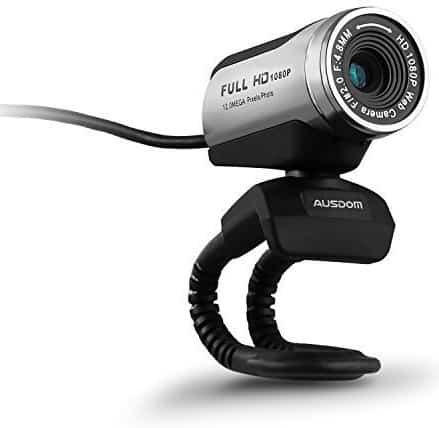 This is a webcam imported from USA. It is perhaps the cheapest camera that provides 1080p recording.
Pros-
1080p recording.
Metal build for steadiness.
Microphone records clearly as per reviews.
Cons-
Only Manual Focus.
Mount cannot take the weight of the camera properly at certain angles.
No warranty information.
Check Price : Amazon
---
5. HP HD 4310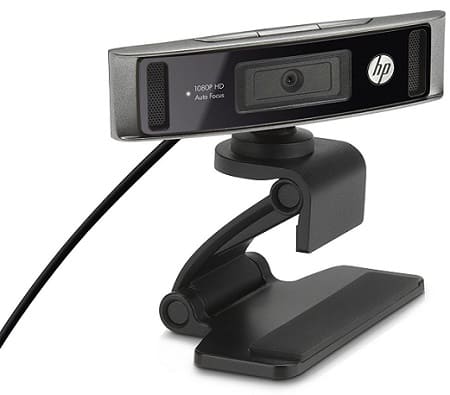 HP is a well-known brand. It makes desktop as well as laptop computers. They also make accessories for your PC from a mouse to a printer.
Also Read : 10 Best Gamepads Under Rs. 10,000
Pros-
Full HD 1080p video recording.
Autofocus capability helps a lot.
One-Click upload to FB/YouTube/Twitter etc services.
HP TrueVision helps in colour correction based on lighting.
Cons-
The software has many loose ends.
The Ball-Joint used to attach camera to stand is flimsy.
Zooming loses much quality than it should.
Only 1-year warranty.
Check Price : Amazon
---
6. Logitech 960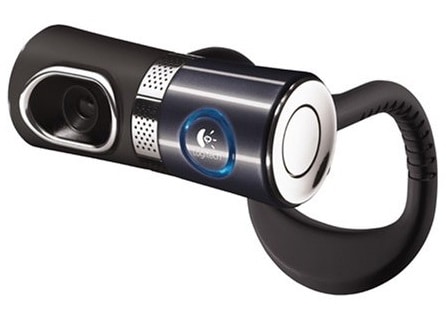 This is a direct competitor to the HP cam mentioned above. It is used by many people.
Pros-
Logitech RightSound technology works very well.
Camera and Audio integration is great.
Software has special video effects which can be fun when talking with small kids.
2 Year Warranty.
Cons-
Only 1.3 MP sensor.
Doesn't work great with Yahoo Messenger.
Low Light capabilities are mediocre out of the box, though it can be tweaked for better image.
Check Price : Amazon
---
7. Microsoft LifeCam VX-5000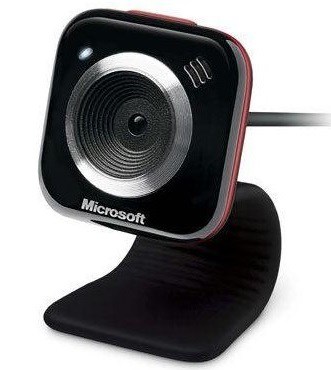 Another installation from Microsoft. Not many people in India use this, but it is quite popular abroad.
Also Read : 10 Best Gaming Laptops Under Rs 70,000
Pros-
Easy Plug-and-Play capability. (CD is included though)
HD Quality Video recording.
Low Light recording is comparatively good.
Software is quite good.
Cons-
The cord is a bit small.
Zooming digitally loses much quality.
Again, bad quality with Yahoo Messenger.
Only 1-year warranty.
Check Price : Amazon
---
8. Microsoft LifeCam Studio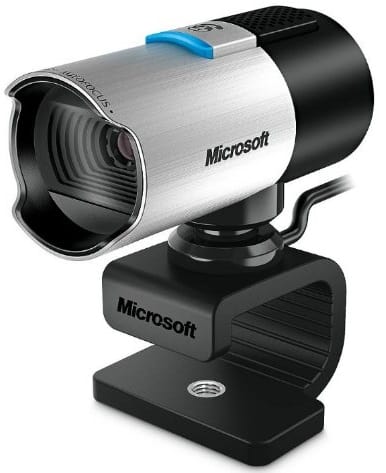 This is a higher end model. It is widely used abroad, not so popular in India.
Pros-
Full HD 1090p recording.
Advanced Auto Focus helps a lot.
Can be used for streaming.
Audio recording is quite decent too.
Cons-
You need a good CPU to record at 1080p or else it will record at 720p.
Some customers have experienced it randomly freezing in between calls.
NO Warranty in India.
Check Price : Amazon
---
9. Aukey FHD Webcam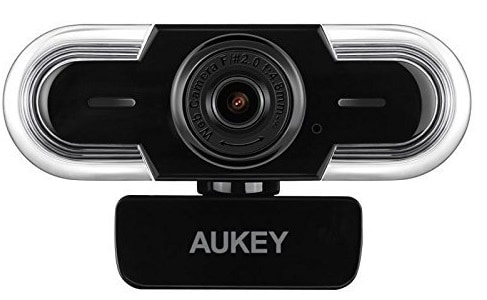 If you have ever searched for power banks or charging accessories. I am sure you must have come across Aukey. It is a brand that makes various tech accessories.
Also Read : 10 Best 4K Monitors in India
Pros-
One of the better-looking webcams.
Records at 2K resolution!
Best for streaming and YouTube videos.
2 Year Warranty.
Cons-
Edge distortion is an issue. You will need to crop in from the edge in post.
Records at 20 FPS in 2K.
Sometimes auto-focus fails in between videos.
Check Price : Amazon
---
*BONUS High Performance Cams*
10. Razer Stargazer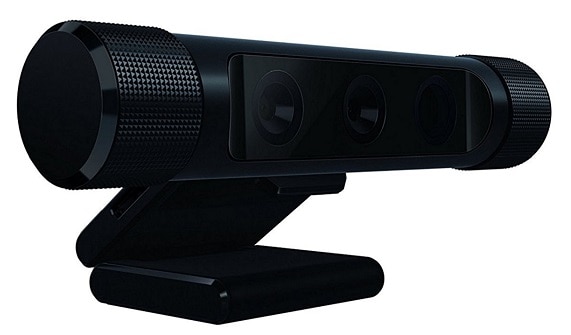 Let's go into the premium market for the last one. Razer is perhaps the best brand when it comes to gaming related products. It also makes a few other products like this webcam.
Pros-
It has IR Camera for Windows Hello.
It can do 1080p/30 or 720p/60 fps recording.
It is the best 1080p recording you can get, thanks to its compatibility with Intel RealSense Features.
With state of the art depth-sensing technology, you're able to remove your background or switch it up entirely. This creates more viewing space for the game in streams.
The Stargazer is the first and only webcam with 3D scanning. Developers can easily port scanned objects into Unity for development work, while designers can quickly prepare files for 3D printing. Gamers will also be able to scan their face or objects right into their favourite games.
Cons-
The price is quite high for Indian markets.
The software is a bit buggy.
Check Price : Amazon
12. Logitech Brio 4K Pro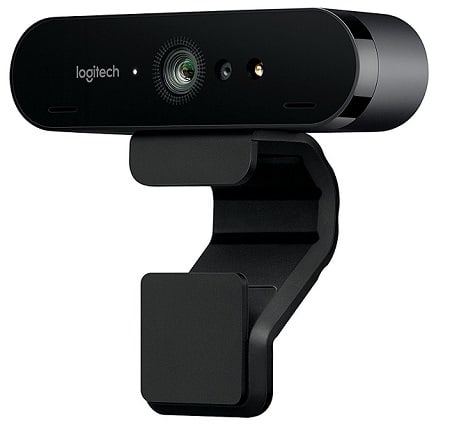 The reason I haven't included this in the list is that it is too overkill for almost everyone. Unless you specifically need a 4K webcam, there is no real sense in purchasing this thing, considering its price.
Pros-
Advanced Logitech RightLight 3 with High Dynamic Range (HDR) auto adjusts exposure and contrast for true-to-life detail and colour in any lighting.
Witch compatible hardware and software, you can record all the way up to 4K resolution videos.
Support for Windows Hello.
Similar background replacement features to the Razer one.
Cons-
Making the background crop feature work is quite a hassle.
Check Price : Amazon
We come to the end of our list. As we already know that the webcam market is dominated by Logitech, but I have tried to include cams from other manufacturers as well. Regardless, there are many more out there, so research well before buying.
---
Budget Picks
1. Logitech C270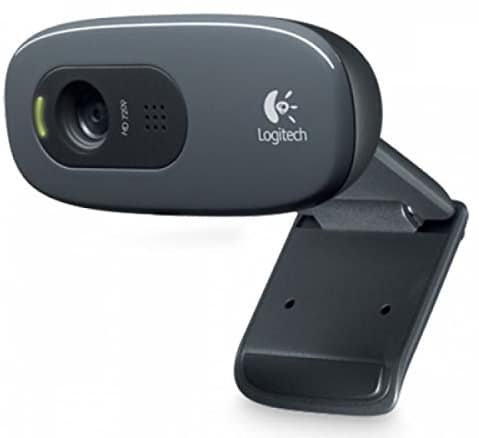 This one is mediocre. All webcams around this price range are the most basic ones you can get. These get the job done. Such cameras are ideal for installing in a large number in places like a cybercafé or a school. If your just starting on youtube and want a cheaper option , then you can try this.
Audio capture and wire length are decent.
Pros-
Price
Audio capture quality is better than expectation.
2 years warranty.
Cons-
3 MP capture at 1280 * 720 resolution is too low for today.
The Logitech C310 is 500 Rs more but it provides 1366 * 768 resolution at 5 MP.
Can only stream video, not record. (except for third party software)
Check Price : Amazon
---
2. Quantum QHM495LM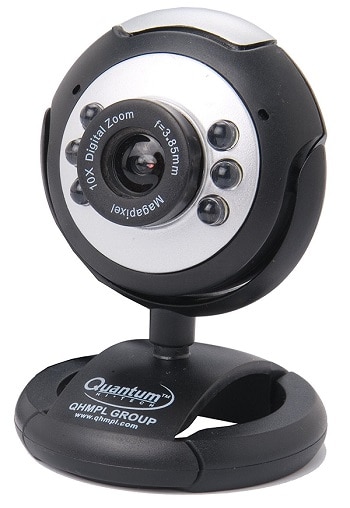 Quantum is perhaps the best company in extreme low budget peripherals. Available bot offline and online. Its products are usually reliable.
Pros-
Price
Company claims it is a 25 MP camera.
Antiflicker tech helps in different lighting scenarios.
Cons-
Cannot focus objects near to it.
Mic quality is poor.
Check Price : Amazon
---
---
Also Read:
1) Top 12 Best Xbox One X Accessories
2) 10 Best Gaming Headphones Under Rs. 10,000
3) Top 10 Best 20,000 mAh Powerbanks