Gone are the days when you had to carry a bulky laptop around that'd weigh nothing less than several kilograms. The modern breed of Windows Ultrabooks is light as feather, with many even weighing less than a kilo!
All these lightweight and thin attributes are attained without making any compromises to the features or specifications, in fact, the Windows Ultrabooks are the ones receiving many newer features before other models.
10 Best Windows Ultrabooks in India
This is possibly the right time to invest in an Ultrabook and below mentioned is a list of the best Windows Ultrabooks that you can buy right now.
1. Dell XP 13 9370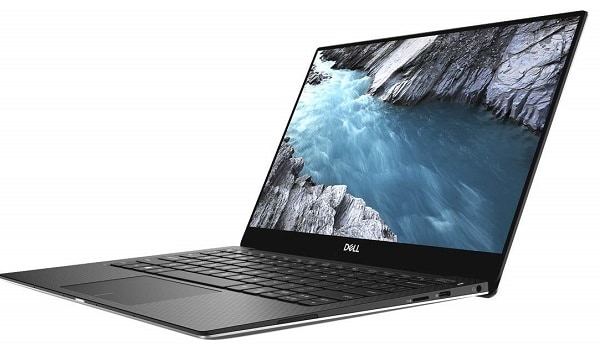 Pros:
1) Dell has managed to make the perfect Ultrabook in the form of its XPS series.
2) The 13-inch laptop can be configured up to quad-core Intel Core i7 processor along with 16GB of RAM and 512GB of SSD.
3) It holds an industry-leading display comes surrounded by really thin bezels and can be opted in up to 4K resolution.
Also Read : 10 Best Chromebook in India
4) This premium laptop is light in weight and comes with two Thunderbolt 3 ports along with a fingerprint scanner.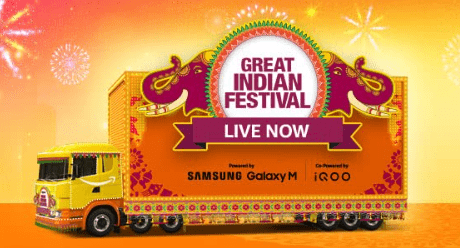 5) Its battery life is also exceptional when doing light things.
Cons:
The webcam is placed below the display, making it not the best position for video calling.
Also Read : Best Gaming PC Assembled Under Rs. 80,000
Dell hasn't made the newer 2019 model of the laptop available in India, which addresses this issue.
Check Price : Amazon
---
2. Lenovo ThinkPad X1 Carbon (6th Gen)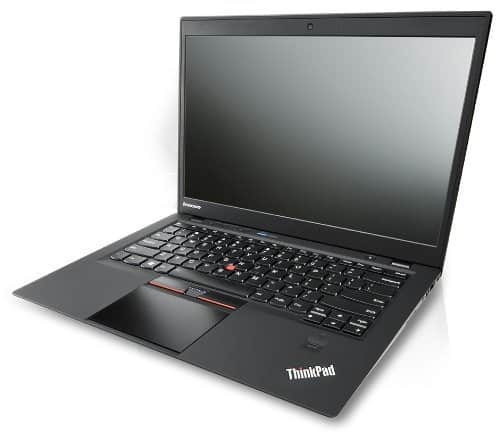 Pros:
1) With money no bar, the ThinkPad X1 Carbon comes out as a strong contender in this space and lives up to the legacy of the professional ThinkPad series.
2) Weighing just 1.13Kg, the laptop comes packed with a minimum of Intel Core i5-8350U processor and has a WQHD HDR-supported IPS display which is one of the best ones in the business.
Also Read : 10 Best Ultrawide Gaming Monitors in India
3) The notebook supports fast charging and offers up to 15 hours of battery life, while including a superior keyboard that the ThinkPad products are known for.
4) The performance level offered is just top notch while the overall design remains subtle and adheres to professional standards.
Cons:
Its is priced considerably higher than the competition.
Also Read : 10 Best Professional Gaming Mice Under Rs. 2000
The fingerprint reader used in this Ultrabook doesn't offer reliable and consistent results. The downward-firing speakers could've been made better.
---
3. Lenovo ThinkPad X1 Yoga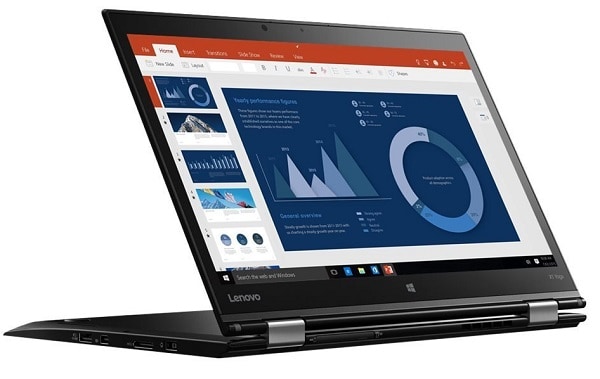 Pros:
1) If 2-in-1 laptops is your thing, and you don't mind a little extra weight, then the ThinkPad X1 Yoga is a fine choice for you.
2) Not only can it fold backwards, it packs a touchscreen display which is accompanied by an active pen to let you doodle or take notes on the go.
3) The speakers on this Ultrabook are quite good and the HDR anti-reflective display makes everything much more pleasing to look at.
Also Read : 10 Best Gaming Headphones Under Rs. 5,000
4) Available with up to Core i7 processor, Lenovo has included a top-of-the-line SSD which offers a superfast transfer speeds of over 2000 Mbps!
Cons:
Lenovo has priced this notebook even higher than the Carbon, taking it out of reach for most. Like the Carbon, it also has an inferior fingerprint scanner.
---
4. HP Spectre x360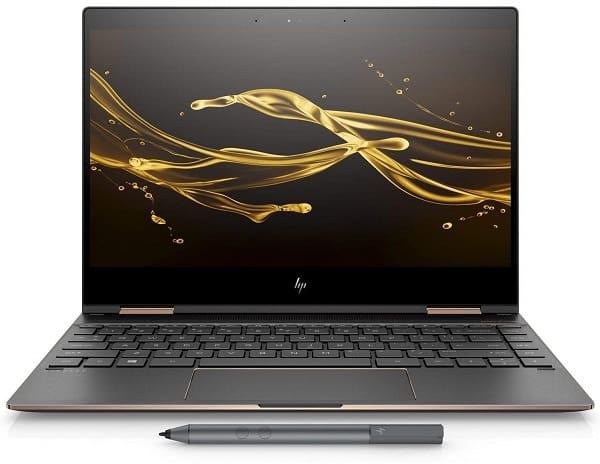 Pros:
1) Coming from the stable of HP, this Spectre x360 convertible notebook features a plush design that is made to grab some attention.
2) It weighs just 1.26Kg and has a fine selection of ports that include two USB Type-C ports, one Type-A port, along with a headphone jack and an SD card slot.
Also Read : 10 Best Work & Student Laptops Under Rs. 30,000
3) The convertible has a touchscreen display that can be used from sketching using a separate stylus.
4) You will also find an FHD IR camera along with the latest Core processors and fast charging.
Cons:
Given the configuration of the product, the pricing is definitely on the higher side. A newer model of the Ultrabook is available in India, but is exclusive to HP's own online store. The top and bottom bezels around the display are particularly thick.
Check Price : Amazon
---
5. ASUS ZenBook 13 UX333FA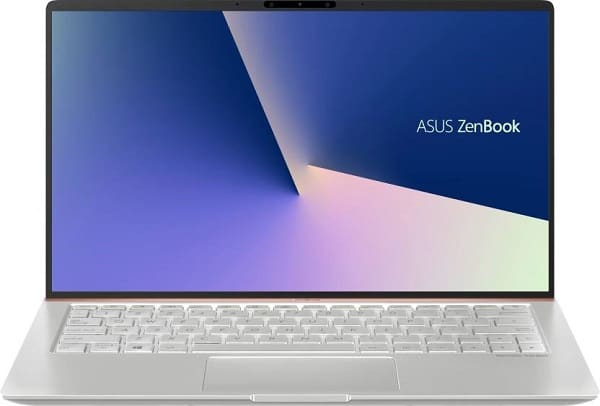 Pros:
1) The latest edition of the ASUS ZenBook series packs some serious features without breaking your bank.
2) The smallest one in the series includes a 13-inch display, which is nearly bezel-less, and weighs just 1.19Kg.
3) ASUS has provided the latest Intel Core i5-8265U and Core i7-8560U processors that are paired with 8GB of RAM and up to 512GB of NVMe SSD.
Also Read : 10 Best Laptop Under 60,000 in India
4) Its trackpad also houses a touch-based number pad, which you can activate using a single button.
5) Besides featuring the latest connectivity features, the Ultrabook offers an excellent battery life of over 14 hours.
6) You can get this notebook in several configurations to suite your need, with some of them also offering a dedicated GPU.
Cons:
ASUS messed up the right shift key which may make typing awkward for those who are heavily dependant on their laptop's keyboard. The touchpad can feel a bit small at times.
---
6. Microsoft Surface Laptop 2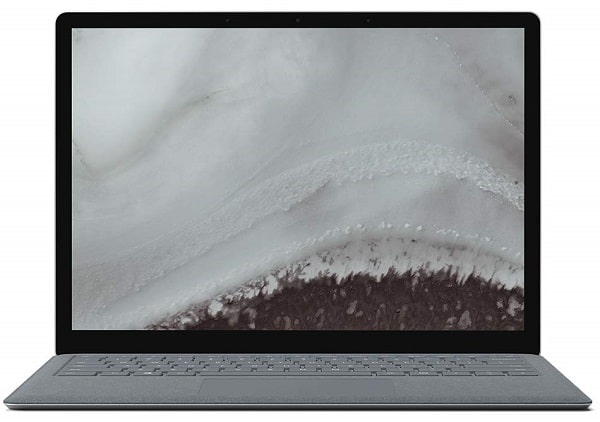 Pros:
1) Made by Microsoft themselves, the Surface Laptop 2 is designed for being used by everyone.
2) The Ultrabook comes packed with a great display that is in a unique 3:2 aspect ratio which is great for creating documents and surfing the web.
3) Both its keyboard and trackpad are recognised among some of the better ones in its category and the soft-touch palm rest makes typing an improved experience.
Also Read : 10 Best Gaming Laptops Under Rs 90,000
4) The quad-core processors provide awesome performance while maintaining a battery life that outlasts many premium laptops.
5) It is an ideal machine for both general users and professionals alike.
Cons:
The port selection on this notebook is quite limited for its price and size. Despite being launched only recently, it lacks a USB Type-C port and therefore Thunderbolt 3, too.
Check Price : Amazon
---
7. Acer Swift 5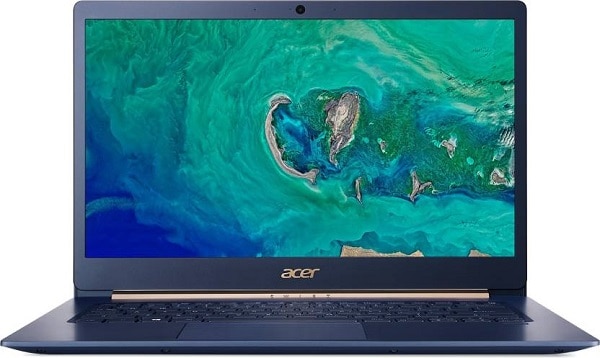 Pros:
1) Among the lightest in this category, the Acer Swift 5 weighs a mere 970 grams while having a 14-inch display and without compromising on anything.
2) Besides the weight, it is also one of the very few laptops offering an excellent value for your money.
Also Read : Best Gaming PC Build Under Rs. 2,00,000 in India
3) You can get a Core i7 model of this Ultrabook, that too with 512GB SSD, for a price at which other companies offer a Core i5 chip.
4) To please your eyes and offer additional functionality, the laptop comes with a touchscreen display that is quite vivid.
5) While nothing exceptional, the keyboard of the Swift 5 is spacious and is nice to type on with no major con in particular.
Cons:
You may not find the trackpad offering the best experience. It lacks an SD card slot and the battery life could have been a bit better.
---
8. ASUS ZenBook 13 UX331UAL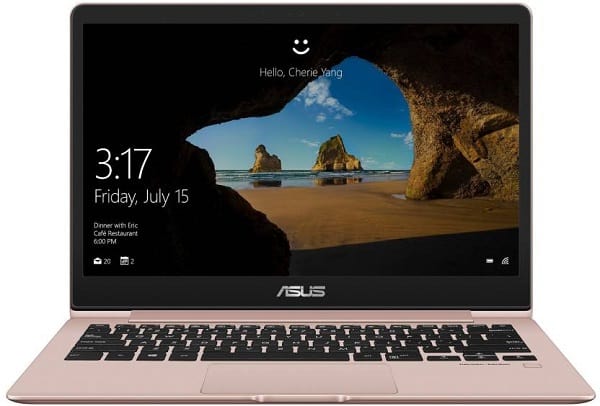 Pros:
1) As part of ASUS' premium ZenBook series, this Ultrabook is priced amazingly well in the Indian market.
2) Besides that, this model is also one of the lightest notebooks at just 985 grams without it compromising anything.
Also Read : 10 Best Laptops Under Rs. 35,000
3) The 13.3-inch non-touch display is good enough for day-to-day usage and it includes a 256GB of SSD in the base variant along with Core i5 and Windows 10 Home.
4) It has a USB Type-C port together with two USB Type-A ports and offers a claimed battery life of 15 hours.
Cons:
While the outer shell is made out of metal, plastic has been used at places, like around the display, which gives it a little flex.
Also Read : 10 Best Gamepads Under Rs. 10,000
ASUS continues to use a VGA webcam, which is subpar considering the 2019 standards.
Check Price : Flipkart
---
9. HP Envy 13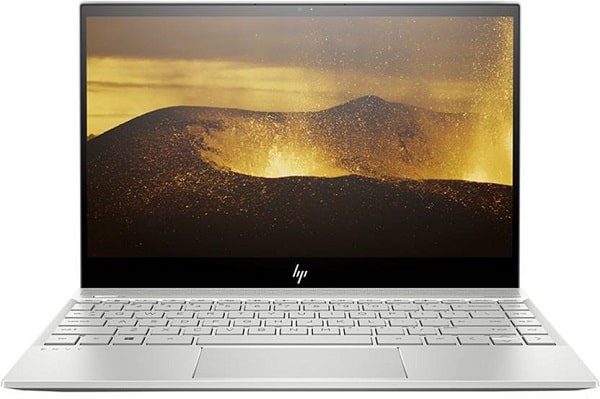 Pros:
1) Coming from a brand-like HP, this is the cheapest thin and light laptop that offers a premium build and design.
2) For regular use, you can pick up a model with an 8th gen Core i3 processor, which offers a fantastic value, while you can also choose models with Core i5 or i7 processors too.
Also Read : 10 Best Gaming Headphones Under Rs 2000
3) A side-mounted fingerprint scanner supports Windows Hello and the Ultrabook offers a range of ports to suite varied needs.
4) This is a compact notebook weighing just 1.21Kg.
Cons:
The display panel provided by HP is subpar when it comes to brightness and so is its webcam. The battery life offered by this Ultrabook is barely average for most use cases.
Also Read : 10 Best Gaming Laptops Under Rs 50000
HP has used a Synaptics-made trackpad, which has nothing outstanding to talk about.
Check Price : Flipkart
---
10. Lenovo Yoga 730 (13)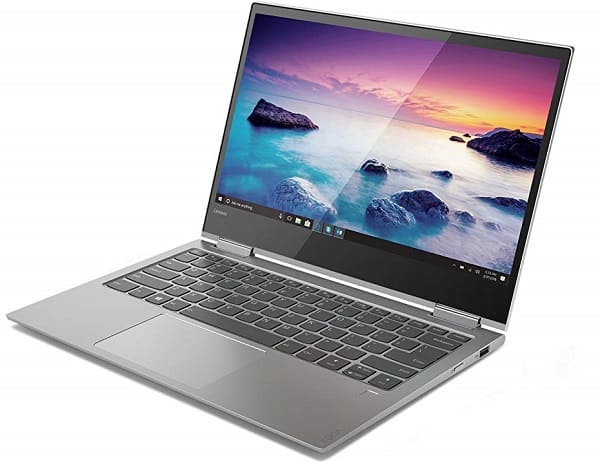 Pros:
1) This Ultrabook from Lenovo offers more onboard storage at 512GB in the base variant than any of its rivals.
2) It comes preloaded with Windows 10 Home and Office 2016 to get you started right out of the box.
Also Read : Best Budget PC built Under Rs 25,000
3) The 13-inch touchscreen makes tablet use quite easy and the Lenovo pen can be used for note taking and doodling.
4) It is a well-built notebook with a long-lasting hinge that offers a great performance using its quad-core processor.
Cons:
The keyboard of the Yoga 730 is a tad shallow and doesn't offer the best typing experience. Both the battery and the display are mediocre at best and shouldn't be considered for professional work that leverages screen accuracy.
Check Price : Amazon
Also Read:
1) Best Gaming PC Build Under Rs. 1,00,000
2) Gaming PC Build Under Rs. 80,000
3) Best Gaming PC Under Rs. 50,000