Looking For A Durable Under Budget Laptop Sleeve ?
Search No More !!
Laptops are a heavy investment and anyone would want to protect them from getting damaged for as long as they can. Spending a few hundred rupees more can get you some piece of mind and that would be in the form of a laptop sleeve. They provide an excellent protection for your laptop against scratches and keeps it like new for longer.
There are a bunch of things you must consider while getting one for your laptop, like its size, the material used, the enclosure type, etc. This might be a bit confusing for many and troublesome too. Below is our comprehensive list of some of the best budget laptop sleeves that you can get under Rs. 1,000 available for all sizes.
Top 10 Budget Laptop Sleeves Under Rs. 1000
1. AmazonBasic
(🌟🌟🌟🌟🌟)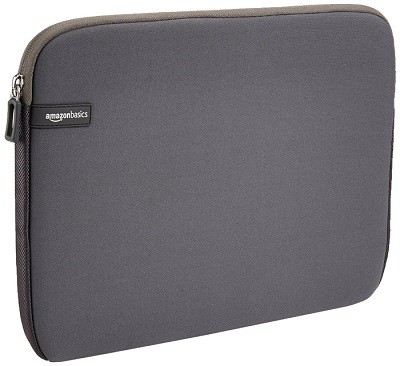 1) For the people looking for a well-built laptop sleeve then there could nothing be better than this one from AmazonBasics.
2) This is a sub-brand of Amazon that makes quality tech accessories for a variety of products.
3) The company makes these laptop sleeves available in a number of colours that should appeal you on the basis of your taste and preference.
Also Read : Best Laptops under Rs. 30,000
4) The sleeve has been designed to precisely fit the laptops of size 15.6-inch screen size and other sizes can also be selected.
5) It can be opened from the top via a zipper that also is made of high-quality material. And in case you want to place the laptop inside a bag with the sleeve on, you can do that as well.
Buy Now : Amazon
---
2. AirCase
(🌟🌟🌟🌟🌟)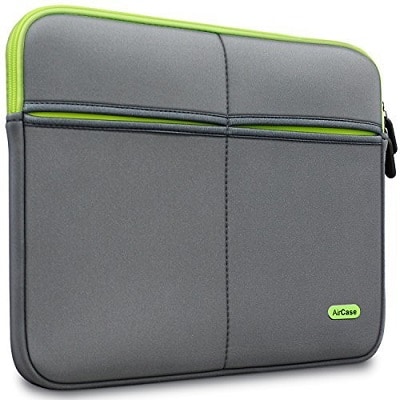 1) AirCase makes a lot of cases and covers for different tech products they make for laptops too.
2) The outer material of the sleeve is made out of soft-touch cloth that gives the user a better experience.
3) The inner lining is also made out of soft material that ensures the safety of your laptop.
Also Read : 10 Best Laptop Cooling Pads
4) There is a large pocket for placing your laptop of up to 15.6 inches and there are four additional pockets too.
5) These small pockets can be used to store the laptop accessories or its cables.
6) The company offers this sleeve in multiple sizes and with different colours too.
Buy Now : Amazon
---
3. AmazonBasics Felt
(🌟🌟🌟🌟🌟)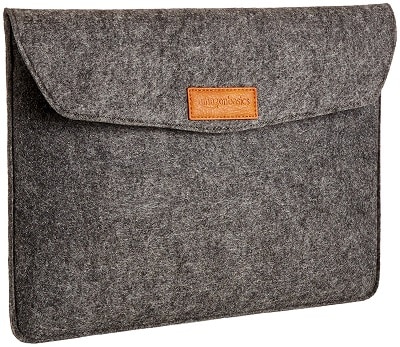 1) This is another quality laptop sleeve from AmazonBasics but this one comes with a different design. With the premium materials used in this sleeve, you are bound to stand out with your laptop.
2) Unlike the zipper ones that are normally seen, this one comes with a flap to close the laptop inside.
Also Read: Best Quality Wireless Mouse Under Rs.1000
3) Inside, you can find a lot of pockets where you can store all your tech accessories. Apart from the large laptop pocket, you can find three others for maybe cables or some documents.
4) The company makes this sleeve for all laptop sizes and you can even use it for a laptop.
5) It is available in two great colours for you to choose from.
Buy Now : Amazon
---
4. Targus 13-inch Drifter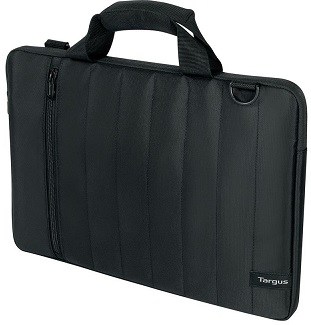 1) For a budget of under Rs. 1,000, this product is probably the best one you can get.
2) Targus somehow managed to make an all-rounder product that stands out with all the features it offers.
Also Read : 10 Best Wired Mouse Under Rs. 500 in India
3) To start with, the sleeve is made out of water-resistant material that should protect your laptop from the water up to an extent.
4) There is a handle on the top if you want to carry the laptop around and it also has a shoulder strap for the best portability.
5) On the inside too, the laptop sleeve has soft touch finish that'd protect the laptop from scratches. The company includes a warranty of 3 years with this sleeve.
Buy Now : Amazon
---
5. GoFree SlimLine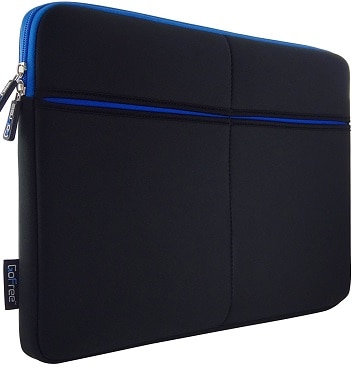 1) At a slightly lower price than the others, you can get the laptop sleeve from GoFree.
2) It is like any other laptop sleeve available in the market and is capable of housing a laptop of up to 15.6 inches in size.
3) In fact, you can choose one for your tablets or even kindle devices. Black and blue colour of the sleeve makes it stand out.
Also Read : Best Gamepads in Under Rs.1000 For Gaming
4) The enclosure on this laptop sleeve is a zipper that can last you for a number of zipping cycles.
5) Besides the main laptop pocket, you can find three small pockets on the side to store the accessories you might want to accompany with the laptop.
Buy Now : Amazon
---
6. Protecta Square Cut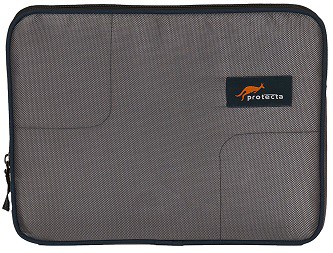 1) If you are looking for something on a tight budget, then you must have a look at this laptop sleeve from Protecta.
2) This sleeve is perfect for the people who have a fairly old laptop that is much thicker than the modern MacBooks.
3) Depending on the size you choose, the sleeve can take up to 15.6 inches laptop, that too, a fat one.
4) Coming at such a low price, the sleeve is perfect in all aspects and asking anything more wouldn't be right.
5) With the top loading zipper, it becomes easier for you to put inside and take out the laptop.
6) There is foam padding inside to keep the laptop safe when you are carrying it around.
Buy Now : Amazon
---
7. Theskinmantra Artistic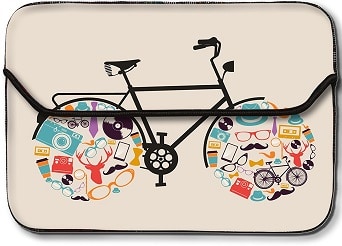 1) Not everyone is that boring type who needs a dull single colour sleeve for their laptops, there are many who would love to experiment and go for funky designs.
2) Much like smartphone cases, the laptop sleeves also come with different prints and this sleeve is no different.
3) It has a colourful cycle on both its sides that might appeal many.
Also Read : 10 Best Gamepads Under Rs. 10,000
4) The company has designed this sleeve for Apple MacBook Air and it should be able to take any laptop of 13 inches.
5) Sturdy stitching has been done to ensure its durability and the sleeve is water resistant too. It has a long life and the design wouldn't come off even after that.
Buy Now : Amazon
---
8. GIZGA Protective Felt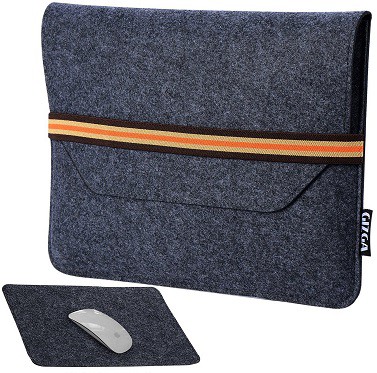 1) It wouldn't be wrong to call this laptop sleeve the most cost-efficient one in the list and there are several reasons for that.
2) First off, it doesn't cost as much as the others do. Secondly, the laptop sleeve from GIZGA offers a lot for its price.
Also Read : Best Gaming Headphones Under INR 2000
3) Alongside the sleeve made out of high-quality felt material, it has a mouse pad made from the same material.
4) You can place your laptop of up to 15.6 inches inside this sleeve and the flap is closed by a strap on the outside.
5) The soft lining on the inside and a felt material outside make the sleeve a great product for the price asked.
Buy Now : Amazon
---
9. Saco Water Resistant
(🌟🌟🌟🌟🌟)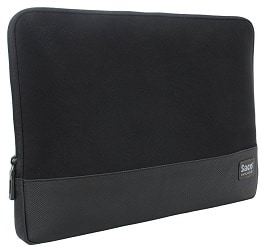 1) Saco is known for a bunch of products in the tech accessories space and one of them is the laptop sleeves.
2) This is a simple looking and also simple to use laptop sleeve that can be perfect for people looking for a functional sleeve that doesn't itself take a lot of space.
3) There is just one compartment in the sleeve where the laptop is stored.
Also Read : Best NAS Device in India
4) Black is the dominating colour of the product while there are accents on the bottom part which you can choose from three options.
5) This is a cost-efficient sleeve that does only what it is designed for and does it probably the best. To add to that, the sleeve is even water resistant.
Buy Now : Amazon
---
10. Origlow Reversible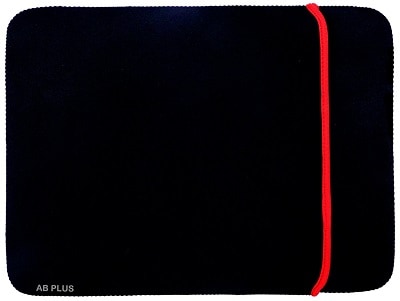 1) This is the cheapest laptop sleeve on our list! And you must know that despite being costing less, the sleeve is made out of some of the best material that will keep your notebook safe from scratches and other damages.
2) This is a reversible sleeve that has a black colour on one side and red on the other.
3) It is a slide-in laptop sleeve, where you insert your laptop from the side of the sleeve and cover it with the flap.
Also Read: 10 Best USB Microphones in India
4) It has thick padding and the material outside isn't slippery at all to provide a firm grip when holding.
5) The larger one of this sleeve can hold a 15.6-inch laptop and you can also get a smaller sleeve for the 14-inch laptops.
Buy Now : Amazon
---
Also Read:
Best Professional Gaming Mice Under Rs. 2000
10 Best Customizable LED Gaming Keyboards Under Rs. 5,000
Top 10 Gaming Laptops under Rs. 1,00,000