Being an entrepreneur would not be easy for all. A million obstacles seem to stand in the way each and every day. The life of an entrepreneur is burdened with so many unimaginable roadblocks.
But yes, that is the price one has to pay for success.  Successful entrepreneurs live by the saying, 'When the going gets tough, the tough gets going.
The purpose behind the film was to give exposure to entrepreneur and to tell more about the success so they will rise high and get numerous opportunities.
If you are an entrepreneur or aspiring to be one, you might relate to instances or situations shown in these movies.
Top 20 Motivational Movies for Entrepreneurs
 1 

The Godfather
With superb acting by especially Al Pacino as Mike Corleone and Marlon Brando as Don Vito corleone this movie shows how one of the head mafia families in New York works, it gives a detailed picture of how their business runs and what kind of chances they got to take on their business, for example their denial to step inside the narcotic business brings on a lot of troubles, but also it shows what kind of sacrifices they make, every day could be their last day..
Al Pacino shines above all in this movie, as the smart boy of the family he returns after fighting a war for his country, at that time not involved in the family business. The Godfather is simply "influential" is to diminish its true qualities, and so is to describe it simply as "a movie about gangsters".
The Mafia is certainly the main focus the story revolves around (despite the fact that the word is never mentioned), but although the movie never tries to forcedly insert separate subjects it contains an amount of psychological and social subtexts that cannot be overlooked.
---
 2 

Glengarry Glen Ross
This movie has one of the finest casts imaginable… what a joy to watch them work together. And unlike most movies that come out of Hollywood, this one actually has a point to make. Only an abundance of profanity and weak direction detracted from my enjoyment of this movie.
---
 3 

Wall Street
In the life of an ambitious young stockbroker, Bud Fox will do just about anything it takes to succeed, and for him, that includes a little bit of insider trading. See what happens when the desire to succeed takes over your life and the motto of 'Greed is good' directs how you do business.
Wall Street combines one of the most interesting and deepest villains ever in Gordon Gekko with an interesting and emotionally-charged plot as well as a great performance by Charlie Sheen to make one of favorite film for All Entrepreneurs.
Why watch it? You will get to learn the tip and tricks of becoming a successful person and you will be able to figure out how to make something even better.
---
 4 

The Game
Director David Fincher followed the success of his dark and atmospheric crime thriller Seven (1995) with another exercise in stylish film noir, this time lifting the pallid atmosphere a notch to indulge in a fast-paced trip through the cinematic funhouse.
Michael Douglas plays Nicholas Van Orton, a Scrooge-like San Francisco investment banker following in his father's Scrooge-like footsteps.
On Nicholas's 48th birthday (the age at which his father committed suicide), his younger, free-spirited Brother Conrad (Sean Penn) blows into town and gives Nicholas a special gift for "the man who has everything. When bad things start to happen to you, you start to question what's really important in live, business, success and money, or actually living.
---
 5 

Boiler Room
The movie is the writing and directing debut of Ben Younger, a 29-year-old who says he interviewed a lot of brokers while writing the screenplay. The movie hums with authenticity, and knows a lot about the cult like power of a company that promises to turn its trainees into millionaires, and certainly turns them into efficient phone salesman.
---
 6 

Jerry Maguire
There are a couple of moments in "Jerry Maguire" when you want to hug yourself with delight. Jerry Maguire" could potentially have been an excellent film.
It has all the elements we love to see in a movie—great acting, admirable characters, exciting sports scenes, poignant drama, an incredibly cute kid, and what it really important to his business and life and works towards bringing it all back together again, only this time, the way it should be.
Why watch it? When you're following your dream, everything else will fall into place both professionally and personally. Jerry Maguire eventually learns this valuable lesson.
---
 7 

Trading Places
Trading Places is, by some measure, one of the funniest films ever made, and certainly become one of favorite movies for entrepreneur of all time.
It wants to be funny, but it also wants to tell us something about human nature, family, friends, love, and money and there are whole stretches when we forget it's a comedy and get involved in the story.
---
 8 

Office Space
A wonderful depiction of a high-tech industry in general and Software Industry in particular. Songs are hilarious with offensive content though. Watch this movie with folks of similar interest. Peers working in high-tech industries might make a good audience.
A must see for a software geeks and young fresh off the college punks who want to make it to IT and be done with it. The mantra of the movie is a simple message …No matter what job it is, take this job and shove it!
Several valuable lessons in this movie including the value of daring to break free of your mind-numbing office job and follow your own path. Also carries a powerful message about the importance of wearing the right amount of flair at all time.
---
 9 

Pursuit of Happiness
It is an inspirational but often emotionally wrenching story. This story of this movie is real based on a man who believes so badly in a product in a product that he can't sell that end up losing everything such as losing house, money, wife and being left with just himself and his son. This is a powerful true story that sticks with you as you face your own personal struggles in business.
---
 10 

Catch Me If You Can
It is also based on real story, Catch Me If You Can offers more whimsical entertainment. It is certainly a change of pace from director Steven Spielberg. There's no war or life-threatening crisis, no dinosaurs on the loose & mdash; just a clever con man on the run, trying to earn enough money to buy back the peace and happiness he had before his parents' divorce.
---
 11 

Wolf of Wall Street
The 2013 film is based on the true story of Jordan Belfort and showcases his rise and fall as a wealthy stockbroker investigated for corruption by the federal government. This movie does a great job at depicting how business cultures are created in fast-growth companies.
---
 12 

Shawshank Redemption
This is a classic movie directed by Frank Darabont. What makes this movie even more wonderful is that this was based on a true event. Its a story about Andy Dufresne a banker is wrongly convicted for 2 life imprisonments. It's a classic from how he spends his time in his prison and make friends to how he escapes the prison.
He is abused in prison by prison manager but at the end he gives a suprise gift to him after he escapes. From how he plots to escape everything is shown in detailed manner. According to me this is a must watch movie and a motivation that even if you fall in any trap you must struggle hard to escape from it and keep living your life. This movie was nominated for seven academy awards.
---
 13 

The Social Network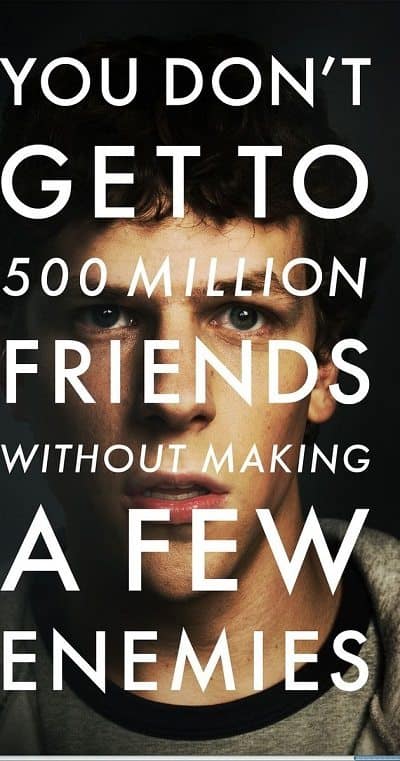 This Particular movie shows the reality behind the development of the most popular social network i.e., "Facebook" earlier "The Facebook ". Student of Harvard name Mark Zuckerberg (genius programmer and blogger) once got the idea in his room to develop a website called facemash.
The film shows the real incidents behind the facebook foundation, and yes, it proves that it takes your friends to reach big, sometimes. But a powerful performance, powerful direction and a true-to-the-fact story is important to make a movie big, and this is one such movie. Go and Face the Truth for yours.
The film gives viewers a better understanding of how to make a startup succeed by exhibiting such qualities as being flexible and resilient. Every time you will watch this movie it motivates you to be a better entrepreneur.
---
 14 

Pirates of Silicon Valley
You must have heard two big names in your life: Microsoft and Apple.  This movie caught the flavor of the two companies, Apple and Microsoft. This is a semi-humorous biographical film about the men who made the world of technology what it is today, their struggles during college, the founding of their companies, and the ingenious actions they took to build up the global corporate empires of Apple Computer Corporation and Microsoft Inc.
Why watch it? Entrepreneurs are still looking for inspiration from these two iconic "pirates." It definitely provides pointers to learn from.
---
 15 

Forrest Gump
Forrest Gump is a movie which is all about the simple man with a low I.Q. but good intentions. He is running through childhood with his best and only friend Jenny. The thing that will get you is the innocence in which Forrest sees the world. He doesn't really know what he is doing or saying, yet to us he makes a huge difference in the world.
There aren't many movies that have penetrated the subconscious of the American zeitgeist as intensely as Gump, and it's not hard to see why. As far as the movie making goes, FG presents us with a career defining performance from Tom Hanks, as he handles the emotional conflicts very well in the movie.
It's a film that deftly mixes nearly every genre into one epic tale, yet never shies away from the importance of small moments.
---
 16 

Blow
"Blow" is probably the most important film about drugs since "Dazed and Confused." It is a much more dark and less humorous film than "Dazed" which was about pot and "Blow" is about cocaine.
Based on a true story, the film revolves around George Jung, (Johnny Depp). The film is beautiful and interesting. The story is so engrossing that no dialogue is really necessary to clarify what is being seen.
---
 17 

Dirty Rotten Scoundrels
What a film! "Dirty Rotten Scoundrels" has a really clever plot, in which Lawrence, a high-class playboy (Michael Caine), and Freddy, a petty con man (Steve Martin), make their living by seducing and cheating rich ladies.
However, the little French town is too small for both, so they decide to set up a bet in which the loser has to clear the area. Pretty and naive Janet (Glenn Headly) is the object of their contest, and each one of them engages in ever-more ingenious tricks to try to rip her off and win the bet, yet with unpredictable results.
The movie is hilarious, and despite its 15 years' of age, it is as fresh as it has been when it was first produced. Steve Martin of course is the funniest character of all, with his fantastic "Ruprecht" performance being unforgettable. Go ahead and enjoy this film.
---
 18 

The Aviator
The Aviator, the movie about the madman Howard Hughes is a beautifully scripted as well as portrayed right from his film making days to his aviation business days. Some of the scenes have been brilliantly sculpted and keep the audience glued to their seats.
As for Leonardo De Caprio, it can be said that this is his best performance of his career. In this movie Howard dreams of growing up to become the richest man in the world.
Why watch it? While launching a successful business is a goal of every entrepreneur, it's not the only goal in life.
---
 19 

Risky Business
This is the movie that launched Tom Cruise's career, and its success is due in a large part to his great performance as the lead character, Joel Goodson. Joel is an earnest, hard working high school student who wants to do the right thing, but is also possessed with desires (aren't we all) and an intense curiosity about life beyond his well manicured front lawn.
To help him explore these desires are three friends who all seem to be a little more experienced and less inhibited than himself. This appears to be the source of much of Joel's problems. Joel, in a nutshell, needs to prove to himself and the world that he is more than just a ""Goodson".
Why watch it? Even when the world tells you that you'll never have a chance to succeed, keep fighting. That competitive spirit can take you a long way.
---
 20 

The Corporation
Forget your standard-issue horror flicks, this film is truly the most frightening piece of cinema I've ever subjected myself to. The Corporation puts the fear of the Invisible Hand into the viewer, doing for capitalism what Jaws did for beaches. 
Those who condemn it as some form of propaganda or completely partial fail to realize that this film attempts to give you one side of the story.
The movie makes convincing arguments as to why the corporate agenda may not be sustainable. Criticizing the movie for not giving a pro-corporation side is condemning it for something it isn't meant to be. It's a critique of the corporate agenda and should be something people on all sides of the political spectrum should see.
---
Also Read:
1) Top 10 Best Gaming Headphones Under INR 2000
2) 10 Best Quality Wireless Mouse Under Rs.1000
3) Everything you need to know about a PS4 & PS4 Pro
4) Top 5 Best Gaming Laptops under Rs 1 Lakh in India
5) All you need to know about Virtual Reality and VR Headsets
6) Top 5 Best Gaming Laptops Under Rs. 50,000 in India
7) Top 10 Best Android Games Loved by Everyone 2017
---
Please do comment below to add your suggestions.