As everyone uses smartphone with intensive battery requirements , smartphone batteries are not strong enough to keep your phone working all the time. Especially when your are travelling or their is not power source available.
So , it's better to be prepared and keep a power bank handy. Which can support your smartphone through 2-5 charge cycles depending upon the capacity. This will save you many troubles and keep your phone working.
---
Also Read:
---
Here you will get long lasting and durable power banks.
1 Mi 10000 Power Bank
1) It's perhaps the smallest six figure mAH rating power bank out there.
2) Housed in a sleek aluminium casing weighing a mere 209g, this power bank adds no weight to your backpack.
3) The aluminium feels very premium , built is sturdy and long lasting.
Also Read : 11 Best Wireless Earphones Under Rs. 1000
4) The power bank outputs 1A through one output socket which is enough to charge most phones five times.
5) The single output slot was chosen by the company to keep the design simple and minimalistic.
Buy Now From : Amazon | Flipkart
---
2 PNY BE-740 (10400mAH) Power Bank

1) AH! This one feels so premium. Be it their pen drives or graphics cards, pny is known for their futuristic and out-of the-box designs.
2) This one, at its first glance, leaves the impression of premium built and great durability.
3) It discharges 2.1A at 3.7V through its only output slot, takes 2 ampere charger to charge in 5.5 hours.
Also Read : Best Earphones Under Rs. 2000 in India 
4) There's only one charging slot to chose from, which is fine as power banks boasting more than one slot seldom live up to their expected life.
5) If you appreciate good aesthetics and spend most of your time in the city away from the wall, buy it! It's a steal for what it's worth.
Buy Now From : Amazon | Flipkart
---
 3 Intex IT PB16K (16000mAH) Power Bank
1) 16000mAH is awesome , but there's more – it weighs just a little under half a kilo, 460g, so now you know they aren't being dishonest about their capacity.
2) With the size of 20 x 10 x 8 centimetres, there was enough room for two slots discharging 1A and 2A both at 5 volts- tablets no problem !
Also Read : Top 10 Best Bluetooth Earphones Under 2000
3) It does need a 2A charger to charge it fully in a little under 8 hours, its a little more than the rest of the pack but come on, it's the only thing you'll be charging given its two output slots.
4) We highly recommend getting one of these.
5) It's a six way charging station. It'll give your power-bank enough current to charge steadily and ensure all your other devices don't sit idle in the process, anything have you, 100% battery always .
Buy Now From : Amazon | Flipkart
---
 4 Ambrane P-1111 10000mAH Power Bank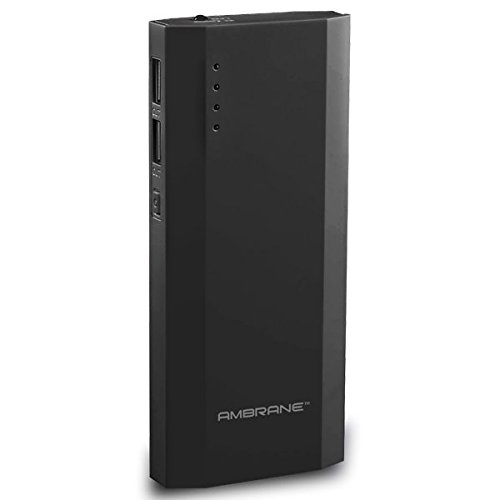 1) We were a little shocked with this price tag on this device is so damn pretty !
2) What's more? It has a 10000mAH battery at its heart to go with it. Two charging slots of 1A/2A at 5V – no problem in the tablets department.
Also Read : 10 Best Over-Ear Headphones Under Rs 2,000
3) if you have a trendy converse backpack or the like- this is the power bank for you. Weight of 275 gms means it'll add nothing to your backpack.
5) Go ahead make a style statement whiles still keeping your phone running.
Buy Now From : Amazon | Flipkart
 5 Lenovo PA10400 10400mAh Power Bank
1) With both the usb output slots discharging 2 amperes at 5 volts, the lenovo PA10400 can effortlessly handle heavy loads like two big smartphones or tablets.
2) 10400mAH should charge an Iphone 5s about 5 times, a nexus 6 can fully charge 2 times sitting just a little shy of the the third full charge.
Also Read : Best Earphones Under Rs. 5,000 in India
3) Built is sturdy, smart minimalistic office environment design available in black and white color choices.
4) The whole deal weighs about 240 grams and feels snug in the hand with its well finished rounded edges.
5) We recommend the lenovo power for anyone who appreciates an elegant design and wants a bang for their buck.
Buy Now From : Amazon | Flipkart
---
More In Ear Headphones
More Over Ear Earphones
Please feel free to share your experience in the comments section below.
Thanks you !