This is a price range where the buyer means some serious business. When someone spends so much on a laptop, one generally expects either a better processor or a better design when buying an Apple Laptop / Macbook.
For those opting for other brands, a core i7 processor, a 16GB RAM or at least a 4 GB graphic support is desirable. While getting a touchscreen will be the added bonus.
Some might look for flexibility, some may look for flat out performance, while some may want to stare at the most vibrant screen.
Most of the laptops have more than one checkboxes clicked here, so I have selected the best offerings and thus I  would put them down: –
(🌟🌟🌟🌟🌟)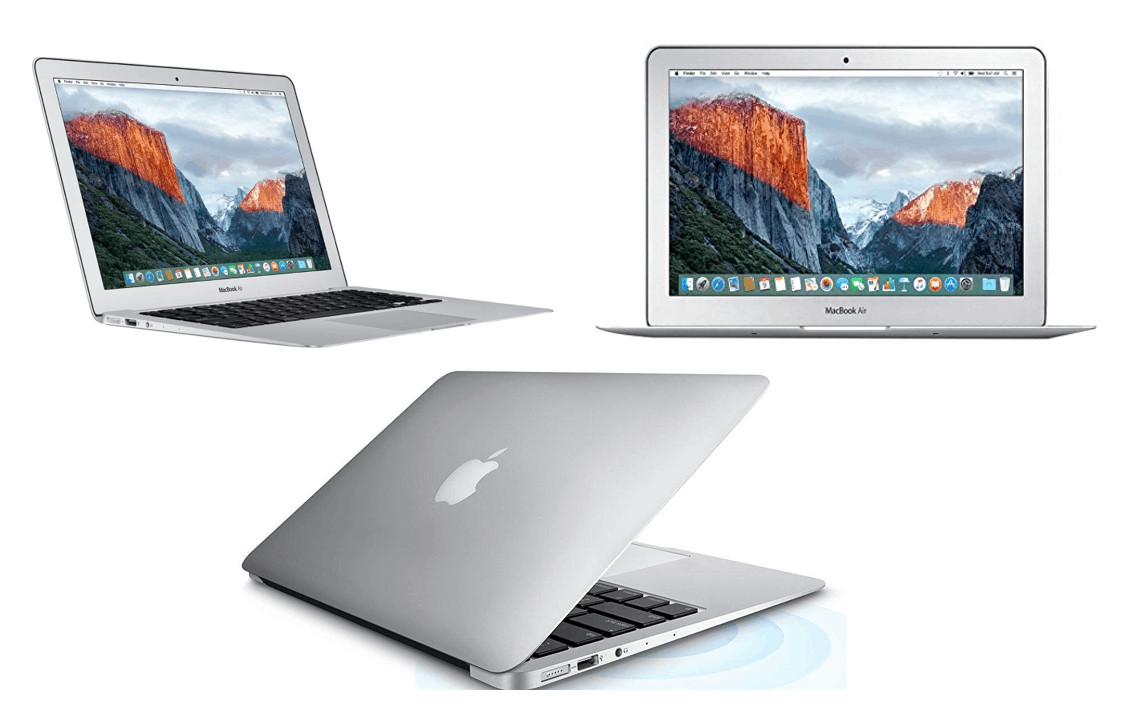 Because you want an Apple! Yes, that is it. Buying an Apple has its own benefits, and that is why they manage such good numbers.
Those devices are your entry ports into the universe of Apple, where computing, as claimed, is much easier, more fun and much more secure than any other environment.
And you get all those 'I' products like iCloud, iTunes, etc., etc. And this is a MacBook Air, so it is slim enough to fit inside a paper envelope and not feel heavier than a bundle of lecture notes(1.4kg).
So if you want an Apple and that is all you want, you must go for this particular model.
Well,there are other Apple models on offer in this segment, but this one comes with an upper hand in terms of numbers with an 8GB RAM, something amiss from the other offerings from Apple here.
Laptop Specs
1.6GHz Intel Core i5 processor

8GB DDR3 , RAM

128GB storage

13.3-inch screen

Intel HD 6000 Graphics

Mac OS X operating system

12 hours battery life

1.4kg weight
Best Buy Links – Apple MacBook Air 
(🌟🌟🌟🌟🌟)

This one packs it all.
6th Gen Intel Core i7 processor

16GB RAM

4GB Graphic Processor

15.6-inch Full HD touchscreen

Windows 10
You've got everything you can ask for a laptop at this price range.
Plus it comes from the stable of Dell, it has good brand value to boot as well. The absence of an SSD might leave that little void, but the 16GB RAM DDR3 SDRAM should make up for it pretty well.
The backlit keyboard is a handy tool to work late nights. This laptop is perfectly aimed at the hard workers who needs a lot done from the computer.
Be it a gamer, a scientist or an engineer, this is a perfect companion for the high computing needs they have.
Best Buy Link – Inspiron i7-15RSLV Dell 
(🌟🌟🌟🌟🌟)
The numbers – Intel Core M processor, 4GB DDR3 RAM, 128GB SSD Full HD 12.3-inch touchscreen, Windows 10.
Basically a Tablet, as the name suggests. Extremely light at 786g. Kickstand and keyboard make it a complete laptop for basic requirements of a mobile computing platform.
With Windows 10, Microsoft has bridged the gap between a laptop and a tablet.
it's really a great piece of work in your hands. You may use it as a tablet or as laptop unlike any other product in the market.
Most of the hybrids still remain a little laptop when flipped into tablet mode, but this one is a totally different story.
It also brings in some of the best games from the Windows  Store through the Xbox app to your laptop or tablet.
With Microsoft Office, it will take care of all your professional needs such as the reports and the presentations. 
An unmatched pair of 5MP front camera and an 8MP rear camera gives the device an edge over all other laptops in the segment.
So, at 786g you get a laptop and a tablet, and you are not carrying two different devices.
Best Buy Link – Microsoft Surface Pro 4
(🌟🌟🌟🌟🌟)
This is for those who want a little more than the Microsoft Surface. This has the same numbers on the spec list as the Microsoft surface.
4GB RAM

128GB SSD

6th Gen Intel CoreM3 processor
everything that the surface boasts of.
This too is a detachable 2-in-1. however, there is that little more to the HP Spectre than the Microsoft Surface Pro 4 – The Spectre's detachable keyboard also houses a mouse pad and Bang and Olufsen Speakers.
The Spectre has a USB Type-C port but comes with a USB C to USB 3.0 adapter for normal USB peripherals.
The 12-inch Full HD touchscreen makes for a very vivid and useful display unit.
The design of the product is impressive and the stand looks gorgeous with the minimalistic design.
But then again, you pay an extra 5000 rupees for the added features, so it is a matter of cost-benefit-analysis between the Surface Pro and the Spectre.
Best Buy Link – HP Spectre X2 
(🌟🌟🌟🌟🌟)
Another mean machine for the workaholics amongst us. This machine packs:
7th Generation i7 Processor

8GB DDR4 RAM

1 TB Hard Disk

4GB Nvidia GeForce 940MX Graphic

B&O Speakers

backlit keyboard

15.6-inch FullHD anti-glare display
This is again a package for absolute performance.
Best Buy Link – HP Pavilion 15-AU118TX
Good Luck !