VEIKK S640 is probably the cheapest premium drawing tablet when compared to others available on Amazon. But does it have the same quality as others? Let us help you so that you can finalize if you're on the fence.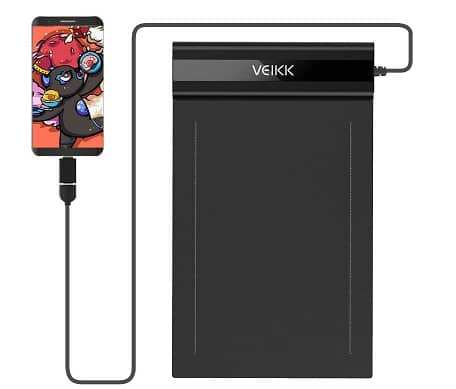 Pros-
Pressure-Sensitive pen.
Battery-free stylus making it easy and light-weight
Supports macOS, Android devices.
Replacement nibs for the pen
Cons-
Doesn't support iOS devices and Samsung devices.
Small drawing area which can be an issue for digital artists.
Quality issues
VIEKK's drawing tablet can be surprisingly just as good as it sounds. Despite being cheap it has everything you'd expect and even supports different OS and Android devices. And if you're on Linux, it also has Linux drivers which you can find it here. This will definitely help those who are primarily using a Linux OS for their work and the drivers work perfectly, just follow the given instruction from the GitHub link which I have included and you're good to go.
Again, this is a very small tablet, while it's more than enough for teachers or students who need it for their online classes, it falls behind when it comes to creators and you should probably look for a bigger one if you're not a beginner and looks for a tablet for more professional use.
The pen's quality is the only thing which it lacks. The slight matte finish makes it harder to hold.
Lack of express keys was also a turn-off as every tablet does offer express keys these days.
This tablet doesn't have a detachable USB cable either which is a big hassle.
While it does concern people when it comes to quality, it still is a pretty decent tablet which you can get at around 2.5k. If you're in a very strict budget, this can be a good choice for you.
Available At – Amazon