The Welcare MAXPRO is a compact and slim motorized treadmill good for taking walks or light jogging in the comfort of your house. The treadmill comes with a wide enough walking belt which is comfortable to walk on even for prolonged duration as well as has safe cushioning so you get comfortable experience while working out. There are also shock absorbers beneath the belt if you decide to take a light jogging session.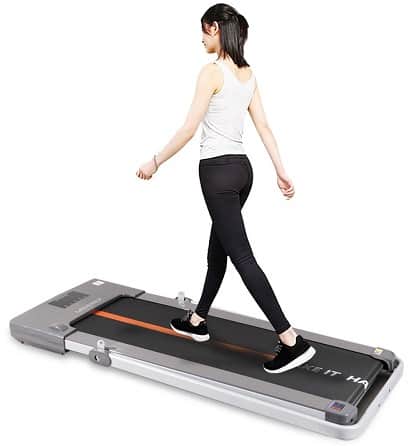 Rating: 9/10
| | |
| --- | --- |
| Horsepower | 1 to peak 2 horsepower |
| Suggested weight | 90kg |
| Maximum speed | 8 kmph |
| Weight | 27.5 kg |
| Warranty | Lifetime warranty on frame and 1 year warranty on parts and motor |
Pros:
Attractive slim design 
Foldable with wheels
1125 x 425 mm walking pad with shock absorption
Remote control speed adjustment with a remote holder
Cons:
No ports or speakers for media playback
90 kg weight limit
Check Cheapest Price : Amazon
The treadmill comes with a remote control to manage speed and it goes as fast as 8 kmph and you get an LED display which properly shows you time, speed, distance and calories burned. It has a weight limit of 90 kg which is a shortfall as 100kg would have been better. The motor has a peak horsepower of 2HP.
But by far the best part about this motorized treadmill is its slim design so you can fold it and store it easily beneath your bed or sofa. It is designed to be stored horizontally but with the provided wheels and its lightweight frame it becomes quite easy to move and store this treadmill. Sadly there's no way to play music on this so if you are looking for a no nonsense treadmill to get some workout done at your home then this is highly recommended by us.
This Article is Written By Anshuman Jain