Recently updated on May 20th, 2023 at 09:39 am
Stay cool this summer with the best air coolers handpicked by our team of experts! We understand that not everyone can afford air conditioners, which is why we have tested over 100 air coolers to bring you affordable and practical options.
Our research has led us to two standout models – the Crompton Ozone 75 with a 1-year warranty and the Bajaj DMH 90 Neo 90L with a 2-year warranty. Both offer robust features and reliability, all for under 10k.
We have a range of options to suit your needs, whether it's a personal cooler for your bedroom or a powerful desert cooler for your living room. Plus, with our expert recommendations, you can trust that you're making the right choice.
Don't let the heat get the best of you this summer. Stay cool and comfortable with our top picks for the best air coolers in India.

If you are looking for a powerful and efficient air cooler, the Crompton Ozone Desert Air Cooler is definitely worth considering. With a 75L tank capacity and 4200 CMH air delivery, this cooler is suitable for a room size of up to 550 sq. ft.

The cooler also features high density honeycomb pads which provide superior cooling for longer periods of time.
One of the standout features of the Crompton Ozone is the Everlast pump which helps prevent jamming issues in the cooler even with hard water, ensuring the durability of the pump. Additionally, the motor overload protector ensures a longer motor life and prevents overheating.


With its 4-way air deflection, you can easily adjust the direction of air according to your needs, making it a perfect addition to your home or office. The cooler also comes with inverter compatibility, allowing you to experience cool air even during power cuts.
However, it's important to note that this cooler doesn't come with a remote control or trolley. Nonetheless, the Crompton Ozone is a great value for the price, making it a smart choice for anyone in need of a reliable and efficient air cooler. Plus, with a 1-year warranty provided by Crompton, you can rest assured that you're making a wise investment.
---

Introducing the Bajaj DMH 90 Neo 90L Desert Air Cooler, the perfect solution for your home during the hot summer months. With a massive water tank capacity of 90 litres and an air throw of 90 feet, this air cooler will keep your home cool and comfortable for hours on end.

Equipped with DuraMarine Pump technology, this air cooler is built to last. The higher insulation of the pump protects it from moisture, increasing its lifespan. Bajaj Electricals Ltd. even offers a 2-year warranty on the pump for added peace of mind.


The Bajaj DMH 90 Neo air cooler also comes with an ice chamber and Cooler Master technology, which uses 3-sided honeycomb pads for maximum cooling. The pads are also treated with Anti-bacterial Hexacool technology, ensuring fresher and cleaner air that is malodour resistant.
Turbo Fan Technology ensures efficient air circulation throughout your home. With adjustable air flow and 3-speed control, you can customize the cooling experience to meet your needs. The air cooler also features a 4-way deflection for wide air spread and a powerful air throw, providing the best reach of cool air at long distances.
The Bajaj DMH 90 Neo 90L Desert Air Cooler is the ultimate addition to your home during the hot summer months. With its advanced features and high-performance capabilities, it's sure to keep you and your family cool and comfortable all summer long.
Both Bajaj DMH 90 Neo and Crompton Ozone 75-Litres Desert Air Cooler are excellent options for home cooling during the hot summer months.
Crompton Ozone 75 Vs Bajaj DMH 90 Neo
When it comes to water tank capacity, Bajaj DMH 90 Neo takes the lead with a capacity of 90 litres, while Crompton Ozone has a slightly smaller capacity of 75 litres. However, both models have a powerful air throw and adjustable air flow to ensure that cool air is evenly distributed throughout the room.
Bajaj DMH 90 Neo comes with DuraMarine Pump technology that provides higher insulation to protect the pump from moisture, thus increasing its lifespan. This technology comes with a 2-year warranty from Bajaj Electricals Ltd. The air cooler also features an ice chamber and Cooler Master with 3-sided honeycomb pads for maximum cooling. The hexacool technology pads ensure that the air is fresher and cleaner, and they are also malodour-resistant.
On the other hand, Crompton Ozone boasts of Honeycomb Cooling Pads that provide better cooling and are also easy to clean. It comes with a 1-year warranty, which is slightly shorter than that of Bajaj DMH 90 Neo.
In terms of power consumption, both models have a wattage of 50 watts, making them energy-efficient options.
Overall, both models have their unique features and benefits, but Bajaj DMH 90 Neo stands out with its larger water tank capacity, DuraMarine Pump technology, and longer warranty period. However, Crompton Ozone is also a great choice for those looking for a reliable and energy-efficient air cooler.
Important Things To Keep in Mind While Buying an Air Cooler online
1) I will recommend buying brands like Symphony , Bajaj , Crompton , Hindware to buy from Amazon & Flipkart to buy genuine and avoid fake products from other websites. I have bought Symphony Diet air cooler for my personal use and I am quite satisfied.
2) If your buying a small one (personal cooler , room cooler) then it's for personal use ( for 2 people at most) don't expect it to cool the whole room. But is only good enough for you sleeping and working when placed at 3-4 feet distance.
3) The cooler will need a source of fresh airflow like a window or your room entrance or near balcony. Placing it in a closed room will make room hot and humid. If you don't have open air flow source then turn off the water pump if room feels humid.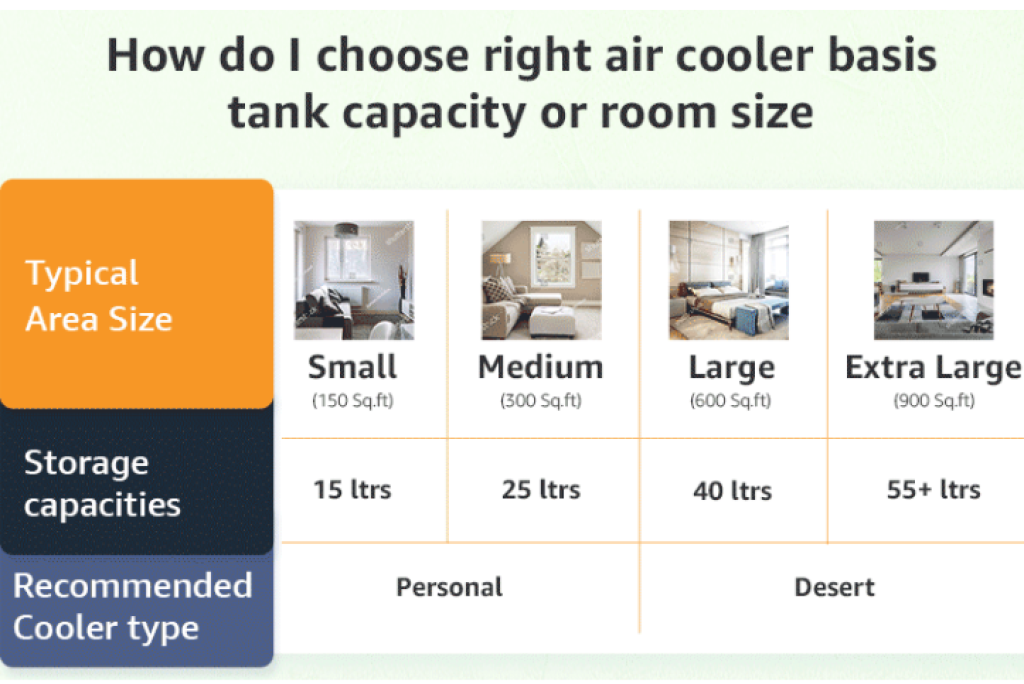 Featured Picks For 2022
Personal Cooler Vs Room Cooler or Desert Cooler
As the name suggest personal cooler is recommended for one person. Where as a room cooler or also known as desert cooler can be used to cool a medium sized room.
Companies often put misguided names like they might label a personal cooler as a room cooler , although it won't be able to cool your room.
Personal cooler can be placed in inner areas of room , while desert cooler should be placed near door or window with access to outside air. This is to prevent your room from getting too much humid.
Low Noise Air Coolers
For low noise options I would recommend Symphony air coolers , run them at low speed for light cool breeze and very very less noise. Preferably the Symphony diet option above makes very low noise at medium speed.
If you want even more cooling the I would recommend having a look at our Air Conditioner lists , as spending more money on Air Coolers would not be efficient cooling and cost wise.
How To Get Rid Of Smell in New Air Coolers?
New honey comb net can produce some unbearable smell , which can last 1-3 initial days. You can put the cooler in balcony or in open space , leave it on for few hours on full speed. For other type of bad odors later , change the water regularly and drain the old water completely.
How We Tested?
We make sure to visit every brand outlet to study the Cooler model in person and enquire every detail , so you don't have to. We are recommending Air Coolers since 2012 , our top picks are selected after days of rigorous research.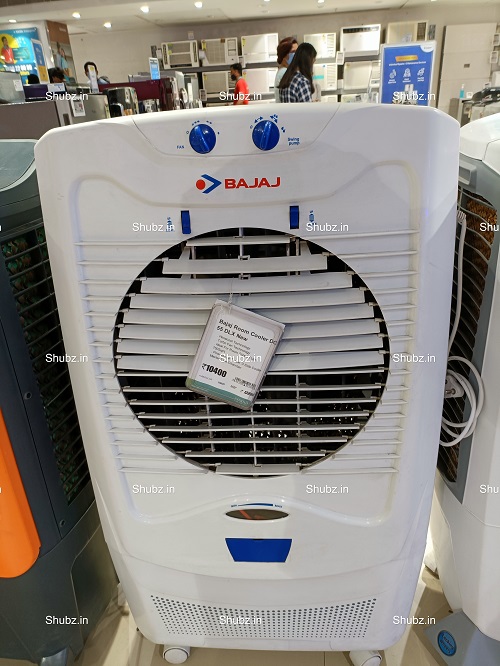 ---
Best Air Coolers in India For 2022
1. Crompton Desert Air Cooler (88 – Litre)
(best desert air cooler right now in market)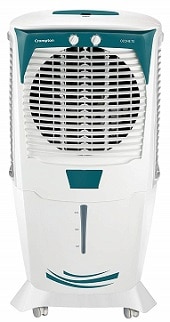 1) One of the best coolers if your looking for a stronger cooling effect for larger rooms.
2) Quite durable and doesn't occupy much space in your room.
3) Emits only a mild humming sound at level 1 and 2 , which is comfortable enough for sleeping. The sound at level 3 is noisy though.
4) Possibly place the cooler outside your room and let the cool air come via window , to keep humidity levels in check.
5) The cooler has fiber body which makes it light and portable , while a little less robust at same time.
Positive
Water inlet at front & back
Good built quality , easy to use
Sleek design , looks modern
Check Best Price : Amazon
---
2. Symphony Sumo 115 XL Powerful Desert Air Cooler 115-litres
Number 2 Pick for 2022 tested by Shubz Team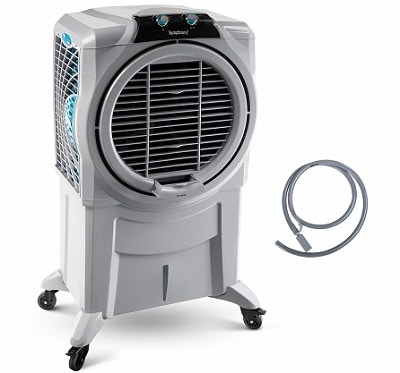 If you are looking for a powerful cooler that is lightweight and easy to use , without any hassles then this is the best air cooler for you. Easy to fill water setup ,easy to move with big wheels at base. We have personally tested this Symphony air cooler at our office and were quite satisfied. Let's talk about a few features.
1) It comes with i-pure console with multistage air purification filters which enables allergy filter, bacteria filter, smell filter, and PM 2.5 wash filter for clean purified air.
2) Dial knob control at top front for easy control with 4 speed settings and other other know for water pump on/off , auto swing options.
3) Equipped with +Air fan , which allows the air to cover a larger distance and enables comfortable sleep in a larger room for more people.
4) Honeycomb pads on 3 sides and channelized water distribution for superior cooling.
5) Ideal for an area of 125 cubic meter like bedroom , living area and even outdoor spaces.
This is a totally worth air cooler which is built sturdily and so easy to use. Certified by Shubz staff for best comfort at home.
Positive
Lightweight , easy to move
Good built quality and features
Powerful cooling , suits bigger families
Easy water drain
Check Cheapest Price : Amazon
---
Also Read : 10 Best Air Coolers Under Rs. 6000
---
3. Symphony Diet 12T
(Best personal air cooler , lightweight , portable , auto swing , I bought this one for myself )

1) This is the best personal air cooler for 1 person. Good air flow , cool air. I can shift it to any room easily.
2) This little 12-litre air cooler can sit in any corner of the room and it would complement the look of your room without being a speckle.
3) Besides its adequate water tank, the cooler has auto swing option also to cool both left and right of your body while your lying on bed.
Also Read : 10 Best Rated Split Air Conditioners
4) It consumes just 170 watts of power while being capable of cooling a 100 sq. feet room effectively.
5) Good air flow till 3 feet. Put it near your head while sleeping and near your chair while working. Does a decent job.
6) Very lightweight , even a 5 year old kid can move it easily (more light without water). While writing this article I am enjoying it's cool breeze , placed near me.
Power: 170 Watts
Warranty: 1 year
honey comb pads
Positive
Compact Design
Best for 1 person
Good speed and airflow
Check Cheapest Price : Amazon
---
4. Symphony Hicool Air Cooler
(Good Personal cooler , With remote control )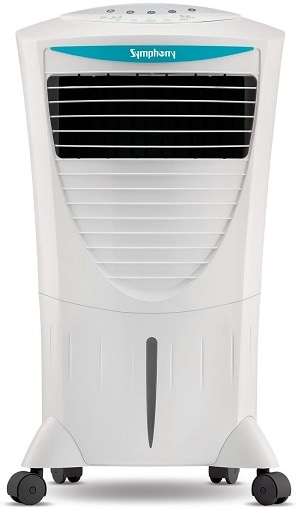 1) A notch above personal air cooler , can be used at most for 2 people. I would recommend for 1 though if you want ultimate comfort.
2) The company has designed the cooler to keep your room's temperature down even when the heat outside is touching 42 degrees.
3) This air cooler is ideal for a room size of 175 sq. feet.
Also Read: 1.5 Ton Window Air Conditioners
4) With all the basic features that any air cooler has, this product from Symphony is smarter than all.
5) The company has included a remote controller that lets you use all the functionalities without having to reach the cooler.
6) Also, there is an alarm that tells you when the water tank gets empty.
Power : 185 W
Warranty: 1 year
Honeycomb pad
ipure technology
Check Cheapest Price : Amazon
---
5. Bajaj Coolest Frio Air Cooler
( Personal air coolers – Budget option )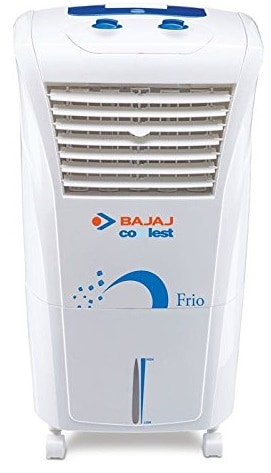 1) Bajaj is back with its personal air cooler range and this one would be a great addition to your house this summer.
2) First off, the design of the cooler is nothing like any other cooler and this one will be the star of the room with its oval design.
3) A medium water tank of 23 litres is enough for a night.
Also Read: 1 Ton Split AC in India
4) The fan of the cooler is powerful enough to cool one person in no time.
5) One feature that everyone will love is its ability to work even on an inverter.
6) That means you will now be able to have a comfortable sleep even when there is a power cut.
Check Price : Amazon
---
6. Crompton Optimus 65-Litre Desert Air Cooler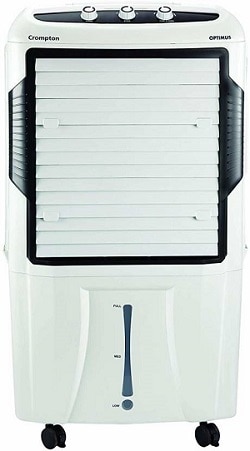 Great for your medium sized room , 3-4 people can sleep comfortably. Highly recommended.
Chilling effect is good, if you want low noise just turn on pump and run at low speed. It will cool your room in around 30 min.
It has a dedicated switch to drain the water by a single switch.
Also Read : 10 Best Rated Split Air Conditioners
Body is lightweight and wheels are smooth , so good portability in house.
Only con is that it's a bit pricey , rest all is great.
Check Cheapest Price : Amazon
---
7. Bajaj Platini PX97 Air Cooler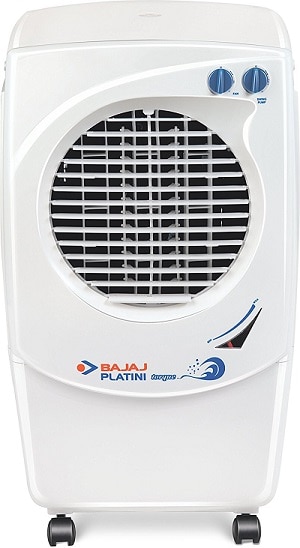 1) The Baja Platini PX97 is a more conventional approach to the air cooler segment which is getting an increased number of new designs.
2) This cooler is perfect for those looking for a cost-effective solution to cool their larger rooms.
Also Read : 10 Best Ceiling Fans in India
3) Unlike the Symphony one above, this cooler from Bajaj is available for Amazon and takes care of an area of 150 sq. feet.
4) Bajaj has ensured that you have a good night's sleep as the fan of the air cooler is of low-noise variety.
5) The front cooler grills can deflect cool air in four directions and its 36-litre tank provides the water supply for several hours.
---
8. Symphony Ice Cube 27 Litre Air Cooler with i-Pure Technology
( Worth Checking Out)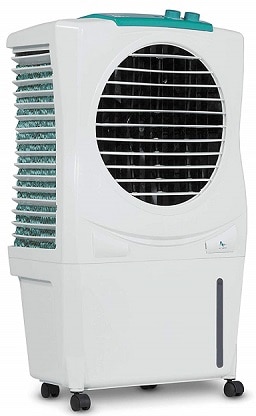 ( Personal low noise air cooler for 1 or 2 person use )
1) Another offering by Symphony in personal air cooler range.
2) This one has more capacity then Symphony Diet and nearly same price.
3) Also has ice and chilled water inlet , which again you don't find in Symphony Diet.
Also Read : 10 Best Table Fan in India
4) But Symphony Diet is more compact and lightweight as compared to this.
5) Equipped with i-pure technology which consists of 5 types of filters.
6) So overall if you want more water capacity at same price by Symphony , the you can go for this.
Check Price : Amazon
---
Share this article with your friends who are looking to buy an Air Cooler under Rs. 10,000
Thanks
---
Also Read: