Searching for best washing machine ?
That fits under budget
Saves electricity
Performs well
Then your search ends here !
I have been using this IFB Front loading washing machine since past 4 years and no problems till now. The machine works smooth , washing all the clothes as per your need. This one is the 8kg , IFB Senator Aqua Model which I got for around 35k back then. The IFB person came to install the machine and gave us the demo , since then we haven't required any service at all. IFB calls for service , but we mostly deny because there is no need and machine is working well. As per the present time , if your looking for a front loading washing machine I will recommend you these models from IFB. It's better to get the 8kg model as it comes handy if you want to wash curtains , quilts etc.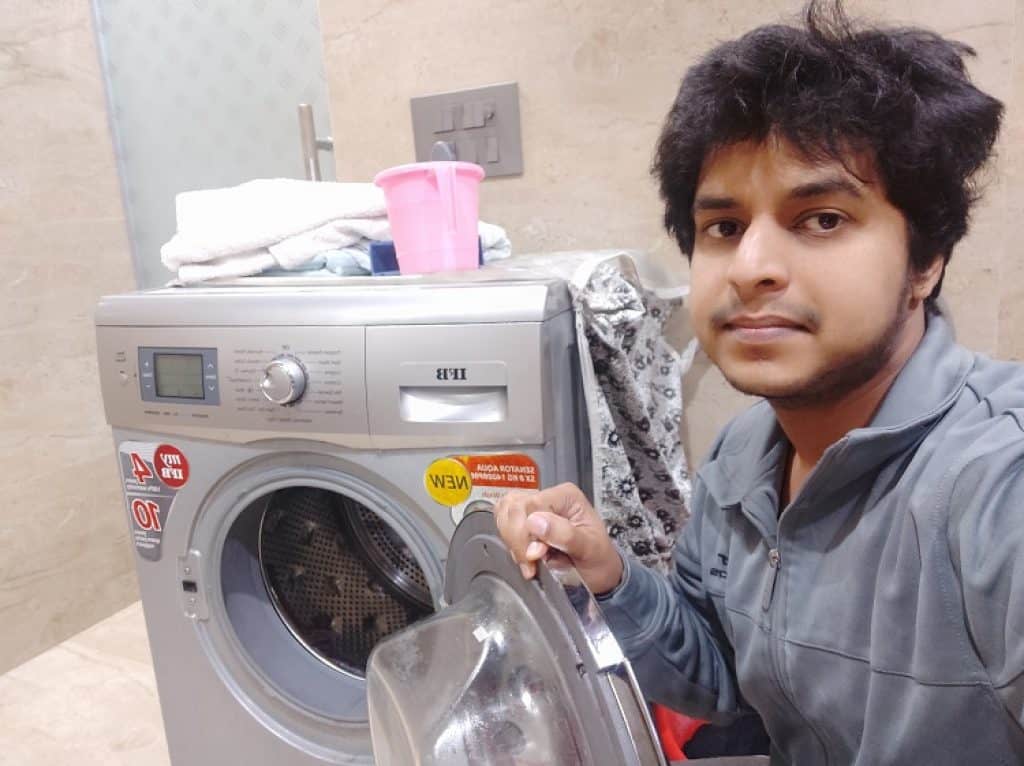 I use this machine without voltage stabilizer , did buy IFB stand which fits perfectly and I will recommend to get the IFB stand. Don't buy other generic stands , they won't fit well. You can use descaler powder from time to time to clean the washing machine.
---
Here is a small guide on features of washing machines which help in your buying decision:
Depending on the kind of functions they can perform, latest washing machines can be categorized into fully automatic and semi-automatic machines.
Quick Navigation
There are basically two types of washing machines top loading and front loading washing machines.
6kg Vs 7Kg Vs 8Kg
6Kg Capacity – 6 T-shirt & Jeans ( Good for Family of 1-2 )
7Kg Capacity – 7 T-shirt , 7 Jeans ( Good for Family of 2-3 )
8Kg Capacity – 8 -Tshirt , 8 Jeans ( Good for Family of 3-4 )
The capacity you need will also depend on how frequently you was clothes and if there are any kids in family. I would recommend getting 8kg from the get go to save from future capacity issues.
All 3 Bestsellers Are In Stock

Front-loading washing machines
If you go by price, you will never buy front loading washing machine in India.However, they have numerous features and prove worth their investment in the long run.
Most front-loading washing machines cost around 25k to 70k in India.
Front-loading washing machines are better at cleaning and they consume less water.They have more washing programs as compared to 15-20 programs provided by top-loading washing machines.
---
Also Read:
10 Best Top Load Washing Machine in India
Best Washing Machines Under 15000
---
Benefits of Front Loading Washing Machines:
a. They provide excellent wash quality. Because of their advanced features, they offer superior front load washer-dryer.
b. They are water efficient. They do not require large volumes of water to soak or wash clothes.
c. They have more wash programs than top-loading machines.
d. They handle delicate clothes and fibers better.
---
Top 10 best front loading washing machines in India:
1. IFB 8 Kg 5 Star Fully-Automatic Front Loading Washing Machine (Senator WXS, Silver)
1400 rpm , 8 kg , 4 years complete warranty
(🌟🌟🌟🌟🌟)
I recommend IFB at first position , because I have been using IFB front loading since past 4-5 years and no problem till now. I love both Bosch and IFB , but IFB is my favorite when it comes to front loading washing machines in India.
IFB offers cutting-edge industrial and home appliances including kitchen solutions, laundry solutions and living solutions.
The Senator WXS is their latest IFB front loading washing machine. The machine falls in the premium category and includes several noteworthy & unique features, not to mention a superior wash quality.
Take a look at some of its notable features:
Aqua Energie Filter
The machine has a unique energy filter which helps in dissolving impurities in water. This is especially fruitful in areas with hard water supply.
Aqua WSX treats the water and the built-in filter breaks down the impurities present. The result? A high-quality wash.
Unique Foam and Detergent Control system
The machine auto-controls dilution and dissolution of detergent and foam. Such practice ensures that detergent penetrates cloth lines for a thorough wash. To prevent excessive foam formation, a dilution agent is also released during the wash cycle.
Auto Clean
The interiors of washing machines usually become breeding grounds for bacteria and germs if not maintained carefully. The Senorita WSX comes with an Auto-Clean feature which allows automatic washing of the tub after the wash cycle.
Pros –
– The machine has an auto-balance feature, which means that you can add a few additional clothes in between the wash cycle.
– The machine comes with a 4-year manufacturer warranty and 10 years of spare parts support.
– There is a rat-mesh at the bottom which prevents rodents from damaging the underlying wires.
– Equipped with Child lock , Crescent moon drum , LED touch panel
– Causes very low noise while operating , 1400 rpm
Cons-
– The machine comes with generic designs and no color options except the silver model.-
– IFB customer service is not available in rural parts of India.
Check Latest Price: Amazon 
---
2. Bosch 8 Kg Inverter Fully-Automatic Front Loading Washing Machine (WAJ24267IN, White)
The folks at Bosch are the undisputed kings of premium appliance manufacturing.
Be it cars, or coffee makers, everything that they make is of top-notch quality.
With the Bosch 8kg front loading washing machine, they have created yet another reliable and quality appliance.
---
Top Features:
⇒ It can hold around 8kg worth of clothes. This amounts to clothes of a 4 to 5-person family!
⇒ It is fully automated. Although a little high on the money side, the features make it a worthy investment.
⇒ No hassle to fill the machine, no draining and no tub switching. Save your time to do better things.
⇒ The max that this machine can rotate is at 1200 rpm. In case you are wondering, that is really fast! This means quick washing and quicker drying.
You can also adjust the spin speed based on your requirements.
⇒ Active Water Plus
Simply put, this is an extrapolation of the fuzzy logic. Depending on the weight of clothes put inside the washing tub, Active Water will assess the minimum detergent and water required to do most effective cleaning.
⇒ Speed Perfect
Have clothes to wash but no time at hands? No worries. Switch the wash cycle to Speed Perfect.
It will utilize around 65% of the timer for washing and drying. By spending less time on each cycle, it will ensure that you have a quick, although not the best wash.
⇒ Reloading Most
Bosch washing machines have this feature. Usually, you cannot put clothes inside a front-loading washing machine, but with this model, you can.
If you missed out a cloth, just push the reload button and add it to the washing pile. Simple.
Pros-
⇒ Lot of features to give you the most convenient wash.
⇒ Ability to add clothes after the wash cycle has started.
⇒ Does not vibrate as much as other front-loading machines.
⇒ Accredited with ECARF – European Centre of Allergy Research Foundation for its hygiene wash option.
⇒ The Hygiene wash option sprays of all the detergent which is left on the clothes to prevent detergent stains and allergies.
Cons-
The machine, like most front-loading machines is a little noisy.
Best Buy : Amazon 
---
Also Read:

10 Best 1.5 Ton Split AC in India
---
3. Bosch WAB16060IN 6kg
We had to feature Bosch's 1606IN model because of the convenience it offers.
The machine lets you put a cloth batch, roughly around 6 kgs and returns daisy fresh clothes in 30 minutes.
This is the Super 30' Program with Bosch 16060IN. We can hear all the lazy bachelors chuckling to themselves.
The Super 30' is a smart feature which modifies the water level by understanding the measure of the load.
Technically, it lessens the water which decreases power usage. Moreover, it makes use of hot water which cleans the soiled buildup in the tub completely along with microorganisms, increasing the machine life.
Not to mention, it has all the other features that Bosch washing machines have to offer to give you the perfect washing experience, include Active Water and ability to Reload.
Pros-
– Fully automated front-loading washing machine with a capacity of 6kg
– 2 years' manufacturer's warranty and 10 years' warranty on motor
Cons-
– The water disposal system is rendered useless if you have a low water pressure.
Check Latest Price: Amazon
---
4. IFB Senator Aqua 8kg
IFB's Senator Aqua was worth mentioning in our list because of some of its advanced features that have been introduced by the company.
IFB has been at par with giants like Bosch in terms of introducing innovations to its products to give them a premium quality.
The 8kg Senator Aqua front loading washing machine has a lot of user-friendly features and unique programming options.
IFB introduces the machine as the next-gen engineered machine with features such as 3D Wash system and the Air Bubble Wash System.
Worried about washing your silk and dark colored clothes? You can take a deep breath now!
Below is a roundup of some of its most noteworthy features:
Air Bubble Wash System
To give your clothes perfect wash, the Senator Aqua's system releases millions of air bubbles in the water during rinse cycle.
These bubbles penetrate clothe fibers and activate detergent for fighting most stubborn dirt stains. The result? Clothes are left spot clean and daisy fresh.
3D Wash System
This is another unique feature of Senator Aqua. It adds a dynamic movement to water which ensures a cleaner wash cycle for your dirty garments.
From a technical standpoint, a special water system which has several pouring nozzles circulates water at 360 degrees in drum, causes detergent to dissolve fully.
Once the wash cycle is complete, the water further penetrates inside the cloth fiber mesh to rid them of any leftover soap stains.
Tube Cleaning
Just like Auto-Clean feature, you can use this feature to clean the drum after every wash so that it does not become the breeding ground for bacteria and other microorganisms.
Convenient LCD Display
You can use the user-friendly display to select, control and monitor various washing options and programs.
Crescent Moon shaped washing drum
The washing drum inside Senator Aqua is uniquely designed in the shape of a crescent. This is to protect clothes from rough treatment during wash.
The water curves up in the drum and prevents clothes from direct friction from each other. This ensures a gentle yet thorough wash.
Laundry Add
In case you forgot to add a cloth, you can do so in the middle of the wash cycle with Laundry Add.
Apart from this, the Senator Aqua also has the pre-existing features from IFB such as Foam Control System, Rat Mesh, Auto-Imbalance control and Aqua Energie.
Pros-
– High washing capacity
– Multiple washing program options to choose from
– Four-year manufacturer warranty and
-10 year spare part warranty.
Cons-
This is a frequent issue and we hope that IFB is working on providing its services in more areas of India.
Check Latest Price: Amazon
---
Also Read:

10 Best Geyser Water Heater in India
---
5. LG FH0B8NDL2 6kg
LG is a household name in India. LG offers a wide assortment of home appliances and consumer electronics for day-to-day use including smartphones, washing machines, refrigerators and LED TVs.
The NDL2 LG front-loading washing machine is great for small to medium families and offers a number of useful features for smooth operating.
6-motion DDThe washer-dryer machine is equipped with revolutionary 6-motion direct drive.
The technology replicates handwashing motions for giving soiled clothes more effective wash.
Fuzzy Logic
The machine system makes use of Advanced Fuzzy Logic to sense the load and adjust the washing environment accordingly.
Baby Care
The machine also has a feature called as Baby Care which provides the most sanitized wash for your toddler's clothes.
Inverter Direct Drive
Another unique feature that the good folks at LG have incorporated in this model is the Inverter Direct Drive technology. The motor is attached directly to the drum without a pulley or a belt.
A lower mechanical intervention causes less energy dissipation. This enhances washing performance, creates less noise and vibration and saves energy and longevity of the machine.
Smart Diagnosis
Another great feature that LG offers is Smart Diagnosis. You do not need to wait for a technician or take leave when he calls you for appointment.
Just dial the customer care number and place your phone on your machine. The appliance communicates with troubleshooting systems on the other side for providing immediate solution.
Pros-
– Fully automatic front-loading washing machine with a capacity of 6kgs
– Tumble wash washing method
– 2 years' manufacturer's warranty on the product
Cons-
Some customers report that if the spinning route is left dry, it emits some noise.
Check Latest Price: Amazon
---
6. Bosch WAK 242681IN 7kg
(Silver/Grey)Bosch has several successful and popular washing machine models despite the fact that they ventured into manufacturing these only a short time ago.
Quality is synonymous with Bosch we understand. The 24268IN is another great example by the engineers at Bosch and is well-preferred by Indian households.
Take a look at some of its features here:
Capacity
The machine can well accommodate load worth 7kgs in a single go. This is enough for a family of five members.
Drum Spin Speed

The drum spins at 1200rpms. This is incredibly fast. The speed of the wash tub increases the impact with which water encounters stains, so it gives an effective washing experience too.
Washing options
As mentioned in the earlier models, the machine comes with 10 wash programs pre-loaded in its system. It also offers the Monsoon wash when you want quick washing and quicker drying.
Super Quick Wash
The machine offers a special feature called Super Quick 15. This is for clothes that are lightly soiled and only need to be run quickly. Washing, rinsing and drying – everything is taken care of in around 15 minutes. Pretty sweet, eh?
Pros-
– Active water mechanism- Fully automatic
– Reload option
– 10 washing programs
Cons-
– The machine can be a bit noisy; as some users report.
Check Latest Price: Amazon
---
7. BPL BFAFL65WX1 6.5kg
(White)Carrying a legacy of over 50 years, BPL is a well-loved name and delivers excellent automation and electrical solutions.
The WX1 model in BPL front loading washing machines is study, fully-automatic and loaded with features.
Design
The model has a contemporary and stylish design with fine detailing, contours and chrome paneling.
User-friendly Display
The machine has convenient LED display. You can monitor, control and adjust washing operations. You can see delay time, speed and temperature of the water.
Ergonomic design of the drum
The wash drum is made with high-quality stainless steel which is durable and sturdy. The drum features S-shaped ribs which enhance the cleaning performance of the machine.
The tub also has a built-in spray system for a more thorough cleaning of your dirty clothes.
Copper Motor
The machine motor is built of high-grade copper rotating at 1200rpms. The HG-drive motor increases machine lifespan and reduced the drying cycle time.
Pros-
8 preset programs with different washing options
– Machine door with 180
-degree hinge for conveniently accessing and putting clothes inside the drum
– Energy efficient design with less water consumption
Cons-
-The water inlet pipe is smaller in length than its other counterparts.
Buy Now From : Amazon
---
8. Onida WOF5508NW 5.5kg
(White)Onida, the electronics brand of Mirc Electronics, started its journey in 1981.
The company is known for its premium television sets and washing machines. The 8NW Onida front loading washing machine is convenient, easy to use and loaded with features.
The machine designed to meet all your washing requirements. It has a sophisticated design and gives a modern and contemporary feel to your home.
The washing barrel of the machine is made of stainless steel with polypropylene container.
The monitor panel of the machine is compact and favors ease of use.The machine gives you 15 washing options to choose from. You can modify the washing and drying with your washing predilections.
Delay time feature and competent foam detection
The delay time feature is a bonus add – on to the model's numerous other features. You can pre-soak your clothes, put in delay time so that the clothes absorb water and soap fully and then get engaged with other tasks.
In the meantime, the clothes come out as daisy fresh and clean.The foam detection feature senses extra froth on the clothes and regulates the rinse cycle to wash it off properly.
This saves in time and adds more life to your clothes.
Pros-
– Very reasonable price with amazing features
– A 2 year manufacturer's warranty on the product
– Gives a classy and chic feel to your laundry space.
Cons-
– The machine makes noise while in operation.
– Wash programs vary in working and time taken.
Usually, the options select will take more time to clean than other machines with similar wash program specifications.
Check Latest Price: Amazon
---
9. Samsung WF600B0BTWQ
(White)Yes, Samsung makes other stuff besides mobiles too. And they were making other stuff before they started making smartphones.
You can save a lot of energy and still wash humungous amounts of clothes with the BTWQ Samsung front loading washing machine model.
Take a look at some of the cool features the machine has to offer:
Eco Bubble Technology
The Eco Bubble Technology helps you save a lot of energy by washing higher load at low temperature.
The bubbles released penetrate in the cloth fibers and activate the detergent molecules for an effective cleaning and dirt removal.
Bubble Soak Technology
The Bubble Soak Technology allows the clothes to be soaked thoroughly with Bubbles, so that the stubborn stains get loosened and get removed effectively.
Durability and Trustworthiness
The machine features a digital inverter motor which delivers super energy efficiency with minimal noise and device longevity.
Ergonomic Design for Compact Storage
The EcoBubble washing machine comes in three different washing machine depths of 450mm, 530mm and 550mm. This ensures that you can install the machine anywhere you deem fit.
Ceramic Heaters for longer efficiency
Ceramic heaters inside the machine prevent calcium build-up. Excessive build-up absorbs more energy and more detergents. Ceramic heaters provide quick heating capability which saves energy and money.
Eco – Drum Clean Technology
To prevent microorganism and bacteria build-up in the washer dryer tub, you can use Eco-Drum feature.
It sanitizes the washing drum chemical free. The best part? You get notified when the tub needs cleaning.
Pros-
– Fully-automatic front loading machine
– Awarded 20-year durability certificate by Verband Deutscher Elektrotechniker or Association for Electrical, Electronic and Information Technologies, Germany
– Volt Control prevents damage during voltage drops and power surges.
– One touch control option memorizes the most frequently used cycle.
– Quick Wash option to wash lightly dirty clothes in less time
– 7 different wash programs for different washing needs
– Diamond drum for effective wash
– 10-year manufacturer warranty on product
Cons-
– Like most machines, the model seems a bit noisy.
Check Latest Price: Amazon
---
10. Lloyd LWMF70
Lloyd India offers a wide range of home products and electrical appliances such as ACs, TVs, Refrigerators and washing machines.
The LWMF70 is a fully automatic front loading machine from Lloyd that is ergonomically priced with salient features that offer excellent washing experience every time.
The machine offers a suave look and elevates sophistication in your home décor.
Take a look at some of the salient features of this model:
Construction and Design
The machine has a washing capacity of 7kgs which makes it ideal for medium sized families. The built is classic with white outer casing to fit in with all home interiors.
The added simplicity with clean design makes it a great fit for your laundry area.
Performance
The machine features a diamond drum with a maximum RPM of 1000. The machine is quite efficient and completes tasks quickly.
The cycle is of Rinse Spin type and gives you 5 washing options to modify your washing requirements.
There is an LED display to monitor and control different settings.
The machine uses tumble wash to operate and also features Fuzzy logic to understand the load and adjust water and detergent requirements.
Pros-
– Fully automatic
– Fault check display
– Intelligent control with auto-balance, progress indicator, time display and smart drum cleaning option
– Child lock option to prevent accidents and damage
We hope our review will help you in making your buying decision.
Check Latest Price: Amazon
You can make an informed decision to buy washing machine online in India based on our thoroughly researched washing machines.
---
Please do comment below to add your suggestions and feedback , thanks.
These include all models from top to front loading washing machines, all-in-one, unitized and one-off miscellaneous styled machines.
Not only this, the selection of washers, services offered by mainstream brands and smaller companies make it almost impossible for you to buy best front-loading washing machine for your home.
However, you cannot ditch dirty laundry, unless of course, you are a celebrity or a millionaire.Just kidding. Even they do their laundry.Have you seen Mark Zuckerberg? A trustworthy washing machine is a long-term investment and a decision to buy one must be taken with care.
Since it will be operated by your family members as well, do your due diligence in buying the right and safe electronic appliance for your home.Based on your budget, you can find something that works and has the right set of features and applications.
---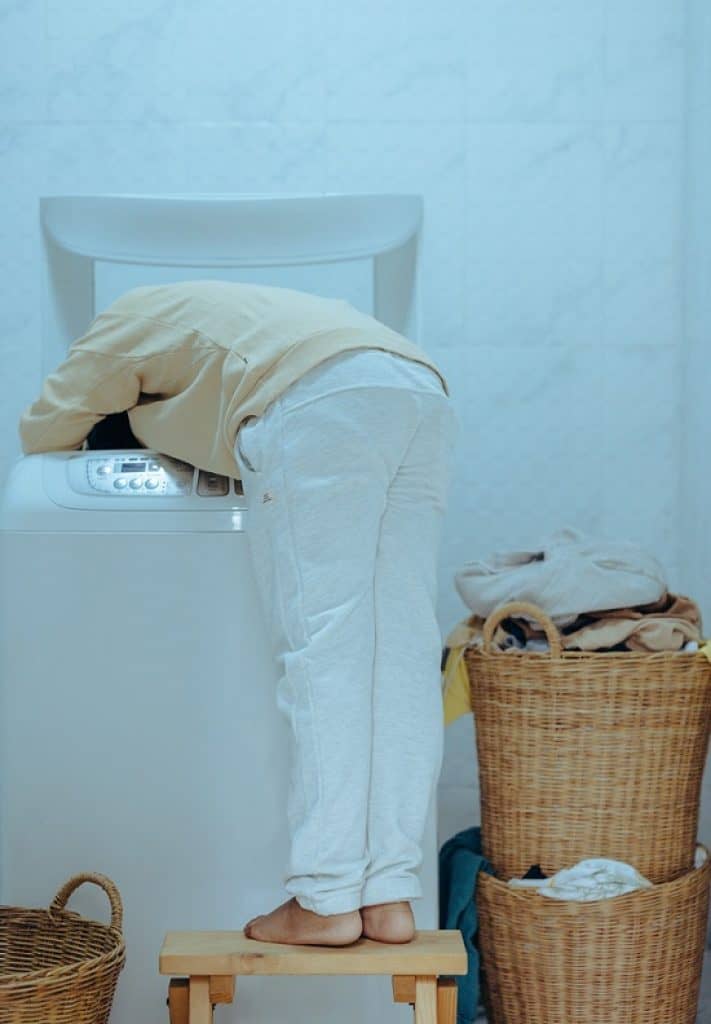 Top Loading Washing Machines
In top-loading washing machines, you put in the dirty load from the top.
The top-loading washing machines are better cleaners, go easy on fabrics and have a large water holding capacity.
They also have a faster spin than their front-loading counterparts.
Demerits of Top loading washing machines:
a. They are quite noisy. It is difficult to work at ease with them operating nearby.
b. These consume more water as compared to their front-loading counterparts.
c. They provide average wash quality at best.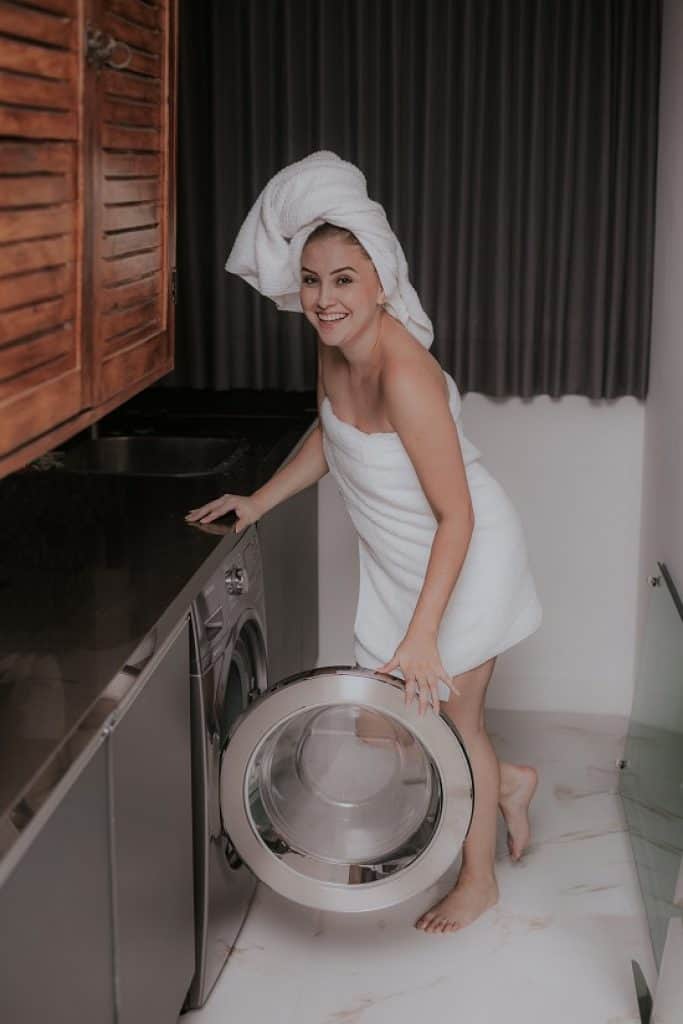 Fully Automatic washing machines
Who said washing clothes had to be 19th century? You do not need to dread doing laundry.
With fully-automatic washing machines, you can relax and get other things done while your clothes are washed daisy fresh quickly.The washing process is completely automated in these machines. There is nominal human intervention.
There is only one tub which serves all washing, rinsing and drying.
The water is also released automatically and drained when there is no more need for washing.
There are two types of fully-automatic washing machines – top and front loading washing machines.
Merits of fully Automated Washing Machines:
a. There is minimal human intervention. The machine automatically pours water for washing and rinsing, drying the clothes and the cycle is turned off automatically after completion.
b. These are equipped with the latest and most advanced washing machine technology.
Machines today come with Fuzzy logic and other multiple washing functions.
Demerits of automatic washing machines:
a. They require continuous water supply.
b. They are quite expensive.
c. They consume more electricity.
Major Functions and Points To Remember:
Functions in a washing machine
While most machines perform a majority of tasks today, there are some features that make models stand out.
Fuzzy Logic With fuzzy logic
The machine can automatically choose the best condition for washing including wash time and amount of detergent and water.
Delay start
Some machines have a feature to delay the start of washing for those who like to soak their clothes before washing them.
You can simply specify the time after which you want the cycle to start and close the door.
The machine will fill the water, you can put in clothes and detergent and starts the cycle at the predetermined time.
Quick wash
The quick wash feature allows the wash cycle to end faster than the ordinary wash cycle. This is helpful if you have to rush immediately and you have clothes to wash.
Steam wash
This is an advanced feature and is available in expensive machines. The clothes are washed with heat, humidity and steam. Steam is quite effective in removing tough stains and odor from the clothes.
Drum Material
Make sure that the washing tub is made of lasting material. Plastic has a longer life than enamel. The wisest choice is stainless steel. Albeit a little costly, they are able to withstand fast spinning and have the highest longevity.
Some of the other features that are worth considering include:
• Spin cycle – Spin is determined as revolutions per minute (RPM) and it is used for drying clothes. The higher RPMs, the better dried are your clothes.
• Temperature Control – You can regulate the water temperature with this feature. It is very helpful during winters. Also, hot water cleans clothes in a better fashion.
• Temperature control also regulates the steam wash feature in a number of machines.
• All factors considered, front loading washing machines are the best bang for your buck.
• Now that you have a fair idea of what to look for when buying washing machines, here are the: