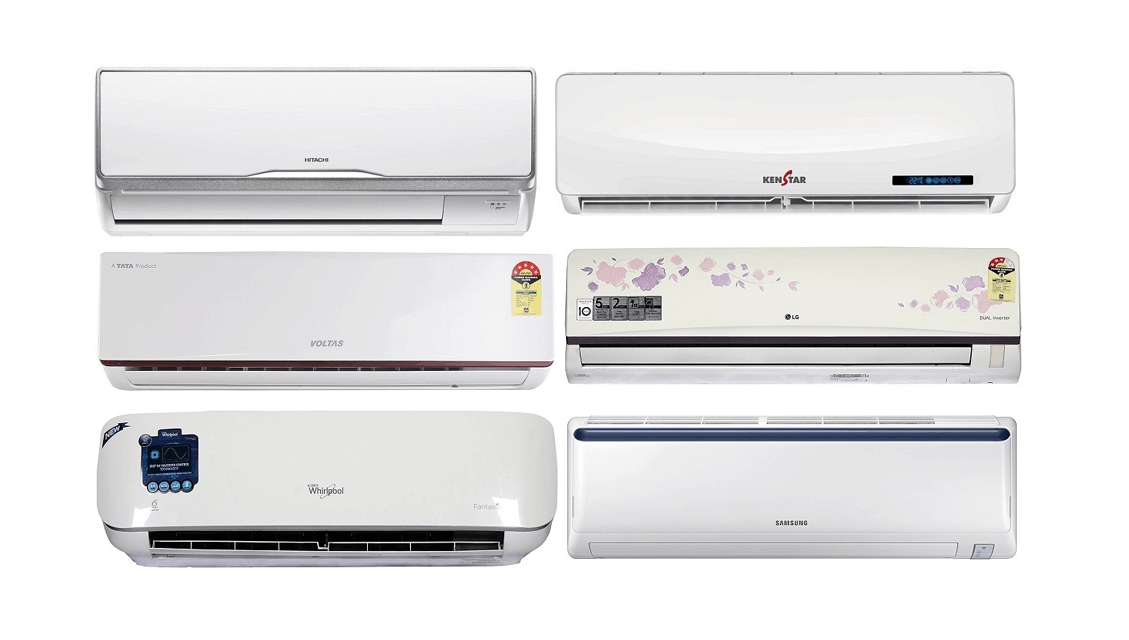 Are you searching for the best air conditioner ?
That fits under budget
Saves electricity
Performs well
Why you should trust us ?
After researching around 50 air conditioner models I have made this list and I keep updating it every month according to new models available in market.
We have done the tedious work of finding the best AC in India so that you can have a comfortable sleep after your return working for the full day.
Go ahead and buy one of these best in class split air conditioners currently available in India. I will highly recommend to buy from reputed websites only to get genuine and avoid fake products from other sites.
Besellers in Stock

Points To Remember
3 Star AC is good enough.
Copper condenser is best.
Buy Inverter AC instead of a normal AC because it saves electricity , is mores silent and offers faster cooling.
Top 10 Best 1.5 Ton Split Air Conditioners
---
1. Voltas 1.5 Ton 3 Star Split AC Copper

It is most pocket friendly split AC with all essential features , that's why we picked it as number one in our list.
TATA is a brand you can trust , looks good on wall.
Its a little big in size and provides quick cooling.
Comes with high ambient cooling , which can give cooling even at 50 * C.
It can sense the indoor humidity and controls it accordingly , this feature is quite handy in monsoon season.
Dual display – you can view the set temperature and room temperature both simultaneously.
All in all this is best budget friendly 1.5 ton split AC out there.
---
2. Carrier 1.5 Ton 5 Star Inverter Split AC Copper

If you can increase you budget a bit then you can get this amazing inverter AC with 5 star energy rating.
Due to all these amazing features and still a reasonable price , that's why we have kept this AC by Carrier as 2nd in our list.
High ambient cooling – which claims to cool your room even at outside temperatures of 55*C.
It comes with low voltage operation , that is even if voltage drops to 195v. It can still keep working smoothly.
Stabilizer free operation – It can work efficiently between 150V-280V without using a stabilizer. So we do save on the cost of stabilizer.
Highly recommended if you need an inverter AC with 5 star energy rating.
---
3. Sanyo 1.5 Ton 5 Star Inverter Split AC Copper

If you still want an inverter AC with 5 star energy rating , but still don't want to spend much then this is for you.
This is one of the best selling AC's offering all the latest features at the lowest price possible.
This has copper condenser and equipped with inverter technology that saves electricity.
Sanyo claims to have 400+ service centers in India , they have got one in my small hometown also.
Other features worth mentioning are:
Auto Restart
Self Diagnosis
Back Lit Remote
built-in PM 2.5 and anti-dust filters
protection against rust and salt damage
Sleep Function and timer.
So yes , this AC would be a great buy right now if you can go with brand Sanyo.
---
4. Carrier 1.5 Ton 3 Star Split AC Copper

This AC is direct competitor to our number one listing by Voltas. As both of these are non inverter AC and offer similar features.
But the Carrier one is price a little more as compared to Voltas above.
It filters out PM 2.5 and other pollutants from the air.
Comes with sleep mode , to set ideal temperature automatically while you sleep.
Comes with a My Mode – which allows you to customize your AC settings as per your liking.
One good feature is Auto Cleansing , inbuilt auto cleanser which disinfects the whole indoor unit.
---
5. LG 1.5 Ton 5 Star Inverter Split AC Copper

Coming to the big brands finally , we have picked this offering from LG as it's decently priced and offers a 5 star energy rating , being an inverter AC.
It offers dual rotary compressor for faster cooling & more electricity savings.
100% copper with extra black coating for both indoor and outdoor unit protection.
Equipped with Himalaya cool technology , which claims to cool you as soon as the AC is turned on.
Detects low refrigerant itself , removes harmful particles from air and ensured uniform distribution of cool air.
All in all it's a luxury premium offering.

---
6. Daikin 1.5 Ton 4 Star Inverter Split AC Copper

This is the AC I would buy for my personal use. Because I think that Daikin products are more robust as compared to other brand AC's.
Daikin offers a robust built quality , an AC that will last for years and years. That's why many people prefer this brand. This one comes with copper condenser.
Usually Daikin products are high priced and not easily available online. I would say grab it while you can.
This comes with Power Chill Operation, a PM 2.5 Filter and Coanda Airflow.
Coanda Airflow ensures that the air draft does not directly fall on your head and is distributed evenly in room.
Econo mode for saving electricity and features like auto restart, sleep mode are built in.
Indoor Unit Quiet Operation: This feature ensures low noise level resulting in sound sleep.
---
7. AmazonBasics 1.5 Ton 5 Star Inverter Split AC Copper

This product is here due to it's low price and Amazon brand value. Although they are working to make their installation smoother , but that problem is also with other brands.
You won't find another 1.5 Ton 5 Star Inverter Split AC this cheap anywhere else.
Four Stage Filteration System which keeps out both visible & invisible dust and other pollutants.
It can auto adjust temperature and fan speed to minimize energy consumption and maximize savings.
Comes with sleep mode and hidden display.

8. Hitachi 1.5 Ton 5 Star Inverter Split AC Copper

It's pricey , but worth it if you trust Hitachi and like to use it's premium products.
It comes with on & off timer technology.
Hitachi offers a stabilizer free operation. on this split AC.
The speed compressor can adjust power depending on the heat load.
Hitachi claims that it has an energy efficienct and has lowest-noise operation.
9. Godrej 1.5 Ton 3 Star Split AC Copper

Again a budget offering , which is well priced but a non inverter option. Suitable for medium sized rooms (111 – 150 sq ft).
Comes with multilayered acoustic jacket for silent operation.
Inbuilt anti carbon , bacterial and dust filter.
One exceptional thing I liked about this AC was that it offers lower global warming with the use of refrigerant like R32. This refrigerant has Zero Ozone Depletion Potential.
10. Voltas 1.5 Ton 4 Star Inverter Split AC Copper

It is equipped with DC Inverter Technology, which reduces power consumption by maintaining an ideal temperature without frequently turning the compressor on & off.
High ambient cooling which keeps you comfortable even at 52°C
Advanced air purifier which provides cleaner air by removing harmful odours.
No need to use an additional stabilizer with the AC because of its low startup voltage.
It senses the indoor humidity and controls it in monsoon.
Refrigerant is environment friendly.
---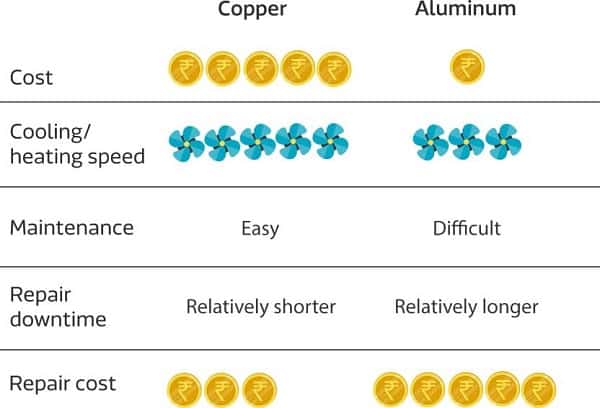 Please do comment below to add your suggestions and feedback.