After researching around 100 air conditioner models I have made this list and I keep updating it every month according to new models available in the market.
We have done the tedious work of finding the best AC in India so that you can have a comfortable sleep after your return from the office working a full day.
Go ahead and buy one of these best in class split air conditioners currently available in India. Our main priority while making this guide is to pick air conditioners that are budget friendly , saves energy costs and are long lasting.
Points To Remember
3 Star AC is good enough.
Copper condenser is best.
Inverter Ac is the future and a better option.
Minimum noise level should not be above 40 dB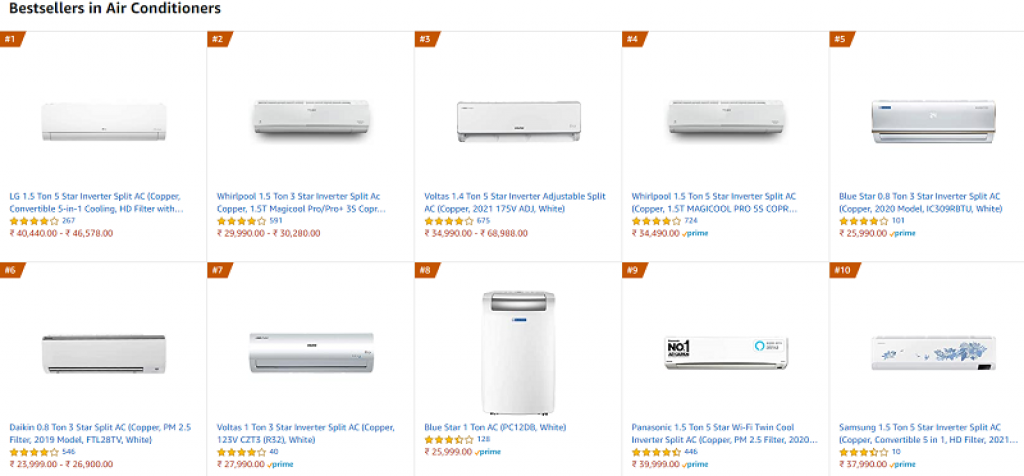 ---
How Much Ton's of AC Do I Need?
Well this question can be easily answered by the size of your room for which you are buying the air conditioner.
For Upto 130 Sq Ft Room – 1 Ton AC ( Blue Star )
For Upto 130 – 200 Sq Ft Room – 1.5 Ton AC
For Upto 200 – 300 Sq Ft Room – 2 Ton AC ( Panasonic )
These figures can change if your room has partitions , direct access to sunlight or if the room is on top floor which gets sunlight from all sides.
Inverter AC Vs Non Inverter AC
Inverter AC will not lower your bill by half , but upto 30%. It is recommended to buy inverter AC if your daily usage is for 6 hours or more. I am personally using Inverter AC due to energy savings , silent operation and faster cooling.
Inverter AC will cost a bit more as compared to non inverter for repairs, in case of any technical failures.
3 Star Vs 5 Star AC
If your using your AC for less than 6 hours on average and for only 3-4 months in a year , then you should go for a 3 star AC.
But if your going to use the AC for 5-6 months , that is especially if you have longer Summers then it is recommended that you go for a 5 star AC to save on your electricity bills.
Features Picks For October 2021

Rs.

36,190

Rs. 58,990
3 new from Rs. 36,190
in stock


Rs.

38,490

Rs. 59,000
2 new from Rs. 38,490
in stock

Also Read:
1.5 Ton Window Air Conditioners
---
Best 1.5 Ton Split AC in India
Lets get started with best split air conditioners for this summer season in 2021. I hope you all can stay protected from the scorching heat this year and enjoy cool air from air conditioners in the comfort of your home.
Premium Quality – Daikin , LG , Hitachi
Budget Conscious Buyers – Voltas , Whirlpool , Carrier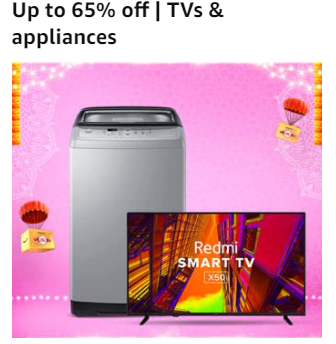 Cheapest Options – Sanyo , Amazonbasics , Marq
1. LG 1.5 Ton 5 Star Inverter Split AC Copper
( best Premium Pick , LG brand reputation )

Coming to the big brands finally , we have picked this offering from LG as it's decently priced and offers a 5 star energy rating , being an inverter AC. This is definitely the best pick for summers of 2021 , if I were to buy an AC right now then this would be my choice!
1) It offers dual rotary compressor for faster cooling & more electricity savings.
2) 100% copper with extra black coating for both indoor and outdoor unit protection.
3) Equipped with Himalaya cool technology , which claims to cool you as soon as the AC is turned on.
4) Detects low refrigerant itself , removes harmful particles from air and ensured uniform distribution of cool air.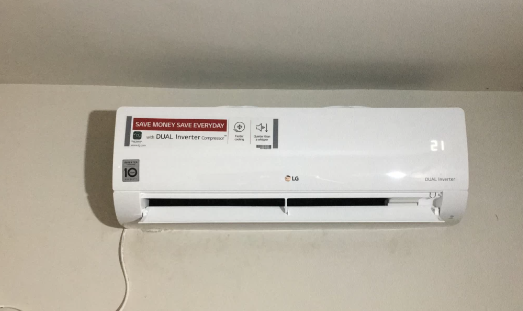 5) All in all it's a luxury premium offering.
For people who want smart AC from LG , can go for this model (LG WIFI Smart AC 2021 Model – Amazon)
Positive
LG is a well known brand and offers 5 in 1 Convertible cooling , to save on electricity.
LG smart diagnosis , Auto clean and silent operation.
Superior build quality as compared to budget brands.
Noise level is quite low , only 31 dB
Low Annual Energy Consumption – 818.81 Kilowatt Hours
5 Year Warranty on PCB
Check Cheapest Price : Amazon
---
2. Daikin 1.5 Ton 5 Star Inverter Split AC Copper
( 2nd Best Premium Pick for 2021 , Will last for years , Best Built Quality )

After lot of consideration Daikin is our 2nd best pick due to the outstanding quality and robust built. This AC will be a quality investment and last for years. I think that Daikin products are more robust as compared to other brand AC's. Daikin offers a robust built quality , an AC that will last for years and years. That's why many people prefer this brand. This one comes with copper condenser.
You Can also go for 4 star model , Daikin 1.5 Ton 4 Star Inverter Split AC Copper – Amazon
For me 3 star was enough , so you can consider 3 star too instead of 4 or 5 star model , but do get the inverter AC mode (Copper) to save electricity.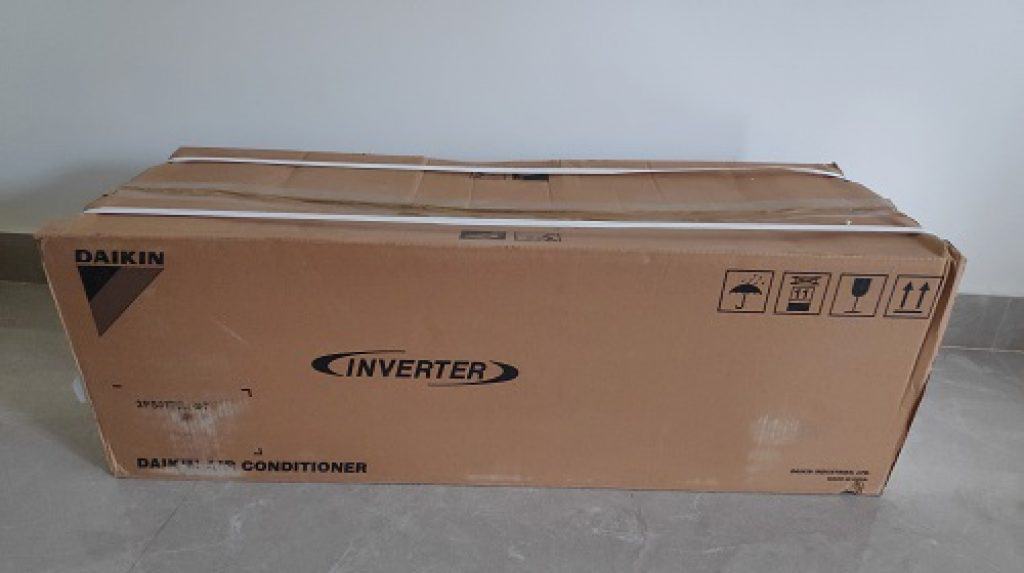 Usually Daikin products are high priced and not easily available online. I would say grab it while you can.
1) This comes with Power Chill Operation, a PM 2.5 Filter and Coanda Airflow.
2) Coanda Airflow ensures that the air draft does not directly fall on your head and is distributed evenly in room.
3) Econo mode for saving electricity and features like auto restart, sleep mode are built in.
4) Indoor Unit Quiet Operation: This feature ensures low noise level resulting in sound sleep.
Positive
Robust Built Quality and efficient powerful cooling
Low electricity consumption , Silent operation , Backlit remote.
1 Year on Product, 1 Year on Condenser, 5 Years PCB Warranty, 10 Years on Compressor
Low Annual Energy Consumption – 824 Kilowatt Hours
Noise level is low , 35 dB
Negatives
A bit expensive as compared to Whirlpool , Voltas and other budget brands. But it does deliver premium quality and features.
Check Cheapest Price (5 star Model) : Amazon
---
3. Panasonic 1.5 Ton 5 Star Wi-Fi Twin Cool Inverter Split AC

This is a modern AC , equipped with WIFI and with a very beautiful look suitable for premium homes. It looks very beautiful with a glass like finish on top and is a bit bigger compared to other air conditioners.
Panasonic is a well known Japanese brand and you might have used their other home appliances.
The remote has a lot of buttons and functions with backlit , although the AC body is made of plastic but feels sturdy enough.
You can turn on the wifi , connect to Miraie app to use voice commands to operate the AC for turning on the AC or setting the temperature etc. Alexa should work same way when connected with AC.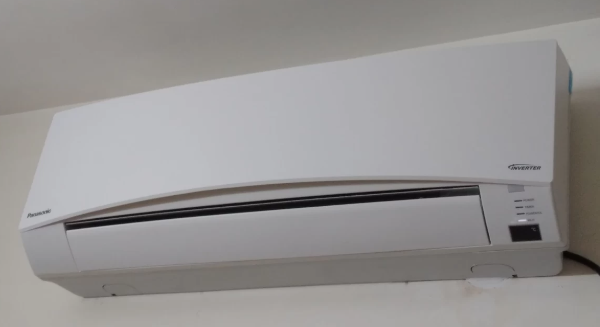 Overall it's a value for money smart AC , although a bit pricey costing above 40k.
Positive
Looks Beautiful
Wifi , Smart AC
5 year PCB Warranty
PM 2.5 particles filter
Anti Corrosion Blue Fin Technology
Negatives
Only vertical oscillation
High noise level , 43 dB
Check Cheapest Price : Amazon
---

---
4. Voltas 1.5 Ton 3 Star Inverter Split AC
(Copper , Best Mid Range AC Pick 2021 in India )
" 1.5 Ton , 3 Star , Inverter , Copper , Not Noisy , Stylish Look "

Voltas has gained the number 3 spot in our list with this model and has beaten other budget brands. Now Whirlpool AC in on number 4 in our list.
It is most pocket friendly inverter AC , with copper condenser and 1.5 ton cpacity with 3 star rating. One cannot ask for more at this price.
1) TATA is a brand you can trust , looks good on wall.
2) Its a little big in size and provides quick cooling. Comes with high ambient cooling , which can give cooling even at 52°C.
3) It can sense the indoor humidity and controls it accordingly , this feature is quite handy in monsoon season.
4) It has multistage filtration which removes harmful particles and dust , which in turn provides you with cool fresh air.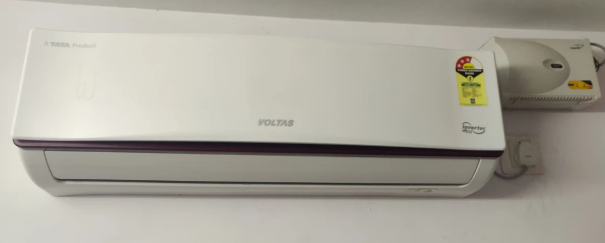 5) All in all this is best budget friendly 1.5 ton inverter split AC out there.
Positive
Budget friendly price , no problem in cooling.
Voltas is an Indian brand.
Negatives
Hight noise level , 44 dB.
Voltas can improve the customer service.
High Annual Energy Consumption – 1072.27 Kilowatt Hours
Check Cheapest Price : Amazon
---
5. TCL Elite iECO 1.5 ton 5 Star AI Ultra-Inverter wi-fi enabled Split AC

TCL has been making waves in Indian market with their smart WiFi AC's which are winning the heart of consumers. Their budget pricing is beating somewhat Voltas and Whirlpool , while their smart technology is good too. You can use the TCL Home App to control the functions.
You might know TCL through TV market , where they make some quality products.
This AC is 100% copper , with gold fin on both indoor and outdoor units which is great to increase the durability and remove the chances of any rusting etc.
Like others it offers high ambient cooling , energy saving , R32 Refrigerant and 4 way airflow.
Warranty: 1 year on product, 1 year on condenser, 10 years on compressor, 3 years on PCB

Positive
wi-fi enabled 
Good performance
Budget price
3 years warranty on PCB
Check Cheapest Price : Amazon
---

6. Whirlpool 1.5 Ton 3 Star Inverter Split AC (Copper)
( 2nd best Best Budget Pick for 2021)
Copper, 1.5T NITROCOOL 3S COPR INVERTER

This is one of the best selling models for split air conditioners right now , which is due to decent pricing and good product quality. This is a good choice for budget buyers , as it costs a bit less than Voltas pick above.
Lets talk about some of it's features which makes this AC worth buying.
1) Copper condenser and Inverter AC , at a low price with brand value of Whirlpool.
2) 6th sense technology which adjusts the cooling depending on the requirement and saves on electricity.
3) Eco friendly refrigerant and self diagnosis for any errors.
4) Can cool even at 55 degree temperature , equipped with HD filter and low noise levels.
Whirlpool has been making home appliances since 100+ years. So this is indeed one of the best options if you are looking for a split AC.
Positive
Budget Price
Good cooling , no issues in performance.
Negatives
High noise level of 43 dB
Annual Energy Consumption –
981.14 Kilowatt Hours
Check Cheapest Price : Amazon
---
7. Carrier 1.5 Ton 3 Star Inverter Split AC Copper

If you can increase you budget a bit then you can get this amazing inverter AC with 5 star energy rating.
1) Due to all these amazing features and still a reasonable price , that's why we have kept this AC by Carrier as 5th in our list.
2) High ambient cooling – which claims to cool your room even at outside temperatures of 55*C.
3) It comes with low voltage operation , that is even if voltage drops to 195v. It can still keep working smoothly.
4) Stabilizer free operation – It can work efficiently between 150V-280V without using a stabilizer. So we do save on the cost of stabilizer.
5) Highly recommended if you need an inverter AC with 3 star energy rating.

Positive
Medium noise level 38 dB
Carrier is a pioneer and trusted brand in Air conditioner.
Budget price and built quality is good
Check Cheapest Price : Amazon
---
8. Hitachi 1.5 Ton 5 Star Inverter Split AC Copper

It's pricey , but worth it if you trust Hitachi and like to use it's premium products. I have seen this AC in quite a few offices and showrooms , works well. Plus the bold design and white color are pleasing to eyes.
1) It comes with on & off timer technology.
2) Hitachi offers a stabilizer free operation. on this split AC.
3) The speed compressor can adjust power depending on the heat load.
4) Hitachi claims that it has an energy efficienct and has lowest-noise operation.
Positive
Lowest noise of 34 dB after LG pick
High cooling capacity of 5275 watts
2 years on AC, 5 years on Controller/PCB, 10 years on Compressor
Check Cheapest Price : Amazon
---
Also Read:
1.5 Ton Window Air Conditioners
---
9. Carrier 1.5 Ton 3 Star Split AC Copper

This AC is direct competitor to our number one listing by Voltas. As both of these are non inverter AC and offer similar features.
1) But the Carrier one is price a little more as compared to Voltas above.
2) It filters out PM 2.5 and other pollutants from the air.
3) Sleep mode to set ideal temperature automatically while you sleep
4) My Mode , which allows you to customize your AC settings.
One other good feature is Auto Cleansing , inbuilt auto cleanser which disinfects the whole indoor unit.
Check Cheapest Price : Amazon
---
10. AmazonBasics 1.5 Ton 5 Star Inverter Split AC Copper

This product is here due to it's low price and Amazon brand value. Although they are working to make their installation smoother , but that problem is also with other brands.
1) You won't find another 1.5 Ton 5 Star Inverter Split AC this cheap anywhere else.
2) Four Stage Filteration System which keeps out both visible & invisible dust and other pollutants.
3) It can auto adjust temperature and fan speed to minimize energy consumption and maximize savings.
4) Comes with sleep mode and hidden display.
Positive
Budget Friendly
5 Star Rating
Copper Condenser
Four Stage Filtration System
Negatives
38 dB Noise level
No Backlit in Remote
Check Cheapest Price : Amazon
---
Other Competition
Sanyo 1.5 Ton 5 Star Inverter Split AC Copper

If you still want an inverter AC with 5 star energy rating , but still don't want to spend much then this is for you.
1) This is one of the best selling AC's offering all the latest features at the lowest price possible.
2) This has copper condenser and equipped with inverter technology that saves electricity.
3) Sanyo claims to have 400+ service centers in India , they have got one in my small hometown also.
Other features worth mentioning are:
Auto Restart
Self Diagnosis
Back Lit Remote
built-in PM 2.5 and anti-dust filters
protection against rust and salt damage
Sleep Function and timer.
So yes , this AC would be a great buy right now if you can go with brand Sanyo.
---
Godrej 1.5 Ton 3 Star Split AC Copper

Again a budget offering , which is well priced but a non inverter option. Suitable for medium sized rooms (111 – 150 sq ft).
1) Comes with multilayered acoustic jacket for silent operation.
2) Inbuilt anti carbon , bacterial and dust filter.
3) One exceptional thing I liked about this AC was that it prevents global warming with the use of refrigerant like R32. This refrigerant has Zero Ozone Depletion Potential.
Check Cheapest Price : Amazon
---
Voltas 1.5 Ton 4 Star Inverter Split AC Copper

It is equipped with DC Inverter Technology, which reduces power consumption by maintaining an ideal temperature without frequently turning the compressor on & off.
1) High ambient cooling which keeps you comfortable even at 52°C
2) Advanced air purifier which provides cleaner air by removing harmful odours.
3) No need to use an additional stabilizer with the AC because of its low startup voltage.
4) It senses the indoor humidity and controls it in monsoon.
5) Refrigerant is environment friendly.
Check Cheapest Price : Amazon
---
Samsung 1.5 Ton 3 Star Inverter Split AC (Copper)

Who hasn't heard about Samsung as a brand , especially now when smartphones rule the world. So Samsung has been making home appliance since long ago and they work quite well.
It has got most of the modern features like stabilizer free operation , fast cooling , automatic temperature control , energy efficiency and stable performance.
So if you are interested in buying a Split AC from Samsung , then you can check price and reviews on the Amazon link below.
Check Cheapest Price – Amazon
---
Sanyo 1.5 Ton 3 Star Dual Inverter Split AC (Copper)

This is the cheapest dual inverter compressor AC in the whole list. Which makes it very energy efficient and low noise.
Copper condenser , Backlit remote and anti dust PM 2.5 filters built in. These features make this AC very attractive.
It also comes with Glacier mode , which provides higher fan speed for instant cooling. Self diagnosis for easy trouble shooting.
Sleep function , Timer and 350+ service centers.
Warranty is 1 yr on product, 1 yr on condenser and 5 yr on compressor.
Check Cheapest Price – Amazon
---
Wanna Turn Your Split AC into air Purifier?
Due to growing awareness against pollution and germs , there are new ways coming up to fight these. One of these if your buying an AC is to use the 3M Filtrete Anti Pollution Filter that captures PM 2.5 like household dust, smoke, chemicals, exhausts etc.
Check them out here – Amazon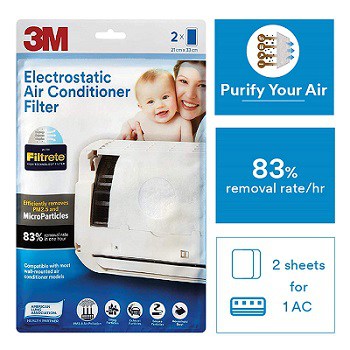 These just take a few minutes to install and can be changed manually after the filter gets dirty.
---
Kuber Industries AC Cover Set

Check Cheapest Price : Amazon
It is important to protect your AC from dust , rats , water logging and all other potential damages.
That is why I will highly recommend to cover both indoor and outdoor units , make sure no rats or squirrel are able to enter inside.
This will probably increase the life of your AC by avoiding these risks. These are waterproof covers made of polyester materials , which protect from water during rainy season.
Things to keep in mind when buying an Air conditioner:
Window/Split Type:A window AC is great for smaller rooms where you need to save space and is much easier to install compared to Split ACs. BUt Split ACs are able to cool a room much faster and can be fitted on any wall. They are also less noisier than Window ACs.
Capacity: The capacity you require solely depends on the dimensions and size of your room. For most small rooms of about 9X10 Feet , a 1 ton AC will suffice. But there are 1.2,1.5 and 2 ton ACs available for increasingly larger rooms.
Power Consumption: Most ACs have a power efficiency rating and can help you determine which model is ideal for saving electricity in the long run. An AC with higher star ratings may cost more, but they consume much less power and thus save your money. Be sure to compare the prices and check which star rating is best for your budget.
Inverter: Nowadays, most ACs have an inverter that gives better cooling as well as better energy efficiency. It is also responsible for making the AC last longer.
Additional features: There are some products with bonus features which you may find useful such as Anti-Bacterial Filter, which eliminates pollen and dust in the air, Auto-Clean function, which helps keep the AC dirt free and Sleep Mode, which automatically turns the AC off after a certain period of time.
---
Please do read comments below by viewers and feel free to add your suggestions and feedback.
Also Read:
1.5 Ton Window Air Conditioners