What is the biggest challenge that you face while traveling to a foreign country? Language barrier? Currency exchange?
For me, it is always the socket. Let's face it, you might find some workaround for other travel issues but if you don't have an appropriate plug to charge your phone, camera, etc. then you are in a pickle.
Thankfully, nowadays, it is easy to find travel adapters which will fit all kinds of sockets and allow you to charge your equipment efficiently.
But, as is the case with most products, you have to be careful while choosing a travel adapter. If you choose a wrong one then you might end up with discharged electronics in another country. Not to fret because, we have prepared a guide for you to select the perfect travel adapter for yourself.
Consider Purchasing a USB Travel Adapter
Did you know that you have travel adapters now that allow you to charge multiple gadgets at a time? Well, yes, it is true.
If you have electronics that can be charged via USB chords then you can check out a USB travel adapter. You will find options with both two sockets and four sockets which will make it easier for you to charge multiple items at a time.
Also, look out for clip-on plugs on your USB adapter as this will allow you to use it in different countries.
Another thing to keep in mind is to check the maximum power output of your adapter. If the power output is low, then it will take a long time for your gadgets to charge. However, if the power output from each socket is high, then you will be able to fully charge your electronics in just a couple of hours.
Best Travel Adapters in India
So, here is a list of the best travel adapters which are currently available on the market. You can compare their prices and reviews to choose the best travel adapter for yourself.
1. TECH SHOP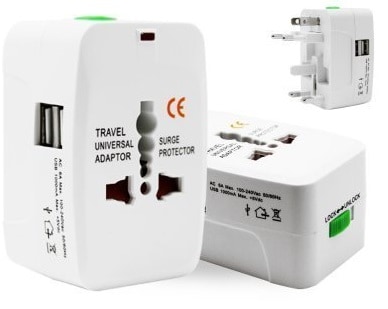 Amazing travel adapter which comes with dual built-in USB ports is Tech Shop Universal Adapter. It is suitable for 100 – 240 W input and works well with sockets of more than 150 countries.
Also Read : Best Luggage Bags For Travel in India
The adapter also features a built-in safety shutter and can be used with different input plugs.
Perfect for charging laptops, cameras, mobile phones, tablets, etc., this universal adapter is quite efficient and convenient to use and will be a great addition to your travel kit.
Pros:
Built-in USB ports
Suitable with 100 – 240 W input power
Built-in safety shutter
Compatible with all gadgets
Cons:
Check Cheapest Price : Amazon
---
2. Generic World Wide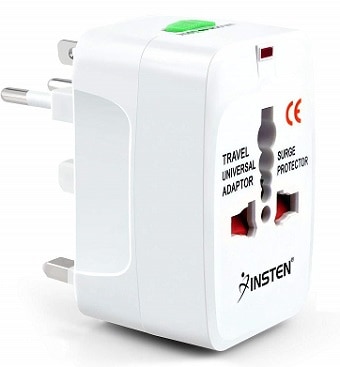 This is one of the simplest yet most effective travel adapters which is why I have bought this for my own travel journeys as well.
It can easily work in more than 150 countries and charge a variety of gadgets and appliances. This adapter is lightweight and comes in a travel pouch which makes it easy and convenient to carry while traveling.
Also Read : Best Camera Bags for Travelers
Apart from being highly affordable, this travel adapter also keeps your gadgets protected in case of fluctuations. With its safety shutters and switch that can be opened/locked, you don't have to worry about your kids playing near the adapter. Trust me, this is the travel adapter for your all trips around the world.
Pros:
Easily affordable
Lightweight and small
Features indicator lights
Comes with safety shutters and open/lock switch
Works in more than 150 countries
Cons:
Best Buy : Amazon
---
3. Sharp Plus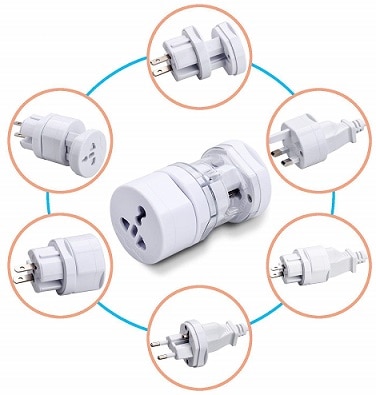 This Universal Travel Adapter is the perfect way to keep your phones and electronics charged while traveling to different countries.
With its safety shutter, you can keep your kids safe while keeping your gadgets charged at all times. It is compatible and fits into electrical sockets over almost all over the world including Europe, US, Australia, and so on.
Also Read : Best Travel Mugs Under Rs. 1000
You can attach your device's cord to any of the 3 interchangeable adapters and charge your gadgets quickly.
Also, this adapter is lightweight and slim and comes with a storage tube which makes it highly portable.
Pros:
Affordable
Compatible with most plug styles
Safe to use
Lightweight and small
Cons:
Best Buy : Amazon
---
4. Norwood Mobilio 3 pin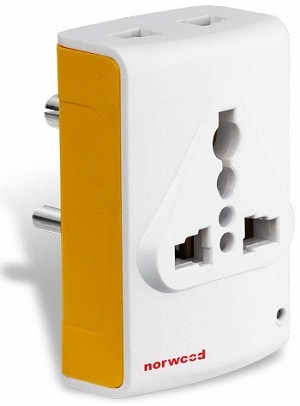 A high-quality 3-pin universal travel adapter which will offer protection for both you and your devices is a must-have for all the travelers.
It works almost in all the countries and is perfect to charge your smartphones, tablets, laptops, cameras, and so on.
Also Read : Best Travel Cameras
It is built out of heavy brass parts which makes it more durable than other travel adapters in the market.
And its small and travel-friendly design makes it handy and convenient to use, no matter where you are.
Pros:
Cheap
Safe to use
Works with almost all gadgets
Durable
Small and Travel-friendly
Cons:
Europe plug is less good.
Best Buy : Amazon
---
5. Artis UV200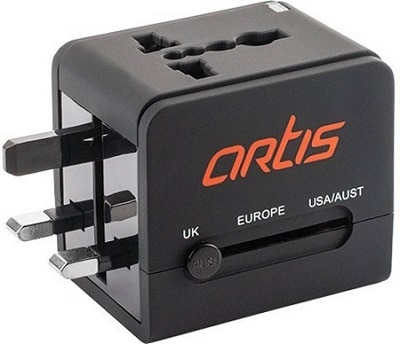 This Universal travel adapter has 4 inbuilt pins which are compatible with US, Europe, Australia, and UK plug style. It offers 2 USB ports for charging and has a maximum current output of 2100mA so, you don't have to worry about slow charging.
Also Read : Best Camera Straps
With its AC power indicator, you will know when the adapter is working and when it is switched off.
It is built out of plastic and is safe to use and is compatible with all mobile phones and tabs.
Pros:
4 inbuilt plug pins (US/EU/AUS/UK)
2 USB ports
Power indicator
Cons:
Best Buy : Amazon
---
6. SeCro Universal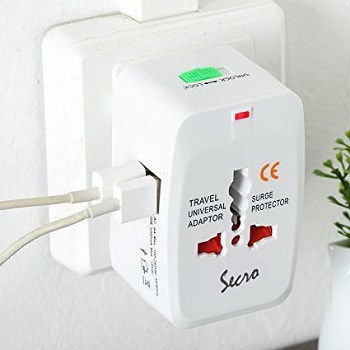 SeCro Universal Travel Adapter is one of the safest adapters to use with your mobile phones, cameras, MP3 players, etc.
It is compatible with many 2-pole plugs as well and works well with non-grounded devices.
Also read : Best Handbag for Women Under Rs. 500
With the surge protector, safety shutters, and light indicator, using this adapter is safe and convenient. And it works perfectly with plugs in Europe, Australia, US, UK, China, and so on which is why you won't need another adapter after purchasing this one.
Pros:
Works with non-grounded devices
Suitable for use with 2-pole plugs
Includes safety shutter and light indicator
Fits plugs from all over the world
Cons:
Best Buy : Amazon
---
7. GM 3-Pin Universal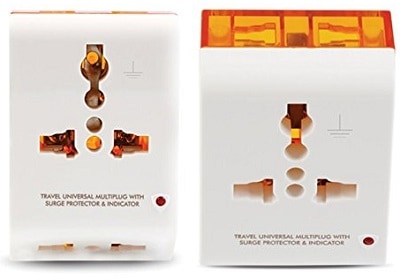 If you are looking for a quality multi-country travel plug which is affordable too then you should definitely check out the GM 3-Pin Universal Travel Adapter.
It features indicator light which lets you know when the adapter is working and when it is not.
Also Read : Best Multiport USB Wall Chargers in India
It is equipped with international sockets which makes it convenient to use and compatible with all kinds of chords.
And the surge protector and safety shutter keep you and your gadgets protected from any kind of electrocution.
Pros:
Indicator light
Compatible with all cables
Features Surge protector and safety shutter
Affordable
Cons:
Might not fit square sockets
Best Buy : Amazon
---
8. Smart Pro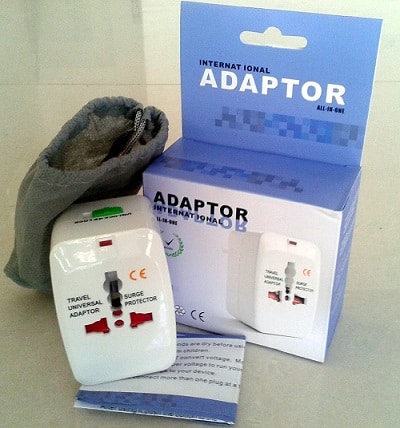 This all-in-one travel adapter is my personal favorite because it is both cheap and can be used in multiple countries.
It is compatible with US, UK, Australia, Japan, and Spain-styled plugs and is small and convenient to carry around.
Also Read : Top 10 Best Tripods in India
It also has a built-in surge protector which keeps your gadgets from being harmed during power fluctuations.
It also includes a safety shutter to keep your kids protected and the power indicator light lets you know when the adapter is working and when it is off. And, the open/lock switches makes it safer than other adapters.
Pros:
Cheap
Works in more than 150 countries
Surge protector
Safety Shutter
Power indicator
Cons:
Best Buy : Amazon
---
9. Targus APK01AP-52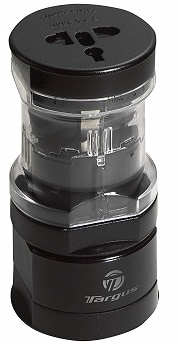 This Universal Travel Adapter plug is perfect for grounded devices and is compatible with voltage power all over the world.
You can use this adapter in most parts of the world including North America, Asia Pacific, Europe, UK, etc.
Also Read : 10 Best Monopods in India
This adapter is built out of a durable and high impact polycarbonate plastic so you don't have to worry about it getting damaged.
And it includes red safety shutters to protect against over current and over voltage. Also, it is small and sleek and easy to break into smaller parts, which makes it easy to carry around.
Pros:
Works with grounded devices
Small and sleek
Includes safety shutters
Built out of durable and high-impact plastic
Cons:
Best Buy : Amazon
---
10. LCARE QC 3.0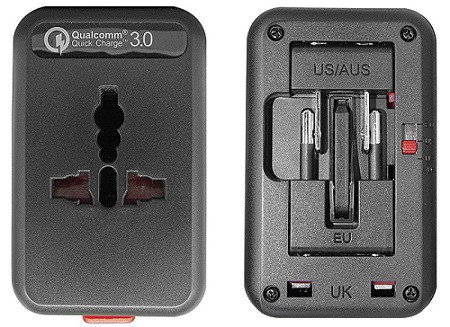 Although this is one of the best travel adapters for frequent travelers, it is extremely expensive which brings it to the bottom of our list. This USB charger provides QC 3.0 output and protects your gadgets from over voltage, temperature or current.
Also Read : 10 Best Instant Cameras in India
It includes 2 inbuilt USB ports which are compatible with different cables. Also, this multi travel adapter can be used in more than 120 countries and is compatible with most mobile phones, tablets, laptops, etc.
This adapter also works well with 100 – 240 V input and is small and sleek in design. As a result, it doesn't take up a lot of space and can easily fit in your luggage.
Pros:
Protection from over voltage, over temperature, and over current
Compatible with different gadgets
Suitable for 100 – 240 V input
Small and sleek design
Cons:
Best Buy : Amazon
---
Tips for Choosing a Travel Adapter
Here are a few things that you should keep in mind when looking for an effective travel adapter for your journeys.
Consider the Size of the Adapter
You will come across travel adapters in varying shapes and sizes. Some of them will be universal adapters that will cover most of the countries while there will be few single-region adapters as well. Now, you might be inclined to buy a universal travel adapter as it works well for multiple countries, but their big size can pose an issue for you.
Some universal travel adapters are wider than the sockets and can block the socket adjacent to them as well. While a few other universal travel adapters often fall out of the socket, if they are heavy or if the socket is loose. So, it is important that you choose a small adapter which will work in most of your locations.
Check the Voltage Compatibility
One of the most important things to remember when purchasing a travel adapter is that it will only work for the layout of the pin and not the voltage. In layman terms, if you generally have appliances with 3-pin plug but are traveling to a country where only 2-pin sockets are available then the travel adapter will come handy.
However, if you have appliances that work only on 110 – 120V but you are in a country which offers 220-240V power supply, then your travel adapter can't adjust the voltage. Apart from the USA, most countries have the main voltage supply at 220-240V. So, check your electronics and determine the voltage at which they ideally work.
If they can't take the voltage supply of your selected country, then you need to carry a voltage converter too and use it in conjunction with your travel adapter.
Choose the Pin Plug Design
Another important thing to consider is the travel adapter's socket pin plug design. Many travel adapters only have sockets for two-pins which isn't compatible with most laptops, phone chargers, etc.
So, you have to determine the electronics you are likely to carry and if you are going to need a 3-pin plug socket or a 2-pin plug socket as your travel adapter.
Decide on Your Budget
Let's face it, spending an exorbitant amount on a travel adapter doesn't seem like a smart choice. However, if you want a long-term travel adapter for your frequent travel journeys, then you have to purchase a quality adapter.
Also, remember that a smaller, single-region travel adapter will be cheaper than a universal travel adapter. But be sure to buy a travel adapter which will meet all your needs and requirements.
---
Also Read:
1) 10 Best Camera Bags for Travelers
2) Best Luggage Bags For Travel in India
3) Best Travel Pillows in India