Searching for the best double door refrigerator ?
Low energy consumption
All features equipped
Fits under budget
One may choose double door refrigerators over the traditional single door ones for a variety of reasons. Here's a quick check about different types of refrigerators that may best suit your need. In this list we pick double door refrigerators , you can also check out our.
---
Table Of Contents
Benefits of Double Door Refrigerators
1) Large Refrigerator Capacity: Double door refrigerators usually come in 235 to 550L capacity and thus suits well for a family of 4-6 members.
2) Space Segregation: Obviously, double door refrigerators are most preferred by those who want to keep the freezer section separate from the main section and create a spacious room.
3) Frost Free Technology: If you are tired of manually scraping off ice from those traditional fridges, then double door refrigerators with frost free technology auto cleans ice formations and keeps your refrigerator cooler for a longer time without any hassle.
4) Moreefficient cooling, thus, lesser spoilage of food stuffs.
5) More variety and appealing looks than all currently available single door refrigerators.
Top 10 Best Double Door Refrigerators
1 Whirlpool 300L FP 313D

Famed with the Good Design Award 2015, this unit is one of amongst the most decent choices under 35k. Fresh frozen, food and vegetable zone keeps away the odour from mixing. It's a great pick for the summers for its features like insulated doors, quick ice making, door alarms, cosmetic storage block and more.
Special Features:
300L Gross Capacity
6th sense Active Fresh Technology.
Air boosters, Fresh Keeper, Micro Block and Moisture Retention Technology.
3 door format.
Cosmetic and Choco Box.
Eco and Auto power mode to save electricity.
Pros:
No energy star rating but it is said to be really energy efficient.
Stabilizer free operation.
3 Door Format prevents odour mixing and optimizes space.
Cons:
Little noisy.
No LED lights for the freezer.
Check Price : Amazon
---
2 Whirlpool IF 355 ELT 340L

This unit comes with the technology of keeping food crisp and fresh with its 6th sense IntelliFresh technology and Fruit crisper unit with MicroBlock.
Special Features:
360L gross capacity
6th sense IntelliFresh with deep freeze technology automatically senses and optimizes cooling.
Anti-bacterial filters
Active Deo and Freshonizer that keeps the refrigerator odour free and fresh.
3 intellisensors and user interface panel.
Pros:
Food stays fresh and intact for a long period of time.
Efficient storage space
Stabilizer free operation
Anti- bacterial filters prevents aerial bacteria to enter into the internal portion of the fridge.
Cons:
2 star energy rating
No door lock and no freezer light
Check Price : Amazon
---
3 Whirlpool Fp 263D

With Whirlpool's popular 6th sense active fresh technology this unit has the ability to keep your fruits and vegetables fresher for a longer time with its intelligent moisture retention capability, air boosters and micro- block feature.
Special Features:
240L Gross Capacity
Air boosters prevents odour mixing in different compartments.
Toughened Glass Shelves and MicroBlock with vegetable drawer, ice twister and collector.
Fresh keeper and moisture retention technology.
Pros:
Can work very well with 130V- 330V voltage fluctuations even without a stabilizer.
Spacious with its 3 sections (Multi door) design: Freezer, Main Section and Vegetable Section.
1 year guarantee on product, 10 year warrantee on compressor
Cons:
Little noisy.
Trays may be a bit fragile.
Check Price :Amazon
---
4 Samsung Elegant Inox

This unit is a power packed refrigerator with some unbelievable and innovative convertible feature. Power freeze and power cool feature lets your food cool 31% faster than any other refrigerator of the range.
Special Features:
394L gross capacity.
5 in 1 convertible.
New design improvements: Big bottle guard, recess handle and hidden hinges, LED light and Digital display.
Power freeze and Power cool.
Door alarm, stabilizer free operation and Digital Inverter Technology that automatically adjusts the compressor for saving energy.
Pros:
Cool pack feature is a saviour during power outrages that keeps food cool up to 12 hours.
Fresh room technology keeps the freshness intact even after frequent opening.
3 star energy rating.
Cons:
Check Price : Amazon
---
5 LG GL-I302RPZY

One of the smartest and innovative refrigerators currently available in the market is the LG T302RPZX which is a perfect pick for a family of 4. It is best known for its silent compressor, energy saving and super-fast cooling features.
Special Features:
Gross Capacity 284L
New Ice Door Beam Cooling system for even cooling.
Moist Balance Crisper and Humidity Controller.
Can work as a Solar Smart Refrigerator with AC to DC convertor.
Smart Diagnosis and Smart Connect.
Pros:
Power packed energy saving features like: Energy rating of 4 stars, Smart Invertor Compressor that saves up to 36% energy by automatically adjusting cooling power.
Stabilizer free operation at 100V- 290V voltage fluctuations.
Environment friendly.
Cons:
Check Price : Amazon
---
6 Whirlpool PRO 355 ELT

The unique feature of the Whirlpool PRO 355ELT is its all new Air Tower Technology that lets cool air flow through strategically placed vents all around the refrigerator.
It also comes with a guarantee of keeping your vegetables fresh for up to 7 days with the '7 days Garden Fresh Vegetable Crisper Compartment'.
Special Features:
340L Gross Capacity
Vegetable Crisper and Fruit Crisper with Micro Block Technology.
Air Tower technology with fresh flow flexi vents.
Everyday Fresh Compartment, Fresh N Short Crisper Separator, Freshonizer, Bacterial Filters and Active Deo for keeping the refrigerator fresh, hygienic and odour free.
Pros:
Stabilizer free operation.
Fast bottle cooling and ice making with 6th Sense IntelliFresh Technology.
Chilling Gel to store cool air during power outages.
Door Alarm and Attractive looks.
Cons:
High power consumption with 2 star energy rating.
Check Price : Amazon
---
7 LG 260L GL-T292RSOY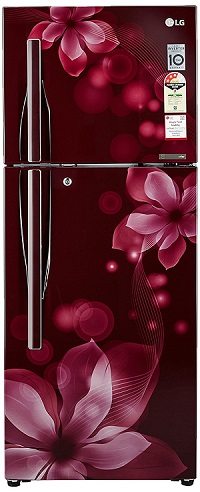 With the bedazzling Orchid floral design, the LG GL- T292RSOY can be the most attractive appliance for your dream home. With LG Smart Diagnosis and Solar Smart feature, you are quite likely to have a hassle free experience with this beautiful unit.
Special Features:
260 L Gross Capacity
Moisture Balance Crisper and Ever Fresh Zone.
Ice Beam Door Cooling that ensures even temperature distribution throughout.
Smart Invertor Compressor.
I-Micom Temperature Control.
Pros:
Stabilizer Free Operation for voltage fluctuations between 100V to 290V.
Stylish Design and Attractive looks.
Eco friendly refrigerant and super silent operation technology.
Cons:
Fixed Ice Tray
Smaller capacity than others of the same price range.
Check Price : Amazon
---
8 Whirlpool 245L Illusia Steel

Elegant in its looks and power packed with efficient cooling and freshness technology, the Whirlpool NEO DF258 ROY refrigerator is a great choice under 25k. The unit is an excellent pick for the summers as the cold air temperatures are maintained even when the doors are unintentionally left open.
Special Features:
Gross Capacity 245L.
Fresh Flow Air Tower Technology with Anti- Bacterial Filters.
7 Days garden Fresh Vegetable Crisper and MicroBlock vegetable and fruit crisper that prevents 99.9% bacterial for lifetime.
Freshonizer and Active Deo to reduce oxidation and maintain odour free environment.
Ice Cream Tray and Chilling Gel.
Pros:
Stabilizer free operation.
Stainless Steel Exterior, Ergonomic Handle and Glossy Finish for an elegant look.
Large bottle shelf with spill guard.
Hexa fresh technology to condense moisture.
Cons:
2 star energy rating.
No cooling pad or water and ice dispenser provided.
Check Price : Amazon
---
9 Samsung 255L 4 Star RT28M3954R3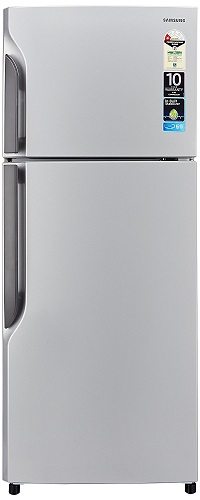 Brighten your interiors with this vibrant looking Samsung RT28M3954R3 refrigerator in the shade of floral Rose Mallow Plum. This frost free refrigerator is power packed with super smart features like all round cooling, power cool, power freeze, easy slide shelf and smart convertible.
Special Features:
Gross Capacity 253L.
Create up to 88L of space with the Smart Convertible Technology according to different seasons and occasions.
Cool pack for up to 12 hour rescue during power outages.
Fresh room and Deodorizing filter.
Power cool and Power freeze.
Door Alarm and Key Lock.
Pros:
Negligible power consumption with 4 Star Energy Rating and efficient Digital Invertor Compressor.
Flexible Storage with the Innovative Smart Convertible technology.
Up to 31% faster cooling and freezing with the Power Cool and Power Freeze Mode.
Moist Fresh Zone keeps optimum humidity levels.
Cons:
Little costly compared to its capacity.
Fragile Trays.
Check Price : Amazon
---
10 Samsung 225L RT26H3000SE

If you are looking for an efficient cooling fridge at a low budget, then Samsung RT26H3000SE is the right pick for you. Though not power packed with high- end innovative features, this unit would solve the purpose with its good storage space and all round cooling technology that keeps the food fresh for an extended time.
Special Features:
255L Gross Capacity
All round cooling technology ensures cold air to reach every corner with multiple outlets at every level.
Temperature Controls and Multi Digital Sensors.
Pros:
Stabilizer Free Operation.
Eco- friendly refrigerant.
Express freezing with Turbo Mode.
LED freezer lamp.
Cons:
No Display and Control.
2 star energy rating.
No Deodorizer, Fresh box or Dairy Guard Compartment.
No Door Lock and Key.
General Warranty of 1 year and 5 year warranty on compressor.
Check Price : Amazon
---
6 Types of Refrigerators
Single Door (50-250L)
Best Single Door Refrigerators
Best for family size of 1-3, the single door refrigerators are economical and easy in construction.
Pros: Lower electricity bill, occupies negligible floor space.
Cons: No separate compartment for freezer and fridge, manual ice cleaning, direct cool.
---
Double Door (235- 550L)
Whether you buy the top freezer or the bottom freezer version, the double door refrigerators are the most common picks.
Pros: Separate freezer compartment, more shelve space, frost free, innovative features in higher models like crisper and power cool and power freeze.
Cons: More energy consumption, costlier than single door refrigerators
---
Side-by-Side (550 to 800L)
Wider in construction, one half of the side-by-side fridge is designated to be a freezer while the other half is the fridge side.
Pros: Larger freezer, high volume, external user interfaces, handy and easy access
Cons: Occupies more floor space, high price, low energy rating
---
Multi- Door/ French Door (600- 889L)
Designed to be amongst the most spacious refrigerators, the multi- door or the French door refrigerators can have 3-4 doors.
Pros: Locks cold air, less clearance space required, drawer freezers available, feature packed
Cons: Occupies more floor space, very high price, high power consumption
---
Mini Refrigerators (Below 100L)
Ideal for dorm rooms, bed rooms and hotel rooms, the mini refrigerators can fit into tight spaces and accommodate a descent amount of quick bites and beverages.
Pros: Can be placed on countertops, stores quick bites and snacks.
Cons: Provides less capacity, poor efficiency in cooling and freezing.
---
Door in Door (600-690L)
A new innovation, the door in door refrigerators are mega capacity refrigerators that reduces cold air loss up to 41% and gives you easy access to quick bites like beverages and snacks. Other features are similar to French door refrigerators.
---
Things to keep in mind while buying a refrigerator
1) Energy Ratings of a Refrigerator: Those refrigerators that come with an Energy Star rating can save at least 20% of energy at an average. Higher energy ratings can reduce utility bills and are environment friendly as well.
2) Though stainless steel variants come at a higher price tag, they are timeless and easy in maintenance.
3) Fridge Capacity vs Requirement: Choose your fridge size and capacity according to number of members in your family or your requirement. Most double door refrigerators can support a family of 3-4 whereas Door to Door refrigerators usually have a storage space for up to 6 people.
4) Type of Defrosting- Defrosting refrigerators can be either fully automatic, semi- automatic, cyclical or frost free. Automatic and Semi- automatic requires de-freeze to be done manually, whereas cyclical defrosting are activated only after 8 hours. The two popular refrigerator technology are:
5) Frost free- With an in built thermostat, timer and a heater, the defrost cycle is automatically activated in every two hours.
6) Direct Cool- Natural convection method is used to give instant cooling. Uses semi- automatic or automatic defrosting technology.
7) Special features to consider: door alarms, child locks and door locks, fast cooling compartments or switch modes, extended warranties, power ice maker and cooler, stabilizer free operation, anti- bacterial filters, crisper, freshonizers, digital sensors and more.
Also Read:
Top 10 Best Storage and Instant Geyser Water Heaters in India
10 Fully Automatic Top Loading Washing Machines
Top 10 Best Front Loading Washing Machines in India