Winters are just around the corner, so is the New Year. If you were thinking of buying a new geyser water heater, then there cannot be a better time than this. The newer models have started to arrive and you might even get a great deal around Winters.
I know, you still haven't decided which water heater to purchase yet. Before you make a decision, we want you to know everything about the water heaters so that you can make an informed choice when in the market to get one.
So, below explained are the types of water heaters that you will find in the market. We've also listed out the advantages and disadvantages of each so that you exactly know what they are. Later, you will find the best water heaters under both the categories that you can consider buying. Let's get started!
Read in Hindi – भारत में 10 सर्वश्रेष्ठ गीजर वॉटर हीटर
Which Water Heater I am Using Right Now?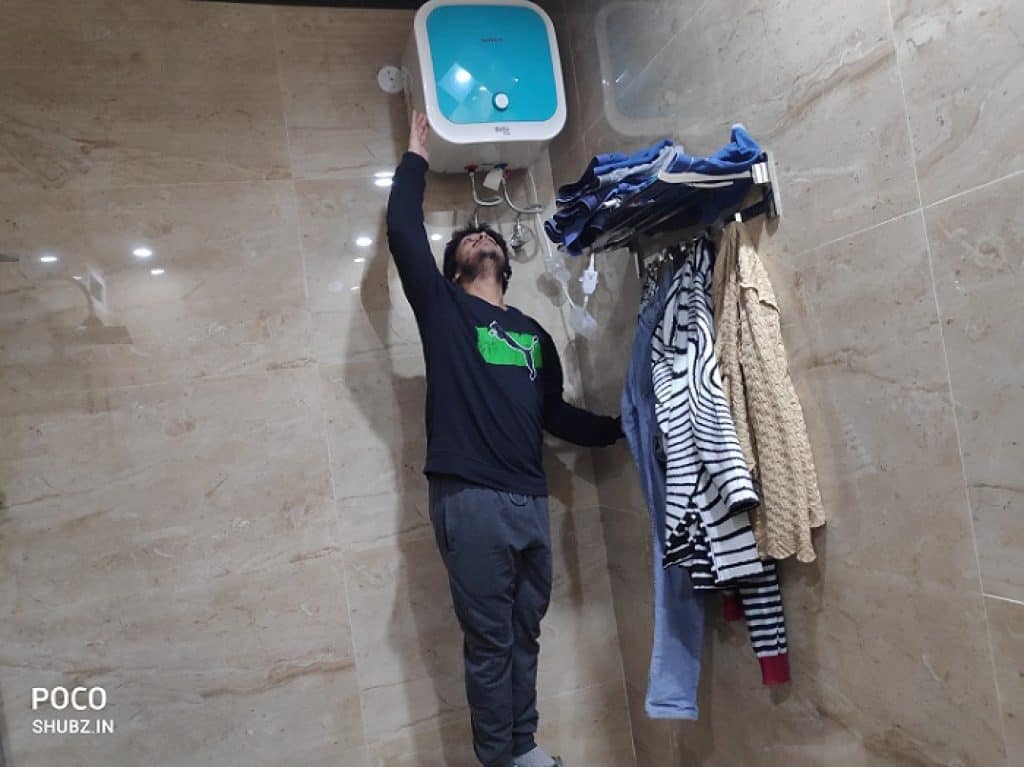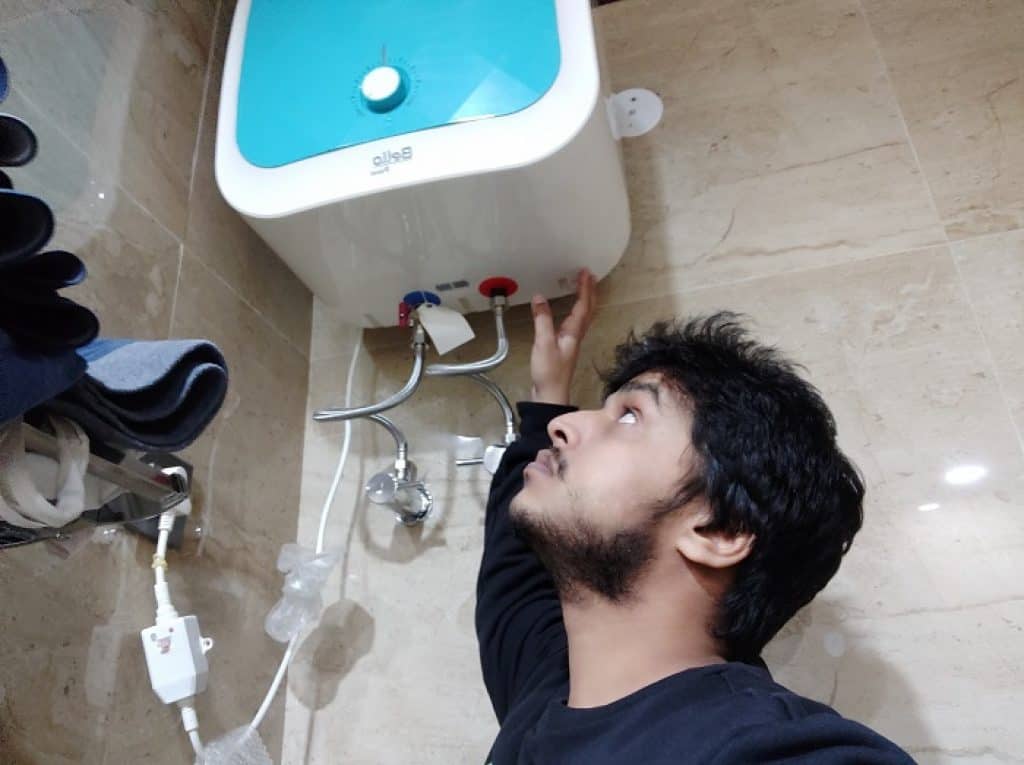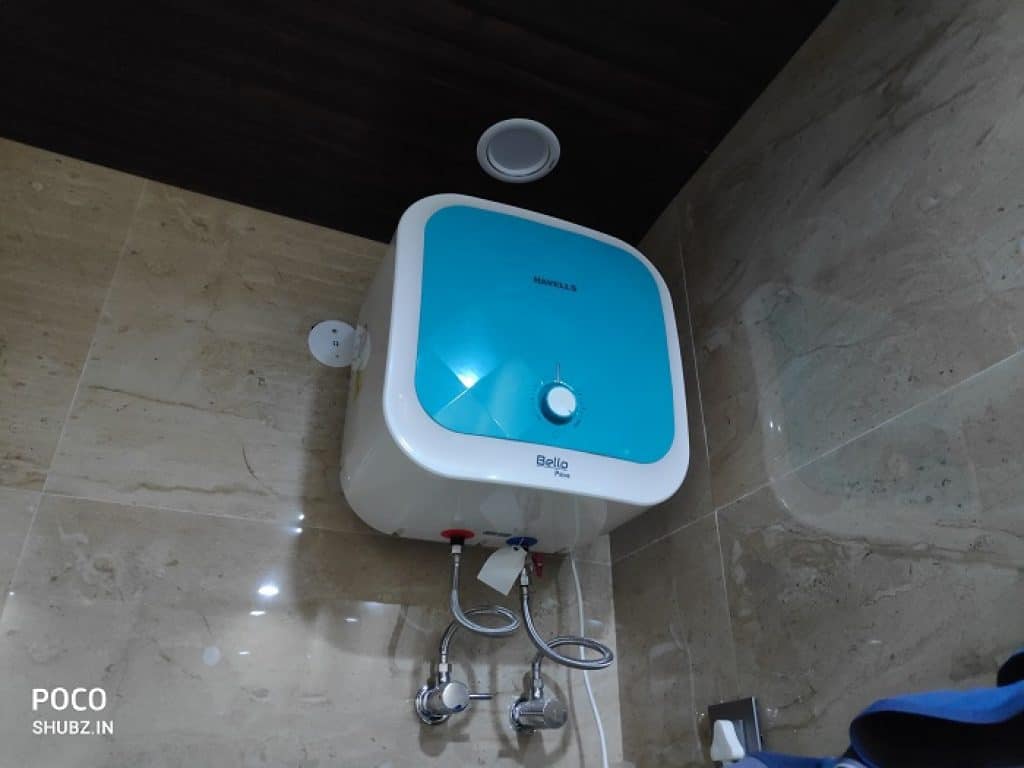 Well as you can see , this is my bathroom fixed with Havells Bello Prime 25 Litre storage water heater model. I have two of these Bello Prime models , one in each bathroom. These were bought locally from a shop , one of the reasons was the trust of brand Havells and the other was the awesome looks. These just look so good on the wall , there was option of Havells Adonia as well but I didn't want to go with the LED & stuff as that might be a hassle if PCB goes bad later.
I wanted something old school which has a big knob for temperature control and has sturdy built quality , which will last for years. Now , coming to it's performance so far the experience has been a delight as the time required for hot water is hardly 5 minutes. This makes me think , are gas geysers already obsolete if electric heaters have become so quick and don't require changing gas cylinders.
This does make a bit of noise when the water is heated , like when water gets boiled up in a electric kettle. I take that as a reminder of get going to bath and be done with it , although I don't shower everyday in winters hehe.
Which Water Heater I Use !!
It comes in various storage capacities , mainly 15L and 25L. As there wasn't much price difference at the time of buying , I went with the 25L model. Both these geysers of Havells Bello Prime are working fine for me , satisfying mine and my family's daily needs. I am not sure why this model is not much popular on Amazon and has some mixed reviews. Though I understand as the winters are on peak , the installation service might be a bit slow. I asked the local plumber to do the installation instead of people from Havells , as the pipeline was still under works when this was delivered. Will definitely recommend this model to all people looking to spend comfortable winters with constant & quick hot water supply.
I will surely update this article , if any problems are faced with these heaters. In your service Shubz , always trying our best to bring out best things for most people. Below are some more picks , that we picked after lot of research.
For single person use , as they might not want a big 25L water heater but instead something smaller. Then this is a perfect solution for those Havells Instanio 6-Litre Storage Heater , it's small and trendy. Coming from Havells , I can trust the build quality. It can also be used for kitchen , washing utensils with cold water can be a bit painful so this might be a new small addition to your home kitchen.
If you want something even more cheap and low priced , just to get by in winters then you can also go for Immersion Rods which is also a great way to get hot water in few minutes but you can only use these to heat water in a bucket and most process is manual.
Table Of Contents
---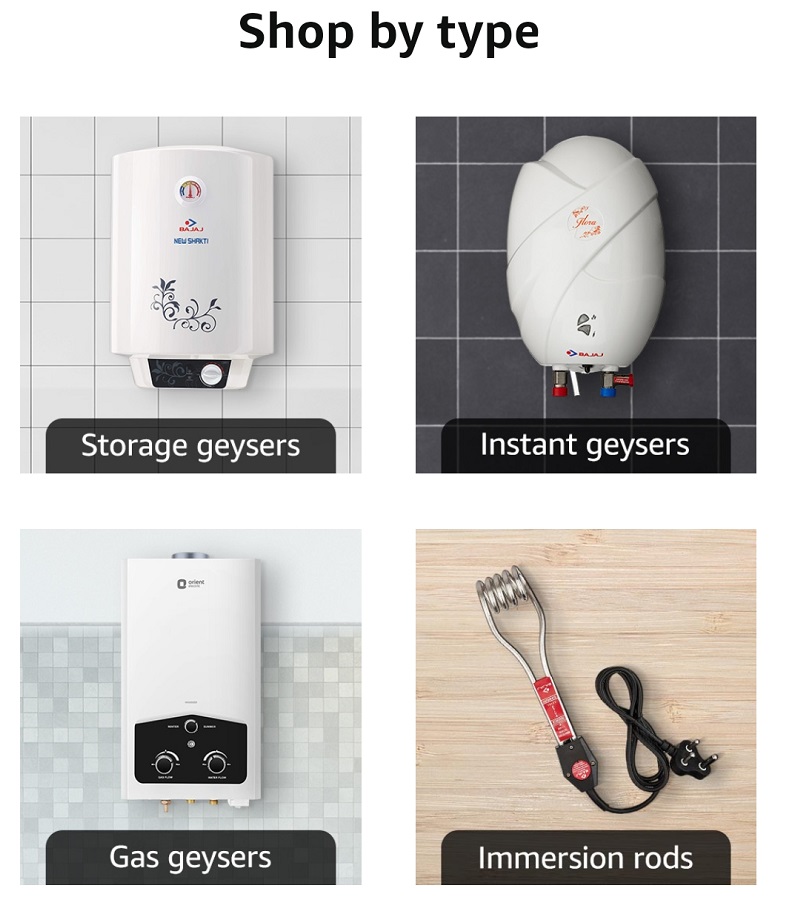 Types of Water Heater
If you wish to, then the water heaters can be divided into two broad categories – instant and storage. We will talk about them in a bit detail to better understand how they both differ from each other.
---
Instant Water Heaters
As the name suggests, the instant water heater is capable of heating the water instantly and is made available for immediate use. Such geysers may or may not have a storage capacity and the ones who do, have a comparatively smaller storage tank.
With their smaller storage tanks, the instant water heaters are quite compact and don't take a lot of space. This is one of the major reasons why people go for the instant water heaters. With that, you'll also save some electricity and water as the heater won't be running idle or would heat the water that isn't ultimately used.
---
Also Read:
Storage Water Heaters
Quite an opposite of the instant water heaters, the storage water heaters offer much more convenience. These heaters have a large storage tank ranging from 6 litres to 35 litres and keep a lot of water hot for long. With the large storage tank, they also occupy a lot of space.
In general, the storage water heaters take few minutes before the water is completely heated and is ready for use. But this wait is acceptable when you need to heat a lot of water at once and it would be used by a number of people multiple times.
---
Advantages and Disadvantages
Both the water heaters offer benefits that are unique to their type. It ultimately comes to the buyer to decide which one to go for. We will help you make an informed decision by providing you all the advantages and disadvantages of the instant and storage water heaters.
---
Pros & Cons of Instant Water Heaters
Instant supply of hot water whenever you turn it on.
They are quite compact and can fit even in the tightest of the spaces. Washbasins and kitchen sinks.
Saves electricity
On the flip side if you look at the instant water heaters then you would notice that.
Lack of storage may not be ideal for many. If you place it in a bathroom, then you won't be able to heat the water for all your family members at once.
With that, the instant water heaters also need some relaxing time after every 6 litres of hot water. Moreover, their prices are also fairly high.
---
Pros & Cons of Storage Water Heaters
Storage water heaters are more of a normal product that can be seen in almost every house.
Cheaper price and being able to store huge amount of water all at once. Unlike instant heaters, there are no breaks in between and you can get a continuous supply of hot water.
They are best suited for the use in a bathroom with their storage capacity ranging from 6 litres and going all the way up to 35 litres.
With that large storage space, the storage water heaters take up a lot of space and need a large wall-mount for hanging in your bathroom. Plus, you'll always have to wait for at least 5 minutes before getting hot water, which can be annoying at times. There are times when not all the heated water is used which results in the wastage of both the water and electricity.
---
Also Read :

10 Best Pedestal Fans in India

Best Table Fans For Home & Office
Decide According To Your Need
Now that we have listed all the advantages and disadvantage of the instant and storage water heater, it's now your turn to act upon it and decide which one is perfect for you.
The needs of each individual household are different and you must keep those in mind while choosing one of the two water heaters. Once decided, you can now head to the list of best instant and storage water heaters mentioned below to find the perfect heater for yourself.
---
Best Storage Water Heaters in India
I prefer storage water heaters more as compared to instant water heaters , currently I am using 2 storage water heaters from Havells ( Havells Bello Prime 25l Model). It hardly takes 3-4 minutes for hot water to start coming in shower and can last quite long. So much better than connecting all the LPG etc in instant water heaters. Gone are the days when you had to wait 20 mins for getting hot water.
1 AO Smith HSE-SDS-15
4 Star BEE Ratings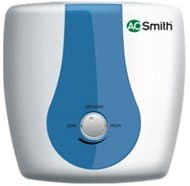 This is the number one heater right now from AO Smith , this brand also makes great water purifiers and is well known. Their simple yet efficient water heaters are preferred by many.
1) A pioneer in the water heater space, AO Smith has a great product for the storage water heater segment as well.
2) The specially created tank which is Double coated glass-linked tank , providing great protection against hard water and corrosion from it.
3) You can heat water up to 75° C, which is more than enough for any family.
4) This product is available in both 5 & 4 BEE star rated options , it is energy efficient in its daily operation.
5) The warranty structure is like this 7 years on inner tank, 4 years extended warranty on glass coated heating element and 2 years comprehensive (all elements).
Buy Now From : Amazon
---
2 Havells Adonia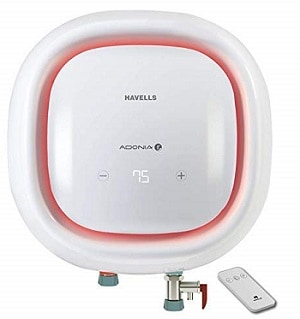 I have been using Havells products for years now. Their ceiling fans to lights everything is top notch. Recently I have bought 2 water heater of Havells Bello Prime , which matched my bathroom theme perfectly. It is a new model which isn't popular on Amazon yet.
I was also impressed by Havells Adonia , which takes less space and has a futuristic look to it. Plus it also comes with a remote. Although it looks great , the problem with these pcb components is that they can go bad in coming years and I don't want any headaches later.
But overall this is a great product from Havells and deserves the second spot for best storage water heater in our list. It comes with a 7 years warranty on product which is what AO smith offers above.
This long warranty give a kind of satisfaction so even if something goes wrong , Havells will be there to take care of it. The temperature indicator is digital with touch controls.
Made with innovation , certainly recommended from my side.
Check Cheapest Price : Amazon
---
3 Haier Precis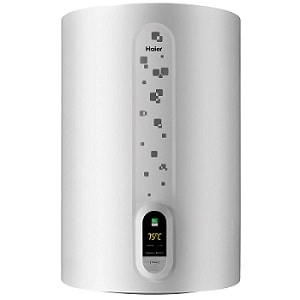 While this water heater is quite efficient and equipped with LED indicator , the design is old cylindrical type which takes quite space in. I won't recommend it to people with limited bathroom space.
Haier makes quality products in Washing Machines and Refrigerators and is a well known brand. We try to pick brands with solid history so there is good after sale service.
It comes with a solid warranty of 4 years on product and 7 years on tank. Which is good as you get 4 years of comprehensive warranty. Which is more than Havells and A.O Smith above. Everyone offers long warranty on tanks but overall product warranty also matters.
It is a 5-star rated water heater that means the product will not dig a huge hole in your pocket , talking about electricity bills.
Equipped with safe care technology for protection against electric shock and LED display. The brand should add some more pictures and detailed functions in it's Amazon page , so buyers can make an informed decision.
Buy Now From : Amazon
---
4 Bajaj New Shakti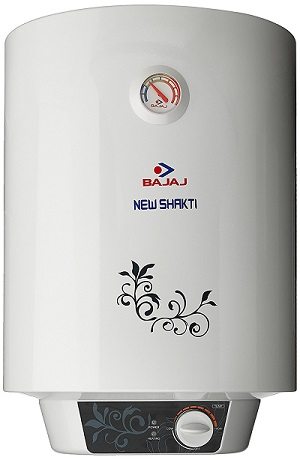 Bajaj also has a product in the storage water heater segment , they provide quick installation and their robust built quality. The trust factor is good here , this brand is providing water heaters from many years.
New heaters have taken over the market with better modern features , but this is still preferred by many due to trust factor. The warranty sructure is 2 years on product, 5 years on tank.
1) For this price it has a lot to offer for all kinds of needs.
2) The 2000-watt heating element is there to give you hot water quickly.
3) To ensure longer life, the water tank of the heater has a special coating to keep it free from corrosion and other similar damages.
4) It is a 4-star rate product and comes with an overall warranty of 2 years.
Buy Now From : Amazon
---
Also Read :
5 Orient Electric Enamour Plus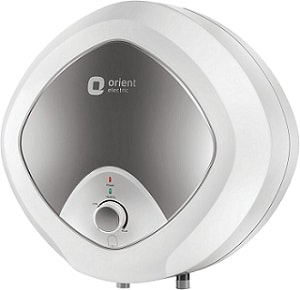 I know Orient makes good Cooling fans and Air Coolers , making their way in water heater segment with well designed products made for millennial. This color theme should match with your modern bathroom perfectly well.
The warranty structure goes like this 7 years on tank, 4 years on element and 2 years on product. Which is less than Haier , Havells and similar to the A.O Smith above.
It comes with a 5 stars rating , good to save the energy bills. Gone are the days when parents were always nagging to turn off the water heater quickly.
Easy to operate with the big knob , no digital display. They have the titanium enamel coated tank for better lasting. It is also ipx4 water proof body , which many others brands don't offer.
This water heater will take less space , provide a classy look to your bathroom and same time provide you with hot water when you need. I hope Orient Electric can maintain their good customer service and keep the buyers happy.
Buy Now From : Amazon
---
6 Havells Monza EC 10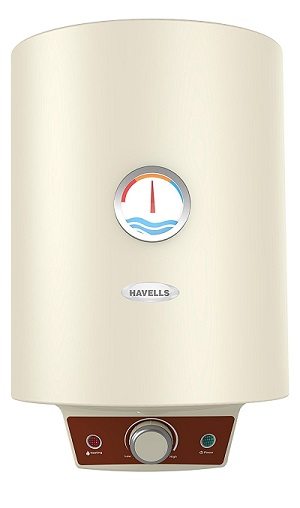 Another Havells product in the list , they are just so good with their products completely dominating the market with their products. This one is a classic with robust built.
1) This company has mastered the art of making functional products that also look way better than any other similar product.
2) This Havells water heater will not only make your winter baths more comforting but will also make your bathroom look even better.
3) Its simplistic yet functional design should be the talk of the town.
4) Havells has taken care of the safety aspect quite well with this product and the heating capacity has also been made great with the 2000-watt element.
5) The storage capacity of this water heater is 10 litres and you can get it online for this price.
Buy Now From : Amazon
Best Instant Water Heaters in India
You can expect to get a lot of similar offerings from different companies when it comes to instant water heaters.
1 Bajaj Flora Instant Water Heater
(🌟🌟🌟🌟🌟)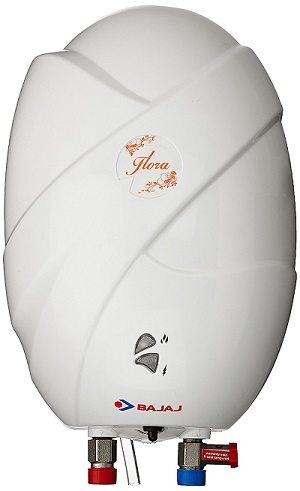 1) Bajaj is a known brand in this space and they have used the best build material for making this instant water heater.
2) The company has made use of a high-quality heating element that not only heats the water quickly but also lasts for really long.
3) This 3000-watt water heater comes with multiple safety systems to keep you safe.
4) There are a couple of indicators that help you determine what function is working at the moment.
5) For this price, it is one of the best water heaters in this range.
Buy Now From : Amazon
---
2 Crompton Solarium
(🌟🌟🌟🌟🌟)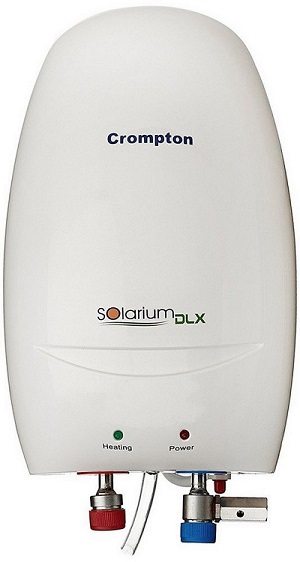 1) Crompton has a similar sized small instant water heater that gets the job done pretty well.
2) The tank of this water heater is made out of steel that should last for long.
3) Apart from this, the heater is rated at 3000-watt which should heat the water in a jiffy.
4) The storage capacity of the heater is 3 litres and you will also get a warranty of 2 years.
Buy Now From : Amazon
---
3 AO Smith EWS-3
(🌟🌟🌟🌟🌟)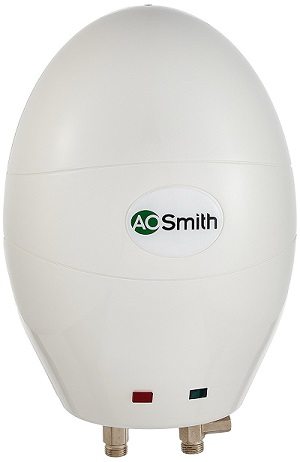 1) If you want a perfect instant water heater, then look no further than this offering from AO Smith.
2) The best part of this product is the excellent quality material it is made out of.
3) You can set the water temperature between 25° C and 75° C, which is quite good for a heater this size.
4) AO Smith has also got you covered with the extensive warranty plan that covers the entire product for 2 years, the element for 3 years, and the tank for 5 years.
5) You can get the 3000-watt variant of this product for this price.
Buy Now From : Amazon
---
4 Bajaj Majesty Instant
(🌟🌟🌟🌟🌟)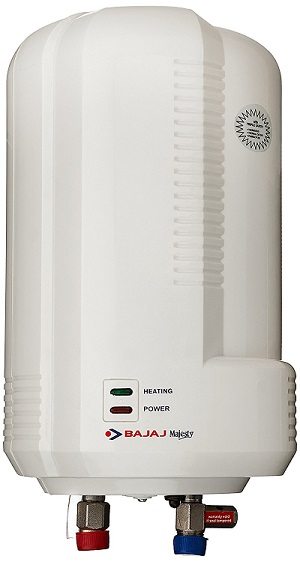 1) This is another water heater from Bajaj that has a massive range of water heaters for all the categories.
2) This product is quite similar to the one mentioned above but comes with a few differences.
3) Bajaj mentions that the instant water heater is specially designed for the people living high rise buildings.
4) This heater is perfectly suitable for the pressure pumps used in such buildings.
5) Most of the other features are the same.
Buy Now From : Amazon
---
5 Havells Instanio Instant
(🌟🌟🌟🌟🌟)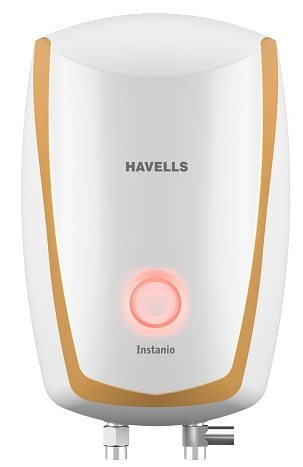 1) In case you were hunting for something that not only works but also looks good then Havells has just the right product for you.
2) The aesthetics of this water heater are the USP while the other features also are quite impressive.
3) The front has a colour changing LED light that indicates when the water has been heated.
4) It has been designed keeping in mind the safety of the user and that's the reason its body is made shockproof and it has a bunch of safety features inside too.
Buy Now From : Amazon
---
Also Check Out:
Read in Hindi – भारत में 10 सर्वश्रेष्ठ गीजर वॉटर हीटर
---
Please do comment below to add your suggestions and feedback , thanks.