As an expert on voice recorders, I can confidently recommend the Zoom H4n Pro as the premium option for capturing high-quality audio recordings. Our research and testing of 10 different voice recorders over the past two years in real-world settings have proven the Zoom H4n Pro to be an excellent choice for professionals who require top-notch sound quality and advanced features, such as its four-channel recording and built-in X/Y microphones.
On the other hand, the Sony ICD-UX570F is an ideal budget pick for those who are looking for a more affordable option. Although it may not have all the advanced features of the Zoom H4n Pro, it still delivers clear and accurate recordings with its built-in stereo microphone and high-quality digital recording capabilities.
In summary, both the Zoom H4n Pro and Sony ICD-UX570F offer unique features and benefits that cater to different needs and budgets. Ultimately, the choice between the two comes down to individual preferences and requirements.
1. Zoom (H4n Pro) Multi-Track Digital Recorder: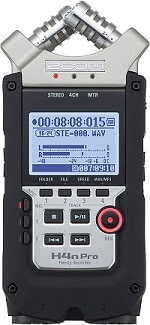 Zoom is another company that is known for recording devices. This voice recorder from Zoom comes with a hefty price tag.
Thus, if you are not with a high budget, you can skip this one.
But if budget is not your issue and you want to get the best of the best voice recorder, you can try this one. It has 4-channel recording capability with a high resolution.
And, it also features 2 TRS and XLR inputs with locks. Every user of this voice recorder has praised the recording quality of this recorder.
The improved stereo microphones are able to handle even up to 140 dB of sound. Some notable features of this recorder are…
Main Features:
Can expand memory up to 32 GB
Has 1 year of warranty
Comes with 6 to 10 hours of battery life
Can record and playback at a resolution up to 24-bit/96 kHz
Check Cheapest Price : Amazon
2. Sony (ICD-UX570F) Voice Recorder:

Do we need to introduce Sony here? I know the answer is 'No'. This is a world-known brand that is equally popular in India for its high-quality products.
If you are looking for a mid-range digital voice recorder from Sony with various features, then you can check this one out.
This one comes in black color with a slim and portable design.
Also Read : 10 Best USB Microphones in India
The built-in USB port can come in handy for transferring records from the device to your PC easily. The LED display is very easy to navigate.
And, the high-end features make it perfect for capturing audio in the classroom or any other situations. Here are some of the key features of this device…
Main Features:
Thin, lightweight, and easy to carry
Comes with expandable micro SD feature
Has 4 GB internal storage
Comes with a 1-year warranty
Has built-in FM radio
22 hours of battery life and quick charge feature
Check Cheapest Price : Amazon
---
Why Use Voice Recorders?
The main function of a digital voice recorder is to record audio anywhere you want to. They are battery-powered and have a built-in or expandable storage capacity to record continuously without interruption. A voice recorder can be useful in many situations. For instance…
In meetings, you can use a voice recorder
You can record interviews
Capturing lectures in the classroom is easily possible with voice recorders
To produce podcasts
You can take notes any time of any important thing
Smartphone vs Digital Voice Recorders?
We all know that you can record audio with your smartphone. Then, why would someone need an additional voice recorder if a smartphone can do that? Interestingly, there are a few valid reasons why a voice recorder is better in various situations versus a smartphone. Here's how…
Quality of Record: typically, smartphones come with a built-in microphone that is made for phone calls. You will find it at the bottom of the phone in most cases.
As a result, it is not the most suitable for recording outside sound. With a smartphone mic, you might need to point or hold the smartphone in the direction of the sound. But, a voice recorder will come with a high-end and powerful microphone/s that can record sound clearly even if it is from a significant distance.
Storage Capacity: Nowadays, smartphones come with higher storage capacity. But you don't use your smartphone only for recording. So, the storage space of your smartphone might become full because of the pictures, videos, apps, and games.
However, a digital voice recorder is used only for recording audio. Thus, you will have the ability to record a lot more in your voice recorder compared to your smartphone.
Battery Life: Audio recording on your smartphone can drain the battery fast. While on the other hand, a voice recorder comes with long battery life because it only records audio.
Some of them even have a battery life of up to 48 hours. Whereas, a smartphone might not be able to record up to 2 hours continuously without prompting low battery notification.
Additional Features: Digital voice recorders come with some specials features like noise cancellation feature, voice-activated recording, high-resolution recording, and more.
These types of features are not available on smartphones. So, a digital voice recorder will be the best option when it comes to recording compared to a smartphone.
Who This Is For?
Anybody can use a voice recorder if they need to record audio. Still, there is some individual that need a voice recorder more than others. For example…
If you are a student, you can record lectures with the voice recorder
For journalists or interviewers
If you are someone that need to attend meetings frequently
For doctors
If you are learning a new language
For musicians
For teachers
Also, for writers
Bloggers, or YouTuber
Online or offline content creators
---
3. Olympus (WS-852) Digital Voice Recorder: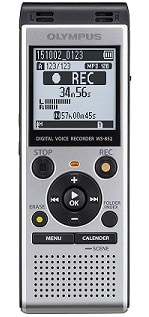 Many users also like Olympus when it comes to voice recorders in India. This voice recorder has a reasonable price.
And, it also comes with some great features like 4 GB internal storage, auto-mode adjustments, stereo microphone, voice filter, simple mode, and more.
You will also like the built-in USB port to connect it to the PC to transfer the recorded files. Overall, this is a great voice recorder for a cheap price.
Main Features:
Comes with a 1-year warranty
Has 4 GB internal storage space
Can add micro SD up to 32 GB
Up to 10 hours of battery life
Check Cheapest Price : Amazon
---
4. Zoom (H1n) Handy Digital Recorder:

We have already talked about a Zoom voice recorder above.
This is the second one from them on our list. However, this one comes with a unique design that is easy to hold and carry.
It also features a stereo microphone with the best clarity.
Also Read : 10 best audio interfaces in India
It has a variety of features like tone generator, micro USB port, protective mic enclosure, voice filter, and more.
You will also get free Wave Lab LE and Steinberg Cubase software with this for free.
Main Features:
Needs 2 AAA battery to run
Comes with a 1-year warranty
Up to 10 hours of battery life
Has built-in voice filter
Comes with protective enclosure for the mics
Check Cheapest Price : Amazon
---
5. Tascam (DR-05) Linear PCM Digital Recorder: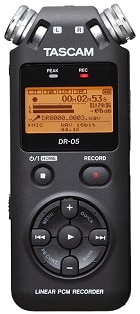 Another pricey voice recorder on our list. But except for the high price, everything on this voice recorder is great.
For instance, it comes with a low-cut filter function with which it can remove low-frequency noise from the recordings automatically.
It also has a self-timer recording feature. You can also take advantage of the recording delay function.
The 'level align' feature would also be helpful to level the volume in the recording.
All in all, this can be a top pick with the additional features stated below.
Main Features:
Can record up to 125 dB sound
Has a resolution of 24 bit/96 kHz
Comes with a 4 GB micro SD card
Can record up to 150 hours with 4GB micro SD card
Check Cheapest Price : Amazon
---
6. Sony (ICD-PX240) Digital Voice IC Recorder: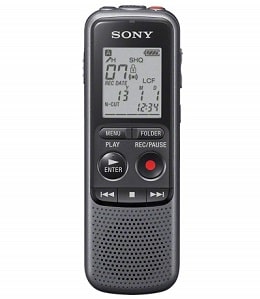 Without a doubt, this is the best bang for the buck voice recorder on our list. Interestingly, this is also from Sony.
We can say that it is not a top-of-the-class voice recorder.
But it can be a perfect choice if you are looking for a budget-friendly voice recorder from a top brand with all the must-have features.
Also Read : Best 4K Monitors in India
It has an LCD screen of 2.4 inches and it weighs just about 73 grams. This discrete design makes it perfect for students and teachers all alike.
Main Features:
Has 4 GB SD card
Up to 23 hours of battery life
Compatible with TLS 3.5 or RCA cable
Check Cheapest Price : Amazon
---
7. EVISTR (L53) Lightweight Digital Voice Recorder: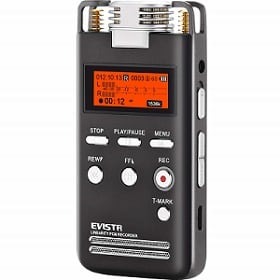 This EVISTR voice recorder comes with the great build quality. At the same time, it also has an affordable price tag.
It supports both monitor and telephone recording with a special adapter. You will also like the auto-record timer function of this recorder.
Additionally, it is integrated with advanced features like voice-activated recording, noise reduction, mp3 player, and more. With the 8 GB storage space, you can record up to 300 hours.
Also Read : 10 Best Laptops for YouTube Creators in India
This one has some powerful microphones with which it can capture audio from even a distance of 40 feet.
The USB port will come in handy to move the files to your PC. Overall, this can be a good option considering all the features it is offering.
Main Features:
Has 800 mAh rechargeable battery
Comes with 8 GB storage space
Can work as an MP3 player
Voice activation feature
Auto record feature
Check Cheapest Price : Amazon
---
8. Homelae Dictaphone Digital Voice Recorder: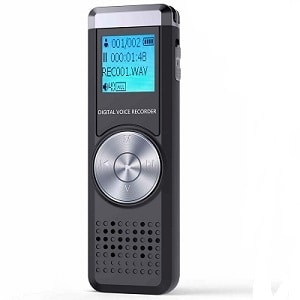 This is a mid-range voice recorder from Homelae. The most significant feature of this one is the 32 GB storage space.
Due to this much storage space, it can record up to 2240 hours. And, with a full charge, it can record up to 30 hours continuously.
Also Read : Best Gamepads Under Rs. 10,000 in India
The size of this voice recorder is about 3.2 inches x 1 inch. That means it is very small in size and perfect for portability.
It sports features like A-B repeat, dynamic noise reduction, 360-degree recording, 3 microphones, timer settings, voice-activated recording, and so on.
Main Features:
Comes with a 1-year warranty
It weighs just 53 gm.
Has 32 GB of storage space
Can record up to 30 hours in one full charge
Check Cheapest Price : Amazon
---
9. EVISTR Digital Voice Recorder: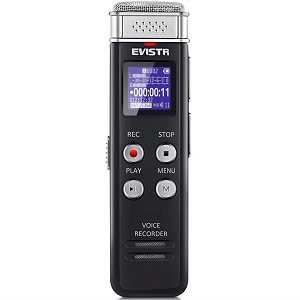 The last one on our review is another voice recorder from EVISTR. This one comes with 16 GB internal memory which is perfect for recording up to 1160 hours.
It records audio in 1536 kbps bitrate that makes the recording quality top-notch.
You can record both in MP3 or WAV format so that you can run the recordings on both Windows and macOS.
Also Read : 10 Best WiFi Range Extenders Repeaters
The USB cable will be handy to charge the device and to transfer files to your PC or MAC.
Some of the notable features of this voice recorder are fast forward, A-B repeat, rewind, voice-activated recording, and more.
The price of this digital voice recorder is also reasonable.
Main Features:
Comes with voice activation feature
Has 16 GB of storage space
Can be used as an MP3 player
USB rechargeable
Check Cheapest Price : Amazon
Sum Up:
So, there you have it. These are the reviews of the top 11 best voice recorders in India. We have included devices from some of the most popular and top brands in this post.
So you can go with any of these mentioned voice recorders without any doubt. The final choice will depend upon your requirements and budget. So, make sure, you are opting for the perfect digital voice recorder for you.
So, have you decided on your next voice recorder? If so, which one is it? You can share your opinions or thoughts in the comments below!
---
Also Read :
10 Best MIDI Keyboard Controllers in India
Best Studio Headphones in India