For the non-vegetarians, eggs are considered a significant portion of their diet and are a major source of protein and other nutrients essential for one's health.
While they definitely are easy to cook food items and are generally preferred over breakfasts, having to boil eggs is a cumbersome process using the conventional means.
The office goers who need a no-nonsense way to boil eggs have electric egg boilers as a fantastic option as they get the job done without needing any constant attention. Plus, they automatically turn off when the eggs are done cooking and the eggs don't crack when inside. Here is a list of some of the best egg boilers that you can buy considering your needs and their features.
1. Kent Instant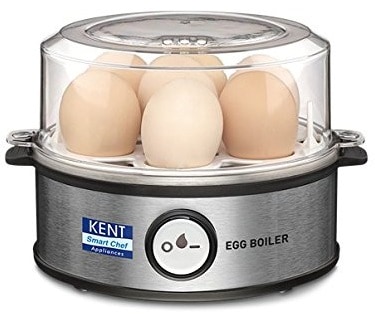 1) Besides making quality water purifiers, Kent is also engaged in making other kitchen products to aid you in the process.
2) The egg boiler from the company is probably the best product you can buy among its peers as it offers better built and maintains the quality the company is known for.
3) There are three modes – hard, medium, and soft – to let you choose based on your preference.
Also Read : 10 Best Air Coolers Under Rs. 6000
4) It is a simple to use with a single-touch operation which allows all your family members to use it without any hassle.
5) You just need to place at max seven eggs in the provided space and fill the required amount of water to start the boiling process.
6) The machine consumes about 360 watts of power and will turn off automatically when it is done cooking the eggs.
Best Buy : Amazon 
---
2. Petrice 2-In-1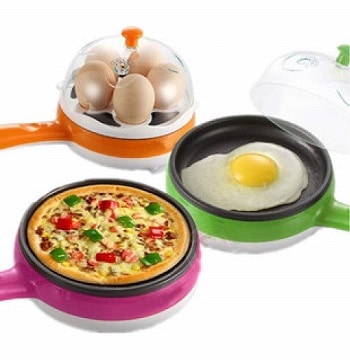 1) If you want your egg boiler to be as versatile as you are, then Petrice has a 2-in-1 product that can do a lot more than just boiling eggs.
2) Actually, it is a mini electric pan which can be used for cooking smaller quantities of vegetables or heat them at a later stage. There is an included stand to place the eggs on and have them boiled.
10 Best Top Load Washing Machines
3) A transparent lid is provided in the package to cover the egg rack while they're being cooked.
4) Available in bright colour options from the outside, it works over electricity and is quite easy to clean when you're done cooking.
5) The company also includes a measuring cup for your assistance.
Best Buy : Amazon
---
3. Supo Stainless Steel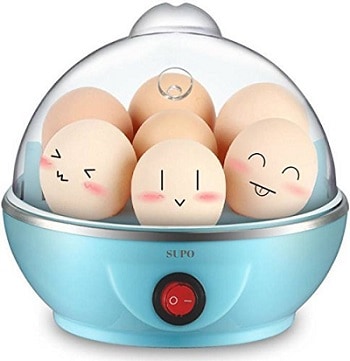 1) Instead of all-plastic, heating plate of this egg boiler is made out of stainless steel which is much more durable and safer than plastic.
2) Its one-touch operation allows for an easier access to its features even for those who aren't as tech-savvy. The included automatic turn-off feature lets you know when the eggs are done boiling.
10 Best Front Loading Washing Machines
3) You can place at max seven eggs inside this boiler and it consumes 350 watts of power to get its job done. Besides boiling eggs, you can also use it as a steamer for certain kinds of food items and also for poaching.
4) It is an extremely value for money product that offers a range of features in a really compact size and a complete package.
Best Buy : Amazon
---
4. Stvin Electric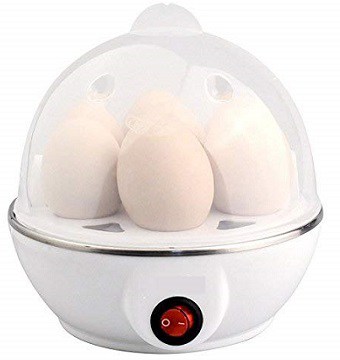 1) This is a compact egg boiler that has a steel heating plate ensuring a longer life of the product and the eggs tray can have at max seven eggs but you can choose to boil any number of eggs below that as per your need.
2) The 350W boiler uses food-grade plastic for your better health and a clear top cover is also included.
10 Best 1.5 Ton Split AC in India
3) For using this product, you just need to pour in water, place the eggs, and rotate the knob to 110-degree Celsius. Once done, the indicator light will turn off and you can then turn the product off.
4) A number of tips are mentioned in the included manual, which the company recommends for you to read before operating it.
Best Buy : Amazon
---
5. GosFrid Skillet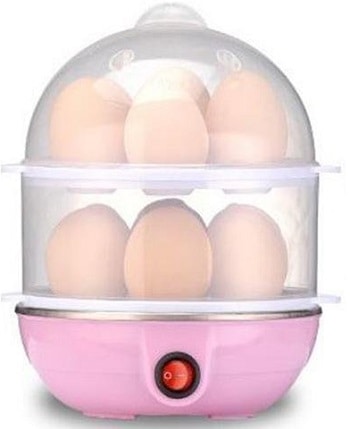 1) In case you have a larger family or you just want your egg boiler to multitask, then look no further than this product from GosFrid.
2) It is a double-decker egg boiler, using which, you can either boil fourteen eggs at a time for your entire family or use the top layer to steam any other food item.
3) Auto temperature controller has been included in this product for your convenience.
Top 10 Best 1.5 Ton Window Air Conditioners
4) The base is made of stainless steel where you'll be pouring the water, while the top shelves use high-quality plastic.
5) The electric boiler has a power switch on the side that is used to turn the product off when the eggs are done boiling. The included measuring cup lets you add only the required amount of water.
Best Buy : Amazon
---
6. HSR Electric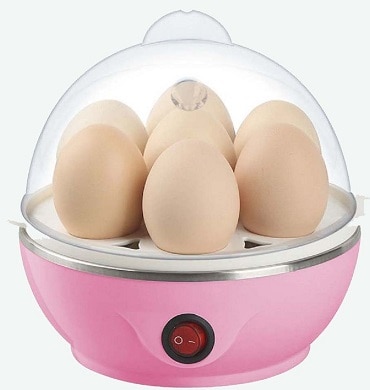 1) Another basic egg boiler to add a bit of sophistication to your kitchen while keeping the process as easy as possible.
2) This product is designed to only boil eggs and doesn't pack any other complicated features that might confuse your family members, especially the elder ones.
Also Read : 10 Best Mixer Grinder in India
3) Available at quite a reasonable price, you can add a total of seven eggs at once.
4) With a combination of stainless steel and food-grade plastic, you can stay assured that the boiler will keep your eatables safe from any toxic chemicals.
5) A transparent lid has been included to let you keep an eye on the eggs and also to know when they are done. The process is as simple as any other boiler.
Best Buy : Amazon 
---
7. Egab Double Layer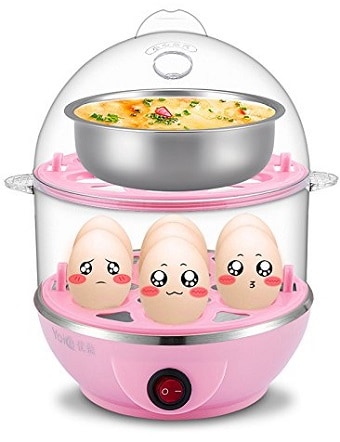 1) Need more space to add an extra tray of eggs? Then this model might be best suited for your needs as it has a double-decker design.
2) You can alternatively choose to boil some eggs on the bottom shelf and have something else steam on the top shelf or boil up to fourteen eggs together.
Also Read : 10 Best Fruit & Vegetable Juicers
3) The lid has been designed accordingly to cover both the trays.
4) The 350-watt boiler is relatively easy to operate and also gives you an option to use only the bottom shelf if there is no need for the extra one.
5) The bottom area where water is to be poured is made out of stainless steel and the company also includes a measuring cup inside the package to help you measure the amount of water.
Best Buy : Amazon
---
8. Velveeta Multifunctional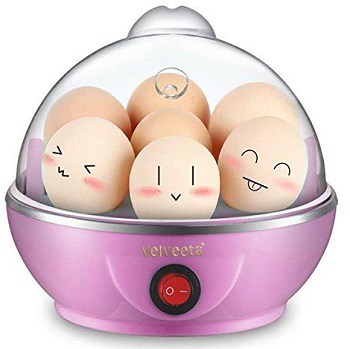 1) Velveeta egg boiler poses as one of the most versatile products aiding the busy families in cooking their breakfast quickly and without any hassle.
2) While with the included eggs tray, you can boil between one and seven eggs, while you can use other trays to make more dishes like scrambled or poached eggs, or even other food items that need to steam.
Also Read : 10 Best Table Top Wet Grinders in India
3) Given its removable parts, this egg boiler becomes fairly easy to clean, though putting the base under running water can damage the electricals inside.
4) Coming to the process, you need to put inside the required amount of water and placed the eggs on top of the included tray. Turn the switch on and it will take care of the rest.
Best Buy : Amazon
---
9. Goodway Electric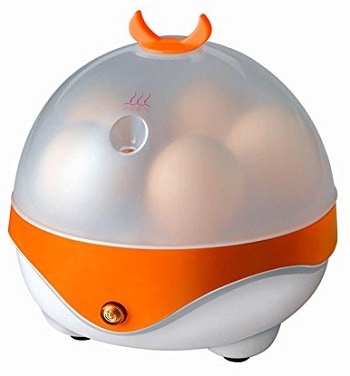 1) In terms of looks, this egg boiler stands out from the rest with its rather cute design that should compliment your kitchen's décor.
2) It is a 200W steamer and comes with a translucent dome-shaped lid with the entire unit being built with sturdy parts.
3) It can hold up to five eggs making it ideal for smaller families or individuals.
Also Read : 10 Best Air Coolers Under Rs. 6000
4) Using this boiler, you can make both hard and soft-boiled eggs as per your preference and the included auto cut-off feature that turns off the machine when the eggs are done boiling.
5) This product is a perfect example of one-touch cooking as its quite easy to use and maintain.
6) Storing this product isn't an issue with its compact size and a smaller footprint.
Best Buy : Amazon 
---
10. Inalsa Oggi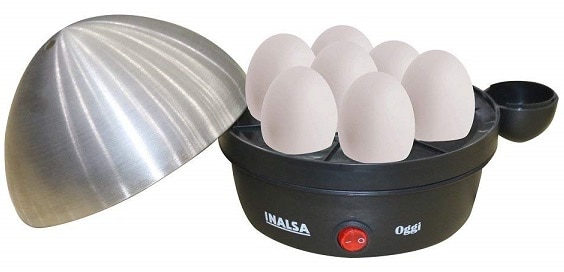 1) If you want to add a bit of sophistication to your kitchen, Inalsa Oggi might be the product you're probably looking for.
2) Its lid is made of stainless and the outer shell is black in colour. Only a single switch is required to operate this boiler making it the most user-friendly one.
3) Coming from a renowned brand like Inalsa, you can rest assured about the product quality and after-sales support.
Also Read : 10 Best Mixer Grinder in India
4) In fact, the company is offering a warranty of 1 year on this product unlike many other generic egg boilers in this list that don't come with one.
5) Inside that steel lid, you can place at max seven eggs to have them boiled in one go.
6) The eggs will be ready for serving within minutes and you won't have to undergo any hassle while you're running late for your office. This boiler runs with 360W of power.
Best Buy : Amazon 
---
Also Read:
1) Top 10 Best Mosquito Safety Nets
3) Best Running Shoes for Women
4) Top 10 Best Bluetooth Audio Receiver