Are you searching for the best bluetooth earphone under Rs. 1000?
For getting hold of a pair of Bluetooth earphones, you certainly don't need to spend thousands of rupees.
There are a bunch of options for under Rs. 1000 that let you enjoy a top-notch music listening experience with virtually no wires dangling around. Most of these products offer a battery life that is enough for a full day of use while you be able to save some juice based on your usage pattern.
Best Wireless Earphones Under Rs 1000 in India
Below mentioned are some of the best wireless Bluetooth earphones under Rs. 1000 currently available in India.
1. WeCool Bassking Waterproof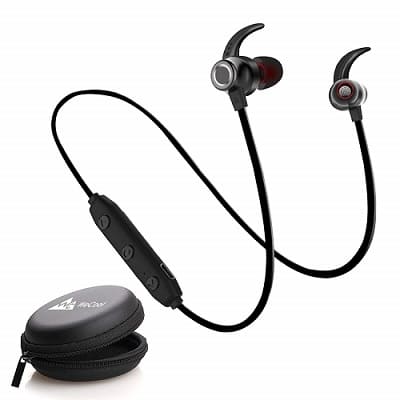 1) For under Rs. 1000, this pair is one of the very few to come bundled with a quality carrying case. It has a harder outer shell and uses a zipper as its closing mechanism.
2) The earphones themselves come with Bluetooth 5.0 and have an IPX4 rating for water resistance. It has used the latest Bluetooth standard for improved overall performance.
3) For a comfortable fit, besides the usual silicone ear tips, these earphones also have a pair of wings that help further support them when inside your ears.
Also Read : Best Earphones Under Rs. 2000 in India
4) 5-6 hours of talk time or music playback can be expected from these earphones on a full charge. Its standby time is also quite acceptable.
5) Its earpieces are positioned at a 45-degree angle to help them better fit inside your ear canal. They latch on to each other magnetically when hanging down your neck.
Check Cheapest Price : Amazon
---
2. NOYMI ET-173 Wireless Bluetooth In Ear Neckband Headphone with Mic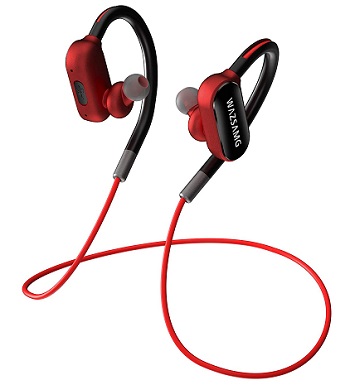 1) If you need BT earphones for some quality music during your workouts or exercise then this option from NOYMI provides a sleek & snug fit with quality audio.
2) They come with triple drivers , so the bass is super strong.
3) Sporting Bluetooth 5.0 , they get instantly connected without any hitches. There is no pause or delay while the music is playing , which makes for the smooth listening experience.
4) NOYMI has kept the price quite low under 700 , but these don't come with a charger. Though you can use any normal micro usb cable to charge these.
5) The earphone is lightweight and flexible , sits comfortably on the ear. It can be used for longer durations.
Check Cheapest Price : Amazon
---
3. Xmate Mana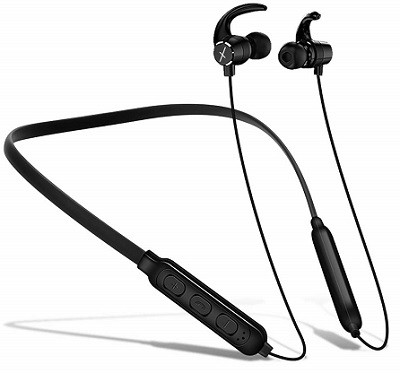 1) This wireless earphone by Xmate is very light weight and delivers quality sound experience. I have personally tested this earphone and felt quite satisfied. Considering the price tag.
2) One great feature is being Dust & Water Resistant – IPX6 for Water & IP6X for Dust. So work out in sweat or run in the rain.
3) It comes with a 180 mAh rechargeable battery , which can provide upto a 7 hours of playback time. Which is a bit more as compared to other brand models.
Also Read : 10 Best Bluetooth Earphones Under 2000
4) It uses Bluetooth v4.2 with Qualcomm CSR chipset and works well within a 10 m range.
5) All in all these earphones are comfortable to wear and sound quality is very likable. Plus the earbuds have magnetic attraction , which keeps it in shape when not in use.
Check Cheapest Price : Amazon
---
4. PTron Tangent Evo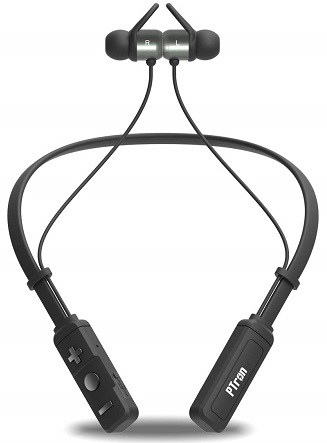 1) Thanks to the use of Bluetooth 5.0, these earphones can maintain a strong connection for up to 10 metres. It not only consumes less power but is also compatible with older versions.
2) With a neckband design, both the earpieces stick together magnetically to stay in place when not in use. The neckband is also resistant against any kind of wear and tear.
3) The company has included a large driver size that produces hi-fi sound out for clear and sharp music experience. It has great sound quality for calls.
4) Using the included 140mAh battery, these PTron in-ear headphones can last for up to 6 hours on a single charge.
Also Read : 10 Best Earphones Under Rs. 1000
5) The silicone ear tips create a nice seal inside your ear canal for improved noise isolation. You will get a 12-month warranty with these earphones.
Check Cheapest Price : Amazon
---
5. Boult Audio ProBass Space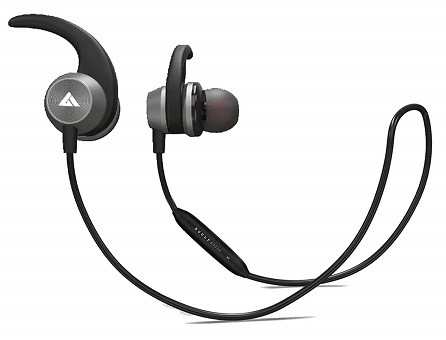 1) If you prefer minimal designs, then these Boult Bluetooth earphones will suit you. These tiny earphones just have a wire that goes behind your head.
2) With the in-line remote you have a truly hands-free experience. Siri or Google Assistant can be summoned using a single button press while you can also control other aspects as well.
3) With a full charge, the earphones can run continuously for up to 8 hours and they can retain the battery for up to 2 days.
4) Despite being available on a budget, Boult has used premium material like aluminium alloy drivers for it. With this, the drivers produce bass-rich music with 3D acoustics.
Also read : Bluetooth Over-Ear Headphones Under Rs. 3000
5) They are made for wearing sports and running so they won't fall off that easily. When not wearing them, the magnets hold them in place.
Check Cheapest Price : Amazon
---
6. SENCER Wireless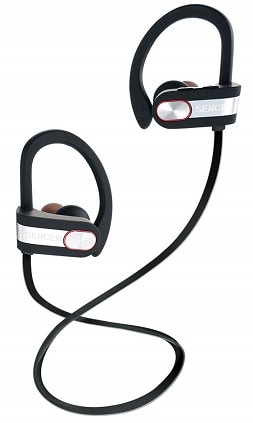 1) These earphones from SENCER are sports-friendly meaning they won't fall off even during intense workout. A hook goes behind your ear for each earpiece enabling this secure fit.
2) In addition to that, the in-ear headphones are also sweatproof, thanks to their IPX5 rating. The company has designed them to be lightweight for more comfortable listening sessions.
3) With a full charge, these earphones can last for up to 8 hours with a standby time of 240 hours. The remaining battery percentage is displayed on both iOS and Android devices.
Also Read : 10 Best Earphones Under Rs 500
4) You will also get a level of noise cancellation using the silicone ear tips and the CSR chip that the company has used. This allows excellent bass output while the sound is crisp.
5) SPENCER has the feature inbuilt to allow connections to two devices simultaneously. The earphones have microphone for taking calls.
---
7. ADL Footloose X5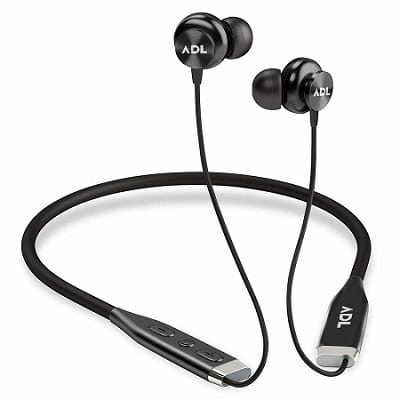 1) Coming with a neckband style, these earphones transfer most of the weight to the shoulder region so that your ears stay comfortable. The neckband can also house a larger battery for a longer runtime.
2) With a set of well-tuned drivers, these ADL in-ear headphones offer HD bass that complements its rich sound output. It also supports noise isolation.
3) One end of the neckband houses all the controls that you might need and also has a microphone for making voice calls.
Also Read : 10 Best Earphones Under Rs 1500
4) The company has used Bluetooth 4.2 which gives a range of 33 feet at its maximum. It also allows connectivity and compatibility with almost any device with Bluetooth.
5) On a full charge, the earphones can last for up to 6 hours. These earphones are also water-resistant with an IPX4 rating.
---
8. Bass Evolution Pluto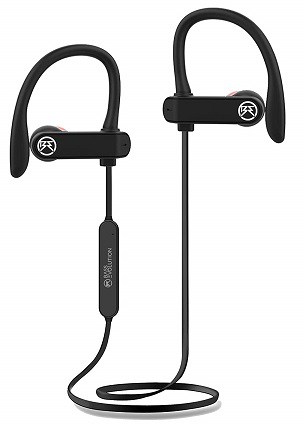 1) The biggest benefit of these Bass Evolution earphones is that the company included Bluetooth 5.0 which is a newer protocol offering better range and sound quality.
2) Using their behind-the-ear hooks, the earphones are designed to stay in place while you do intense exercise. The snug fit is ensured by its silicone build and the ear tips.
3) Being designed for sports, these headphones are expected to withstand sweat. This unit has an IPX5 rating for keeping sweat and rainwater away from damaging it.
Also Read : Best Earphones Under Rs. 5,000 in India
4) An in-line unit holds all the controls for playing and pausing music. It also has a microphone for making calls.
5) A 100mAh battery powers these earphones and offers a life of 5 hours. Only a single wire goes behind your head to connect both the units.
---
9. PTron Tangent Pro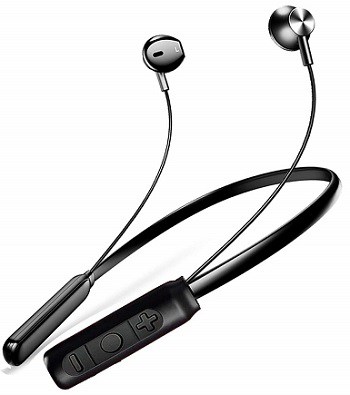 1) There are some people who don't like having in-ear headphones that go way into the ear canal or want to hear the surrounding sound, like when jogging outdoors. In such cases, these earphones come handy.
2) Most of its weight sits on your neck while the earpieces themselves stay largely lightweight. This design is suitable for being worn in the gym, biking, or running.
3) Fairly large audio drivers have been installed inside these earphones that support a wide frequency response. You will enjoy your music to the fullest with this pair.
Also Read : 10 Best Over-Ear Headphones Under Rs 2,000
4) If your phone supports the latest Bluetooth standard, then you have the added advantage of its Bluetooth 5.0+EDR connectivity. This allows for a range of up to 33 feet.
5) The earphones come bundled with a warranty of 1 year.
---
10. Euro Games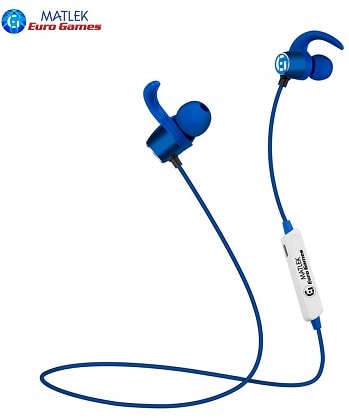 1) Sports seems to be the theme of this list and these headphones are also designed to be worn when working out. They are naturally sweat proof and are quite light in weight.
2) Euro Games has used an excellent chip inside the earphones that also supports Qualcomm aptX for a better listening experience. It is also compatible with Android and iOS devices.
3) If you listen to music on medium volume, then you can expect a battery life of up to 8 hours. They are designed to last really long and have built-in magnets for attaching them together.
4) Within the box, you will get a total of 3 pairs of ear tips that should allow for a secure fit for all users.
5) The in-line unit gives you basic control of your music while you get a warranty of 1 year.
---
11. Soundlogic Play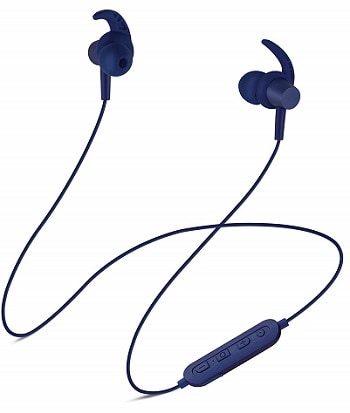 1) Soundlogic is a relatively better-known brand in this space. Its earphones come with a minimal design that should please most users. You can get it in two colour options.
2) Using the in-line button you can use the voice assistant built into your phone like the Google Assistant or Siri. You can talk to them using these earphones.
3) The in-line remote also houses a microphone that is responsible for enabling voice calls. Plus, you also get all the controls for your music.
4) Dynamic sound output was made possible using the high-end custom drivers by the company. Both highs and lows are clean and balanced. It easily switches between music and calls.
5) Noise isolation feature is also included for a more immersive experience. The company gives a warranty of 1 year. The earpieces connect with each other magnetically.
---
12. Digitek DBE005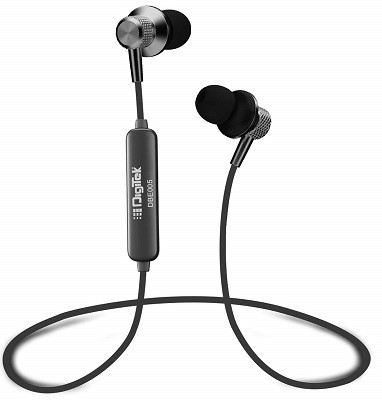 1) Even though you can get these for well under a thousand rupees, the earphones come with a metal housing that gives it a premium feel and looks.
2) The company has used equally high-quality drivers that allow for improved acoustic performance for an HD sound output.
3) You can have a great handsfree calling experience with the microphone included in these Bluetooth earphones. It has a condenser microphone.
4) It charges to full within an hour while it offers a music playback of 3 hours. Talk-time slightly increases to 5 hours.
5) It comes with standard Bluetooth connectivity and is compatible with a host of devices. The company offers a warranty of 1 year.
Also Read:
1) Best Bluetooth Earphones Under 2000
2) 10 Best Wireless Earphones Under Rs. 20,000
3) Best Wireless Workout Earphones For Sports