A solo traveler's best friend is often his/her tripod which is why it is essential that you choose a good one for yourself. This tripod will act as your photographer when you want to take your portrait shots and will be your friend when you need to take those long exposure shots as well.
Be it night shots, astrophotography, or group shots; a tripod is one of the most useful equipment that a photographer or a traveler can ever own.
However, there are so many tripods available in the market which can make it slightly hard to choose the right one for you. Well, luckily for you, we address this exact issue in our latest guide which will help you to find the perfect tripod for yourself.
How to Choose a Tripod
When you are looking for a tripod, you have to check several features and factors before making the purchase. Here are some crucial factors that you should consider before you buy a tripod.
Consider the Height and Weight of the Tripod
This one should be a no-brainer really, if you get a heavy tripod then taking it along with you on your travels is going to be a pain. You would have problems in checking it on flights and carrying it with you on trains/buses.
So, make sure that you choose a tripod which is lightweight. Also, choose a tripod which will give you more flexibility in terms of the height. An extendable tripod which can reach a height of 50 inches would be good. But, don't forget to check the height of the tripod when its legs are not extended. You don't want an extremely tall tripod too because it will be again difficult to carry.
Just make sure that you can extend the legs of your tripod to a certain height and you should be good to go.
Check for Stability and Durability
Let's be real here. Do you really want your tripod to break after a few trips? Or do you want your DSLR to get damaged because your tripod couldn't hold its weight and was a little unstable?
No, right? No one wants that. So, look for a tripod which is built out of long-lasting material which will offer you stability too. Also, make sure that the legs of your tripod are strong and not too thin so that they can take the weight of your camera.
Apart from the stability, you also need to look out for tripods made up of a durable material like aluminum. Sure, it will be slightly heavy but you don't have to worry about damaging your tripod or your camera while using it. If you are going for plastic, make sure that it is a high-grade plastic which will offer you sufficient durability.
Determine the Ease of Use
One of the most important factors to consider when you are purchasing a tripod is that it should be easy to use and set up. Trust me, you don't want to spend hours setting it up and adjusting it to take one good shot. So, check how easy it is to set up and pack because when you are not on a dedicated photography trip, you will have to be quick if you want to cover several attractions in a day.
Look out for a tripod with twist lock legs, ball-heads, and quick release plates.
Consider your Budget for the Tripod
Another important factor that you might want to consider is the cost of the tripod. Make sure that you stick to your budget and don't go for an expensive tripod if you can't afford it. A lot of high-end photographers spend thousands of rupees on their tripod. But, there are several budget-friendly tripods which can do the job decently too.
However, do keep in mind that a good-quality tripod will cost more than 1,000 INR but it would also be a great investment for your travel photography.
Best Budget Travel Tripods in India
Now, here is a list of the top-notch tripods that you can compare in order to select the best product for yourself.
1. AGARO – 33403 Adjustable Camera Tripod Stand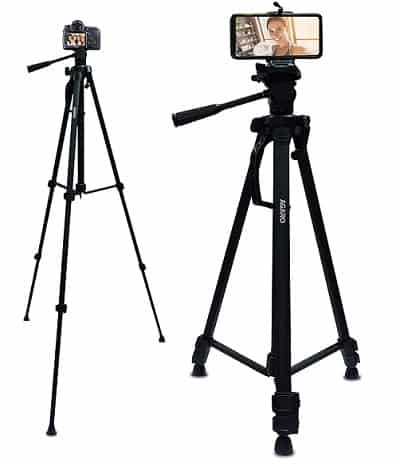 This is a strong and sturdy 66 inch tripod , which can support up to 3 Kg of weight. I am using this tripod at present and have tested the built quality and all functions.
Some of the features in this tripod are really unique which are not available in other tripods. It weighs only 1.15 kg , which is less than the tripods below so it's good for portability.
The body is made of Aluminum , making it lightweight and durable. There are 3 section lever lock legs with easy height adjustment and 3 way heads for tilt and swivel motion.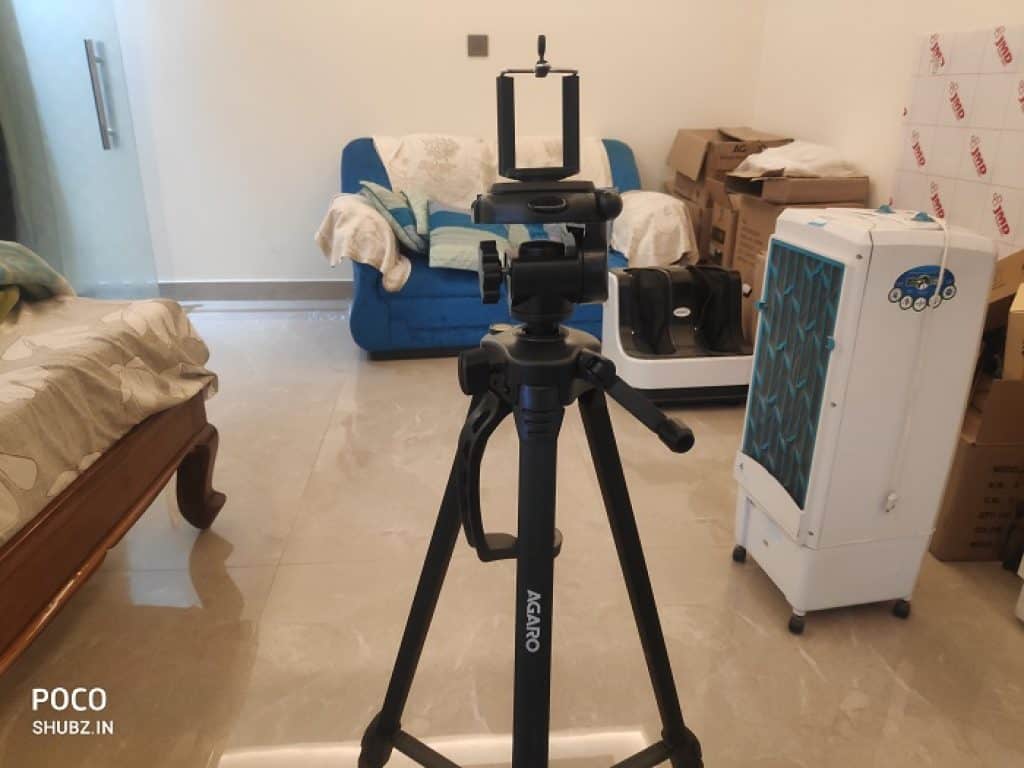 Pros:
Lightweight and Durable
3-Way Head
2 Bubble Level Meters
Non-slip rotatable rubber feet
Cons:
Check Cheapest Price : Amazon
---
2. Benro T600EX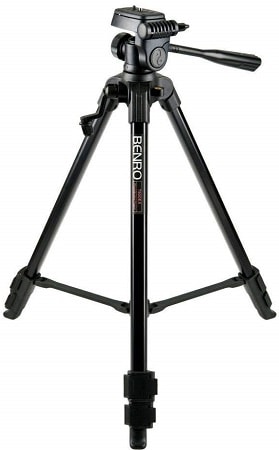 Benro T600EX Tripod is undoubtedly the best tripod currently available in the market and is the one which I recently gifted a traveler too.
At 1.5 kg, this tripod is lightweight which makes it perfect for excursions and trips. This tripod also includes a 3-way pan head to rotate your camera and adjust the angle as per your needs.
Also Read : 10 Best Luggage Bags For Travel in India
It is made up of plastic and aluminum which makes it sturdy and durable. And the three legs along with the fast-lock feature offer your camera more protection and stability. This tripod can be easily carried with you on your travels and offers amazing security for your camera which certainly makes it best tripod to purchase.
Pros:
Lightweight
Sturdy and durable
Easy to adjust
Offers protection and security
Cons:
Best Buy : Amazon
---
3. Photron Tripod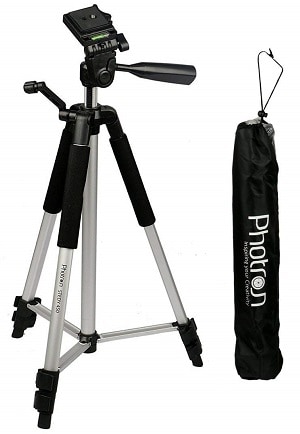 Another highly recommended tripod which is easy to use and adjust is Photron tripod which can take a weight of 2.75 kg.
With its quick release lever, leg locking feature, and bubble level, this tripod is easy to adjust. Its unique design offer stability to the cameras and the non-slip foam grip protects your camera from slipping.
Also Read : 10 Best Camera Bags for Travelers
This tripod is lightweight and features a 3-way pan head, allowing you more flexibility in your shots.
And, you can easily adjust the alignment with its bubble level according to your photography needs. Since it doesn't cost a fortune, this is the perfect choice for all the budget and solo travelers out there.
Pros:
Lightweight and durable
Stable
Easy to adjust
Easy to align
Affordable
Cons:
Best Buy : Amazon
---
4. Vanguard CX203AP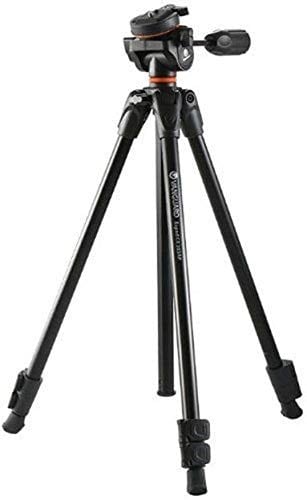 This was my first tripod ever and I am not exaggerating when I say that this was the best investment.
Unfortunately, I lost it which is why I had to move to another tripod but if I had to suggest I would definitely recommend this tripod to everyone. It is sturdy and durable and built out of high-grade aluminum which makes it highly stable to use.
Also Read : Best Travel Mugs Under Rs. 1000
It is easy to use and can easily take a load of 3.5 kg which makes it suitable for most DSLRs and lenses. Also, the pan's ergonomic handle makes it easy to make the transitions between shots while the top panning system allows you to set up your camera quickly.
Pros:
Sturdy and Stable
Holds 3.5 kg
Easy to use and set up
Cons:
Best Buy : Amazon
---
5. Everycom Pro Tripod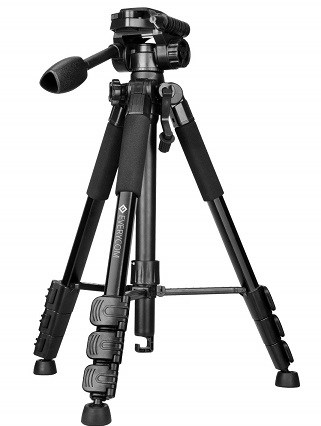 With its lightweight yet strong aluminum make, Everycom Pro Tripod is a great product for people who wish to use it in office, home, traveling, etc.
This tripod has a foldable and compact design which allows you to set it up and pack it quickly.
Also Read : 10 Best Travel Cameras
It is both sturdy and durable and features a panoramic fluid head, 4-section column leg, bubble level, and quick release plate which make this tripod really easy and convenient to use.
This adjustable-height tripod which weighs just over a pound is great for fast transitions as well.
Pros:
Durable and stable
Easy to set up
4-section column leg
Quick release plate
Adjustable height
Cons:
Best Buy : Amazon
---
6. AmazonBasics 50-Inch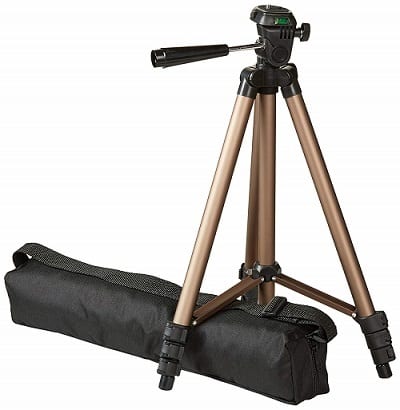 Currently, I own this tripod which is why I can say that this is one of the best tripods in this range. It is perfect for budget travelers and is extremely lightweight, weighing just 570 g.
With its collapsible design and a compact size, this tripod is highly portable and easy to set up too.
The adjustable height and the 3-way head allow you to take photographs at all angles, offering you versatility in shooting.
Also Read : 10 Best Camera Straps
Also, the quick release plate makes it easy to remove the camera or transition quickly between the shots.
And the 3-section, level lock legs allow you to adjust the tripod as per your needs. This 50-inch tripod is convenient and highly stable and is certainly a great choice to take both landscape and portrait shots.
Pros:
Easily affordable
Lightweight and compact
Collapsible design for easy storage
Easy to set up and use
3-section level lock legs
Cons:
Leg screws might come apart after few uses
Best Buy : Amazon
---
7. Yunteng Aluminium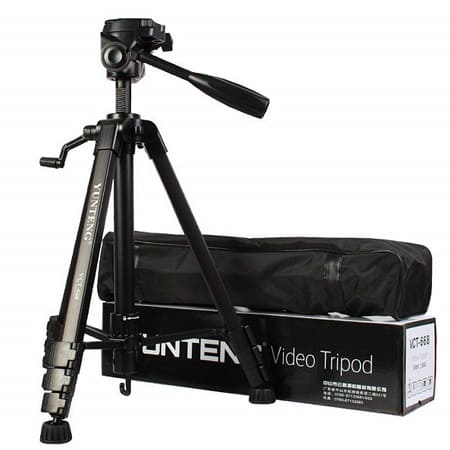 Yunteng Aluminum tripod has a folded height of 480 mm which makes it easily portable and highly compact.
And, it can be extended to a maximum height of 1455 mm which makes it versatile for photography.
Also Read : 10 best travel adaptors in India
With its aluminum construction, it is durable but weighs only 1.3 kg which makes it easy to transport.
Also, it can take up to 4 kg so you can use your zoom lens and heavy DSLRs with great ease too.
Pros:
Durable and lightweight
Holds 4 kg weight
Weighs only 1.3 kg
Compact and easily portable
Extends up to 1455 mm height
Cons:
Uses cheap plastic in the construction
Best Buy : Amazon
---
8. AmazonBasics 60-Inch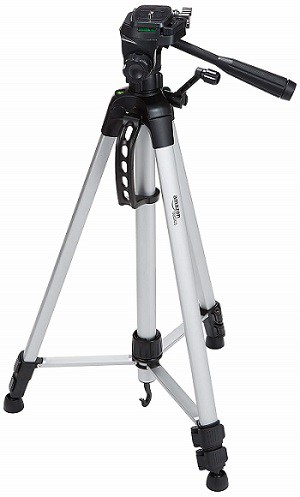 Another great travel tripod which is ideal for cameras that weighs up to 6.6 pounds and is extremely easy to set up and ease is AmazonBasics 60-inch tripod.
It can easily extend from 20 to 48 inches and the leg locks make it easy to adjust the height while the center post allows you to extend up to 60 inches.
Also Read : Best Multiport USB Wall Chargers in India
With its built-in level, it is easier for you to keep your camera leveled and the rubber feet allow you to achieve the ideal position.
You can put up to 3 kg of weight on this tripod and make smooth transactions with its quick release architecture.
Pros:
Lightweight
Can be extended up to 60 inches
Compact and small
Handles 3 kg of weight
Cons:
Best Buy : Amazon
---
9. Simpex 333 Tripod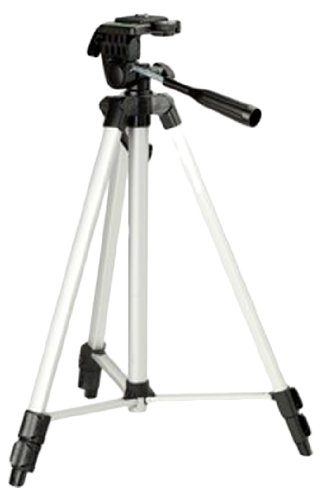 Simplex 333 Tripod is one of my favorite because it is affordable and works well in all kinds of situations.
This tripod is small and compact and weighs barely 1 kg which makes it highly portable.
And its folded length is 520 mm which makes it easy to carry around and its aluminum build makes it lightweight yet durable.
Also Read : 10 Best Monopods in India
Also, you can adjust the shooting angle by simply adjusting the leg angles and the vertical leg lock ensures stability and balance.
It offers an extended height of 1490 mm and can handle 3 kg capacity which allows you to undertake all kinds of photography.
Pros:
Affordable
Lightweight and Durable
Supports 3 kg weight
Easy to set up and adjust
Cons:
Shakes when you fix a camera
Best Buy : Amazon
---
10. SmiledrivE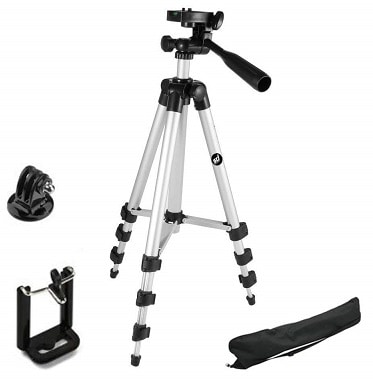 Perfect for all kinds of cameras, DSLRs, and smartphones, Smiledrive Tripod weighs less than 400 g but is still strong and durable.
This is a perfect travel tripod at such an affordable price which is made out of high-grade aluminum but is still lightweight.
Also Read : 10 Best Travel Cameras For Beginners
With its adjustable height feature, you can vary the height of the tripod between 35 cm and 105 cm and it can be quickly and easily set up.
Also, the 3-way pan head allows you to change the angle of your tripod easily and efficiently.
Pros:
Lightweight and Affordable
Adjustable height
3-way pan head
Cons:
Breaks easily under force
Best Buy : Amazon
---
(Premium Tripod For Professionals )
11. Manfrotto Be Free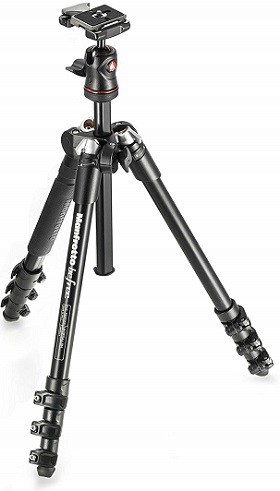 One of the most expensive tripods in the list, Manfrotto Aluminum Travel Tripod is the best tripod for professional travel photographers.
This compact tripod can extend up to 56.7 inches from 15.75 inches which makes it easily portable. It can easily support a weight of 4 kg so you don't have to worry about your camera and accessories.
Also Read : 10 Best Luggage Bags For Travel in India
Its unique feature is the folding legs which wrap around the head and reduce its size by 40 cm.
And with its quick release and the large ergonomic handle, it is both easy and convenient to set up. And the leg selectors allow you to choose your desirable inclination.
Pros:
Durable and Sturdy
Compact and stylish design
Can fold up into 15.75 inches
Supports 4 kg weight
Cons:
Best Buy : Amazon
---
Also Read:
1) Top 10 Best Travel Adapters
2) Best Camera Straps Under Rs. 500
3) Top 10 Best Travel Cameras For Beginners
4) Top 10 Best Camera Bags for Travelers