When it comes to washing machines there are a lot of options in market. But basically there are three types of washing machines.
Difference B/W Fully and Semi
Fully automatic will wash and dry clothes without manual tub change , while semi required manually putting clothes in dryer after wash.
---
In 15,000 range we can get a lot of great semi automatic options , few fully automatic top loading options and almost zero front loading options.
Also Read : 10 Best Top Load Washing Machines
Front loading washing machines tend to be more costly. While manual machines are most reasonable prices.
In this list we will list out both manual and fully automatic washing machines costing under 15,000. We have picked these washing machines after a lot of research.
Top 10 Best Washing Machine Under 15000 in India
1. Samsung 6.2 kg Fully-Automatic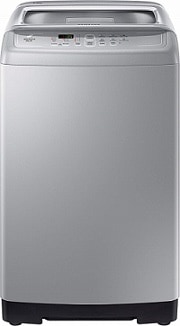 Our first pick is this Samsung fully automatic top loading washing machine , this will be one of my first choices if I was looking for a washing machine.
Samsung is a popular brand so I can rely on their service and customer support. Plus the price of this machine is very reasonable being a fully automatic machine. Not many brands can offer washing machines machines for this price.
Also Read : 10 Best Front Loading Washing Machines
Talking about the features , there are many good ones which caught my eyes.
1) Comes with a LED display and offers eco tub clean , which notifies you when it's time to clean the tub. That too without chemicals.
2) Tempered glass door on top for durability and for transparency.
3) Less drying time with Air Turbo and stylish design , pleasing to eyes.
This machine comes highly recommended from me after considering all the features , quality and price.
Check Cheapest Price : Amazon
---
2. BPL 6.5 kg Fully-Automatic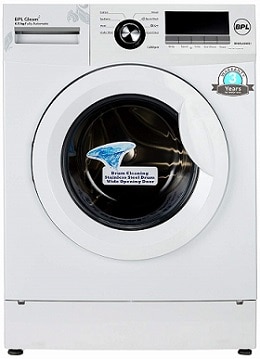 Surprised?
You weren't expecting a front loading washing machine right? Well your in luck this fully automatic front loading washing machine by BPL is priced under 15,000 for now.
Talking about the BPL brand , I used their television which lasted more than 10 years and could have lasted a few more. But I got a new Sony led TV to keep up with new technology.
Top 10 Best Budget Dishwashers in India
This machine from BPL has lot of amazing features:
1) Inbuilt heater and 8 wash programs.
2) 1200 rpm of rotation speed for quick drying.
3) The best feature in end is that it's a fully automatic fron loading washing machine offered at a very low price.
Please do read the usage instructions properly before using the machine , that will confirm that your machine works properly without any issues for a long time.
If you want to buy a front loading washing machine on low budget then this is for you.
Check Cheapest Price : Amazon
---
3. Whirlpool 9.5 kg Semi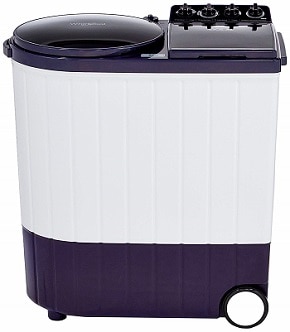 Now coming to the semi automatic washing machines , this is our number one pick from Whirlpool. The capacity is really great 9.5 kg. It can wash a lot more clothes , it's a great choice if you wash more clothes at once.
10 Best 1.5 Ton Split AC in India
Everyone is familiar with the brand Whirlpool , I am sure their service and products are awesome. Whirlpool really dominates the washing machine and refrigerator market in India.
1) This machine comes with 3d scrub tech , which is very efficient in removing stains.
2) Hard water wash for better performance in hard water condition.
3) Big tank capacity for more clothes in a single wash. Waterproof and Shockproof design.
This machine is highly recommended for people looking for a semi automatic washing machine with good capacity.
Check Cheapest Price : Amazon
There is also a similar model from Whirlpool with 9 kg capacity here.
---
4. IFB 6.5 kg Fully Automatic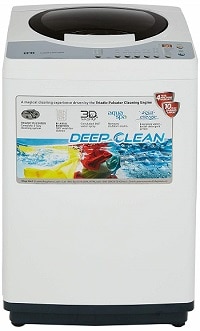 This machine from IFB could have been more above in the list , but I wanted to let you know the best options from each type (semi , auto , front) first. and then talk about other models.
Talking about this washing machine from IFB , it's fully automatic and comes at a great price which is slightly more then the Samsung model above. That's why we have placed it at here.
But IFB is a robust brand , this machine itself comes with 4 year warranty. At my home I use a IFB front loading washing machine , which I bought 2 years ago and it's working great.
Top 10 Best 1.5 Ton Window Air Conditioners
So you can trust IFB , service might differ from area to area. The installation took some time but they regularly call to ask for routine service , which I decline as the machine is working well and I am busy with stuff.
1) This washing machine offers deep clean and spa therapy program to wash you clothes with care.
2) It has aqua conserve which saves water and inbuilt high voltage protection.
3) Bleach and auto softner dispenser both , great for hands free operation to deal with liquid bleach.
And many more amazing features. If you don't mind spending more than the Samsung option above , then this machine is the best option for you. Considering the features and quality.
Check Cheapest Price : Amazon
---
5. Godrej 7 Kg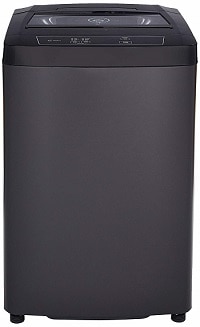 I guess you must be familiar with the brand Godrej , they have great home appliances all over India. Especially Godrej security systems and refrigerators , Air conditioners.
So this was a must to include brand in our washing machine list.
10 Best Geyser Water Heater in India
Let's take a look at some features that this machine offers:
1) This machine comes with 5 wash programs and child lock feature.
2) Auto restart and backup , so machine starts from the same place when power comes back.
3) I wash technology , tough top glass and brand value of Godrej.
This machine I can say is a strong contender in the list of washing machines. This machine comes in 2 capacity variants and the one is priced quite reasonably.
Check Cheapest Price : 7 kg | 6.2 Kg (Amazon)
---
6. LG 8 Kg 5 Star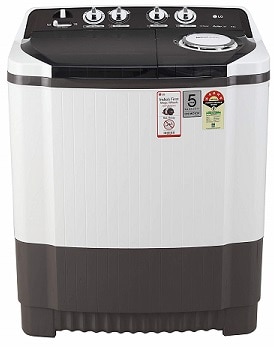 I guess you were waiting for this brand , LG. One of the most well known brand , offering a variety of products from smartphones to Air conditioners. This is the brand that you can't miss while creating a washing machine list.
So this is a semi automatic washing machine , with 8 kg capacity. Let's take a look at some features.
1) 3 mm plastic cover , which is coated with rat repellent chemical.
2) Comes with 3 wash programs gentle , normal and strong.
3) Good mobility with 360 degree wheels at bottom.
All in all if your a fan of LG and looking for a 8 kg capacity semi auto machine , then this is for you.
Check Cheapest Price : Amazon
---
7. Whirlpool 10.5 kg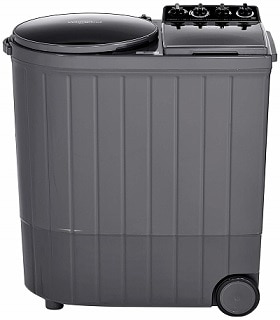 So you want even more capacity in 15k range?
Don't worry I got your back. This is for you the semi automatic 10.5 kg washing machine from Whirlpool.
This machine is equipped with basically the same features as in the Whirlpool 9.5 kg model above. But we again point out a few cool ones.
1) Waterproof and Shockproof control panel.
2) With huge capacity , wash lots of clothes in one go.
3) Equipped with 3d lint filter , 3d scrub pads , high rpm speed for better and faster drying of clothes.
Check Cheapest Price : Amazon
---
8. Whirlpool 6.2 kg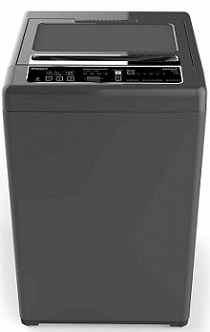 So we talked about a lot of semi automatic options from Whirlpool.
Now we bring to you a fully automatic washing machine from Whirlpool under 15k budget. Yes!
As I have talked about Whirlpool brand in quite a few option above , so you must have got familiar by now with brand value and quality that Whirlpool offers. Lets jump right into the amazing features of this washing machine.
1) This machine offers 12 wash programs to choose from , which is quite a lot as compared to other washing machines in the list.
2) 6th sense technology which adjusts water level , detergent required according to the load.
3) Auto stops in case of low voltage , ZPF technology for even low pressure water wash.
4) And many other great features like spa wash , express wash etc.
For top loading fully automatic washing machines , this machine is also highly recommended.
Check Cheapest Price : Amazon
---
9. Bosch 6.5 Kg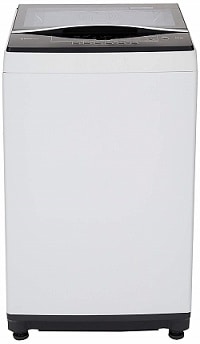 Coming to another well known Brand which known for it's quality power tools and washing machines. Some of the Bosch's front loading washing machines are really great and priced quite reasonable.
For top loading washing machines this is one of the best models from Bosch for 15k range. As now we are familiar with the brand , now let's take a look at features.
There are actually so many great features in this washing machine.
1) Soft closing lid , which protects your hand while closing the top lid and makes no slam noise.
2) Upper glass is see through and quite tough. The washing machine will resume at the same place in case of power cut , when power is back.
3) Comes with child lock , dual dispenser and one touch start. It can also work with low water pressure.
Again , for top loading fully automatic washing machines. This machine from Bosch is highly recommended.
Check Cheapest Price : Amazon
---
10. Samsung 8.2 kg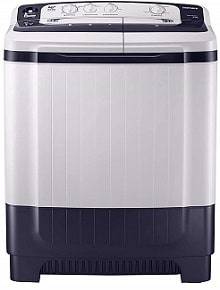 So we looked at a lot of different brands , we started with Samsung and we are ending with Samsung on a high note.
This is a 8.2 Kg semi automatic washing machine from Samsung. And who isn't familiar with Samsung? You must have used a Samsung smartphone sometime.
Let's take a look at some features of this washing machine.
1) Stronger and deeper cleaning with double storm technology.
2) Anti dry turbo , Soak and magic filter.
Check Cheapest Price : Amazon
---
Also Read:
10 Best Top Load Washing Machines
10 Best Front Loading Washing Machines