If you are an audio enthusiast you would want to improve your surround sound experience as much as you can. And, to get the best immersive audio experience, adding a set of ceiling speakers or in-ceiling speakers can be a great idea. In recent days, the trend of using ceiling speakers has taken off in India as well.
Chance are you are already looking for the best of the best ceiling speakers out there. But we know how hard that can be to find the perfect set of in-ceiling speakers out of all the various options. Thus, we have combed through the web to find out the 10 best ceiling speakers in India. And, we are going to review them one by one down below.
So, without further ado, let's get to it…
---
Why Buy Ceiling Speakers?
Ceiling speakers are normal speakers. But in their case, you install them on the ceiling of your room. Hence, the name ceiling speakers. Now, is it necessary to buy a set of ceiling speakers at all? The short answer is 'Yes' if you want the best sound and audio experience.
And, if you have a home theater setup, you should add a ceiling speaker set right now. Because ceiling speakers can offer a great immersive surround sound experience. Again, if you are looking for a multi-room audio setup, ceiling speakers can be a great option as well.
At the same time, ceiling speakers are great for conserving space as they don't take the space inside the room. Conversely, ceiling speakers can come in handy for speech reproduction in restaurants, departmental stores, hotels, hospitals, offices, and educational institutions. All in all, we can say that for a better and immersive sound experience a set of ceiling speaker can be a great addition
How to Ensure Safety and Precautions in Using Ceiling Speakers?
In the case of the ceiling speakers, the trickiest part is installing them. If you can ensure that the in-ceiling speakers are installed properly, then you should be worry-free. So, in order to install the ceiling speaker correctly, you will need to read the instruction manual thoroughly.
And, if you are not experienced in mounting the speaker in the ceiling, you should take help from the professionals. On the other hand, most modern-day ceiling speakers are very easy to install. You can set them up following a couple of steps.
Also, you should check how many speakers you will need for a good quality audio experience. It will depend on the size of the room. Usually, if your room is 10 by 10 feet, then a speaker in the middle of the room would be sufficient. On the other side, if your room is 15 by 15 feet, a pair of ceiling speakers would be enough. Similarly, depending on the size of the room, you can increase or decrease the number of speakers.
Ceiling speakers can be a fire hazard. However, if you are going with a good brand and if you have set up the speakers properly, then you should be safe. However, for extra precautions, you can add fire hoods or speaker hoods, if you deem it necessary.
Best Ceiling Speakers in India
1. Bosch (LBD0606) Ceiling Speakers: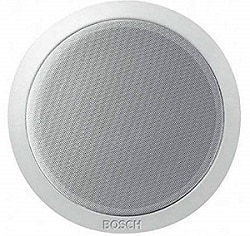 Bosch has been dominating the market of audio equipment since its inception. So, if you are looking for a high-quality ceiling speaker, this one can be a good choice. The best thing about this is that it comes at an affordable price.
And the installation procedure is very easy as well. It has a diameter of 8.2 inches. And the depth is about 2.7 inches from the back of the baffle. This will be suitable for an area of up to 200 square feet.
Main Features:
It is a wired ceiling speaker
The weight is about 1.03 kg
The maximum output power of the speaker is 6 watts
Frequency response range is from 150 Hz to 15 KHz
---
Also Read : 10 Best Soundbars in India
2. JBL (8124) CEILING SPEAKER: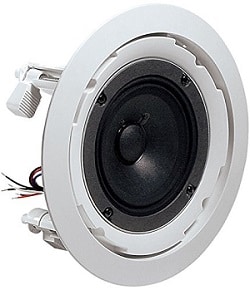 JBL has all sorts of audio equipment like headphones, earphones, speakers, studio monitors, and more. And, they are very popular among many Indian audiophiles because of the cost to performance ratio of their products. This package from JBL comes with 4 ceiling speakers.
So, if you are looking to buy in-ceiling speakers for your office, departmental store, or educational institutions in bulk, this can be a great choice. This one comes with a free sculpted grill for easy installation. So, if you are looking for multiple ceiling speakers of the same model at a reasonable price, this package from JBL is the way to go.
Main Features:
The diameter is 8.1 inch
The depth from the back of the baffle is 3.75 inches
It weighs about 1.2 kg
Frequency response range 60 Hz to 18 KHz
---
Also Read : 11 Best Studio Monitor Speakers in India
3. Bosch (LBD 8351/10) ABS Ceiling Loudspeaker: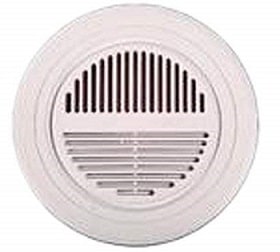 This is another cheap yet top-quality ceiling speaker from Bosch. This one comes with a modern minimalistic design. It is known for its exceptional music and speech reproduction. This is a 4-watt speaker. The sound pressure level on this one is also very high.
Due to the IP 64 rating, it is suitable for installing areas like kitchen, shower, swooping pool areas, or humid environments.
Main Features:
Comes with 1 year of warranty
It is IP 64 certified
It weighs just 499 gram
---
Also Read:

10 Best Printers For Small Business and Home
4. MX (3846) 6-inch Ceiling Speaker: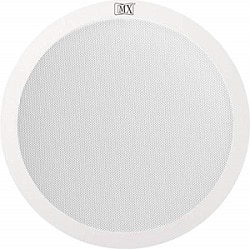 If you are with a high budget and on the look for a top-quality ceiling speaker, then you should give it a try. This ceiling speaker is from MX comes with rugged build quality. It is a 6-inch ceiling loudspeaker.
This is a 2-way speaker that comes with an adjustable tweeter. With the frequency response range of 90 t0 20 KHz, you can expect pristine quality sound from this ceiling speaker.
Main Features:
It weighs about 1.88 kg
The frequency response is from 90 Hz to 20 KHz
Line voltage: 70-100 volt
---
5. Pyle Ceiling Wall Mount Speakers: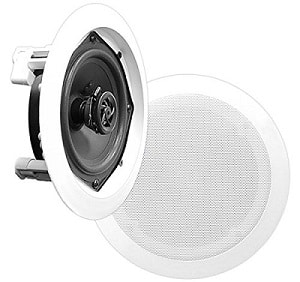 If there is no issue with your budget, you can take this speaker from Pyle. This one comes in white color and with a flush-mount design. And, another great thing about this package is that it contains 2 speakers. The 1-inch polymer dome tweeter and 1-inch high temperature voice coil ensure crisp sound.
You will need a 6.5 inch diameter cut-out for these speakers. And the depth of this pair is just 2 ⅝ inches. It comes with all the necessary accessories like cut-out templates for the easy installation process. Additionally, you can actually mount it on either your wall or ceiling.
Main Features:
This is a 5.25 inch speaker
Can be mounted in wall or ceiling
The frequency response is from 80 Hz to 20 KHz
Comes with 1-inch polymer dome tweeter
---
Also Read : 10 Best 4K Monitors in India
6. Yamaha Audio 3-Way In-Ceiling Speaker System: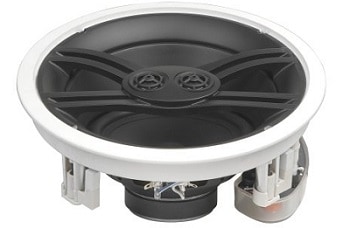 We all Yamaha as one of the most sought out companies for producing audio systems of unmatched quality. This is a 3-way ceiling speaker system from Yamaha. It has 6.5 inches of a woofer and ¾ inch of dual tweeters. It also comes with a free paintable grill and protective cover.
So, it is user-friendly to install. The overall product dimension is 10-9/32 x 5-1/16 inches. Additionally, it is known for its pristine sound quality. The impedance of this in-ceiling speaker from Yamaha is 8 ohms.
Main Features:
Frequency response is from 65 Hz to 28 KHz
Each speaker weighs about 3.3 kg
The mounting depth is 9-7/16 x 4-13/16 inches
---
7. Ahuja Ceiling Speaker (White Grill):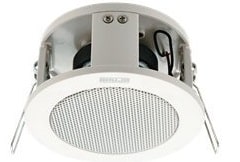 This might not be a world-renowned brand, but you can rely on it. The best reason to buy this one is the budget-friendly price. For your information, it is a package of 6 ceiling speakers. So, in that sense, if you are looking for multiple speakers for your place without hurting your wallet. These can be a top choice.
They come with easy mounting clamps. So, you will be able to install it without any issues. The outlook and the build quality of this one are supreme. So, you can understand that this compact speaker will enhance the interior design aesthetic of your room.
Main Features:
Each speaker weighs about 1.5 kg
Comes with aluminum construction
Audio output wattage 6 watt
---
Also Read :

10 Best Home Wi-Fi Mesh System in India
8. POlk Audio (RC80i) US 2-Way In-Ceiling Speakers: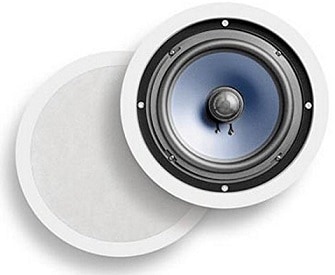 This is a 2-way loudspeaker. That means it can be installed in either ceiling or wall. The maximum output power of this speaker is 50 watts. And the dimension of the speaker is 24.9 cm x 30.7 x 30 cm. This one comes in white color with an unobtrusive design.
It is easy to mount with the supplied accessories. And, the rustproof stainless steel and aluminum hardware are there to offer you long-lasting service. If you are looking for an in-ceiling loudspeaker with thumping bass and awesome sound quality, then this can be worth a look.
Main Features:
Comes with blue polymer cones for extra bass
Rustproof hardware is used
Comes with paintable grills
Frequency response is from 35 Hz to 20 KHz
---
9. Hitune bass pa (HS-401) wall & ceiling speaker: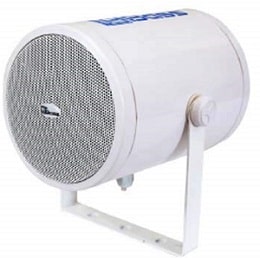 You have seen those projection speakers that are bi-directional in the bus or railway stations. If you want such a speaker for your room, you can check this out. Remember, this can be mounted on both walls and ceilings.
This is fully weather resistant. So, you can also mount it in the shower, kitchen, or any other humid condition. You will get a U style mounting bracket of steel. With that, it will be pretty straightforward to install it.
Main Features:
It weighs about 1.9 kg
This is weather resistant
Comes with 1 year of warranty
The frequency response is from 60 Hz to 150 KHz
---
Also Read : 10 Best Party Speakers With Good Bass
10. Klipsch (R-1800-C) in-Ceiling Loudspeaker: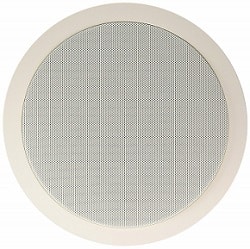 This is one of the most expensive in-ceiling loudspeakers on our list. So, you can expect it to deliver high-end performance as well. Interestingly, according to many users, this one definitely offers excellent performance. Add in the fact, the build quality of this one is also top-notch.
All the required installation accessories come with it for easy installation. If you are searching for a ceiling speaker that comes with the durable build quality, pristine sound quality, and reliable performance, you should look no further than this.
Main Features:
Peak power handling is up to 160 watts
It weighs about 1.81 kg
Output power is up to 40 watts
The product dimension is 27.9 x 27.9 x 11.4 cm
---
Sum Up:
There you have it. Here we have reviewed 10 of the best ceiling speakers in India. If you are on the hunt for good quality in-ceiling speakers, this list should be enough for you to choose the best one for you. So, it all depends upon you to make the final call.
Based on your requirements and budget, your choice will vary from the next person. So, make sure you are getting a good quality in-ceiling speaker system even if it is a bit expensive. And you can choose any of the options from above as we have included only the best ones on this list.
So, do you have any specific ceiling speakers you like from our list? If so, which one is it? You can let us know in the comments below!
Also Read :

Best 4.1 Channel Speakers in India

10 Best LED TV in India (Smart / Non Smart)