Gone are the days when assembling a PC was regarded as rocket science or something inferior in quality to the pre-assembled machines that we see from manufacturers like Dell, HP etc. Infact the DIY market is on a boon for long now and the PC industry is flourishing day by day enriching the catalogues of all manufacturers with parts that suit even to the modest of needs on the strictest of budgets possible.
Today I'll be compiling a PC configuration for Rs 25,000 which is the least minimum that one needs to shell out for a decent PC that will handle all their office, college or school work along with mild and casual gaming too just in case one desires to. Also before I proceed further I'll like to lay down a few basic points clear out most of your confusions.
Points Kept in Mind For This PC Build
1) This build is strictly for office, college and school needs along with some casual gaming and not for anything high end like video editing, professional gaming etc
2) I've tried to keep the components as up to date as possible for this budget to avoid any bottlenecks or incompatibility in future.
3) Components are such that they can be easily upgraded by adding a new part rather than the necessity to upgrade multiple components to minimize the cost incurred on future upgrades if required.
4) The configuration covers only the main machines and not the additional peripherals like a monitor, keyboard etc.
Also Read:

10 Best Laptops Under Rs. 35,000

Best Laptops Under Rs 30,000 in India

10 Best Gaming Laptops Under Rs 50,000
Best PC built Under Rs 25,000 in India
1. AMD Ryzen 3 3200G
RadeonVega 8 Graphics Desktop Processor 4 Cores up to 4GHz 6MB Cache AM4 Socket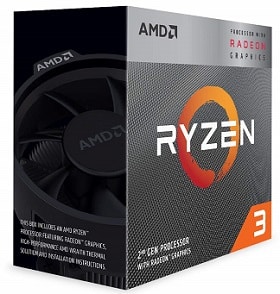 This is the best value for money processor for a budget PC build. It's great for home and office use.
This is for those who don't want to buy a dedicated graphic card.
It has a base clock of 3.6GHz and Max Boost Clock of up to 4GHz , which pretty decent for this price range. You can also do some smooth gaming at low settings 720p.
It comes with a stock cooler inbox , so extra money saved and decent cooling maintained for all your tasks.
This is supported by A320 motherboards (and b450 , X470 ) you can use various A320 mobos with it after checking other details and compatibility for other parts.
Overall if your looking for a budget performance CPU then this is the best right now. Far better than the Intel one for this price.
Check Price : Amazon
Note : If you want to save more on cost then you can go with

AMD Athlon 200GE with Radeon Vega 3 Graphics Desktop Processor which comes with 2 Cores 3.2GHz 5MB Cache and fits in AM4 Socket , great for budget builds.
---
2. ASUS Prime A320M-K
AM4 uATX Motherboard With LED lighting DDR4 32Gb/s M.2 HDMI SATA 6Gb/s USB 3.0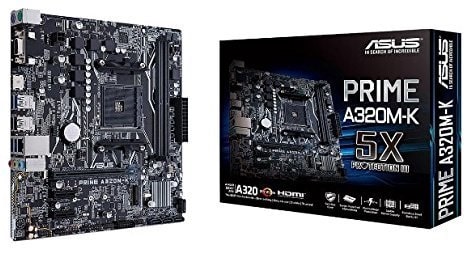 Note : If this is not available than you can get mostly any A320M motherboard with AM4 socket for Ryzen. Like you can also go for MSI A320M-A PRO MAX
This motherboard is picked in line with the Ryzen CPU above , it has an AM4 Socket for compatibility.
It has a lot of features which other A320M motherboards miss out on like LED lighting , HDMI And VGA ports. Installed with good audio drivers.
Also Read : Best Graphics Cards In India
Fan Xpert which provides good silent operation and One M.2 support for SSD. There are 2 DIMM (dual in-line memory module) slots , where RAM is inserted.
The overall built quality of this Motherboard is good , coming from a brand like Asus it will last years for you.
Check Price : Amazon
---
3. Corsair Vengeance LPX 8GB DDR4 3000
(PC4-24000) C16 PC Memory

Note : One updated RAM option to consider is from XPG ADATA GAMMIX D30 DDR4 8GB 3200MHz – Amazon
Best RAM for this budget PC , also great for budget gamers.
Coming from a brand like Corsair , you can expect reliability and good built quality.
Depending on your budget you can buy 1 or 2 sticks of these and put in the motherboard above , getting sweet performance.
You can also overclock this RAM , if you are techy enough with the BIOS and settings. Get 2 sticks of same RAM , don't pair these with other RAM for keeping your PC safe.
Check Price : Amazon
---
Also Read :

10 Best Gaming Headphones Under Rs. 5,000

Bluetooth Earphones Under Rs. 1000
---
5. HDD – Seagate Barracuda 1TB
You can get SSD or HDD , depends on your preference , I will recommend get a 500 GB SSD or 240 GB. SSD is quite fast as compared to HDD and doesn't get slow with time.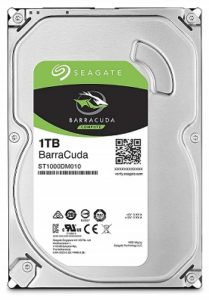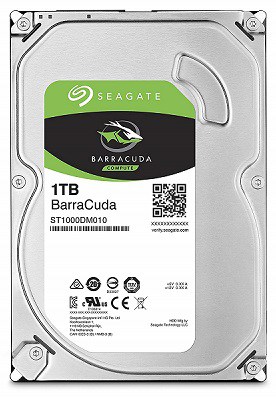 SSD suggestion if you don't want too much storage and just pure efficiency and speed. Then you can go for Kingston SSDNow A400 which is cheap and has 120GB of storage space with 500MB/s read and 320MB/s write. Else you can just go with HDD with 1TB or 500GB of space.
1) It's a time tested veteran no doubt.
2) The Seagate Barracuda has been around for quite a while now with positive performance reviews all over the web due to its cost effective price tag and great performance for a massive 1TB storage space
3) 1 TB space should be more than enough for your office, school and college work combined!
4) It has a 64MB cache and 5400 RPM speed which is fast enough to handle all the work seamlessly
5) With 2 years of warranty one cannot ask for anything more.
Check Price : Amazon
---
6. Corsair CV550
80 Plus Bronze Certified , 550 Watt Non-Modular Power Supply , CV Series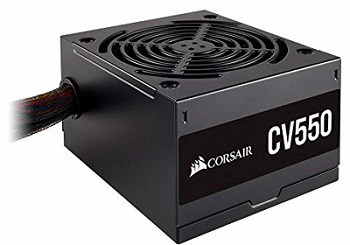 Note : If you aren't adding anymore power hungry components than a Corsair CV450 will also do for this build. We are always trying to reduce costs and prices are very dynamic for PC parts.
This PSU provides 88% operational efficiency , which produces less heat and lower your energy bills too.
Being a Corsair product you can expect decent build quality.
It claims to provide low noise operation with a 120 mm thermally controlled cooling fan which only works when your power supply is under heavy stress.
125 mm length , to fit most most modern PC cases.
Check Cheapest Price : Amazon
---
6 Ant Esports ICE-200TG
Mid Tower Gaming Cabinet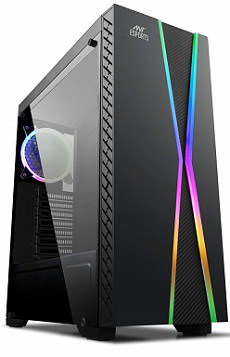 Note: If this cabinet isn't available than you can go for CHIPTRONEX MX2 , which looks amazing and is priced cheaply. Most cabinets should work which support uATX Motherboard , so you can also look for a cheaper option for yourself.
A good cabinet means a sturdy build along with reliable cooling to all your precious hardware.
Due to the budget constraint here we will go with the Ant Esports ICE-200TG which is quite roomy and comes with enough space for cable management and RGB effects.
Although you can buy any case which supports uATX/microATX motherboard but I chose this , due to its looks and build quality.
Tempered glass side panel and Acrylic front panel , Front LED control button and Black glossy finish.
Check Price : Amazon | Flipkart (NA)
---
Also Read :

10 Best Internal SSD for Laptop/PC in India
Extra Peripherals Out Of 25k Budget
Apart from the main PC in case you require buying the peripherals too then I would suggest you go for the following which are perfect for this build and budget category.
1 Monitor – Dell E2218HN 22-inch LED Monitor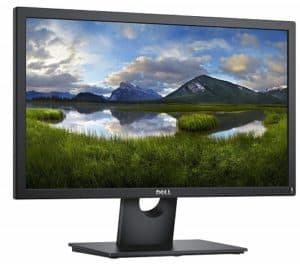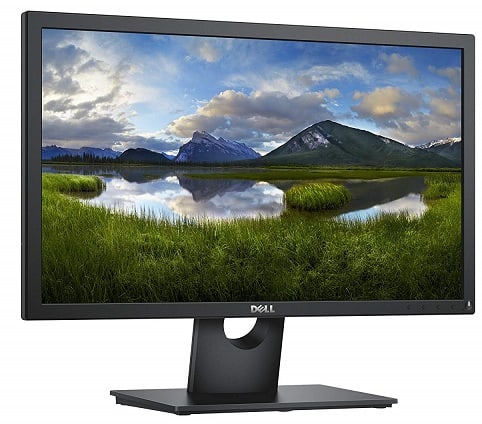 1) A full HD monitor from Dell with a 21.5' panel is a perfect match for this build and works well for working and watching movies.
2) The connectivity options include a HDMI and VGA port which are great.
3) Comes with a stand that provides slight adjustment in orientation.
4) Best part is that you get a full 3 Years warranty on this.
Check Price : Amazon
---
2 Keyboard and Mouse – Logitech MK200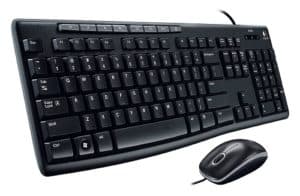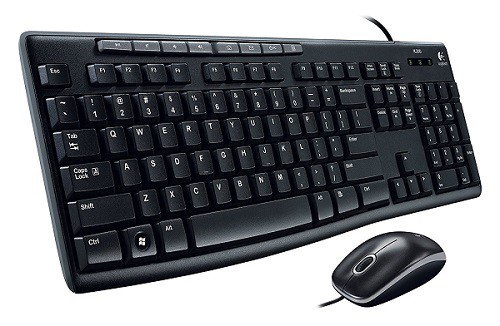 1) This is quite sturdy and solid , exactly what we require here for longevity and comfort.
2) The design is basic with dedicated multimedia keys on top and a flat plastic frame with chunky vital keys such as the space bar and Windows key for easy typing and maneuverability.
Check Price : Amazon | Flipkart
---
So here it is guys the Best PC Configuration under Rs 25,000 in India, I have tried my best to cover all the possible sides of this article and keep your doubts to the minimum but still if you feel that I've missed upon something or any additions are required then feel free to drop a comment.
Also in case you have any query regarding the same or want me to write something similar soon then don't forget to drop in your comments below.
Also Read:
1) Best Gaming PC Build Assembly Under Rs. 1,00,000
2) Gaming PC Assembled Under Rs. 80,000
3) Best Gaming PC Assembled Under Rs. 50,000
4) Gaming PC Build Under Rs. 2,00,000 in India