A lively party needs an equally lively music system that can blow your guests away with its thumping bass and an audio level that drowns all other sounds. For that, you will have to get a dedicated great party speaker that is designed particularly for this purpose.
Here is a guide to help you determine what all you should look for when out in the market looking for best party speakers and some of the best speaker options available right now.
Table Of Contents
How did we pick these party speakers ?
Tens of party speakers from a bunch of speakers were taken into consideration for curating this list. The speakers were categorized based on the price segment they fall under. This helped us determine the best party speakers under each head offering the largest set of features, besides of course great sound quality, brand reliability, and user reviews. This thorough research has helped us to precisely identify the pros and cons of each product and how it meets your needs.
Also Check Out Our:
Top 10 Best Party Speakers in India
1) JBL Partybox 310 Powerful Party Speaker
(Bluetooth yes)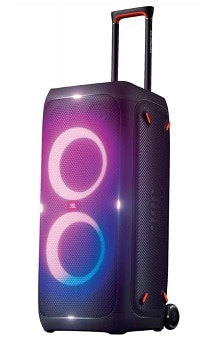 The ultimate portable party speaker that delivers monstrous pro sound and a dynamic light show to take your party to the next level. Whether you're hosting a backyard barbecue, beach party or just a fun get-together with friends, the JBL Party box 310 is sure to impress.
The sound is powerful, crystal-clear and guaranteed to be heard around the block or across the beach.
The cool dynamic lightshow that syncs to the beat. With subtle pulsing and powerful strobing effects, you'll find the perfect setting to match the mood of your party. The JBL Partybox 310 also features a built-in sound effect generator, allowing you to add even more fun to the mix. Blast the airhorn or utilize dual mic and guitar inputs to get the party started.
It's also designed to be portable and durable. With a built-in rechargeable battery that provides up to 18 hours of playtime, you can take the party anywhere. The telescopic handle and smooth-glide wheels make it easy to transport, while the IPX4 splash proof protection ensures that it's safe even when the party gets a little wet.
Overall, the JBL Party box 310 is a powerful, versatile and portable party speaker that is sure to impress. With its impressive sound quality, dynamic light show, built-in sound effects and durable design, it's the perfect addition to any party or gathering.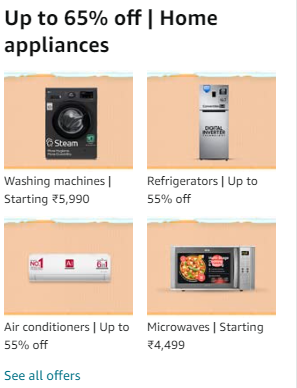 Incredible Bass. Other speakers pales in comparison.
The impact of the Bass boost button is truly remarkable.
Backlit buttons add a cool touch to the design.
The grab handle is exceptionally durable.
The provided glide wheels and telescopic handle make it effortless to transport.
The wattage increase results in an impressive boost in loudness when plugged into AC input.
With IPX4 Splash-proof protection, it can handle anything, something Sony does not offer.
Ample battery life for a night-long party.
The PartyBox app works great for controlling the light show.
Cons:
Relatively expensive at 42k.
Battery backup reduces to 8-9 hours if used continuously at high volume.
Check Cheapest Price : Amazon
---
2) Sony MHC-V43D Party Speaker
(NFC and Bluetooth yes)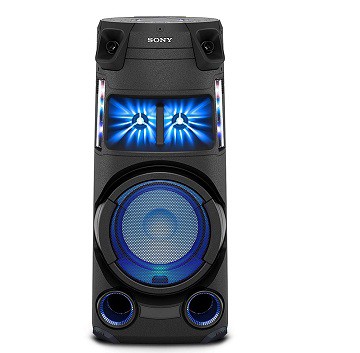 The Sony MHC-V43D Wireless Bluetooth Party Speaker is a great addition to any party, event, or gathering. This speaker offers a wide range of features that make it stand out from other speakers on the market. The Jet Bass Booster allows you to feel the beat at long distances and the Party Light and Speaker Light adds an authentic nightclub or outdoor festival atmosphere to any party.
The Karaoke and Guitar Input feature makes it possible to unleash your inner pop star, and the Gesture Control feature allows you to control the volume, track, and pitch of the music with a simple wave of your hand. The Fiestable app allows you to control the speaker using your phone, and the Karaoke Ranking feature makes it possible to find the King or Queen of karaoke at your party.
The speaker also has a built-in DVD player, HDMI output, and can connect to up to three smartphones simultaneously, making it easy to watch movies or listen to music. The High-efficiency Tweeters produce a clear and powerful sound that completely fills the venue.
Transporting the speaker is also made easy with the convenient carry handle and sturdy castors. The Digital Sound Enhancement Engine (DSEE) restores detail to compressed music files, producing high-quality sound that's closer to the original CD recording.
Overall, the Sony MHC-V43D Wireless Bluetooth Party Speaker is a fantastic option for anyone looking for a high-quality, feature-packed speaker that is perfect for parties, events, and gatherings. Its versatility and easy-to-use features make it a great investment for anyone who loves music and wants to create an unforgettable party atmosphere.
Pros:
Catchy lighting system that adds that oomph to your party.
There are loads of control options, like gesture control, provided on the top along with a similarly varied variety of connectivity options, including guitar input and DVD.
High bass with Mega Bass option for powerful audio experience
Different modes of sound with mic holder for versatile functionality
Cons:
No Batteries inside, can operate through direct power supply only.
Check Cheapest Price : Amazon
---
3) JBL Partybox 110 Party Speaker
with Built-In Battery
(NFC and Bluetooth yes)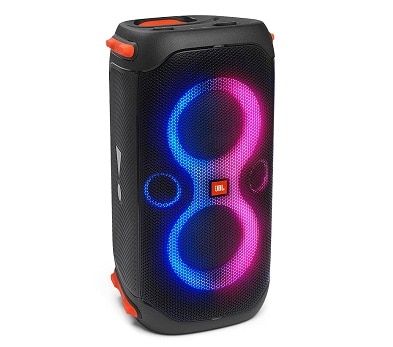 The JBL PartyBox 110 is a wireless Bluetooth party speaker that delivers JBL Original Pro Sound with 160 Watts of power, two levels of deep and adjustable bass, and nice gesture controls.
It also features a dynamic light show with customizable strobes and patterns that sync to the beat for an immersive audiovisual experience.
The built-in rechargeable battery provides up to 12 hours of playtime, and the speaker is IPX4 splashproof for worry-free outdoor use.
Additionally, it has mic and guitar inputs, so you can show off your musical talents while singing and playing along. Overall, the JBL PartyBox 110 is a great speaker for any party or event.
Pros:
This Sony product can be the life of your party with the excellent sound quality it offers along with the mega bass feature from the company.
Even when there is no power, this speaker can keep the party going with its included battery that can run for 13 hours.
10 Best Budget Wireless Soundbars in India
It is splash proof for being used y the poolside and has voice control to enable easier access. On top of it, the company has given a few cup holders.
Cons:
Sony definitely charges a premium for its product quality and brand name. So, you may be able to find a cheaper alternative with, not exactly the same but, a similar set of features. Also, the single-speaker output may leave some wanting more.
Check Cheapest Price : Amazon
4) LG X-Boom OK55 Home Audio System
(Bluetooth yes)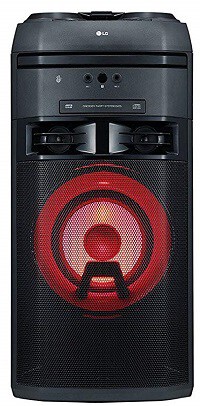 Pros:
With an audio output of over 500 watts, this LG speaker will leave your party thumping with loud music and bass.
Adding the aesthetic value of the speaker, the company has included an LED light while a lot of control options are provided on the top.
10 Best Home Theater System With Bass in India
This speaker lets 3 people connect their smartphones and add their favourite songs to the song queue without interrupting it.
It is also compatible with some LG TV sets to play TV audio wirelessly.
Cons:
FM radio signals on this speaker tend to be on the weaker side even when used with the included antenna wire.
Check Cheapest Price : Amazon
5) Panasonic HiFi SC-UA30GW-K Speaker System
(Bluetooth yes)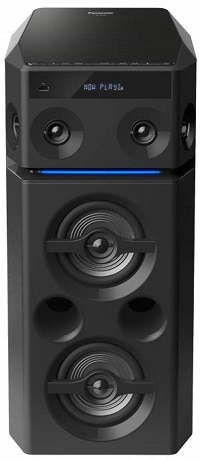 Pros:
A loaded party speaker from a well-known Japanese brand Panasonic, this product won't disappoint at all. For moving it around, a pair of handles is included on the sides while the speaker size is still manageable. It is designed to offer superb bass output using its custom bass reflex system and the overall audio quality is equally good. You can easily connect two wired microphones for karaoke while it also supports wireless ones. Besides offering Bluetooth and USB connectivity, you can even play your old CDs.
Cons:
This Panasonic speaker is seldom discounted to a third of its price while makes the current deal extremely expensive. Basic connectivity features are only provided. There are minimal LED accents which aren't suitable for the heightened party mood. No in-built battery.
Check Cheapest Price : Amazon
6) Blaupunkt Bt400 Volcano 40 Portable Party Speaker
(Bluetooth yes)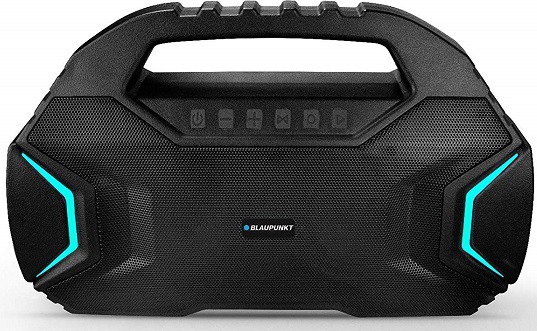 Pros:
Supported by its rugged design, the party speaker has an IPX5 rating to ensure it remains safe by the pool. It has two 20W speaker drivers that produce the sound that can lift the mood of your party. Its 8000mAh battery means it can run for long even without power. This budget speaker supports karaoke with a wireless mic and has a portable design, thanks to its compact size and the included handlebar.
Cons:
The included karaoke feature is not the best and is a bit iffy at times. At high volumes, the speaker tends to distort the sound a bit for certain music genres. You'd be left disappointed if you're looking for some advanced connectivity features.
Check Price : Amazon
7) Zoook Rocker Thunder Plus 40W Party Speaker
(Bluetooth yes)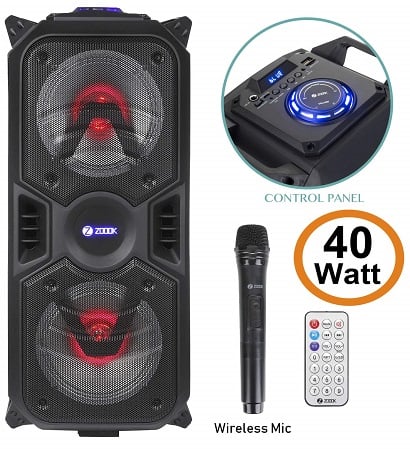 Pros:
If you are looking something in the entry-level segment, you cannot go wrong with this Zoook party speaker that offers a total output of 40 watts using two 6.5-inch driver units. It has a built-in 4400mAh battery that can keep the speaker running for about 4 hours. The audio input is supported wirelessly over Bluetooth and via Aux-in, USB drive, TF card and FM radio. Both the speaker units have DJ flashing lights and it also supports karaoke with an included mic.
Cons:
When using the karaoke feature, there is a high echo which cannot be adjusted. The provided mic also doesn't come with the best quality. Bass heads won't really appreciate the bass output from this speaker.
Check Cheapest Price : Amazon
8) Intex T-200 Portable Party Speaker with Trolley
(Bluetooth yes)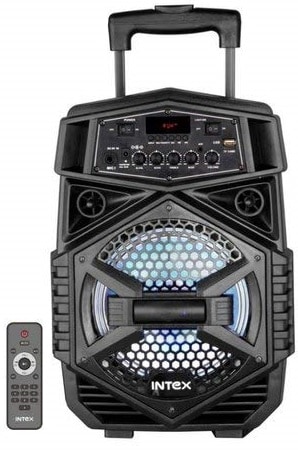 Pros:
Intex has an extensive range of speakers for those not looking to burn a hole in their pockets, and it has proven its reliability time and again. This party speaker has a unique trolley system which makes it easier to move around while a remote controller is also included in the box. Besides including a battery to offer up to 4 hrs of playback, the speaker is loaded with a range of input options.
Cons:
There is a noticeable loss in audio quality when played at high volumes. Even though the speaker supports mic input, no wireless mic comes included with this speaker, unlike other products. The included LED lights do not sync with the music.
Check Cheapest Price : Amazon
9) OBAGE DT-2425 Dual Tower Party Speakers
(Bluetooth yes)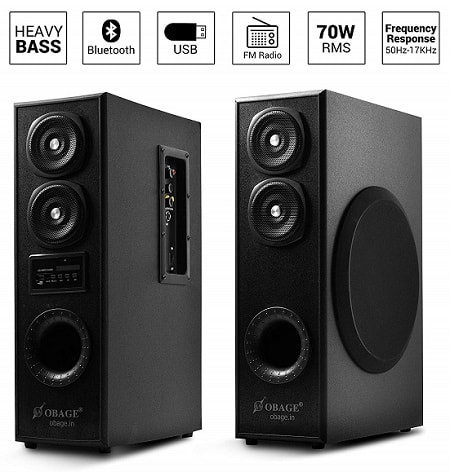 Pros:
For indoor use, these tower speakers can solve the dual purpose of a party speaker and connecting your multimedia setup. They do lack any sort of bright LED light that flashes along with the music but they do have an elegant black finish. The bass output of these speakers is great while the overall sound quality is about average. The price of these two tower speakers leaves not much to complain about.
Cons:
Portability is one thing that you should be expecting from these speakers as they aren't meant for it. At times, bass can overpower vocals which wouldn't be ideal where vocals matter more. The front Aux input brings a lot of noise to the music.
Check Price : Amazon
10) Blaupunkt PS600 Double DJ Panel Party Speaker
(Bluetooth yes)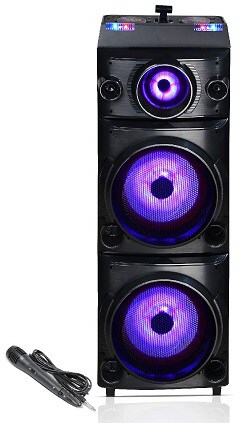 Pros:
Backed by the trust from Blaupunkt, this party speaker is among the best ones currently available in the market. First off, this is a massive speaker that is great for outdoor parties in open spaces that it can easily fill with pumping music. Despite its size, it is easy to move around using the trolley-style wheels and it has LED lights that actually sync with the music currently being played. Dual DJ panels offer plenty of mixing options while it plays excellent-sounding music.
Cons:
The price is definitely on the higher side and those on a tighter budget wouldn't find it fit. There is no in-built battery support which means you always need a power point. Blaupunkt hasn't included an option to connect multiple such speakers to play simultaneously.
Check Cheapest Price : Amazon
---
Who should use these party speakers ?
If you find your house hosting EVERY party for your friends' group then you, my friend, are the chosen one. With that, you must already know that no party even starts without some loud, bass-loaded music which your friends can jump to while you accept your trophy of the world's best host. Now to do that, you have to have a speaker that produces audio that is worthy of a pumping party. That tiny portable Bluetooth speaker kept by your bed isn't going to cut the bill. What you need is a large, dedicated party speaker that can not only bring life to your party by drowning every other sound out there but also let your guests record some songs of their own if they're into karaoke. If you're not that kind of a party person, you should still get one and play some awesome music in your me time or connect it to your TV to listen to the clearest audio output.
Things to Consider While Buying a Party Speaker
Sound Quality
The sound quality is the first thing that you should consider before buying anything related to a speaker system. Particularly for party speakers, they need to be loud and their sound quality should be better suited for pop songs while that added base can leave your party pumping. Make sure there is no distortion even at high volumes.
Gathering Size
Your usual party size and location will also determine the kind of speaker you should go for. If you tend to host parties in large open areas, like by the beach or a pool, then you might want to go for the biggest one, or two, of them all with the highest output wattage. While for smaller areas, you can easily get away with a speaker that is not as loud.
Connectivity
When you have a lot of people around, you might want to have a ton of connectivity features open to keep the music playing. Bluetooth, USB, and aux input are the basic ones that a speaker must have. Some even support SD cards and DVD players with others offer karaoke feature with mic input.
In-Built Battery & Portability
The built-in battery allows you to keep the party going even when you cannot find a power outlet or in case there is no power. It also offers you a level of portability that a tethered speaker simply cannot. Some large speakers even have trolley wheels to make it easier to move around.
Budget
After considering all the features that you need, the budget should be the last thing to think about. There are several premium offerings that cost a lot more than the basic ones. Your budget will dictate which party speaker you can finally go for.
---
Also Read:
1) Best Sounding Home Theaters Under Rs. 30,000
2) Top 10 Best Budget Wireless Soundbars in India
3) Best Bluetooth Tower Speakers in India