Clickety clack clack. Oh, sorry I could not hear you over my keyboard. Why is it so special you ask? Allow me to introduce you to the world of mechanical keyboards, and how you can venture into the world of endless clacks.
While some of the first widely produced and marketed keyboards such as IBM's Model M in the 1980's had their signature buckling spring mechanism, the 90's brought a cheap and easy to manufacture rubber dome design for keyboards.
These make up the majority of today's keyboard market share due to them being available for peanuts, but provide a less than stellar typing experience
Before we go any further, what makes a mechanical keyboard, well… Mechanical?
It is built with high quality, usually, spring-actuated key switches and are available in a variety of shapes and sizes with different types of key switches to suit everyone's wants and needs.
Longer lifespan:
Mechanical keyboards have a significantly longer life span, and if maintained properly, can last a lifetime. Most of the mechanical switches are tested for 30 to 70 million keypresses, but some exceptional ones can last upto 100 million keypresses. Membrane keyboards on the other hand, last for a measly 5 million keypresses.
Also Read : 10 Best Mechanical Gaming Keyboards Under Rs. 10,000
Typing Experience:
The possibilities of customization are endless, and much more varied than the run of the mill rubber dome variants. The switches can be customized to be linear , clicky or tactile. Some switches have a detectable actuation point, some switches offer additional acoustic feedback.
There are switches optimized for gaming and there are switches optimized for typing. And if none of these scratch your itch, you can always dive into custom made keyswitches
Robustness:
Mechanical keyboards carry significantly more heft than membrane or scissor keyboards. Therefore, they adhere to the surface due to their sheer mass and move around a lot less. Robust build quality will make sure that no accidental scuffs and scratches ensnare your keyboard
N-Key Rollover:
N-key rollover refers to the ability of the keyboard to detect whether multiple keys are pressed together, and identify each of them uniquely. If you are a content creator and use a lot of shortcut keys, or just game very often, you will absolutely relish this.
Also Read : 10 Best Gaming Headphones Under INR 2000
Typing Speed and Accuracy:
You can greatly increase your typing speed by customizing the sound and feel of the keyboard so that you can register the keystroke faster and more efficiently. Clicky switches are excellent for this. With enough practice, one can achieve speeds of upto 150 words per minute, and if you can get really good, you can even type without looking at the keyboard
Comfort And Ease of typing:
Membrane keyboards feel mushy to type on, and if you type very frequently or spend much time on the computer, they are painful to type on.
Also Read : 10 Best 4K Monitors in India
Why is that you ask? Mechanical switches have a max actuation force of upto 60g, while membrane keyboards average out at 65 to 85 grams.This means that your fingers don't hurt after long sessions of typing.

And once you clack, you never go back!
Note : Bells and Whistles refers to non necessary parts added for attraction and shiny purpose only.
Best Mechanical Keyboards in India
Here is a list of Mechanical Keyboards available on that you should keep your eyes on (By no means is this a definitive list, but just great products to watch out for)
1. Gigabyte Force K83: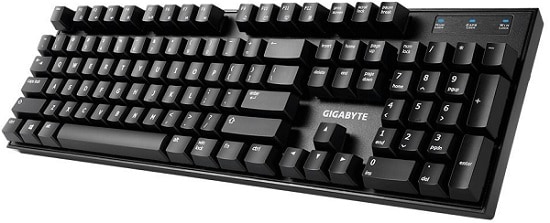 When you are on a budget and want to experience a genuine Cherry MX experience, look no further than the Gigabyte Force K83.
Sporting a no-nonsense minimalist design, it checks a lot of boxes of an ideal board. It has a spill-resistant design, augmented by the floating keycaps which allow the user to clean the unit ever so easily.
The ABS keycaps are mediocre compared to other high-end boards but get the job done. Other than the lack of any sort of backlighting and the keycaps, you really cannot go wrong with this
Pros:
Inexpensive
Spill resistant
Genuine Cherry MX switches
Cons:
Inconsistent alignment of prints on keys
Can use an upgrade in Keycap quality
Check Cheapest Price : Amazon
---
2. Logitech G413 Carbon: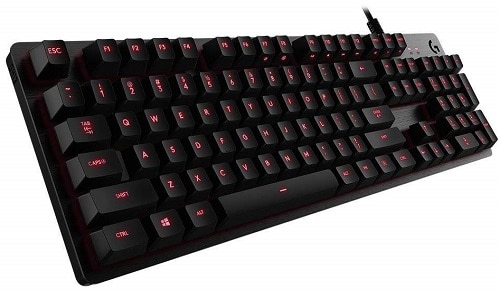 This sturdy tank of a keyboard immediately catches your eye with its aircraft grade aluminum front plate. The backlight is strong enough, but there is some bleeding due to the raised keys. Since this board uses the proprietary Romer-G switches, you would need a bit of time to get used to the new actuation distance and overall typing experience.
If you wanted to type on this for a longer time, a wrist rest would be highly welcome. The braided cable is a nice to have.
Also Read : 10 Best Gaming Mouse Under Rs 2000 in India
Honestly speaking, the tactile bump of these switches is bad, edging close to a linear board. If you are looking for a good typing experience, shy away. But if you want to game on it, there are better options to choose.
Pros:
Sturdy build quality
Sophisticated, refined design
Full-on mechanical switches
Cons:
No dedicated media buttons
Slow USB 2.0 pass through
Check Cheapest Price : Amazon
---
3. Razer BlackWidow Ultimate: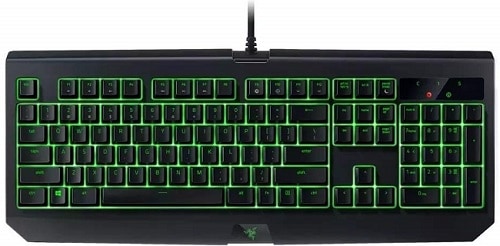 The simple and stripped design with a solid green backlight, and laser focused on only gaming, and achieves what it claims in the end. While it lacks all the bells and whistles which you can find on other similarly priced keyboards the key switches more than make up for it.
Using Razer Green switches, they offer an excellent experience and are a pleasure to type on. The response time on this is absolutely amazing, and if you can utilize that an edge in the game is guaranteed.
Also Read : Best Gaming Laptops Under Rs 70000 in India
The lack of RGB may be a detriment, but if all you want is speed and do not mind paying up, go for it. This strikes a balance between price and performance, the Razer Blackwidow Ultimate does what it needs to do, and it can use dedicated macro keys, and a better color would help bump up the value of the board..
Pros:
Affordable, well in razer standards
Fantastic mechanical switches
Cons:
No RGB
No dedicated media or macro keys
A slightly ageing design
Check Cheapest Price : Amazon
---
4. Logitech G512 Carbon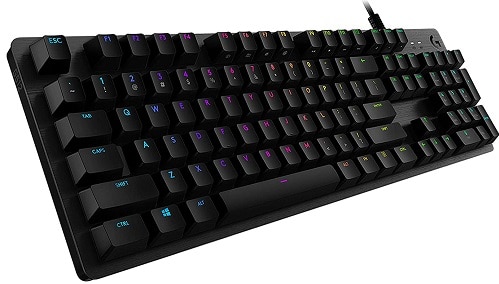 The Logitech G512 Carbon is a full size board which utilizes all the space for an elegant design. The Aluminum front plate reassures a good and sturdy build, and is in no means a budget board. The simple and clean design that does not scream gamer is a nice to have.
The only thing you can see is the G logo. The switches, if you opt for the linear version, are very precise and you can feel the difference between a fully pressed and a half pressed switch.
Also Read : 10 Best Gamepads Under Rs. 10,000
There are convenient cable routing grooves along with a few rubber feet to prevent the board from sliding around. Fast paced gamers would want to give up the GX blue switches for the faster and better Romer-G ones.
Pros:
Good build quality
Minimalistic
USB passthrough
Cons:
The software can be a bit clumsy
A bit too loud
No backlight on secondary function keys
Check Cheapest Price : Amazon
---
5. HyperX Alloy FPS Pro: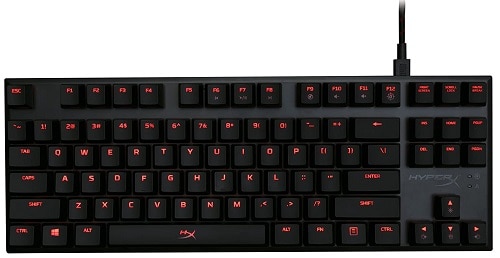 Sporting multiple switch options, the hyperX Alloy FPS pro will not disappoint if you choose the keys (clicky, linear or tactile) to your liking, providing satisfactory keystrokes .There is a smooth finish and a gentle curve on the keycaps, making it slightly easier on the fingers as a whole.
Anti Ghosting and n-key rollover is a nice addition to its feature set especially in its tenkeyless form factor .To put it simply, this keyboard does its job so well, that you don't mind the lack of other bells and whistles such as macros, an accompanying software and USB passthrough. The quality cherry MX switches with a durable build is what you need.
As is the problem with any tenkeyless board, I would rather increase the deck size and add dedicated audio and media controls with a proper volume knob/roller. With this board, one should buy it for an excellent gaming experience, not for long typing sessions.
Pros:
Clean Design
Detachable USB cord
Durable keycaps and a simple font (nothing gamery)
Cons:
Only Red backlighting
Ten-Keyless aka, missing the numpad
Lack of assistive software
Check Cheapest Price : Amazon
---
6. Coolermaster CK550: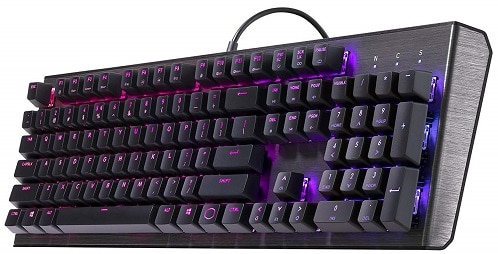 The overall feel and the build quality of the keyboard is satisfying, and the metal backplate reinforces the already solid build, and it wont bend, break or even suffer the effects of deck flex. The board sports a clean design, and is simplistic.
Abs keycaps, while not as good as their PBT cousins, offer value and durability at this price point, and the switch to gaterons from the bog standard cherry keys is a refreshing addition. The keys provided satisfactory feedback and an adequate response to keystrokes and an overall nice experience
There are enough ways to customize the keyboard and its lighting in all of its glory even without the aid of its software which in itself is intuitive and adds a few more layers of customizability . For longer typing sessions I would prefer an included wrist rest.
Also Read : 10 Best Gaming Headphones Under Rs. 5,000
The travel of the gateron blue switches is nice, and the sound is a pleasure! This is more of a typing board, due to a greater actuation force required (60g) if this had a red switch option, i would go for it (45g) for that extra edge required in fast paced games.
Pros:
RGB galore
Excellent software
Gateron options
Cons:
A wrist rest would be welcome
Prominent deck flex when on its pop out feet
Keycaps can be improved upon
Check Cheapest Price : Amazon
---
7. Razer BlackWidow Tournament Edition Chroma V2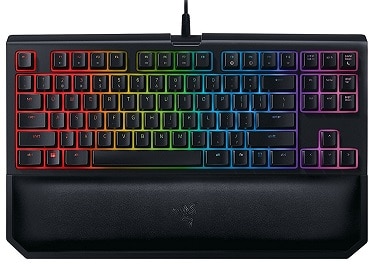 While looking as flashy as ever, this razer keyboard means business. This tenkeyless keyboard sports a detachable magnetic wrist rest for that extra comfort while typing or gaming. The keycaps while feeling really smooth and nice, they are a fingerprint magnet. As expected of razer, this is a tank of a board with a resounding build quality.
The Razer green switches are a delight to use, and the sound is very satisfying with a shorter travel distance for that extra responsiveness in gaming. The RGB is glorious, and with the synapse software, you can customize the lighting and effects to your heart's content.
Also Read : 10 Best Laptop Cooling Pads in India
It supports Razer Chroma, which can help you sync your lighting across all your devices, provided that they support chroma. To simply put it, the typing experience is simply amazing. Should you buy it? If you can afford to pay the razer tax, then absolutely go for it.
Pros:
Satisfying clicky keys.
Very good configuration software.
Magnetic wrist rest.
Detachable, braided USB cable.
Cons:
Key clicks (while nice) are too loud during gaming.
High price.
Check Cheapest Price : Amazon
---
8. Corsair K68
With a less than satisfactory plastic body, and a chassis which is prone to cracking as well as bending, I would slap on a fragile sticker any day. The fact that it has IP32 rated water resistance, which claims to be spill proof may just be its saving grace.
Moving on to the typing experience, it gives appreciable audio feedback as well as arguably one of the better end of tactile feedback.
The wrist wrest is mediocre at best, and personally, i would switch it out for a better aftermarket one The keycaps while ABS, feel a bit cheaper than its other counterparts.
Also Read : 10 Best Mechanical Gaming Keyboards Under Rs. 10,000
For pure gaming needs, this surely puts up a tough fight to its competitors.Just make sure when you type on this, you don't have people around which are easily annoyed by loud clacks all over the place.
Pros:
Quiet for a mechanical keyboard
Not afraid of spills
Fair price for the amount of keyboard you get
Cons:
Grease-magnet keycaps
Sub-par wrist rest
No drainage system
Check Cheapest Price : Amazon
---
9. HyperX Alloy FPS RGB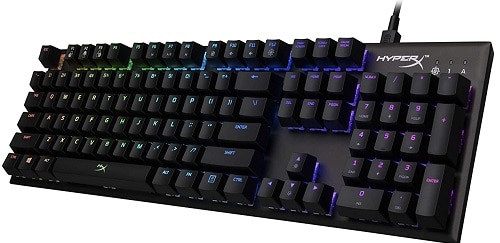 As soon as you set your eyes on it, the lighting and the matte black finish catches your eyes. This keyboard is geared towards the e-sports enthusiasts and harcore gamers, as it boasts the kailh speed silver switches which claim to be the fastest switch around.
While it does pack a very powerful punch in the gaming department, don't expect to get used to typing long articles on these , as the kailh speed silver switches have an extremely short throw and are linear. They simply aren't just comfortable to type on compared to their cherry counterparts.
The software is so-so at best, and a more intuitive experience is to be expected if you cough up this much money for the keyboard.
Also Read : Best Ultrawide Gaming Monitors in India
At the end of the day, for this price point, you would be hard pressed to find such a responsive keyboard. While it takes a while to tame this beast, mastering it is much more rewarding with enough skill in a game.
Pros:
Reasonable price
Pretty RGB lighting
Good in-game performance
Cons:
So-so key switches
Cumbersome software
Few bells and whistles
Check Cheapest Price : Amazon
---
10. XPG Summoner RGB: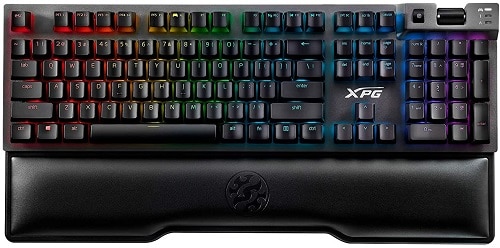 The XPG summoner's design is edgy to say the least. Its mix of an aluminum top plate with bits and pieces of plastic sprinkled everywhere makes it feel a bit rough around the edges.
The USB passthrough port makes up for the lack of a detachable cable, as well as the metal volume roller is a nice to have out of the box, but the lack of other dedicated media keys drags it down. The wrist rest is plush and comfortable to rest well… your wrists on, and it has an added bonus of being magnetically attached.
The RGB control (or lack thereof ) perplexes me at this price point. Despite this being fully RGB enabled, you cannot control most of it. Coming down to the typing experience, it's what you expect out of a genuine cherry experience, and a pleasure to type on.
Also Read : Best Gaming Monitors Under Rs 20,000 in India
At this price point, i would rather have a lot more bells and whistles for the money one coughs up for this board.
Pros:
Choice of three Cherry MX key-switch types.
Nifty metal volume roller. Plush-feeling wrist rest.
USB passthrough.
Cons:
Very limited lighting configuration.
No-software configuration of macros can get confusing.
Expensive for the feature set.
Check Cheapest Price : Amazon
---
These are a few prebuilts that you should keep your eyes peeled for. At the end of the day, there are much more tailored typing experiences which you can nitpick to your heart's content. While the above boards grant you an entry into the world of clacks, this is just the tip of an iceberg which is unfathomably deep.
Also Read : Best Monitor Arm Stands in India
Taking a step into the world of custom keyboards is a journey worth embarking upon for any enthusiast. From carefully selected components, meticulous planning as well as painfully long delivery times.
The fun of hand soldering each switch into the PCB is in a league of its own, and after putting everything in the case and putting on the perfectly pastel keycaps, the result may just surprise you.
Until we meet again, keep clacking!
---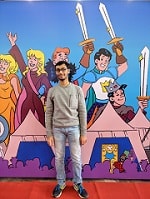 This article is written by
Devashish Amin , A tech nerd at heart, and a budding engineer by profession, I like to indulge in anything and everything that has electrons flowing in it. When I am not tinkering objects or playing games, you can find me enjoying a long novel. you can find me at AmorphousSnek#4306 on discord.