Recently updated on July 15th, 2023 at 07:19 pm
Over the past few years, PC monitors have grown to adopt newer technologies giving you a more premium experience right on your desk.
Modern computers are powerful enough to support high-resolution monitors with 4K UHD resolution as the need for such monitors has grown both on the gaming and professional side.
There are more 4k games and content available than ever before and you need a fine monitor to fully experience what the maker intended to.
Table Of Contents
Why choose a 4K monitor?
If you plan to buy a PC monitor larger than 24 inches then it'd be wiser to invest in a 4K UHD-capable monitor. For starters, the increase in image quality and sharpness will be apparent immediately both for movies and video games. There is plenty of content available on various streaming services to take advantage of the increased resolution. Not only in media consumption, but 4K monitors will also make text look much crisper.
With these high-resolution monitors, you get a much larger working area without having to compromise on sharpness. Besides this, getting a 4K UHD monitor will also future-proof your purchase and the monitor will be better equipped to handle the oncoming wave of 4K content, including from game developers and content creators.
What went into curating this list?
For curating this list of the best 4K monitors in India, we examined more than 25 monitor models from brands like Acer, Asus, BenQ, Dell, HP, LG and Samsung. The monitors that didn't meet our predefined basic requirements and price-to-feature ratio were eliminated. Tightening our selection criteria with each round resulted in the following list of the best 4K monitors that you should consider.
Best 4K Monitors in India

Best Choice 28"
USB-C monitors are the ultimate solution for simplifying your workspace and minimizing cable clutter. These monitors not only transmit data but also deliver power, enabling you to connect and charge multiple devices with ease.
The BenQ EW2880U 28-inch 4K Bezel-Less Monitor offers a mix of impressive features and a few areas for improvement. One standout aspect is the exceptional text clarity, which rivals that of a QHD display. This makes it a fantastic option for tasks that require high-resolution and detailed visuals. Additionally, the low blue light modes are among the most advanced available, providing a comfortable reading experience during late-night use.
The inclusion of a USB-C interface is a major advantage, allowing for seamless connectivity and freeing up HDMI ports for other devices. The monitor's sound quality is decent, though not exceptional. However, it can easily be remedied by using external speakers or headphones.
The brightness levels of the monitor are more than sufficient, even in brightly lit environments. The sturdy stand and included remote control add to the convenience and usability of the monitor. Furthermore, the well-thought-out design includes customizable buttons and a tilt-swivel feature for enhanced user experience.
Color reproduction is excellent, making it suitable for various operating systems and tasks such as photo editing. The absence of smudging or smear while scrolling is a notable highlight, providing a smooth and enjoyable user experience.
On the downside, the monitor could benefit from improved speaker volume and the addition of an integrated webcam. USB-C power delivery would also be a welcome feature, as it would eliminate the need for a bulky AC adapter and allow for greater flexibility in positioning the monitor.
---

Best Choice 43"
The LG Smart Monitor (43″) is an impressive 4K UHD display that offers a range of features to enhance your viewing experience. With its expansive 43-inch screen, you'll be immersed in stunning visuals and vibrant colors, thanks to the high-quality IPS panel.
The display's HDR 10 capability ensures exceptional contrast and brightness, resulting in lifelike images and a more immersive viewing experience. Whether you're watching movies, playing games, or working on creative projects, the visual clarity and detail provided by this monitor are truly impressive.
One standout feature of this monitor is its wireless connectivity options. With webOS and AirPlay 2 support, you can effortlessly stream content from your mobile devices directly to the monitor, eliminating the need for additional cables or adapters. This seamless wireless integration allows for a hassle-free and convenient multimedia experience.
The inclusion of a USB Type-C port with 65W Power Delivery is a significant advantage. It not only allows for fast data transfer but also enables you to charge compatible devices directly from the monitor. This feature is particularly useful for laptop users who want to reduce cable clutter and conveniently power their devices.
The monitor's built-in speakers, delivering 10W x 2 audio output, provide decent sound quality for everyday use. While they may not replace dedicated external speakers, they offer a convenient audio solution for casual viewing or multimedia playback.
The inclusion of the Magic Remote adds a touch of convenience to the overall experience. With intuitive controls and seamless navigation, you can easily access and control the monitor's features and settings.
Connectivity options are ample, with HDMI and DisplayPort inputs, as well as a headphone out jack, providing flexibility for connecting various devices.
The monitor's VESA compatibility and tilt function allow for easy mounting or adjustment according to your ergonomic needs.
Lastly, the three-year parts and labor warranty is a testament to the monitor's quality and durability, providing peace of mind for long-term usage.
Overall, the LG Smart Monitor (43″) offers an impressive array of features, including a high-resolution display, wireless connectivity, USB Type-C with Power Delivery, and a versatile range of ports. Its vibrant visuals, user-friendly interface, and convenient remote control make it a solid choice for both work and entertainment.
---
3) LG 27UK650 27-inch 4K UHD HDR Monitor
IPS Panel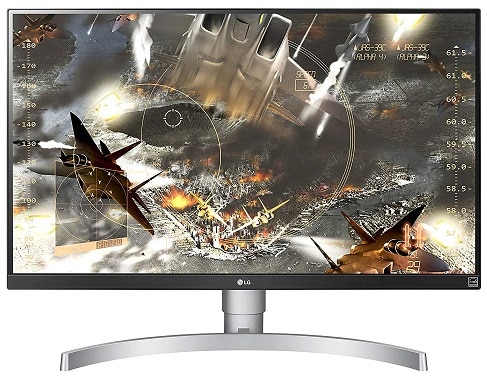 Pros:
1) An excellent 4K monitor from LG, this product also supports content playback in HDR and covers 99% of sRGB, 73% of Adobe RGB and 75% of DCI-P3 colour space, which is essential if you value colour accuracy.
2) The display brightness averages at 350 nits with the maximum hitting 450 nits.
Also Read : 10 Best Gaming Headphones Under Rs. 5,000
3) You can rotate the display to a vertical orientation and it comes with AMD FreeSync for improved gaming performance. LG offers a warranty of 3 years.
Cons:
1) LG monitors have at multiple instances been subject to quality control issues which you will have to check for before buying one.
2) If gaming is your primary use then this display will disappoint you with its low refresh rate.
Check Price : Amazon
---
4) BenQ EW3270U 32-inch 4K UHD HDR Monitor
VA panel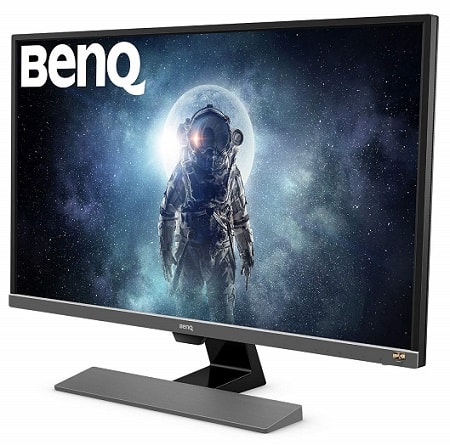 Pros:
1) BenQ has created a well-rounded computer monitor that proves its versatility by offering features great for most use cases.
2) The display panel supports a wide colour gamut while covering 95% of DCI-P3 colour space.
3) On this large 32-inch display, you can enjoy content in 4K and HDR. BenQ's own eye care tech protects your eyes from flickering and the monitor has AMD FreeSync for better gaming.
Also Read : Best Earphones Under Rs. 2000 in India
4) Besides a pair of HDMI ports and a display port, you also get a USB Type-C port and audio-in jack.
5) It comes with a modern design with minimal bezels around the display.
Cons:
1) The company has deployed a VA panel for this display which has its own shortcomings when put against an IPS display.
2) The audio output from the built-in speakers is bad enough to recommend an external pair of speakers.
Check Price : Amazon
---
5) Dell 27-inch UltraSharp 4K UHD Monitor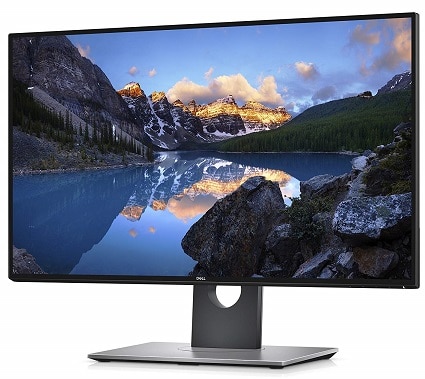 Pros:
1) Aimed at productive use, this Dell monitor vows to offer great colour reproduction as it comes factory calibrated with 99.9% sRGB coverage.
2) It flaunts its ultra-thin bezels and you can place two of these monitors side-by-side to have a seamless experience.
Also Read : 10 Best LED TV in India (Smart / Non Smart)
3) Dell offers one of the richest selections of ports with this monitor that has an adjustable stand for moving the monitor to your eye level.
Cons:
1) Firstly, the price of this monitor is much higher than its rivals offering a similar set of features.
2) The HDR capabilities of this Dell monitor are nothing to write home about and it shouldn't be your reason to buy this product.
Check Price : Amazon
---
6) Acer Predator XB281HK 28-inch 4K UHD Monitor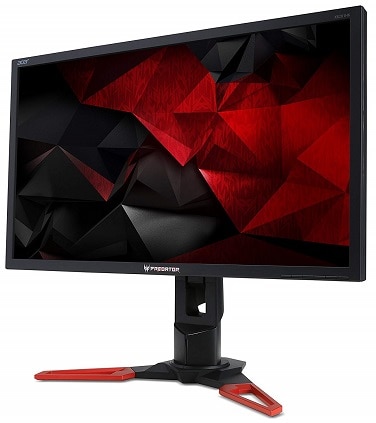 Pros:
1) Part of the Predator series, you can expect this Acer monitor to offer fantastic gaming performance while being able to run 4K titles, if your rig allows for it.
2) The monitor stand is sturdy and offers adequate adjustment to suit your needs.
3) It supports Nvidia G-Sync to reduce tearing issue while gaming and offers 1ms of response time.
Also Read : 10 Best Smart 55 Inch LED TV in India
4) One each of DisplayPort, HDMI port and USB 3.0 is placed on the monitor's back.
Cons:
1) Acer has designed this monitor specifically for gaming needs and would be odd if used for business.
2) This one too uses a VA panel which offers excellent response time but compromises on the quality.
3) The customer support by Acer isn't up to the mark.
Check Price : Amazon
---
7) LG 32UD59 32-Inch 4K UHD Monitor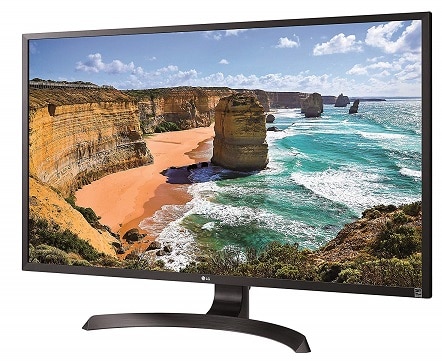 Pros:
1) A fairly recent model from LG, this model offers an expansive estate to work on with a size of 32 inches diagonally.
2) In terms of ergonomics, you will be able to adjust the monitor to suit your viewing height while it is also compatible with HDMI 2.2.
Also Read : Best 43 Inch Smart LED TV in India
3) The display panel supports a wide 95% of DCI-P3 colour space and also has AMD FreeSync for gaming.
Cons:
1) There is a visible shift in colour and an overall degradation in image quality when the monitor is viewed from an angle.
2) This monitor doesn't support HDR and has a limited refresh rate of 60Hz which isn't ideal for gaming.
3) The pricing is not right.
Check Price : Amazon
---
8) LG 24UD58 24-inch 4K UHD Monitor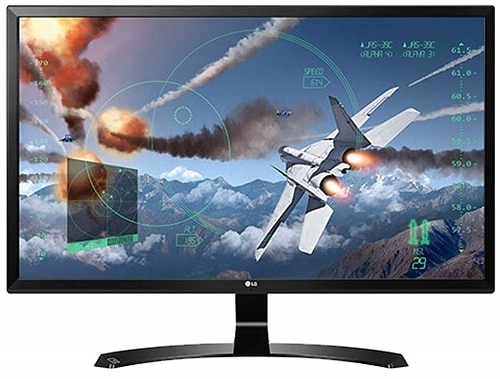 Pros:
1) With the use of a 4K IPS panel, you can expect this monitor to offer some of the best colour output.
2) The USP of this monitor is the availability of 14 screen modes with options like PiP and reader mode besides also allowing an easier switching between multiple sources.
Also Read : 10 Best 1.5 Ton Split AC in India
3) The inclusion of FreeSync means you can game to a fair degree and you also get Flicker Free tech for improved viewing.
Cons:
1) Backlight bleeding may be visible if you are in an extremely dark room.
2) The build quality of the monitor isn't premium and you will get shining plastic bezels around the display.
3) You can't manually adjust the monitor height.
Check Price : Amazon
---
9) Samsung LU28E590DS/XL 28-inch 4K UHD Monitor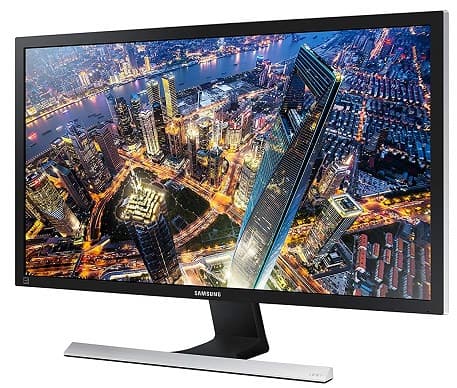 Pros:
1) This Ultra HD monitor from Samsung is a great choice if casual gaming is something you plan on doing.
2) It gets bright enough at 370 nits and offers a refresh rate of 60Hz with a response time of 1ms.
Also Read : Top 22 Best Anime Movies
3) You can expect to game at 60fps using this monitor if connected over the DisplayPort.
4) To improve it further, the company has included FreeSync for removing the tearing issue.
Cons:
1) Samsung has made use of a TN panel for this monitor which is an older technology and is inferior to IPS displays particularly when viewing angles are concerned.
2) The display doesn't support HDR playback and isn't even manually adjustable to maintain an optimum viewing height.
Check Price : Amazon
---
10) Acer KG281K Bmiipx 28-inch 4K UHD Monitor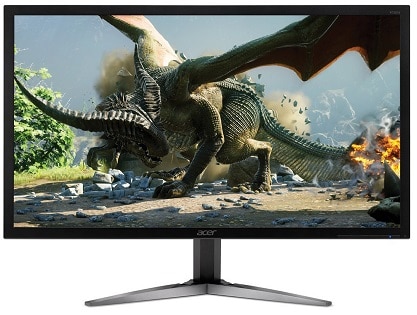 Pros:
1) Even though the included stand isn't adjustable, the monitor can be wall mounted for your convenience.
2) At a fairly reasonable price, you are getting a 4K display that is paired with AMD FreeSync technology to improve tearing issues while gaming.
Also Read : 53 Best Anime You Should Watch Before You Die
3) If you are into 4K gaming, then you will get quite good frame rates with its refresh rate of 60Hz. It comes with a pair of HDMI ports and a DisplayPort.
Cons:
1) Since it isn't an IPS panel, the viewing angles are extremely narrow despite the fact the company claims otherwise.
2) The after-sales support from Acer is dubious at best. The monitor doesn't allow adjusting the height and the display has a thick border.
Check Price : Amazon
---
11) Acer CB271HK 27-inch 4K UHD Monitor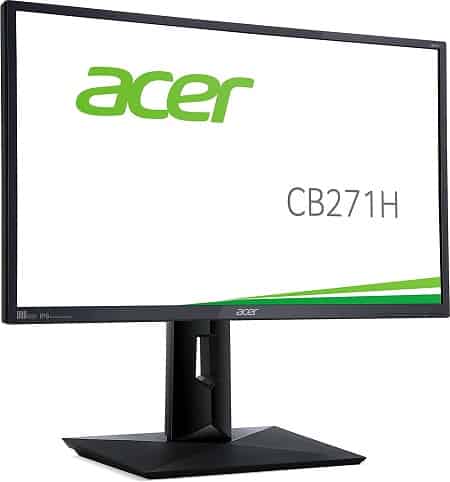 Pros:
1) Showing off its design versatility, this Acer monitor can tilt more than any other monitor and can be rotated to vertical orientation.
2) Its 27-inch display optimally utilises the 4K resolution and the inclusion of an IPS display means the viewing angles will be superior.
Also Read : 10 Best Laptop Under 60,000 in India
3) The display gets bright enough at 300 nits and offers a refresh rate of 60Hz with 4ms of response time.
Cons:
1) This model was released a few years ago and its design has started to feel fairly old.
2) Though a little higher than standard models, the monitor height cannot be manually adjusted.
3) The price is a little on the higher side and the monitor doesn't support HDR capabilities.
Check Price : Amazon
---
12) BenQ PD3200U 32-inch 4K UHD Monitor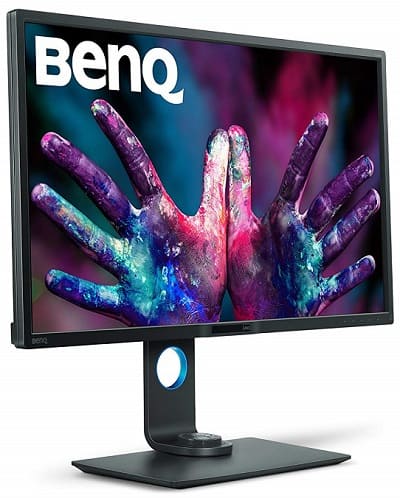 Pros:
1) Holding a large 32-inch 4K IPS panel, this BenQ monitor is one of the most colour-accurate displays out there.
2) It supports 100-per cent Rec. 709 and sRGB and a response time of 4ms.
Also Read : Best Budget PC built Under Rs 25,000
3) The included monitor stand not only allows you to move the display up and down but also lets you turn it vertically for certain use cases.
4) Besides a number of modes, the monitor has KVM Switch for using it simultaneously with two PCs and only a single set of keyboard and mouse.
5) The use of flicker-free technology downsizes any eye discomfort that might occur after prolonged use.
Cons:
1) It is one of the highest-priced monitors available in India. Having released a couple of years back, the monitor has a bland design that may not be appreciated by all.
2) The monitor is meant for being used by a very niche section of users.
Check Price : Amazon
---
Thinks to Keep in Mind While Buying a 4K Monitor
Monitor's Main Purpose
Before you head to the market to buy yourself a brand-new 4K monitor, you must clearly determine what will be its primary purpose. Gaming requires a different kind of monitor than say someone making spreadsheets in an office. Those in creative jobs will require a display that is colour accurate to its best.
Also Read : 10 Best Ultrawide Gaming Monitors in India
Colour Accuracy
Coming to colour accuracy, all monitors must be colour accurate to a certain degree but there are certain use cases that can easily get away with a little less of that rate. Professional designers have trained eyes to make out different hues of a single colour apart and they know what they're getting into.
Display Size and Resolution
The best part about such high resolution is that you can invest in a larger monitor without having to worry about the loss in sharpness. For most cases, a 28-inch monitor should be fine for most users but you always have the option to go for 32 inches and up. Do note that 4K monitors are widely available in 16:9 aspect ratio only at the moment.
Brightness, Refresh Rate and Response Time
You should look for display brightness between 250 and 350 nits while some HDR capable monitors may even offer higher brightness. In a 4K display, it'd be difficult to find one with more than 60Hz of refresh rate, which is kind of the sweet spot. Response time for modern display panels is between 1 and 5ms depending on the panel type.
Connectors and Future Proofing
The most recent monitors will come with support for Thunderbolt3-enabled USB Type-C ports that are quite versatile. If not that, you should at least choose a monitor that uses the latest HDMI and DisplayPort versions for ensuring their longer support for cables and connectivity.
---
Also Read:
1) 10 Best Laptops for YouTube Creators in India
2) Best Ultrawide Gaming Monitors
3) Best Gamepads Under Rs. 10,000 in India