Gaming is a fun activity regardless of what machine you play it at. Be it mobile phone, PC or consoles gaming is enjoyed by everyone.
Visuals and audio are fundamentally the most important part of gaming. Visuals aside the audio be it the background music or engaging character dialogues it adds a whole new level of interaction with the game you play.
Having a complete audio setup might be a big hole in the pocket as good audio quality does not come cheap and with other accessories to drive the audio to the speakers will only add to the expense.
The cheaper alternative to these speaker setups is using a budget headphone. It is comparatively much easier and cheaper to get a headphone that provides you very good immersion to the gaming experience thanks to the good cheap gaming headsets that are available in the market. That's why we have prepared this guide of best gaming headphones under Rs. 1000 in India for all gamers looking for a budget gaming headset.
Article Contents
Why Buy Gaming Headphone?
So, there are lot of reason that you might want to buy gaming headphones instead of the traditional ones.
Gaming headphones are made with gaming first in mind and this comes with a lot of advantages especially for gamers.
The sound drivers in these headphones are tweaked to provide further clarity to the voices that are in game and the minor sounds such as footsteps and distant gun sounds are kind of emphasized more than other sounds.
Drivers used in these headphones are usually large with some even having 50 mm drivers enabling a wider range of frequencies to be heard.
Another thing to note is the reduced latency in gaming headphones but as long as they are wired
Best Gaming Headphones Under Rs 1000 in India
All that out of the way let's get on with the best picks.
1. Cosmic Byte Spider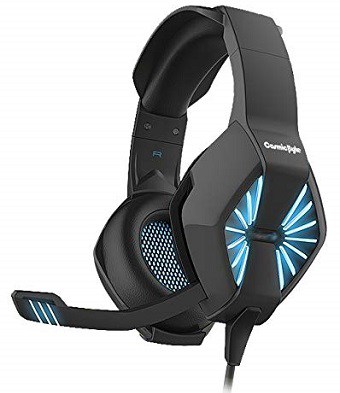 Cosmic byte is one of the major brands that competes in the budget gaming headphone space and they have a lot of offerings.
Cosmic byte spider is the most expensive budget offering from the company and it comes with additional features to justify the price.
The sound signature is better than the other cosmic byte offerings. The driver size is at 40mm and the sound signature is tweaked to be balanced all around. There is still an emphasis on the bass but it is more precise and doesn't overpower other aspects of the sound.
Microphone is adjustable in all angles and can be positioned to our liking. There is also an additional LED lighting element in the spider that is not present on the other offerings from the company.
But for the lights to work you will need to connect it via USB but for other functions you can connect the headphone via single 3.5mm jack. This make's not quite ideal for mobile gamers.
Also Read : Best Gaming Headphones Under Rs 2000 in India
Spyder is a great option for PC gamers but not quite so much for the mobile gamers as the extra wires required for lighting might feel cumbersome for mobile use.
---
2. Kotion Each G2OOO Edition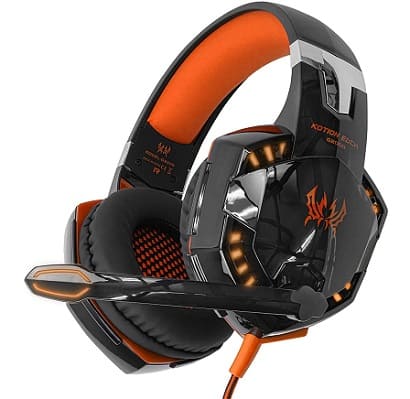 Kotion G2000 is a great option for PC gamers and it claims to have some features that no other headphones in the segment has.
For starters this headphone is big and bulky. The sound driver is at 50mm and promises to provide pretty good sound experience. Kotion G2000 also promises to provide "inside noise-cancellation" which is quite a bold claim.
The microphone adjustment is limited at only swivel and everyone might not like the overstated gamer design that the headphone comes with.
There are LED's for additional customization. The headphone can be controlled extensively with the inline remote it comes with.
Also Read : 10 Best Gaming Headphones Under Rs 5,000
For connectivity it comes with separate audio and mic jacks making a buying a splitter compulsory as it also has an additional USB cable for lighting. This also makes it no a great choice for mobile gamers.
Kotion G2000 is a pretty good offering and if you need the features it offers there are not many better options out there.
---
3. Cosmic Byte GS430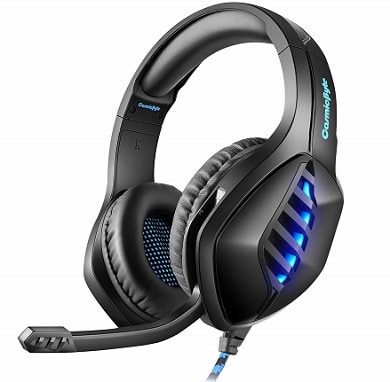 Cosmic Byte return again with its modern designed GS430. The design of this headphone definitely stands out as it looks sleek and fits with the modern design vibes and when compared with bulky looking headphones from other brands it is just no competition.
The driver size is at 40mm and the sound quality is decent with more emphasis on the bass. Microphone quality is also pretty good with good voice pickup and background noise cancellation. The microphone is adjustable up to 120 degrees.
As far as comfort goes this doesn't disappoint as it comes with supportive headband and the earmuffs come with memory foam for additional comfort.
It comes with a 3.5mm Jack for audio and microphone connection and for the LED lighting that it comes with a USB connection is required.
Also Read : Best Gaming Headphones With Mic Under Rs 10,000
All in all, for those looking to buy a good gaming headphone with a modern design this should serve the purpose.
---
4. Ant Esports H520W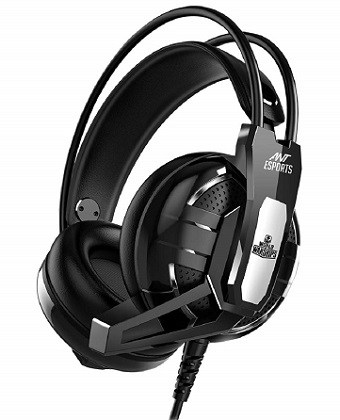 H520W is a very compelling offering for a lot of reasons. ANT is a very proven accessories brand in India and has good after sales support in India.
Audio quality is decent and the microphone quality is also remarkable for the price. Unlike the other offerings in this segment this comes with surround sound and supports windows sonic which makes the experience even better.
The drivers used are of 40mm and promise to provide good and precise bass response and the ear cushions are also comfortable.
Size of the H520W is on the bigger side and some might find it quite bulky and the connection method is 3.5mm jack for audio and mic combo.
Also Read: Best Earphones Under Rs 2000 in India
H520W is a good choice for those looking to buy a good all-around headphone in this segment.
---
5. Ant Esports H530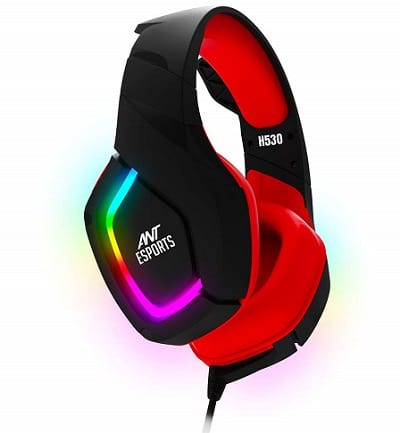 H530 has almost the same audio quality as the H502W from ANT ESPORTS but comes in a different design and some other features.
There are a couple of major differences. The design is totally different and also comes with RGB LED lighting and the other feature is that instead of the regular cushions for the ear H530 comes with memory foam for increased comfort. The mic has only limited adjustment.
It comes with separate connections for audio and microphone so you might need a splitter to single 3.5mm jack and for the lighting you would need to connect the headphone with USB port.
Also Read : Best Earphones Under 500
If you wish for these extra features you could go for this headphone but it costs significantly more than the H520W.
---
6. Cosmic Byte GS410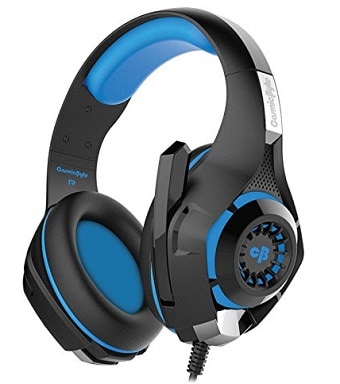 GS410 is a great option for the multi-platform gamers as it only comes with one cable and has pretty good sound quality that would satisfy most people.
Sound quality is pretty good and like the other cosmic byte headphone the sound is bass heavy. The cushioning is also on the comfortable side making it good for long hours of gaming. The microphone comes with limited adjustments.
There is an inline remote with extensive controls for hassle free changes on the go. As mentioned, it also comes with single 3.5mm jack for audio and microphone connection.
Also Read : Best Wireless Earphones Under 1000
The GS410 also comes in a variety of cool looking colors and combined with its mobile friendly connectivity it is a great option for PC gamers and mobile gamers alike.
---
7. Redgear Cloak RGB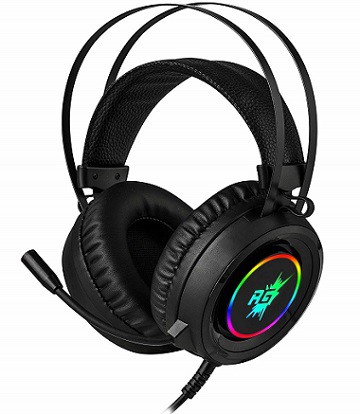 As the name indicates Redgear cloak has RGB lighting effects but it also does all other things decent making it one of the better options.
Sound signature has extreme emphasis on bass and you might want to lower it in the equalizer settings. Driver size is of 50mm and the mic is easily adjustable to our liking. Headband is also very adjustable and this makes the headphone comfortable for long periods of use.
The ear cushions also seem to be on the comfortable side and on the connectivity front it comes with 3.5mm jack for audio and mic. For the RGB LED you have to connect it with USB port.
Also Read : 10 Best Earphones Under Rs 1500
There are no standout features in this headphone to make it different from others. But for those who prefer redgear brand and looking to buy a hassle-free headphone cloak is a great option.
---
8. Cosmic Byte Stardust
Best For Mobile Gamers.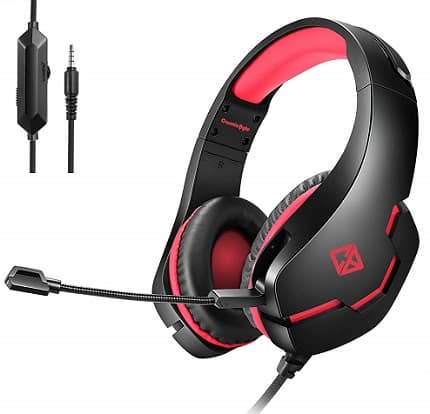 Cosmic byte stardust is the ideal gaming headphone for mobile gamers and streamers on a budget.
For starters the sound quality is decent but should do good for mobile games. The main advantage of this over others is its completely adjustable microphone which can be positioned the way you want for the ideal voice reception.
Comfort of the headphone is decent with average sized headband and decent cushioning.
The connectivity is via 3.5 mm Jack for both audio and microphone which is a bonus for mobile gamers.
Also Read : 10 Best Bluetooth Earphones Under 2000
So, if you're looking to get into gaming or streaming on a budget and want a headphone with good microfiber performance stardust might be your best bet.
---
9. Cosmic Byte H11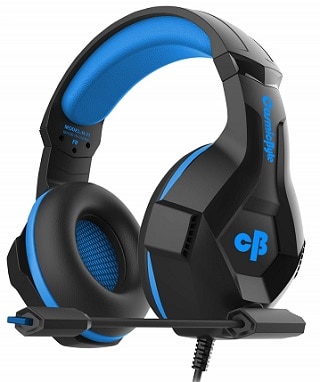 The H11 from cosmic byte is a basic offering with not a lot of additional features. The design is pretty good with not a lot of gamer accents.
Drivers used in the headphone are at 40mm. The sound signature on this headphone has an extreme emphasis on the bass. So, people interested in flat sound signature might not like this. The adjustments for the mic are pretty limited at only swiveling.
There are separate buttons for muting the mic and adjusting the volume which might come in handy.
For connection it comes with a single 3.5mm audio mic jack so you don't have to worry about having additional accessories.
Also Read : Best Earphones Under Rs. 5,000 in India
For the price this is a pretty good option and for the bass lovers out there this is a good option as it also comes in a variety of colors.
---
10. Cosmic Byte Blazar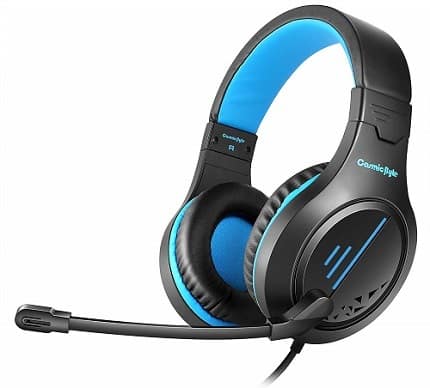 Cosmic byte blazar is the most budget friendly gaming headphone out there and for people on a tight budget this is the best bet.
The feature set is pretty basic but all the features are well done for the price it comes at.
Sound signature is more emphasized on the bass and the driver size is 50mm. The microphone has limited adjustment and the quality of the mic is also decent.
There are inline remote controls for sound and mic. Only shortcoming on this earphone is the fact that it comes with pretty small headband and this headphone might not fit for the people with larger head. The input is 3.5mm with both mic and audio function.
Also Read : Best Wireless Earphones Under Rs. 1000
During sale you can find this headphone as cheap as 799rs and for that price there are no better options around.
Gaming Headphone VS Normal Headphone
Normal headphones have pretty much the same baseline specifications as the gaming headphones but the tweaks and additional features are what make the gaming headphones different.
For starters as the sound signature on gaming headphones is much more emphasized on the smaller details such as the footsteps and distant gunshots.
The Bass response is also more emphasized to be richer and deeper to provide a more immersive surround sound like experience. Bass heads might like this but for those users who prefer a flat sound signature might be better off with normal headphones as the bass could be quite overwhelming.
And there are RGB's in some of the offering which gamers would appreciate.
Another inherent advantage going for gaming headphones over normal headphones is the fact that the microphones in the former is much better than the later.
The underlying technology is pretty similar but the position of the microphone is ideal as it is very close to the mouth and is adjustable to our liking.
This directly results in much better voice reception and if you plan on streaming gaming headphones are a much better option than the regular ones.
Also Read : 10 Best Over-Ear Headphones Under Rs 2,000
---
Do You Need Any Other Accessories?
Accessories for a headphone makes the experience better but almost all of these budget headphones come with all the essential features inbuilt and you don't need any separate accessories.
But if you don't have a headphone jack on your phone you might need accessories such as dongles.
If you are going to use separate microphone and headphone or if your headphone has separate inputs for microphone and audio then you will need a splitter to combine both inputs.
Likewise, if you have older PC's that require separate audio and microphone input then you might have to buy 3.5mm to audio and microphone adapters.
---
Written By – Nirunjan Kumar
Infinite monkey theorem. I love how things work.
Tryna make things work! Instagram
---
Also Read :