True wireless earbuds are the newest fads in the tech industry that has managed to make almost everything wire-free. A host of brands have their truly wireless earphones retailing in India and they are well under the budget category to maintain their affordability.
If you're interested in true wireless earbuds and have been holding off your purchase, then this is the right time to get one for under Rs. 5000.
We have got you covered with a list of 10 best true wireless earbuds that you can buy in India for under Rs. 5000.
And if you're are still confused if you should buy true wireless earbuds or go for the conventional Bluetooth earphones with a neckband then we also have the below-mentioned section for you.
Also Read:
11 Best Wireless Earphones Under Rs. 1000
Bluetooth Earphones Under 2000
Wireless Earphones Under Rs. 20,000
Why buy true wireless earbuds?
1. As their name suggests, such earphones aim to bring a true wireless listening experience, unlike the conventional wireless earphones that still have a wire or a band going behind your neck. Of course, now wires dangle around and need attaching to your phone.
2. While with a normal pair of Bluetooth earphones, you're required to use both the earpieces, thus, excessively draining battery. With true wireless earbuds, you have the option to even use one of the two earpieces, like for calls, and save battery life.
3. All true wireless earphones need docking in their case for charging and storage. While providing the earbuds the required juice, these cases make it a lot easier to carry the earbuds around without losing them. Most cases are small enough to fit inside your jeans pocket.
4. For the people engaged in sports activities usually find it difficult to manage the wires on their earphones, even the smaller ones on wireless earbuds. The true wireless alternatives make it more convenient so that you can concentrate on your workout.
5. It goes without saying that true wireless earbuds stand at the cutting-edge technology. Most of them support access to voice assistants and many also have app support to manage all their settings easily. They are also smarter with their compact designs that have a touch-based interface.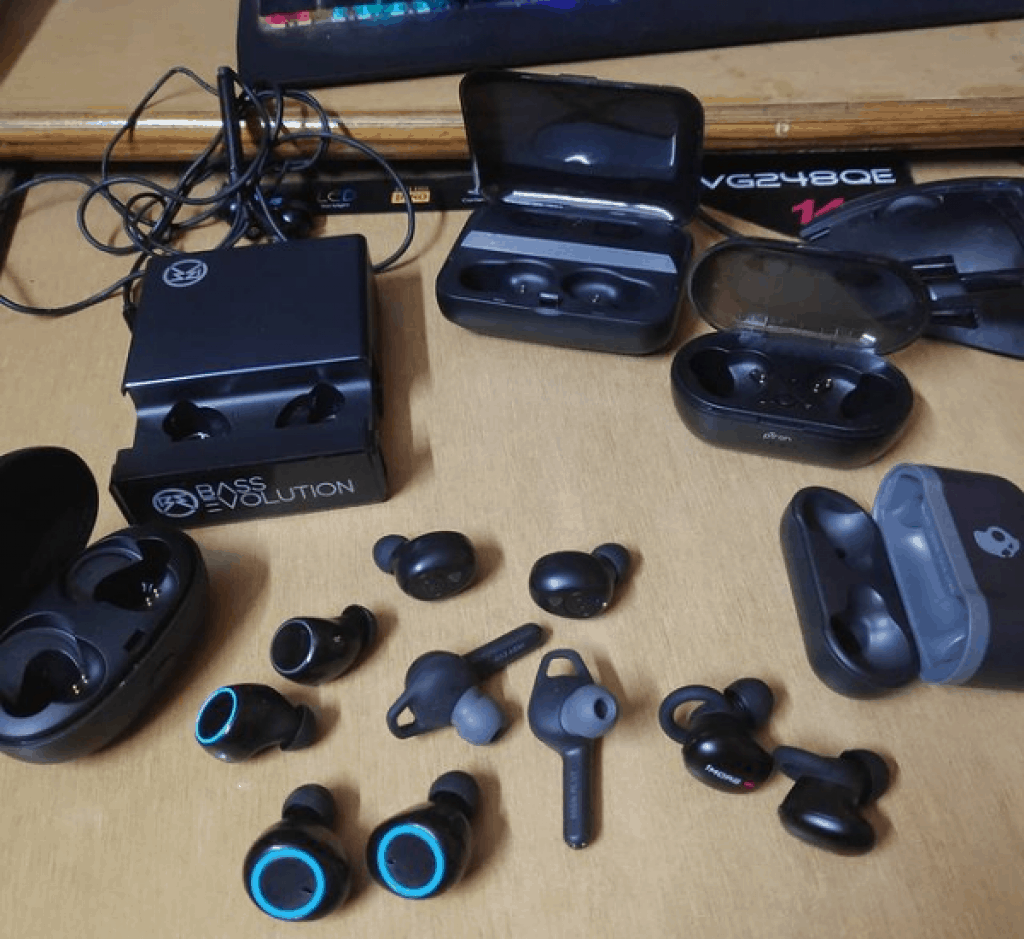 How we picked these products?
Before picking up any of the products in the following list, we set a strict criterion for them to fulfill for being worth our consideration. A secure and comfortable fit and great sound quality were non-negotiable.
Apart from those, the microphone's quality mattered the most for voice calling while a good battery life remained on our priority. Water and sweat resistance is a bonus and should complete the package.
With these criteria set, we took tens of true wireless earbuds into consideration and evaluated them based on our requirements.
The ones that finally made to this list have an excellent customer satisfaction rate and have met, and in certain cases exceeded all our requirements. The budget of Rs. 5000 has quite a few decent offerings that offer a great set of features without breaking the bank.

Rs.

3,999

Rs. 6,999
1 new from Rs. 3,999
in stock

Best True Wireless Earbuds Under Rs. 5000 in India
Below mentioned are some of the best true wireless earphones under Rs. 5000 in 2020 in India.
1. OPPO ENCO W51
Type C Charging Port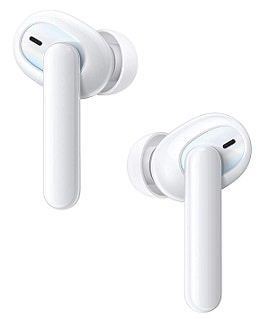 Newly launched by Oppo , the ENCO W51 have become number 1 in our list beating the ENCO W31 which has now become number 2 in our list.
There are a lot of improvements done by Oppo in this new model like wireless charging , hybrid active noise cancellation while ENCO W31 only had passive noise cancellation.
The low latency and quick connectivity are the things where other budget options struggle with , low latency is important to make your audio and video experience smooth.
These deliver decent audio call quality , where both sides can hear each other well and noise cancellation working in background to make it better. So , I can say these will be a good pick for your online meetings.
The build quality of case is better than W31 , these are lightweight and comfortable to wear. Some functions that are alright but can be improved are touch controls , battery backup. Also these have enough bass but not too much if your really into bass.
Check Cheapest Price : Amazon
---
2. OPPO ENCO W31 True Wireless Earphone
Type C Charging Port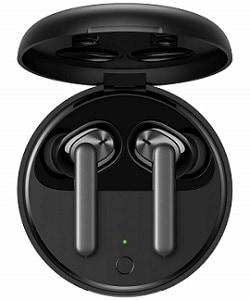 These are picked no 2 in our list again beating the one plus buds below , due to their latest design and sound quality. Everything is made with details. These are the one I would buy for myself.
Some say these are better than Realme Buds Air , well their noise cancellation is quite amazing indeed. A perfect delight for anyone looking to do long audio calls / meetings with absolute clearity. The system does take 5 sec to adjust and kick in.
The sound quality of these headphones has been highly appreciated , with all mids , highs and lows which are quite clear , balanced.
For bass lovers , it comes with a bass mode which can easily enhance the bass by around 30% that is without any distortion.
Also Read : 10 Best True Wireless Earbuds Under Rs 2000
For fit these have the best in ear design , as compared to the other ones which have only half in ear design. That's why these sit on your ears perfectly well. For music fit is everything.
Check Cheapest Price : Amazon
---
3. Jabra Elite 65t
Micro USB charging port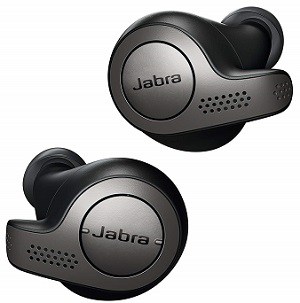 A solid choice for earbuds , these were priced so high just a few months back and now selling under Rs. 4000 , which is good news. Jabra Elite 65t have made good name in international market with their good design , 5 hour battery backup + 10 hours if you add the case battery.
There is no lag problem while watching videos , you would know if you have used some earbuds under 1000 range and how laggy they can be sometimes. It does offer clear audio calls , but it does not have wind noise cancellations like the one you see with Jabra Elite 75t , which is expected with triple the price.
I will say that these are not bad for under 4000 , that is if they fit you well. The sound is clear and crisp , loved by most people. The case is not magnetic and can be a bit clumsy sometimes , the left earpiece can't work independently without the right one.
Also the users haven't been much satisfied with the JABRA's after sales support in India. The equalizer app has good features to fine tune your experience.
But finally , you will be able to enjoy good music and call quality in phone calls. So , I don't see any reason to not give these a shot if you decide to skip the Oppo and OnePlus picks.
---
4. JBL C105TWS True Wireless
Micro USB charging port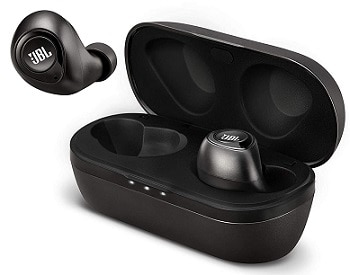 You will be getting JBL signature bass , this point is enough for anyone to consider these as you might have used other JBL earphones and know how good JBL signature sound is.
These are lightweight and comfortable , as reported by most users and good for long hours of use. No problems in pairing , the process is quick and easy.
The music will not distort , even at the loudest volume. This is something you can expect from JBL which has good history of making great audio products for decades.
Noise cancellation is there , but not too powerful. With full charge they will last for 4-5 hours and you can add an additional 10-12 hours with case. I won't call them low latency , as there might be minute lag while using a high refresh rate device or playing games.
Finally , they are micro USB so if your using a type C cable with your smartphone then you have to maintain two charging cables for each.
---
5. OnePlus Buds (Newly Launched)
Type C Charging Port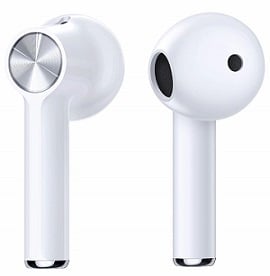 Launched today in India, first true wireless earphone by One Plus. Some of the features in these are just too good. After researching for hours , we have picked them as number 3 in our list. They lack the rubber eartips so you only have one stock size to fit your ears.
These promise a rich clear sound with deep bass with their 13. 4 mm dynamic sound driver. Which is quite bug as compared to others in list.
With case and earphones charged , you get a total listening time of 30 hours , with earphone alone can hold 7 hour of play time. They claim 10 minutes of charge can get you 10 hours of playtime.
These do not have the rubber eartips , only come in this design so you cannot alter their size as you do with small and big rubber tips in other earphones. With this form factor these fit perfectly for most people , mic is close to the mouth.
With environmental noise cancellation , it does reduces some ambient noise but not all so you can still hear some sounds from world but feel close to music at same time.
Both have touch control on side for easy access to features , IPX4 water and sweat resistant rating to protect it from splashes.
In the end the sound quality on these is really good , while call quality is decent. For One Plus users these will a great fit with compatibility and updates , others can use too.
Check Cheapest Price : Amazon
---
6. CrossBeats Urban True Wireless Earbuds
Micro USB charging port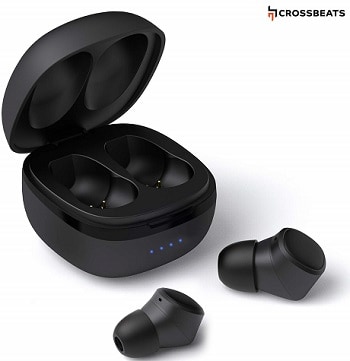 1) The earbuds have a premium matte finish over a minimal design. Both the earbuds and its case are quite compact offering ergonomic fit and storage.
2) CrossBeats has used Bluetooth 5.0 which allows the earbuds to auto pair with each other and with the smartphone you last paired it with.
3) It is IP67 rated and comes with a battery life of up to 12 hours, which includes 3 charges from the case. With fast charging, you can top the case up rather quickly.
4) You can use them for calling using in-built microphones and they also have tap control. With low latency of 60ms, this pair is good for gaming and watching videos.
Also Read : 10 Best Wireless Earphones Under Rs 3000
5) The CrossBeats Urban Earphones support passive noise cancellation and offers thumping bass using its drivers specifically tuned by the company. Google Assistant and Siri are also supported.
Check Cheapest Price : Amazon
---
7. Bass Evolution V7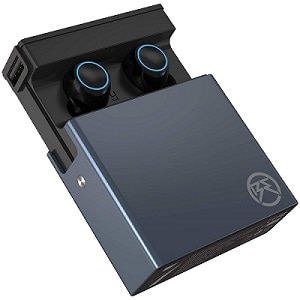 1) These earphones have been personally tested by me , I love their comfortable fit and how lightly they sit on my ears.
2) After burning in for few days , I liked their sound quite well. As they grew on my ears , I can hear all vocals , beats quite clear.
3) There a sense of pleasure with these , like you can really have fun and enjoy music which you don't find in many brands.
Also Read : Bass Evolution V7 True Wireless Earbuds Review
4) The case of these tws is made of metal and can also act as a powerbank for your smartphone etc.
5) These tws have a very unique futuristic design and are IPX-5 certified , they come with 1 year warranty.
Check Cheapest Price : Amazon
---
8. CrossBeats Air True Wireless Earbuds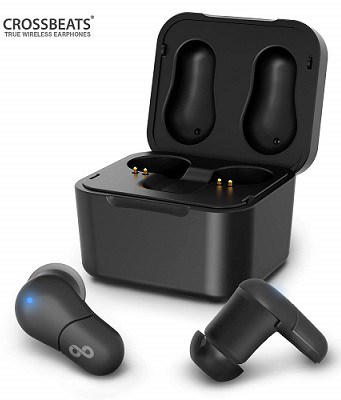 1) This is another pair of true wireless earbuds from CrossBeats that has an interesting design. The earbuds hang a bit out of your ear and have a matte black finish.
2) The company updated these for the latest features including beryllium drivers that offer crisp audio output. In fact, these are the best sounding earphones from the brand.
Also Read : 10 Best True Wireless Earbuds under Rs. 10,000
3) Call management through these earphones is extremely easy thanks to the included touch controls. Google Assistant and Siri are accessible with their respective voice commands.
4) With water resistance in place, you can wear them while working out and they won't even fall off. Each earbud lasts for up to 3-4 hours and the case can give 3 additional charges.
5) Bluetooth 5.0 is supported for enhanced range and clearer sound delivery. The earbuds also offer voice feedback for basic functions.
Check Cheapest Price : Amazon
---
9. Blaupunkt BTW01 HD True Wireless Earphones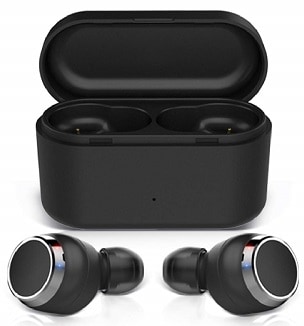 1) Coming from a German brand, these Blaupunkt earphones bring a seamless user experience that allows user interaction using light touches on the earbuds.
2) Each earbud unit is tiny allowing them to fit inside your ear quite easily without bothering you with their weight. The ear tips are positioned at 45 degrees for a better fit.
Also Read : 11 Best Wireless Earphones Under Rs. 1000
3) On a single charge, the earbuds can individually last for up to 6 hours and their case houses a 590mAh battery. You can use it to charge the earbuds up to 3 times.
4) This pair of true wireless earphones supports high definition audio output. With this feature, you get to enjoy possibly the best audio experience in this range.
5) While you comfortably listen to your favourite tracks, you can summon the voice assistant of your phone equally easily using the touch controls.
Check Cheapest Price : Amazon
---
10. TAGG ZeroG True Wireless Earphones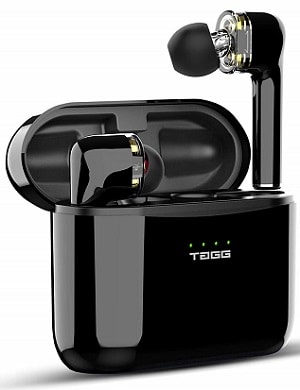 1) In one-of-a-kind case, each earbud of these TAGG earphones has two drivers packed inside such a small housing. The two dynamic drivers work together to offer an exceptional music listening experience.
2) For sure, these earphones have an elegant design with a shiny black finish. Their case also shares the same finish. At their ends, the dual drivers are visible through a see-through section.
Also Read : Bluetooth Earphones Under 2000
3) Including the battery of the earbuds and their case, you can have a total of 35 hours of music playback time.
4) TAGG ZeroG uses Bluetooth 5.0 for better range and has a Qualcomm cVc 8.0 built-in allowing it to offer passive noise cancellation.
5) Noise cancellation also works when taking or making calls. It uses beamforming from its microphone to precisely capture your voice.
Check Cheapest Price : Amazon
---
11. Noise Shots X5 Charge True Wireless Earbuds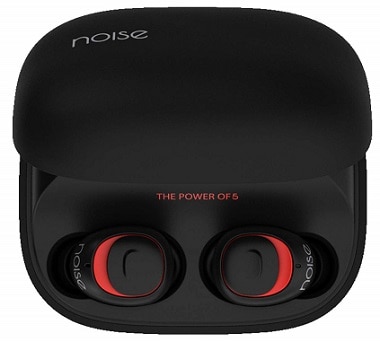 1) The USP of these Noise true wireless earphones is its battery life. Each unit can last for up to 3-4 hours while the case has the biggest yet 2200mah battery. It can charge the earbuds for 10 more times. Even better, you can also use it as a power bank.
2) With that battery size, the case naturally is a bit larger. The earbuds themselves are quite small and comfortably sit inside your ears without falling off.
Also Read : Wireless Earphones Under Rs. 20,000
3) Offering an ergonomic fit, you will find three pairs of silicone tips to secure it in place. Plus, you can also use your preferred voice assistant depending on your phone OS.
4) Bluetooth 5.0 allows for enhanced connectivity features and stability. The product is rated IPX5 making it sweat and splash-proof.
5) It is available in a total of four colour options and comes with 1 year of warranty.
Check Cheapest Price : Amazon
Other Competition
---
Boult Audio AirBass Tru5ive True Wireless Earphones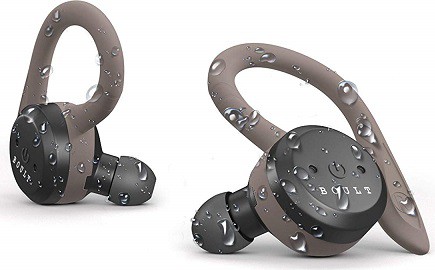 1) Its design is as robust as how mouthful its name is. The Tru5ive is one of the cheapest products on this list. You have the option to use either the ear loops or smaller fins.
2) Designed in the USA, the earphones are made to offer the best fit while being comfortable. You can use the interchangeable fins and tips to find the perfect fit.
Also Read : Best Earphones Under Rs. 5,000 in India
3) With 3D acoustics, you can expect fuller sound from these earphones. The company has used neodymium drivers that offer deep bass and the earbuds also ensure passive noise isolation.
4) Boult Audio claims that each of its earbuds can last for up to 6 hours while the dock can provide 3 additional charges. It can stay charged for up to 100 hours.
5) You have the option to use earbud separately for mono audio. It uses Bluetooth 5.0 and is resistant to splashes.
Check Cheapest Price : Amazon
---
WeCool Moonwalk X True Wireless Earbuds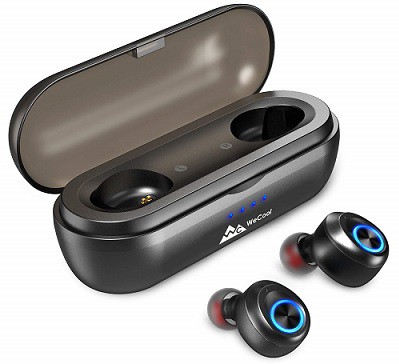 1) Apart from being designed to attract attention, the LED rings on both the earbuds let you know the charging status. The case has its own set of indicators.
2) The case holds a 1000mAh battery that can charge these bds within an hour and a half. IT can charge them 10 times for a total playback time of 50 hours.
Also Read : 10 Best Earphones Under Rs. 1000
3) For a clear sound with a stereo effect, the earphone uses Bluetooth 5.0 for improved transmission. You can also choose to use it in mono also using a single earbud.
4) Compatible with both Google Assistant and Siri, you can rest assured of convenience. They are comfortable to fit in your ear and have an IPX5 rating for water resistance.
5) WeCool has specifically included features to makes its bass thump. With the support for HD sound output, you can expect clear across genres.
Check Cheapest Price : Amazon
---
Mivi DuoPods M1 True Wireless Earphones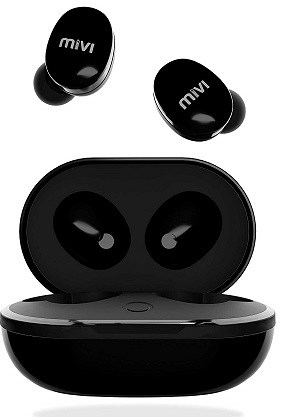 1) You just need to set these true wireless earphones only once and they will automatically connect with each other and your device. When you're done, they will disconnect in a similar fashion.
2) For their budget pricing, what you're getting is a 6-hour battery life from each earbud while the casing can ensure a total runtime of 24 hours.
Also Read : Best Wireless Earphones Under Rs. 1000
3) Mivi has a pretty established audio quality across all its audio products and this one is no different. These earbuds can offer you deep bass-filled music while you'll equally enjoy vocals and highs.
4) All the controls that you might need while calling or listening to music are placed on the earbuds itself. It uses a touch-based interface for all your interactions.
5) Both the case and the earbuds are compact enough for carrying around and are IPX5 rated.
Check Cheapest Price : Amazon
---
Hammer Solo True Wireless Earbuds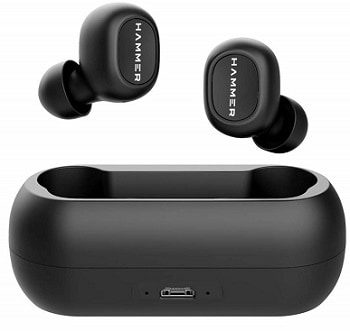 1) Interestingly, this pair is available in two options—one with a lid for its case and another without it. Of course, go for the one with a lid.
2) The earbuds themselves are designed according to match a human ear's shape and fit inside it properly. Its angled tips are perfectly positioned for that purpose.
Also Read : 10 Best Earphones Under Rs 500
3) You can rest assured about audio quality with the use of Bluetooth 5.0 which ensures extended range and better audio transmission.
4) This model too supports HD stereo sound that should be enough to suffice the audiophile in you. They are simple to pair and don't take more than a couple of steps.
5) Each charge of these earbuds can give you a battery life of 2-4 hours. Plus, you've additional charges using the case that should be last for a full day.
Check Cheapest Price : Amazon
---
Portronics POR-078 Harmonics Twins True Wireless Earphones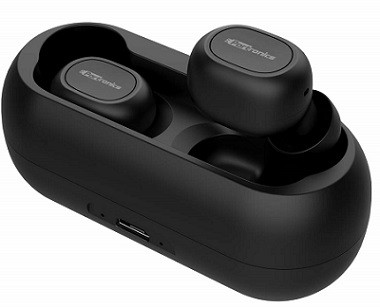 1) Portronics is a renowned brand in the Indian electronics space, particularly in the budget segment. This product also offers incredible value as compared to others.
2) While the earbuds are compact for all kids of use cases, the charging dock is also small enough to fit inside your jeans pocket.
3) You can have a fully charged pair of earbuds within 2 hours. They can last for up to 4 hours on a single charge.
Also Read : Best Earphones Under Rs. 2000 in India
4) Thanks to Bluetooth 5.0 LE, this product from Portronics is made much more energy-efficient. The silicone tips at the end also offer a level of noise isolation.
5) The Harmonics Twins offer great audio quality with support for HD output. All this is done without any wires dangling around.
Check Cheapest Price : Amazon
---
---
Also Read:
10 Best Earphones Under Rs 500
Best Bluetooth Earphones Under 2000