With the introduction of AMD Ryzen CPUs, companies are trying to adopt complete AMD builds as opposed to traditional Intel/Nvidia or Intel/AMD based laptops.
This is where Dell G5 comes in, a complete beast catered towards budget-oriented gamers where your primary focus is gaming and if you're in search of a complete AMD powered build.
This is also one of the first laptops to have AMD's smartshift technology (We'll talk about this in more detail).
With Ryzen's Hexa core Processor and Navi powered GPU, this is a complete package and we'll explore everything about it so that you can decide if this is perfect for you or not.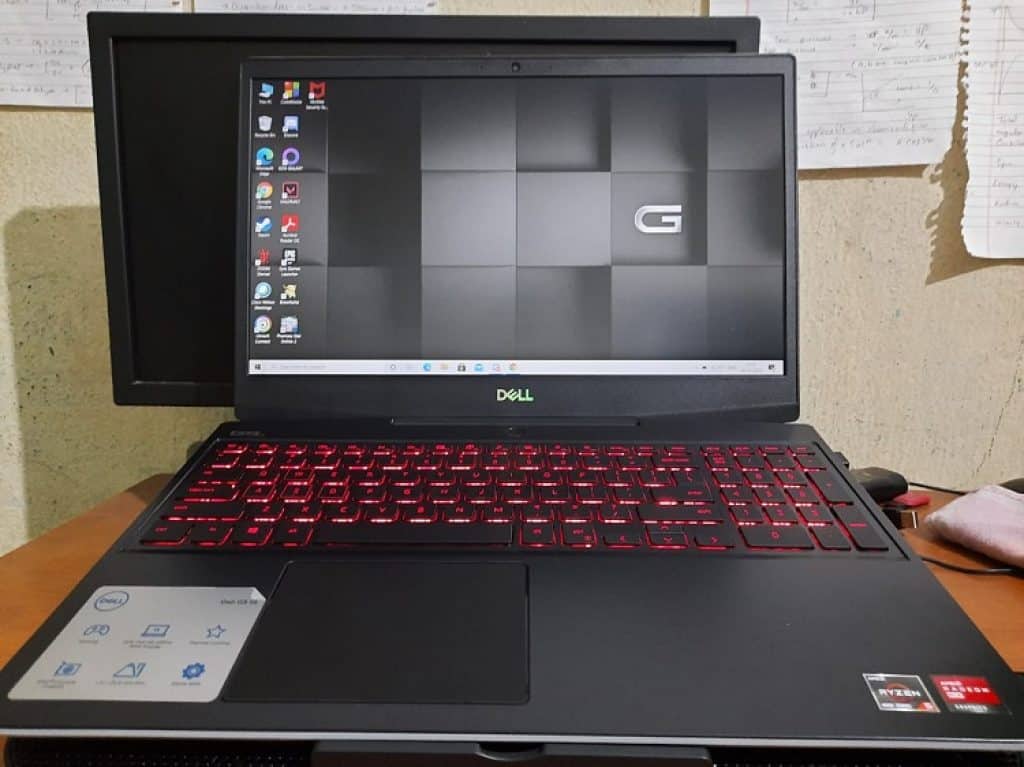 Build : Biggest Downside
Let's first talk about the overall build of this laptop. This might be the biggest downside of this laptop which you need to look out for. In all honesty, from the outside the laptop looks very cheap, the plastic design doesn't help it stand out at all. It is something people might not mind but it can be bothersome for others as well. The design is mostly plastic and doesn't look like your typical gaming laptops. At the top, you have your typical logo and the color choice might make it feel a bit dated. Though don't worry it's durable, the hinge might give you second thoughts because it wobbles a bit but don't worry it is sturdy enough. There is hinge flex but it won't be that noticeable.
When you open it, you'll quickly notice that the interior space looks very clean and it's very striking, unlike its outside design.
You have 2 vents on either side of the laptop and it stays at a reasonable temperature even while doing heavy tasks.
Another disappointing thing about this laptop is its weight. It weighs around 2.5Kg and has a quite thick chassis when compared to other laptops in its price range.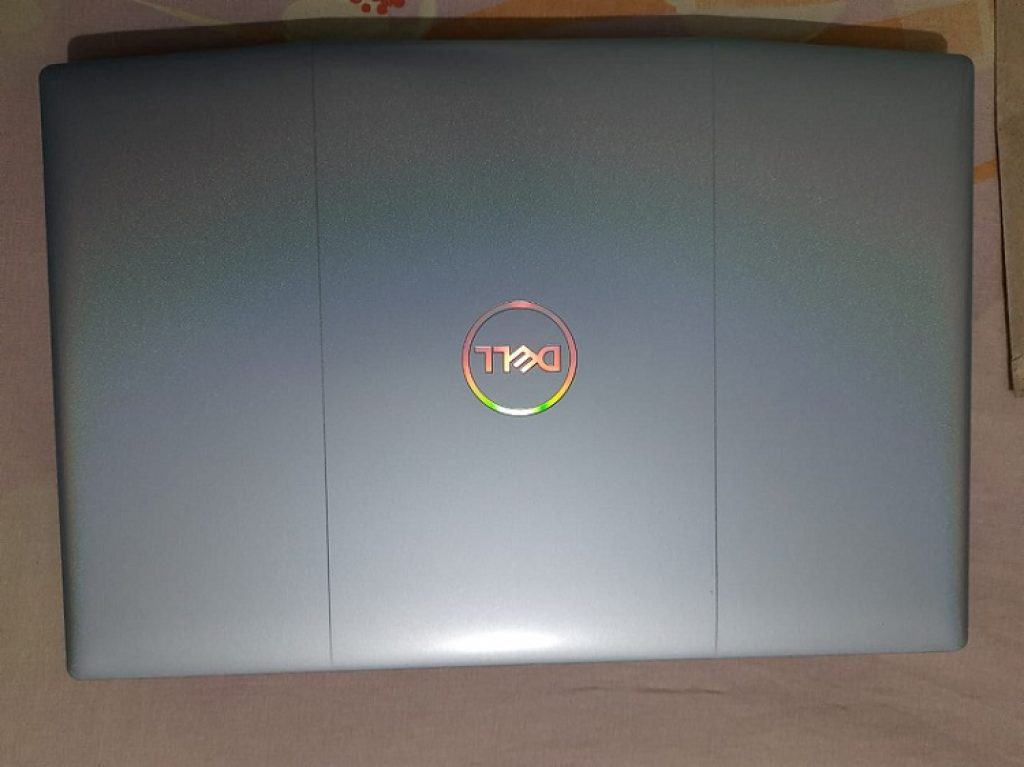 Display : No complaints
There are absolutely no complaints about the overall display of this laptop. You have a 15.6-inch laptop with a 120Hz display which has around 95% sRGB. For its price range, you get a surprisingly colorful screen which you won't find at all if you compare at this price range. The screen is very bright as well, going up to 300nits which is a very welcome addition.
This can also help those who also look for some content creation. The side bezels are quite thin, giving it a more stylish look, although the lower bezel is thick because of the logo.
Having 120Hz also means you can have a much superior gaming experience when it comes to mainstream competitive games where higher they tend to rely on higher refresh rates for a better experience and this laptop can deliver that refresh rate without compromising.
Also Read :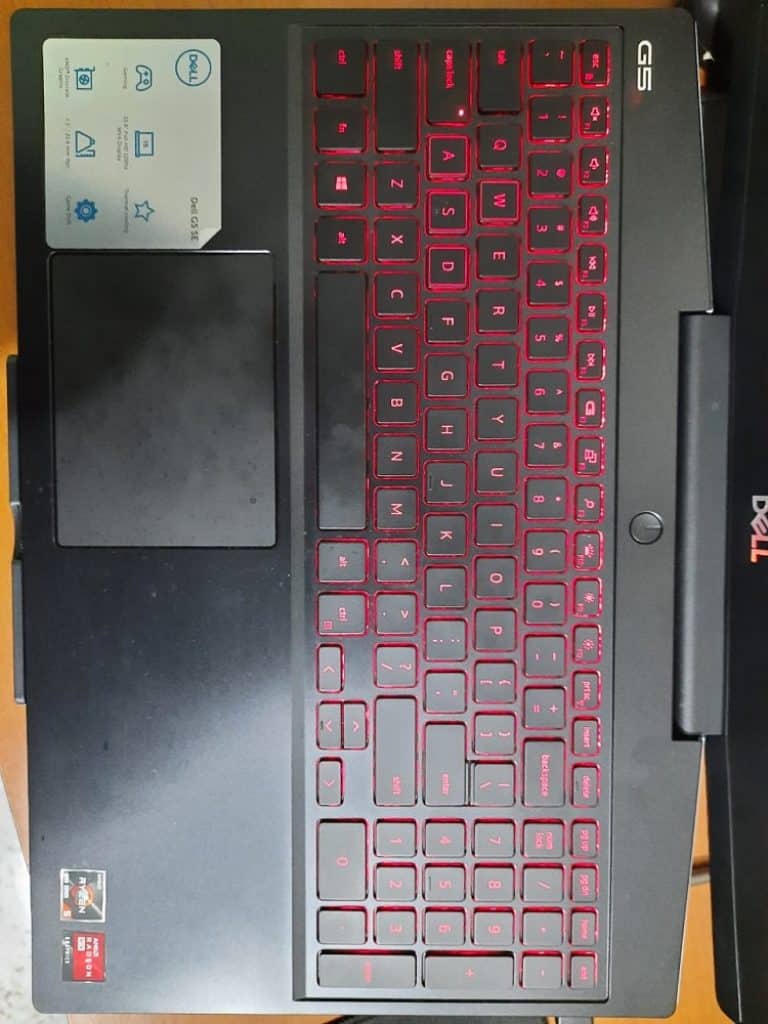 Keyboard : Comfortable
There is little to no difference in keyboard from its last year's iteration. You have your backlit keys with little to no flex on the keyboard press which is very nice. The keys are very comfortable to type and have a nice travel distance. It comes with your usual Numpad keys as well. Although the keys are a bit small and might be an issue for those with large hands. I found myself making some mistakes and it took me some time to get comfortable with them.
The keyboard does have your backlight and it's fairly bright, but there's no option for brightness scaling as you can only turn it off and on, which is a bit disappointing. You have your separately highlighted WASD keys which is always a good addition.
Aside from these, you have your performance booster shortcut which can be accessed. This lets you control the fan speed which is incredible as no one likes to run the fans at 100% all the time. This shortcut is very comfortable and lets you change it according to how you like it.
In all honesty, the keys are very comfortable once you get used to them and it doesn't feel cheap at all. You can also customize it using Dell's Software for the backlight.
Touchpad : Best in this price range
The touchpad is probably one of the best in this price range, it feels very premium and is very smooth to use. Though unlike usual touchpads which have an aspect ratio of 16:9, this one comes with a 4:3 aspect ratio.
But for some reason the touchpad is placed slightly towards the left side, which makes it a bit uncomfortable for placing my palm. This was my biggest issue as I couldn't understand the reason behind this, it made things a bit more complicated for me as I am not accustomed to touchpads being placed like this.
Also Read : Best Gaming Laptops Under Rs 50,000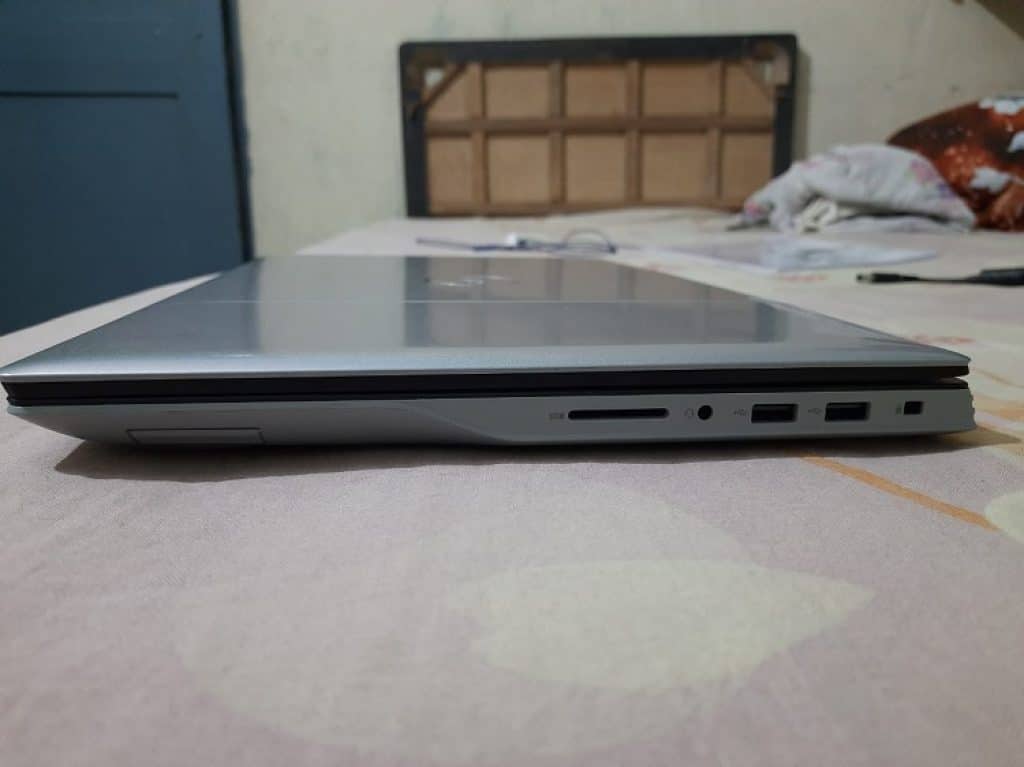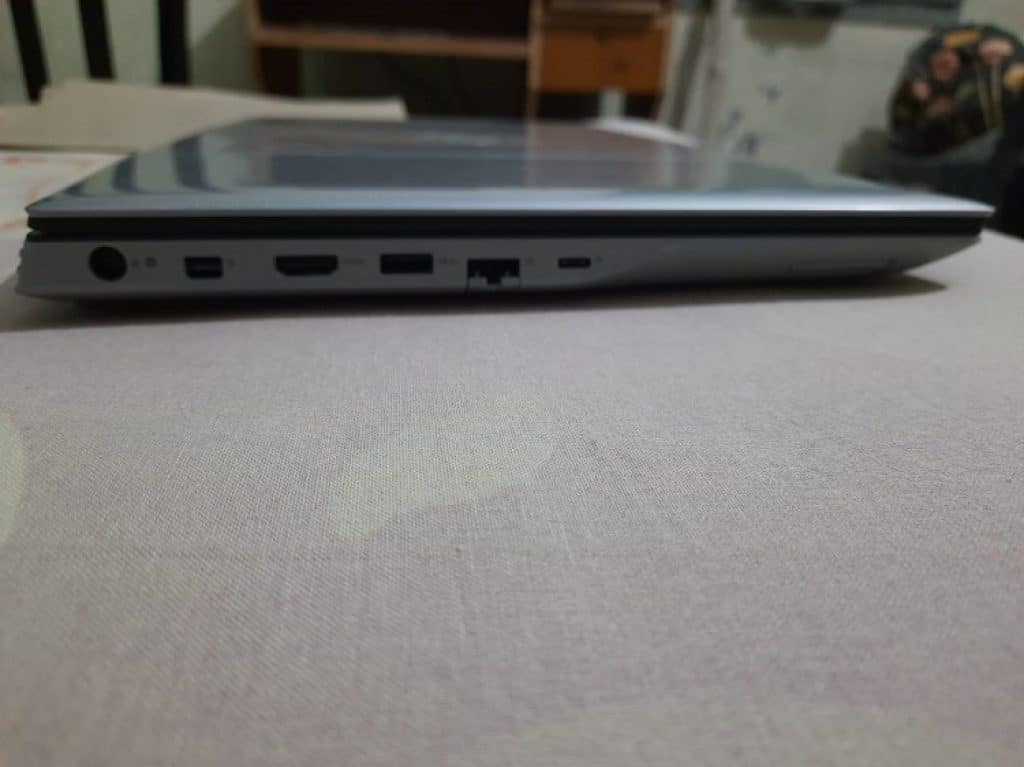 Ports : Has enough
When it comes to ports, this laptop has enough which will be more than enough for most people.
Left side you'll have your power jack, an HDMI 2.0 port, one USB 3.1 port, ethernet, and a USB Type-C port.
And on the right side, you have your lock slot, two USB 2.0 ports, headphone jack, and surprisingly an SD card slot which is pretty rare to find on laptops like these.
Processor : Complete beast
This complete AMD based builds boasts the latest generation Ryzen 5 4600H which is a complete beast. It is powerful enough to handle all your games. It's a Hexa core processor with 12 threads which is more than enough for all your AAA games as of right now.
This processor is quite a power-efficient as well, this will certainly boost your battery life, thanks to Ryzen being more efficient than ever. We'll talk more about the battery later. Getting back on topic, the Ryzen 5 will be more than enough for all your tasks, including content creation if you do that as well.
Also Read : Best All in One Desktops in India
Graphics Card : Best GPU at this price point
RX5600XM is probably the best GPU at this price point. This card can match up with even RTX 2060 for a lot of games which is a big deal considering this laptop is much cheaper than laptops with RTX 2060.
The 6GB VRAM gives a lot more headroom for raw power as some games like DOOM eternal, Red Dead Redemption 2 require a lot more VRAM to utilize their full potential, and it's very nice to see that this GPU was able to perform well for these games as well.
For competitive games, it easily reached its refresh limits and was able to maintain that as well without any hiccups in frame rates.
Even something as demanding as Cyberpunk 2077, ran well over 30fps at everything maxed, keep in mind you can easily get 60fps if you turn down some settings which you should probably do.
Tho this GPU doesn't support some of the latest feature called Ray tracing which is exclusive to Nvidia RTX GPU, though AMD is on its way to implementing their ray tracing and DLSS it will take time and if you ask for my opinion, ray tracing isn't worth it because how performance taxing it is as of right now.
The temperature was under its threshold and I never saw it going over 75C.
Also Read : Best Productivity Laptops Under Rs 50,000 in India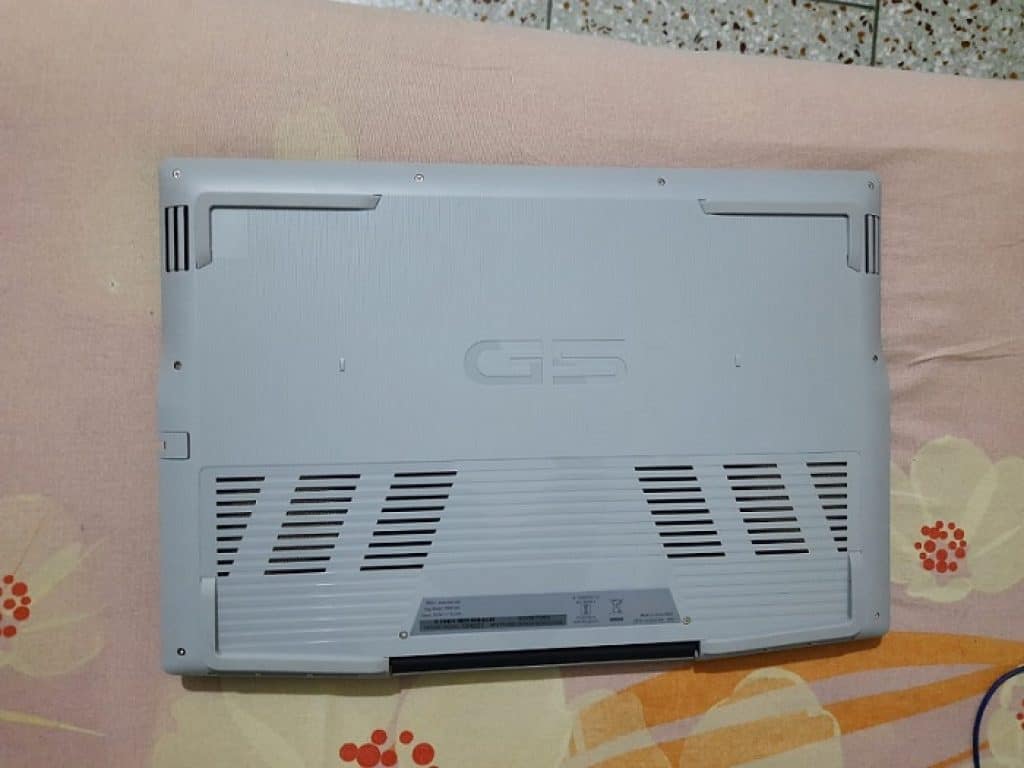 Battery Life : Great battery backup
Again to my surprise, this laptop has a great battery backup and it's all thanks to AMD. AMD is getting more and more power-efficient and this will keep getting beneficial for laptop users, after all, no one likes poor battery life even if it's a gaming laptop.
At around 50% brightness, I was rocking around 7 hours on this laptop which is more than enough in my opinion for my usual tasks and yes, I was surfing through the web as well.
Webcam : Subpar at best
To conclude this simply, the camera is subpar at best, the 720p camera might just work for your simple meetings and all but it is pretty bad which is to be expected. The colors were just OK and the contrast was pretty unbalanced which sometimes made the background look very messy and dull.
If you're someone who streams, this is not something you should rely on.
Also Read : Best Gaming Laptops Under Rs 70000 in India
What is AMD SmartShift?
This is probably the most striking feature of this laptop and I think it's better to explain to those who are unaware of it so it gives them a general idea about what it is. This is one of the first laptops to implement this and I think this might be standard as we move on.
To make it as simple as possible AMD's Smartshift is a hardware boosting interface for the Processor and the GPU with the help of machine learning algorithms and it automatically boosts the performance depending on the type of workload. According to AMD, this can give you up to 14% of extra performance when smartshift is working.
So for example, if you're gaming it will focus more on CPU and will boost your graphics performance whereas for CPU-related work, (let's say rendering) it will give you extra horsepower by focusing more on CPU.
This will give you more headroom for your hardware.
One thing you need to keep in mind. There was this bug where the laptop was using its GPU for an application that didn't need it (for example- steam). This was leading to performance issues and shuttering. But it has been completely fixed with a simple BIOS update which you can either manually install or just use the Dell update app to install it automatically.
Upgrade options
This will be a summary of what you can upgrade, the laptop has two RAM slots which you should take utilization. Dual RAM channel will further increase your performance and I think it should be one of your top priorities when it comes to upgrading options.
Though thankfully, this laptop does utilize its dual-channel and you have 2x 4GB sticks which are very nice to see.
It supports a maximum of 32gigs of RAM but I think 16 will be more than fine for all of your AAA games.
Aside from these, you have an extra slot for M.2 storage which you might need in the future as games are taking more and more space. You have 512GB as your primary storage but this won't be enough for you.
Conclusion : Excellent with few shortcomings
To end this I'd say this is an excellent laptop but there are few shortcomings which you need to be aware of, and the build quality does weigh it down a lot.
But if you're searching for raw performance, this laptop is a complete beast and will not disappoint you in any way whatsoever.
I'd say, purchasing this laptop on sale would be the best deal as it goes around the low 70k price point and in terms of performance, no other laptop can compare with this at that price.
I hope this helped you in deciding if this laptop is for you or not. Let us know what you think of it.
---
Also Read :
12 Best Ryzen 7 Laptops In India