After all the ranting and raving I have done about the Zephyrus G14 in the articles I decided to buy it to see how good it was. I bought the laptop before two weeks and have replaced the first unit with a second one as my first unit had some problems (at least I thought).
I'll show you in this review if the laptop is worth buying over other laptops and the things you got to consider before you buy the G14.
Why Did I Consider Buying Zephyrus G14?
Main advantage of the G14 seemed to be the Ryzen 4000 series of processors it came with as even the entry level 4000 series processors beat the higher priced intel offerings and the form factor it came in. There were no 14-inch gaming laptops released till then except for the smaller Razer Blade Stealth which was very expensive and kind of doesn't make any sense in India.
This made me excited for the G14 to be released in India. The launch was pretty rough, and the early units were plagued with lot of issues which was very off putting for someone who was interested to buy the laptop. But hopes were high because of the positive reviews.
As everyone in the laptop space were buzzing around this new AMD powered laptop I decided to buy one just to see how good is actually the laptop amidst all the hype/excitement around the great specs HP offered with their revamped OMEN 2020.
So, what's good and what's actually bad from an actual retail unit that I bought to use myself for regular use.
Let me present you with them.
Also Read :
The things I consider the most important in a laptop are (Not in any order)
Screen
Keyboard and track pad
Speakers
Battery life
Performance with acceptable thermals
The best thing about the Zephyrus G14 is that all the variants ranging from base model to the most extreme model come with the same build quality and other features except for the processor and GPU. This is in stark contrast to other laptops that reserve better build quality, display and battery life for the more expensive models.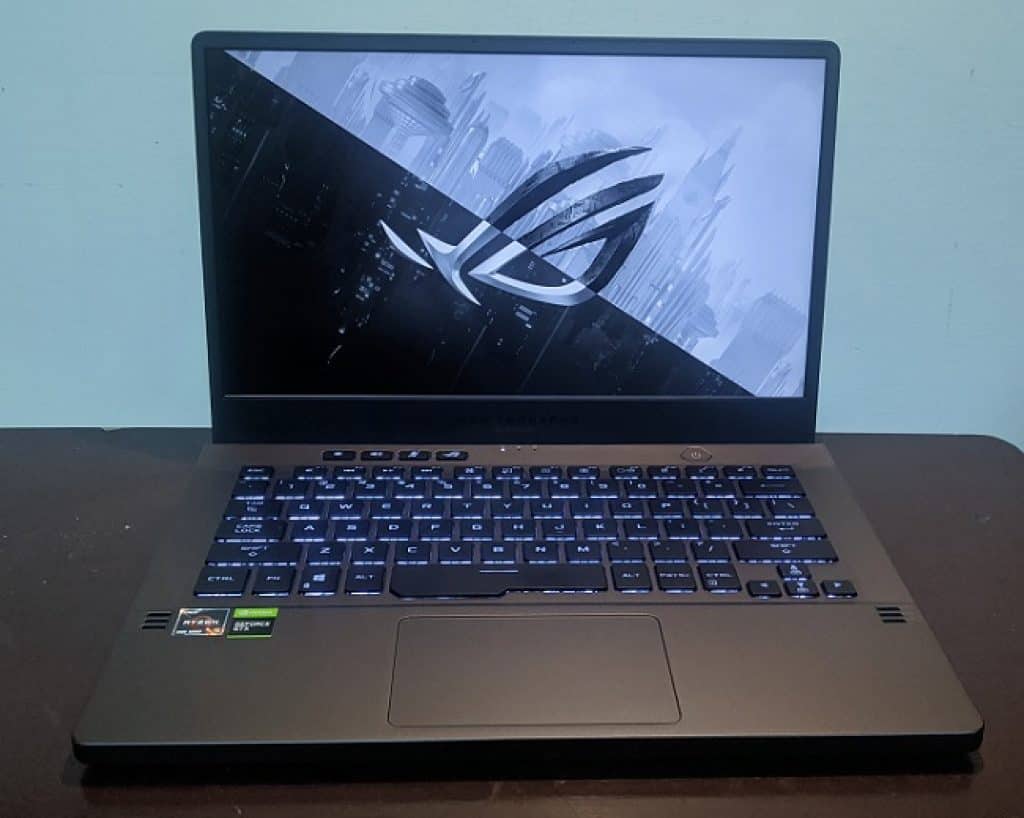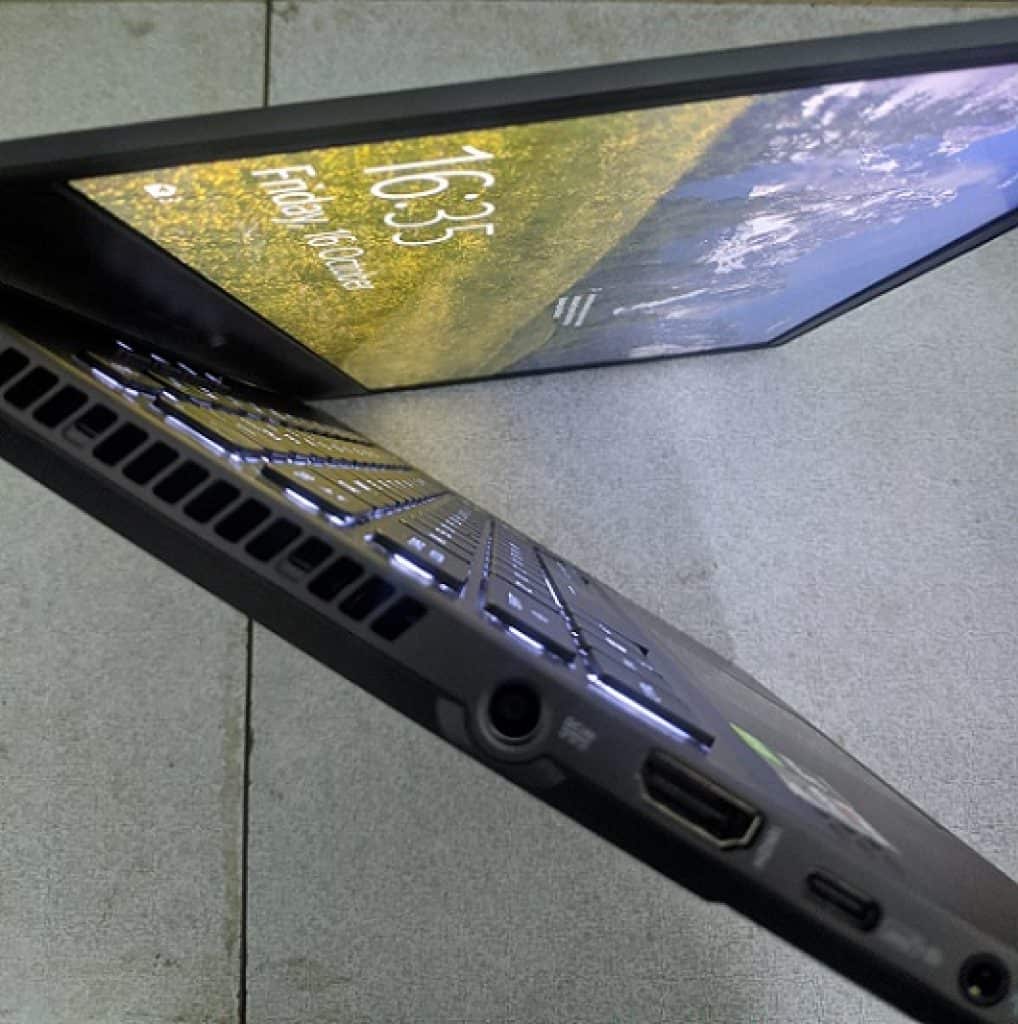 Design And Build
Design is very subjective and varies according to different users' taste.
I have the Eclipse Grey color as Asus describes it. So, I cannot comment on the white colored one. The grey is kind of matte both on the deck and lid of the laptop. The main reason I didn't like the white colored one was the mix and matched colors it came with which did not go well with the aesthetics of the laptop otherwise.
G14 looks slick especially in this color. It's a stealthy look that not everyone likes. For someone who wants that flash in life you might want to look for the white colored one. Speaking of flash, the laptop also comes with a anime matrix lid in certain variants.
The anime matrix lid comes with half of the panel (Diagonally) filled with small LED's that light up to provide some cool customization. My unit doesn't have the anime matrix as personally I didn't need it.
I would not necessarily describe the design as "gamery" but there are some noticeable accents with the angular exhaust grills.
I consider razer blade stealth to be the closest competitor. The stealth is a better-looking design to be honest but the grey G14 ain't that far.
The construction of the laptop is a magnesium alloy which is technically metal but doesn't feel like one completely.
Top lid has some flex to it when pressed in and feels kind of like plastic, but the keyboard deck and bottom cover feel like solid metal.
There is slight screen flex and noticeable amount of screen wobble when positioning the hinge.
Speaking of the hinge the hinge rises the laptop ever so slightly which in turn provides more breathing surface for the fans, slight gap for the speaker to bounce sound and a better typing angle. Asus calls it the ErgoLift Hinge and serves quite a purpose.
Most important thing about the build of the laptop is that it is light in weight despite the metal build and it is very thin for a gaming laptop.
My variant clocks in at 1.6kgs which is very light when compared to acer predators of the world that weigh like a brick.
Portability is a big plus due to the light weight and the thin body which makes it a breeze to hold and use.
Also Read : 12 Best Ryzen 7 Laptops In India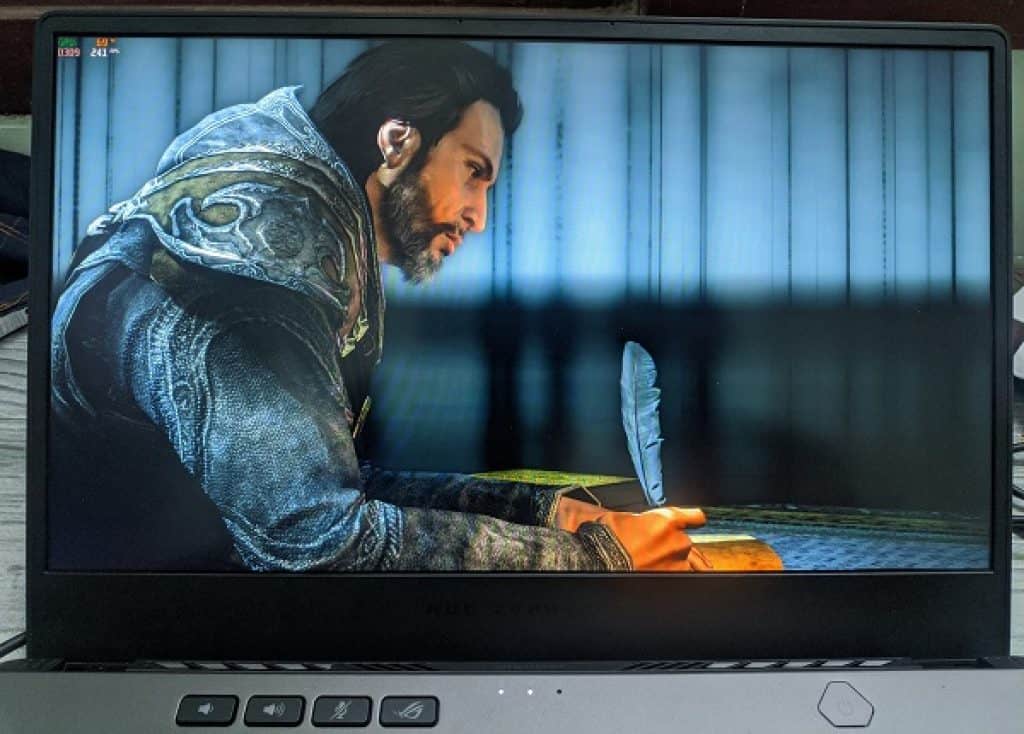 Display
On the first impression screen has pretty slim bezels all around not as impressive as their zenbook series but commendable the bottom bezel is quite thick with the ROG branding in it which also serves a purpose that I will get into.
Quality of the panel by itself is good. Refresh rate of the screen is 120hz and the resolution is 1080p.There is also a 1440p 60hz panel in the higher end variants which is not recommended as 1080p is sharp enough at 14 inches.
The panel used in the laptop covers 100% of sRGB space and around 70% of adobe RGB coverage. This makes the G14 a very good choice for the content creators on the go.
For gamers though the panel is not ideal as it has very poor response times for a 120hz panel. There is ghosting in fast paced games which is not prevalent to all eyes but if you are coming from a faster screen this is something that you will notice.
Brightness is also good but not great around 300nits which is passible for occasional outdoor which is helped by the matte coating on the screen but for indoor use it should not pose you any problem.
Speaking of screen and bezels G14 doesn't come with a webcam. It's not a big deal for a lot of people but for college students like me who are attending classes online from home it is quite a big deal.
You can always get around it by buying an external webcam or using the phone but provided the G14 is a premium laptop I wish Asus had included at least a crappy webcam in the box.
The webcam might be a deal breaker for some, but it is also to be said that there is some privacy without having to worry about covering the camera and there are two microphones located the top bezel and it comes with a dedicated mic mute switch.
Also Read : Best Ryzen 5 Laptops in India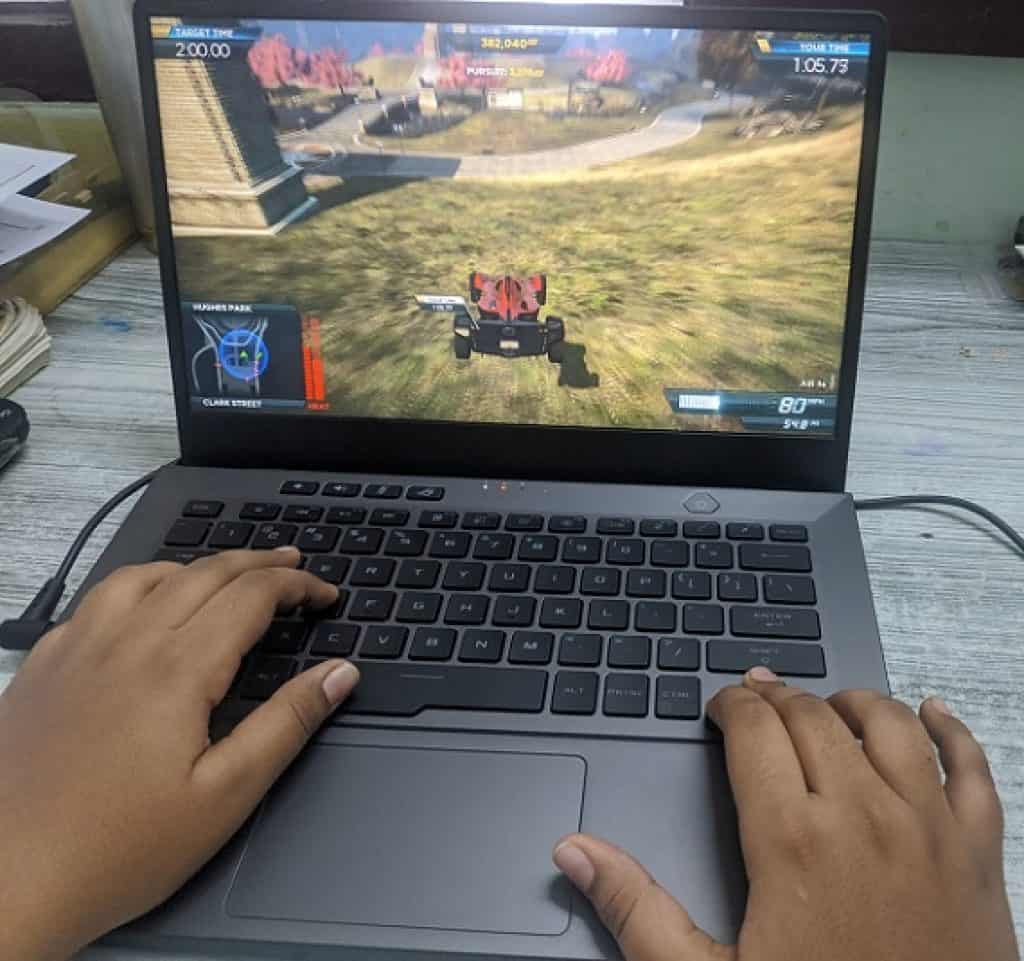 Keyboard And Trackpad
Keyboard and trackpad are one of the most important things to me in a laptop as they are the input devices that you use to communicate with the device.
Yeah you can buy an external mouse and a mechanical keyboard to get the best experience but that defeats the whole purpose of buying a laptop and I consider it a burden to carry external accessories all along the way.
Fortunately, keyboard and trackpad one of the strong points of the laptop.
Keyboard has pretty good amount of travel at 1.7mm which is not that much if you are coming form an external keyboard but is on the higher side for a laptop.
Feel of the keyboard is where it succeeds as there is a short tactile bump when you press the keys, and it fades away with a soft travel till the end. It was weird for me type with the keyboard coming from an external keyboard and as I type with all my fingers there was a little bit of adjusting, I had to do with the new layout. but now all of it is fine.
My average speed is around 76wpm in my regular keyboard and I easily hit or even exceed my 76wpm with the G14.
All things considered if you type with only two fingers then the keyboard should not pose you any problem or even any keyboard for that matter.
Trackpad is also great as it uses a glass surface and is very smooth to the touch and feels very accurate to use but the size is on the smaller side and I wish the trackpad could have been a that bit larger.
I noticed that the bottom of the trackpad is slightly depressed compared to the top both the units had it. So, I guess it's not a problem but a design choice that Asus has gone with.
Backlighting of the keyboard is just mediocre as the laptop used LED's on the edge of the keys to light them up instead of placing them near the center unlike all other laptops.
I have the black unit and it is even worse in the white units. The backlight by itself is pretty good but the light bleeds over the keys and does not look pleasant at all and you can see the LED's used to light up the keys at an angle which is not a good thing and dust can get in easily in those gaps.
Power button comes integrated with a fingerprint sensor that is pretty good and works around 80% of the time
TLDR, the keyboard and trackpad are very good or even excellent for a gaming laptop.
Also Read : All in One Desktops in India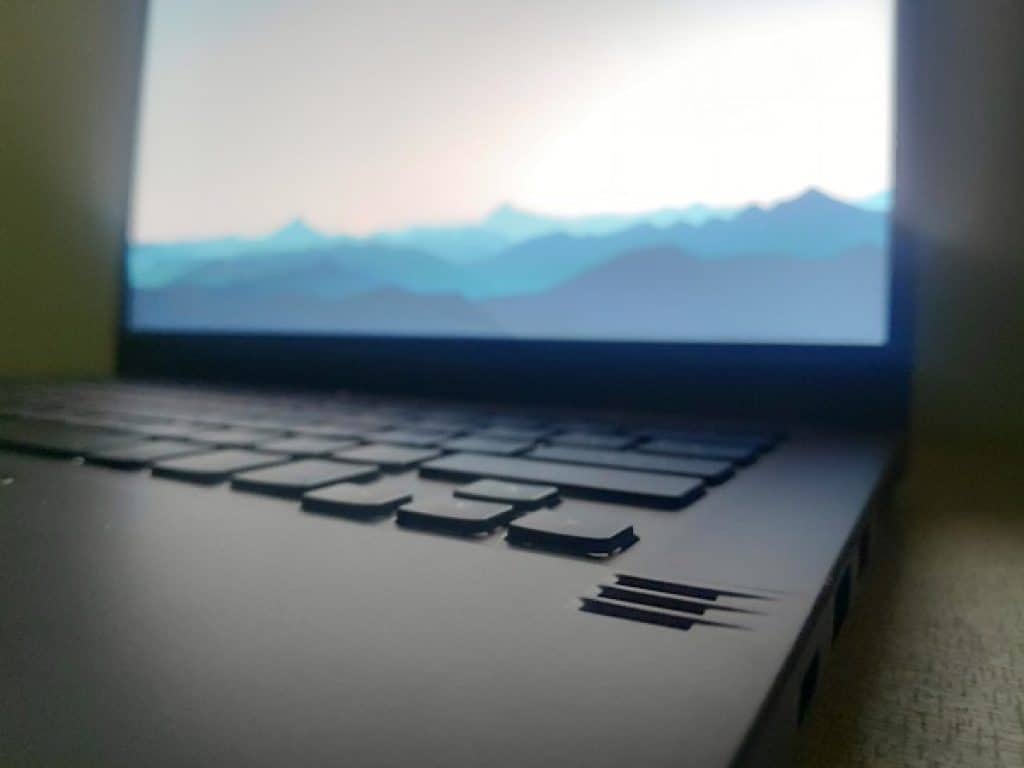 Speakers
Let me get you the specifications of the speakers first. It come with 2×2.5w speakers that fire down and 2×0.7 tweeters that fire towards the top.
Honestly this is one of the best speakers around on any windows laptop. Quality of the speakers might seem a bit average out of the box but once you enable the sound optimisations in the Dolby access app then the speakers turn awesome.
Speakers have decent amount of bass and get plenty loud and clarity and doesn't distort at any volume level. I'm no audiophile but the speakers are seriously good.
For a bit of context (Nothing very technological), I've used the Acer Predator Helios 300 extensively and the speakers in those sound worse and have less volume even when you compare them to your phone but in the G14 I was able to hear dialogues in videos around 40% volume which I could not hear even at 100% volume in phone speakers.
In the second unit of G14 there's occasional speaker popping I notice but it was not a problem with my first unit. I don't really know if that's any problem, but it seems to be an issue that could be solved by some software tweaks that you could find by a quick google search.
These speakers will satisfy even during gaming sessions without any headphones.
Also Read : Best Gaming Laptops Under Rs 50,000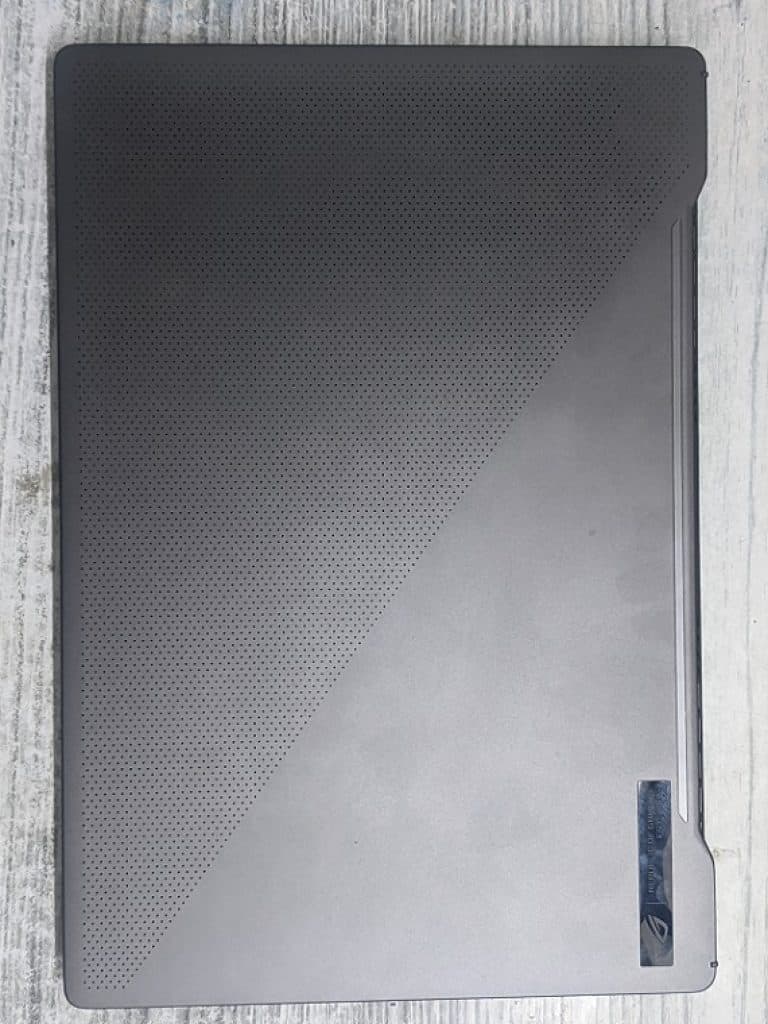 Battery Life
Getting the specifications out of the way the G14 has a 76wh battery which is huge for a laptop of this size and as the specifications promise the laptop delivers.
But don't expect some 12 or 13 hours of battery life like a Ultrabook under normal use but the laptop should provide you around 7-8 hours of normal use which is much better than the 3 to 4 hours that gaming laptops provide.
You might have read about the 10 hours of battery life on the G14 but it is just under unrealistic use cases like just staring at the screen for all day under realistic use cases the maximum battery life will be around 7-8 hours but for a very light user it might even last more.
There are different battery limit settings in the MyAsus app that comes in with the laptop and you can limit the amount the laptop charges to preserve battery health.
Charging is also quick and quick top ups can easily provide you around extra 30-40% juice but the full charge takes around 2 hours.
Wrist rest area during charging/gaming when plugged in gets very warm no uncomfortable or so but a is a thing to be mentioned.
Also Read : Best All in One Desktops in India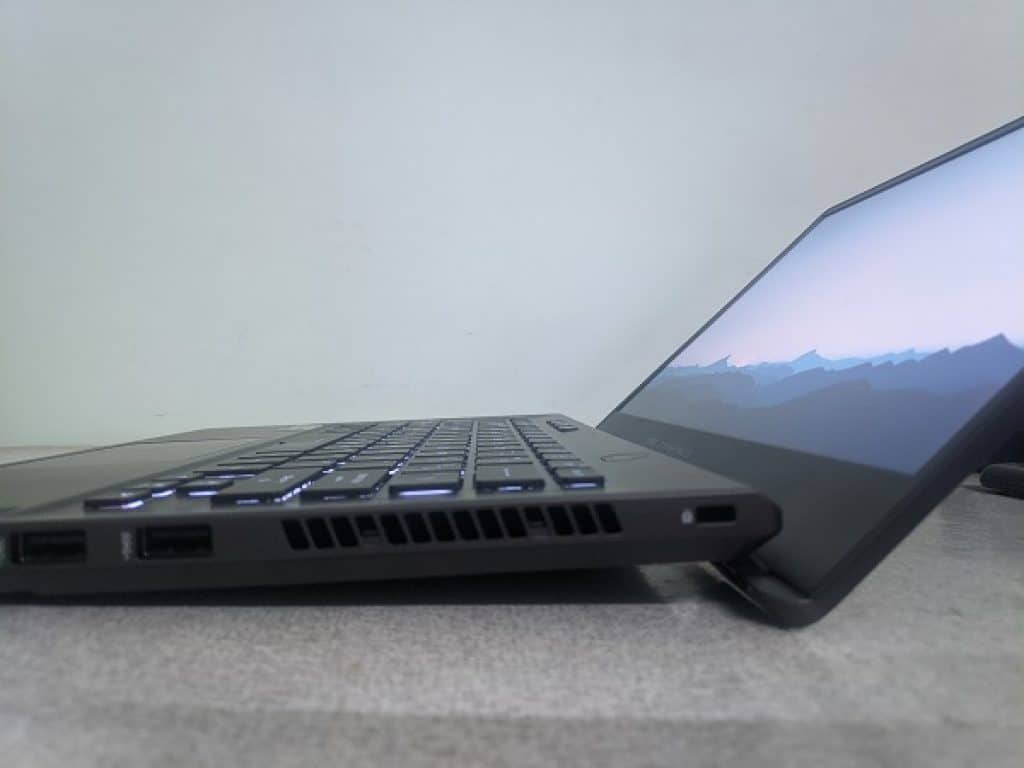 Thermals And Performance
Thermal management in the G14 is interesting to say the least. There are two fans on the either side of the laptop combined with a lot of heat pipes should result in excellent thermals in theory.
But it is not 100% true. There is a thing called turbo boosts with AMD laptop where the processor ramps up to highest clock speeds for undesired amount of time. This causes extreme amount of heat to be produced and the processor gets even to its maximum temperature threshold of 105c.
Thing is this problem can be solved in a couple of minutes by disabling the turbo boost in registry editor which I recommend you do and there are lot of tutorials over reddit and YouTube on how to do it. I strongly recommend you checking them out.
My G14 is the base variant spec that comes with Ryzen 5 4600h and GTX 1650 and 8 gigs of single channel RAM which I purchased for 87k.
Performance is as expected and performs like a 1650 which is pretty good. I have disabled the turbo boost and the CPU temps while gaming mostly revolve around the 65c mark and the GPU hover around 65c-70c which is okay not great and the for fact this is the base model and the higher end GPU's like GTX 1660ti might push even higher temperatures.
Frame rates are pretty good and there are not any weird frame hiccups 1650 is just a midrange GPU and will run a lot of older AAA games at over 60fps but might struggle to hit the 60fps mark in the newer titles at high settings.
Even under extended gaming sessions the 1650 averages around 67c and the CPU doesn't cross 65c.
Thought the temps are not concerning and is manageable the heat coming through the keyboard is significantly higher as the deck is metal and metal conducts more heat which in turn leads to very hot surface temps. The heat that you feel through the keyboard is significantly higher than that I felt through the metal deck of Acer Predator Helios 300 which is pretty good comparison just for the context. It could be uncomfortable for a lot of people as the heat is especially prevalent in the W-A-S-D keys area.
The overall thermals are fine, and it is as expected for the small 14-inch form factor.
Also Read : Best Productivity Laptops Under Rs 50,000 in India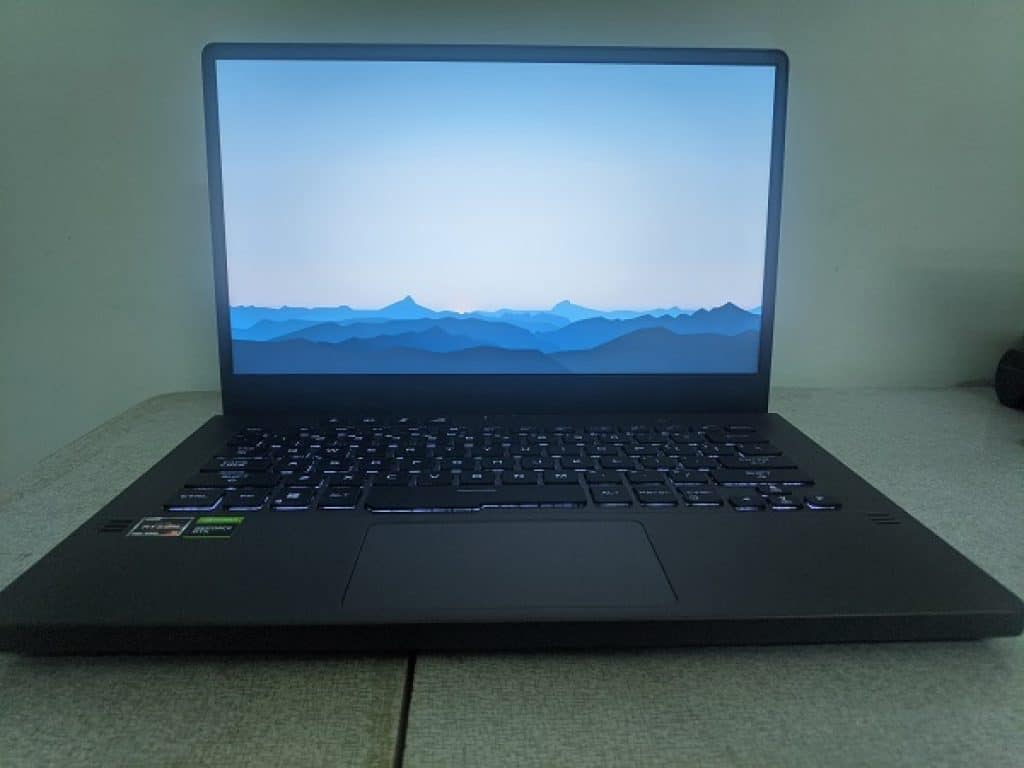 Miscellaneous Stuff
Here are the things that you normally might not notice but is something to be mentioned.
G14 has the thicker bottom bezel for a reason. There is a thing called ergo lift hinge which props up the laptop for better cooling and typing experience and this makes the hot air from the vents blow directly towards the screen which is not any good.
So, what Asus has done is it increased the thickness of the bottom bezel and placed the screen a couple of inches more so that the screen does not get affected by the hot air.
There are two USB type c ports, and you can use the one in the left to charge the laptop at 65W which should be enough to juice up laptop but is not enough for gaming and stuff. G14 doesn't come with an ethernet port but comes with Wi-Fi 6 support.
Make sure that you join the Zephyrus G14 subreddit. Even if you don't have reddit I recommend you to join the sub as there are lot of G14 owners who constantly provide help and support to people looking to solve their problems or queries.
Additionally there is a 14-inch laptop sleeve for carrying the laptop that comes bundled with the box and the quality of the sleeve is just mediocre.
As far as the warranty and after sales support goes there are not any major complaints on Asus as far as I have seen on forums and internet and I personally don't have any experience. If I do have any sour experience, I will make sure that I update about it here.
Also Read : Best Gaming Laptops Under Rs 70000 in India
Should You Buy The Laptop?
This question cannot be simply answered with yes or no. The answer is "it depends" like most of the things.
If you matter portability, pretty good screen, decent build, nice design ,good speakers and care about the small things like keyboard and trackpad and an occasional gamer who just games couple of hours a day then this laptop will suit you perfectly.
But, if you are a hardcore gamer who doesn't care about portability or the before mentioned features like good speakers because you already have headphones and the performance and thermals are the main priority for you then there are better options that will suit your need.
You need to prioritize as I mentioned above because 87k for a GTX 1650 is just very expensive as you could even buy the same specs for a lot less price even for around 60k like the Asus TUF A15. But if you look beyond specs and care about other aspects like form factor design and stuff then this laptop will be a perfect choice for you.
Feel free to leave any comments below or contact me if you have any further queries.
Also Read :
---
Written By - Nirunjan Kumar 
Infinite monkey theorem.
I love how things work.
Tryna make things work!
Instagram