Frankly, the best way to select the right speaker before buying is hearing its voice. But this is not always possible, especially when you can buy online, from the comfort of your home.
This is where those incomprehensible specifications on catalogue pages come in handy. One look at them and voila! You instantly know if the speakers are 'The Ones' for you.
This is especially true for larger speaker sets such as 4.1 audio systems. If you're wondering what 4.1 speakers are, well, these comprise of 4 satellite speakers accompanying a subwoofer.
Sadly, most of us are illiterates when it comes to understanding these wretched numbers and making sense of them, myself included. Hence, after a careful research of several resources and online guides, I was able to come up with a ready reckoner for referencing and buying the best speakers, online or otherwise.
You can thank me later!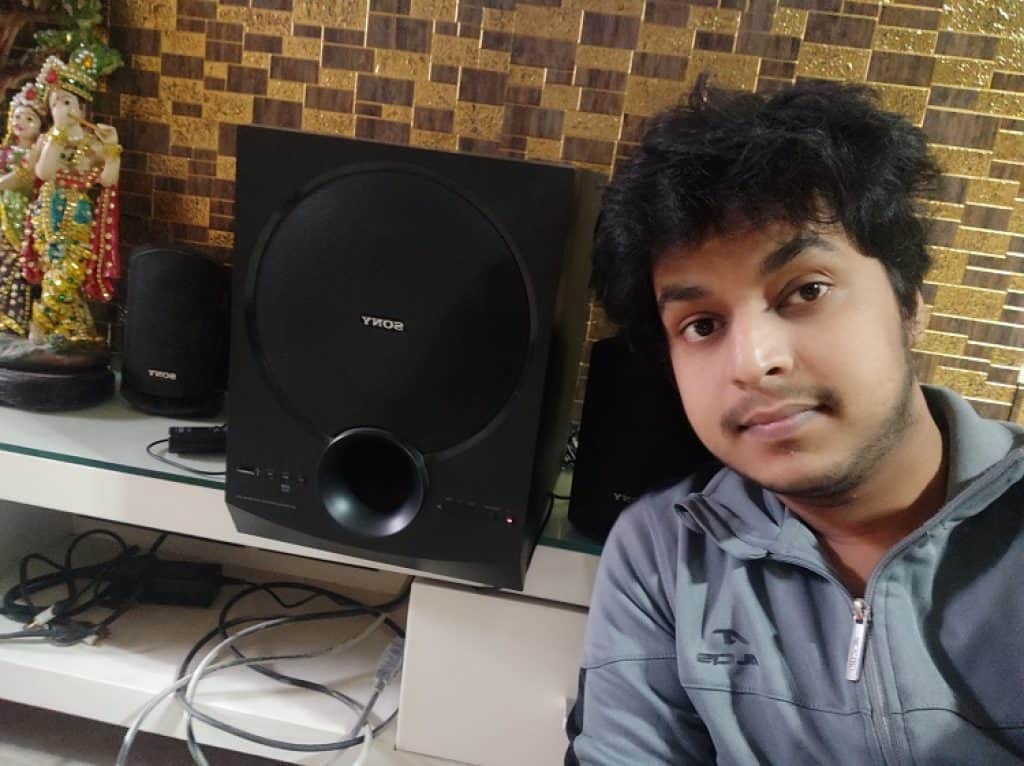 This is my Sony 4.1 channel speaker , I bought a few years back. I will recommend you to go with a bluetooth version , otherwise your too dependent on AUX. Also as most of it is operated by remote only , make sure that you don't loose the remote. Bluetooth version is fine though , as you can control volume through smartphone.
It sounds great , I have enjoyed a lot of songs and beats on this. That's why I have put this awesome speaker from Sony as number one in the list below.
Also Check Out Our:
---
Speaker Sensitivity
Perhaps the often ignored, yet most significant speaker specification is Sensitivity. Measured in decibels (dB), sensitivity is indicative of how loud is a speaker, in a room or non-echo environment. The higher the decibels, the more is the sensitivity and the louder your speakers will be.
Your average speakers have a sensitivity of around 88 dB while high end speakers cross 90dB.
Speaker Impedance
Impedance is another important specification that you should make a note of.
Simply put, impedance is resistance. It is the electric current passing through the speaker that gets converted into sound. Higher impedance or resistance results in less current flow and lower resistance allows higher current flow.
Having said that, a good speaker will have the right balance of impedance; neither low nor high. In case of low impedance, your amplifier will face higher load, resulting in shorter life of equipment. And higher impedance will result in lower volumes. Optimum and recommended impedance for a speaker should be around 6 to 8 ohms.
Response to Frequency
Frequency spec lets you know how high or low your speakers can play. This range is measured in Hertz (Hz). Typically, the human ear can pick up sounds between 20Hz and 20kHz but bass frequencies lying below 30Hz are felt and heard better, which is why any speaker reaching 50Hz or lower is good and can be played without the accompanying subwoofers.
When looking at frequency, ensure that your speaker has a "+/-" response, otherwise you don't get the true picture of your device.
Signal to Noise Ratio
Audio signals sent to speakers get converted into sound via internal movement of drivers. But the sound produced is not purely audio signals and has a certain level of noise mixed into it, usually added by internal device components.
The Signal to Noise Ratio or SNR describes how much noise is produced as an output in relation to the level of audio signal input. This is also expressed in dB. The higher the SNR, the better sound your speaker will produce.
Power handling capacity of speakers
The power handling capacity is the potential of your speaker to bear power without getting damaged. If the speaker undertakes more power than the prescribed limit, there are chances of damage or short-circuit.
Speakers usually have two power ratings, RMS and Peak. RMS rating is the continuous power that can be supplied to the speaker without damaging it while the Peak rating is the maximum power the speaker can bear in a single instance. When analyzing different speakers, ensure that the device has higher RMS ratings for better comparison.
Size of the speakers
While this spec may vary based on brand and other specs, it's believed that heavier and bigger speakers sound better as compared to their lighter counterparts.
Speaker cabinets
No matter how great the other specs are, bad cabinet material can significantly impact your listening experience. Cabinet quality matters significantly when you assess different brands. Speaker cabinets built with dense materials such as wood; especially if you want deep bass.
Now that you know what different qualities make a speaker great, it's time for the top 10 best 4.1 channel speakers available in India.
---
Choose your pick!
Best 4.1 Channel Speakers in India
1. Sony SA-D100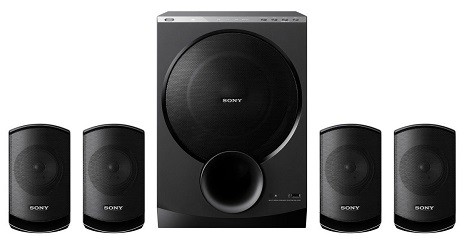 Sony is a household brand. Forget the music lovers, even kids know and love Sony's superb audio products. No wonder Sony 4.1 speaker with Bluetooth tops our charts.
These multimedia speakers come in a set of 4 satellite speakers with a Subwoofer to create an awesome immersive audio zone in your space. Delivered at 100W, all the highs, lows, bass and trebles are audible with the system's superb speakers; to nurture your musical tastes.
Also Read : Best Budget Wireless Soundbars in India
You can connect and sync your speakers with your laptop, MP3 player, home theatre, tablet, smartphone and TV.
The speakers also have a Smartphone Remote Control feature which lets you scroll through your customized playlists and handle system functions at the same time. The exterior of the speakers is elegant, with matte black and smooth look. The whole system is light, compact and convenient to store and carry.
Pros
Bluetooth as well as smartphone control
USB (Charge only), Audio-in (Stereo Mini Jack) and RCA connectivity
One year warranty from the manufacturer
Cons
The speakers do not have surround sound feature.
Check Cheapest Price : Amazon
---
2 Philips SPA8180B
Another well-loved and popular brand, Philips has taken the second place on our Top 10 list. With a powerful surround sound, this 4.1 surround sound system offers an immersive sound experience. The speakers can connect via Bluetooth and have an 80W sound output.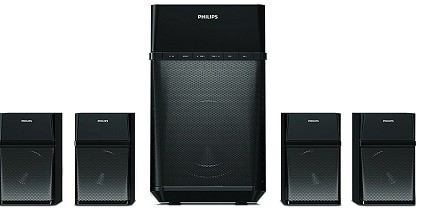 The speaker system offers connectivity with your Laptop, Mac and TV and is perfect for movies, games, songs and online video streaming. With a wood finish, the speakers look as great as they sound!
Pros
FM tuner for connecting with radio
Elegant wood finish
SD card slot and USB support apart from Bluetooth connectivity
Cons
Some customers feel that the main remote should have been provided with a separate feature to handle the subwoofers.
Check Cheapest Price : Amazon
---
3. Sony SA-D10
A top 10 list without featuring Sony's music systems multiple times? How can you even think such a thing is possible? The SA-D10 speaker system, with its top quality audio beats, surround sound and flawless connectivity offers premium sound at an affordable price.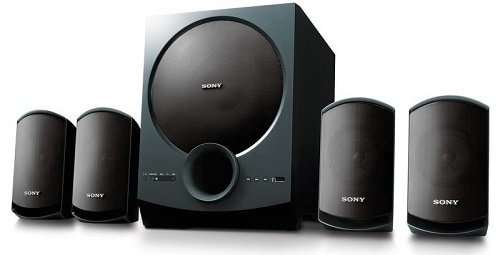 The 4.1 channel configuration offers balanced sound value emerging from all rooms in the house. The frequency response of the system is from 40Hz to 20Hz and has 12 ohm impedance.
The overall power output is 70W RMS. With improved sound technology, the satellite speakers and subwoofers deliver detailed, sharp sounds. Moreover, the wooded chassis of the subwoofer facilitates thumping bass and richer sound.
Also Read : Best Bluetooth Speakers Under Rs 1000
You can balance and set the audio to your linking with digital amplifier which offers an overall smooth audio delivery. The glossy finish of the speakers will jazz up the surroundings immediately while durability is ensured with the sturdy body.
Pros
Efficient remote control
Easy compatibility and connectivity with USB devices, laptops, smartphones, tablets
Easy touch control for seamless playback
In-built mic for answering calls mid playback
VACS technology allows noise reduction for undistorted and pure sound
Cons
No Bluetooth is available in this model. The high end version of this, which we featured at the beginning of the list, has Bluetooth with similar features.
Check Cheapest Price : Amazon
---
4. Panasonic SC-HT40GW-K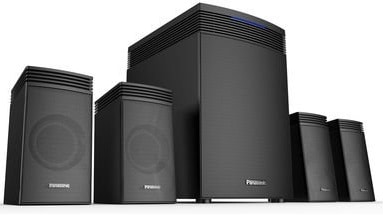 Panasonic offers a wide range of home appliances, consumer electronics and television sets. They are a trusted brand. The SC-HT40GW-K home audio offers pure sound with powerful beats.
Also Read : Best Party Speakers With Good Bass & Sound
The best part about these 4.1 speakers is their ergonomic design. The speakers are so built that they can be mounted on walls compactly. With easy connectivity through Bluetooth, you can have music flowing from all corners of the house.
Pros
Handcrafted wooden speaker cabinets for rich bass thump
Large size magnets for powerful sound pressure
USB and AUX connectivity available
Touch control on top of woofer
One year warranty from the manufacturer
Cons
Some users report that the speakers work better with small rooms and are not fit for heavy usage.
Also, some users report that the Bluetooth range is quite less.
Check Cheapest Price : Amazon
---
5. Havit 4.1 Home Audio
Havit is a relatively new brand in the Indian market, but it has created a name for itself with its premium portable wireless Bluetooth speaker range.

The HV-SF5410U speakers are perfect for your house parties and movie marathons. The audio system has 4 satellite speakers and one subwoofer. The power output is 22W for subwoofer and 10W for satellite speakers. The audio system has an impedance of 4 ohms with a frequency response of 40 to 20Hz. A memory slot is included for reading additional devices.
Pros
FM radio tuner included
Compatible with smartphones, laptops, tablets etc.
Cons
Some users feel that the output becomes poor when the audio is played with Bluetooth connectivity.
Check Cheapest Price : Amazon
---
6. Intex IT-Rider
In only about 2 decades, Intex has established itself as popular and preferred Indian brand for affordable electrical appliances. With a wide range of speakers, earphones, smartphones and IT accessories, Intex is India's second largest mobile selling company in India.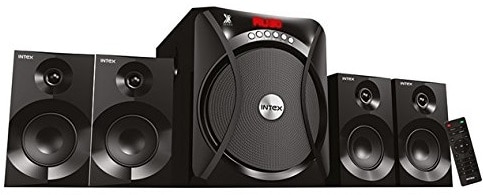 The IT-Rider multimedia speakers offer excellent sound quality with several features available in high-end speakers from other brands. There are 4 satellite speakers with one subwoofer.
Also Read : Best Home Theater System With Bass in India
The system has a built-in radio with exceptional FM channel reception. The speakers have USB connectivity and also have an SD card slot. The USB ports offer plug and play through USB devices. The woofer is made of wood and has a good, thumping bass. The sound output varies between 100 to 300W.
---
A surprise is the Bluetooth feature, although there is no mention of it on the packaging or Amazon or Seller website. This is an added, secret bonanza to this Intex 4.1 home theatre. The speaker design is ergonomic and looks good.
Pros
Sturdy built
Bluetooth feature added bonus
Easy to connect and install with all features including Aux, RCA, SD, USB and Bluetooth
Cons
The speakers do not have analog controls and you can only use button or remote control
While woofer quality is good, the satellite speaker quality is not that great.
The speakers are prone to attract dirt and dust
There is no provision to mount the speakers on the wall.
Check Cheapest Price : Amazon
---
7. Zebronics Fantasy
Zebronics is another domestic electronics and peripherals company which has amassed a large number of buyers since it was established in 1997.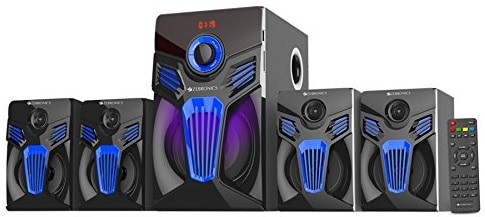 The company offers a wide range of speakers, IT peripherals, AR/VR products, mobile accessories and multimedia sound systems. The Fantasy-BT-RUCF 4.1 home theatre system with Bluetooth offers an immersive sound experience.
The speakers have a glossy finish with LED display and have a 39W sound output for enriching music experience.
Also Read : Best Bluetooth Speakers Under Rs 2000
Apart from the satellite speakers, there is also a subwoofer, powered by full range driver for powerful bass performance. The speakers have a loud music, clean notes and minimal harmonic distortion.
Pros
Glossy finish for a chic and suave look
USB, SD Card and Bluetooth connectivity
Support for WMA and MP3 file formats
Wooden cabinets for speakers ensure pure sound
The system comes with a remote control
Cons
There is no separate bass control available for adjusting the woofer.
Check Cheapest Price : Amazon
---
8. Zebronics BT4440RUCF
Another excellent multimedia audio solution from Zebronics. The BT4440RUCF offers an enriching sound experience for all audiophiles.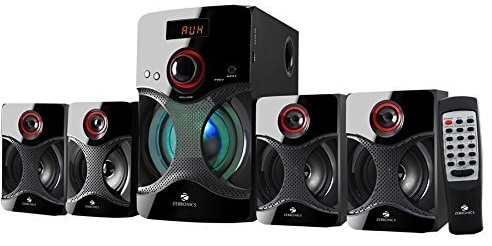 The Zebronics 4.1 speakers come with USB pen drive support and SD/MMC connectivity. The LED display offers clear view of control settings. The speaker system also has an in-built FB LED power indicator. A remote control offers settings adjustment from the comfort of your seat.
Pros
Ease of installation and convenient connectivity
One year warranty from manufacturer
Cons
This is not a surround sound system.
There is no setting option to adjust equalizer.
Check Cheapest Price : Amazon
---
9. Intex FMU OS Computer Speakers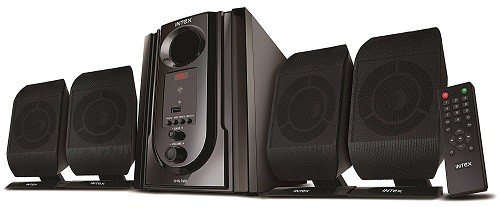 We simply cannot seem to get enough of Intex! Of course, when you offer premium features at affordable prices, you get instant recognition. The IT-301 is one such multimedia sound solution from Intex.
10 Best Bluetooth Tower Speakers
At 60W output, 4 ohm impedance and frequency response of 20Hz to 20kHz, this is as powerful as home entertainment gets. Superior touch, crystal clear clarity and loudness ensure a delightful listening experience.
Pros
Multifunctional control panel for easy access to volume and bass adjustment settings.
One year manufacturer warranty.
Cons
There is no Bluetooth connectivity.
Check Cheapest Price : Amazon
---
10. Intex basic multimedia
The last but not the least listing on our Top 10 is the entry level multimedia system by Intex. At 1600 bucks, these 4.1 systems are value for money yet offer a great listening experience. The full package with USB & SD connectivity and in-built FM, the speakers deliver powerful audio listening experience.

You can connect the speaker set with your laptops, desktops, smartphones, CD & DVD players and TV for an immersive experience.
Also Read : 11 Best Wireless Earphones Under Rs. 1000
The speakers have an optimum 200Hz to 20kHz frequency range with 15W + 10W audio output.
Pros
Remote control for easy access to settings and track change
FM support between 88 MHz to 108 MHz.
Pen drive connectivity possible
One year manufacturer warranty
Cons
Some users tried using the speaker set with DVD 5.1 audio output and reported low sound quality.
Check Cheapest Price : Amazon
---
We hope our list was able to help you choose best 4.1 speakers for your home or office. Do let us know in the comments of your buying and using experience.
Also Read:
What Are The Top Best 5 In Ear Headphones Under Rs.2000 in India?
​​​​​Top 10 Best In Ear (IEM) Headphones Under Rs.1500 With Amazing Sound Quality