One of the most awaited launches of the year, the Acer Predator Helios 300 is finally here in the Indian market. It has recently launched on Flipkart and if you were one of the lucky ones who bought it during the Big Billion Days sale, then you probably bagged the deal of the year.
The Helios 300 is one of the best performing laptops you can buy in India and provided you wait for the right sale, you can buy it for an absolute steal of a price.
In this review, we will be thoroughly discussing everything this laptop has to offer and cover topics like build quality, battery life, performance in productivity, performance in gaming etc.
Also Read : ASUS TUF A15 VS ASUS ROG ZEPHYRUS G14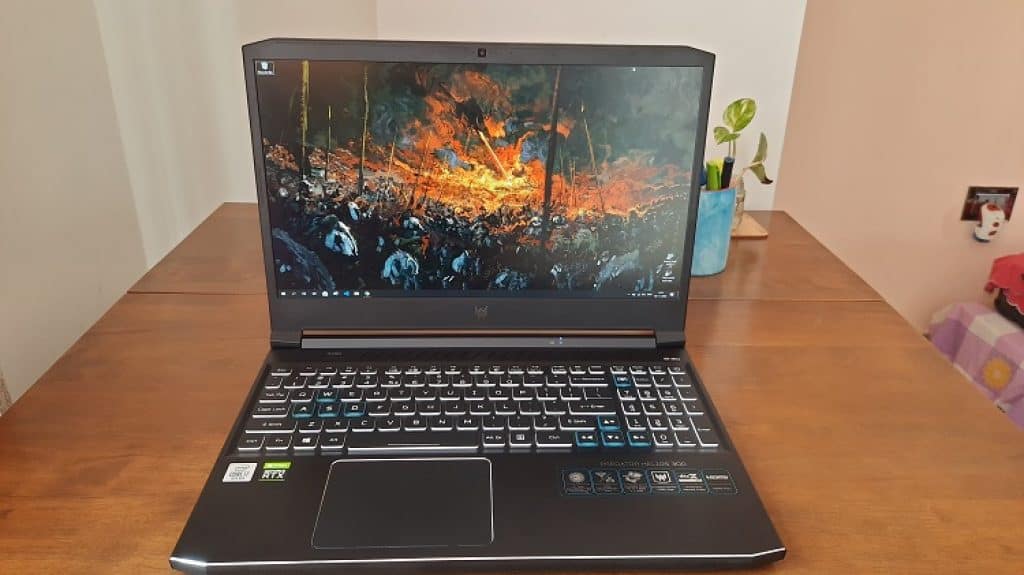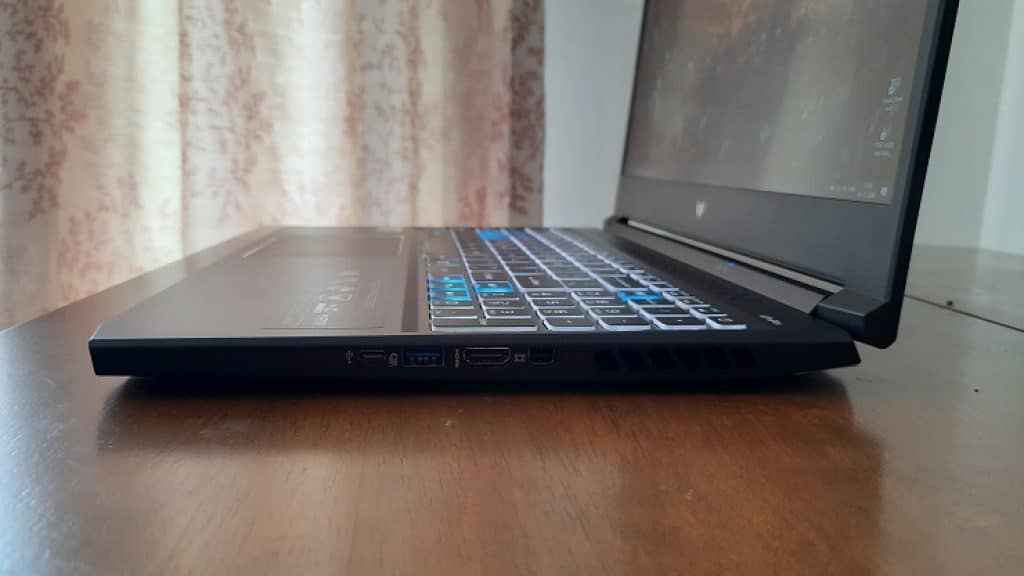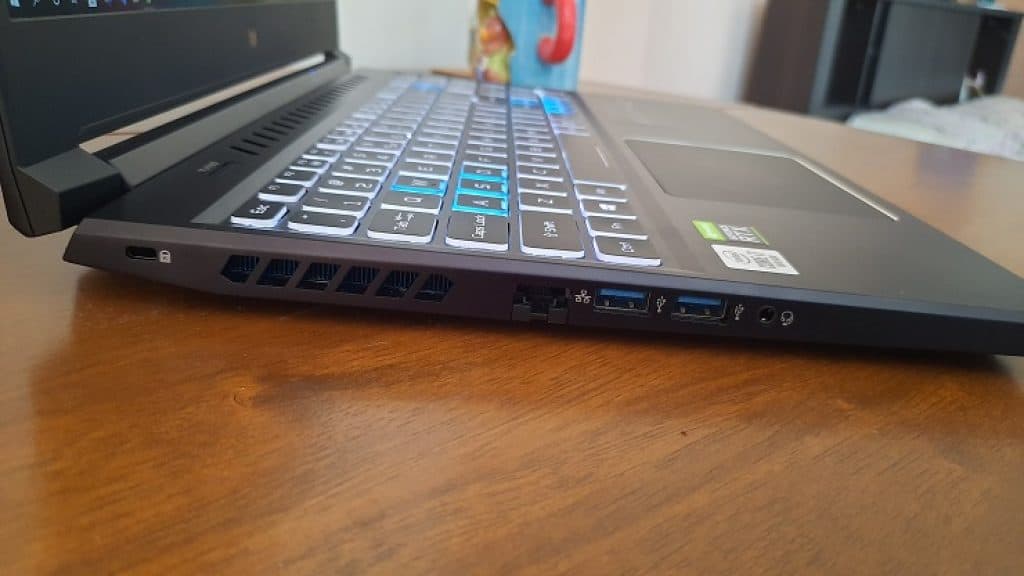 Build
The laptop is rather sleek and doesn't immediately appear to be a gaming laptop. The top and lid are both made of aluminium. The metal body isn't that heavy too and can be easily carried around. It does have 2 sharp corners under the display, but it is very far off and should not be a problem for most people. The lid is a bit of a fingerprint magnet though, but fortunately a few wipes with a cloth can easily remove them. The Predator Logo on the lid also glows when the screen is on. The 2020 edition has no predator lettering on the lid, so it's more of a minimal vibe there.
There is very little screen flex and the hinges feel strong while still being smooth to handle. The vents under the laptop are plentiful and really allow for air to pass through. You have 2 vents on either side of the laptop, and two big vents on the back with white fins. These vents push out a large amount of hot air when under load and really help to keep the laptop cool.
There are two small LED lights under the display. One to indicate whether the laptop is charging or not and the other to indicate if the display is on or not.
The Webcam is located on the top of the display. It is a 720P webcam, which is decent enough. It does not have an IR sensor, which means the laptop does not support Windows Hello, but it's not that much of a big deal since most gaming laptops do not have it anyway.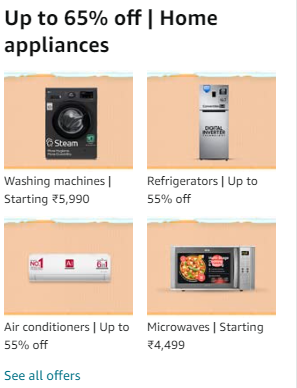 Read:

ASUS TUF A15 Gaming Laptop Review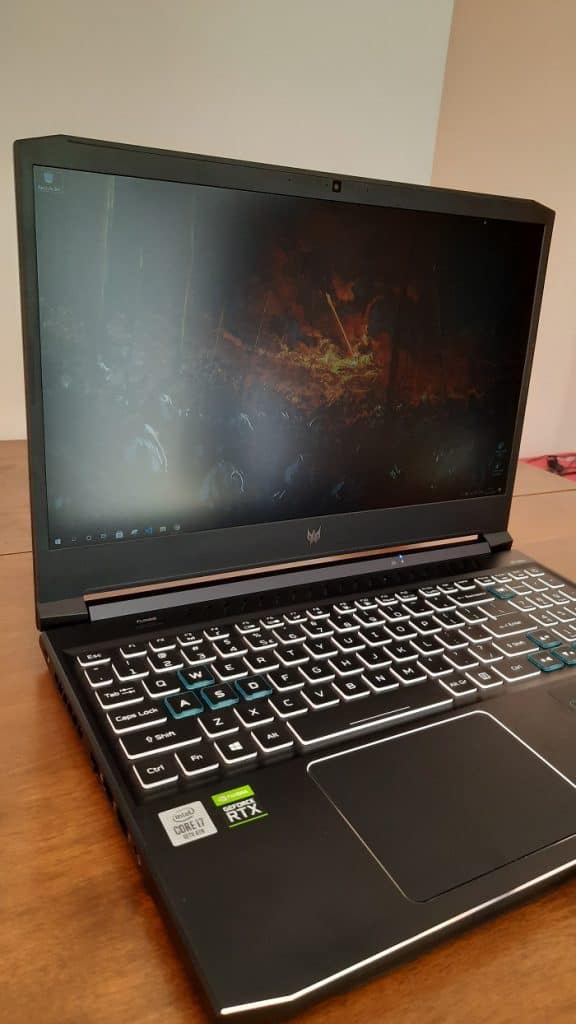 Screen
The Helios 300 boasts an incredible 144Hz IPS screen, which has around 97% sRGB coverage. The wide color gamut will really enhance the viewing experience and will make colors pop out more. Having such a nice screen is complemented by the 144Hz refresh rate. When you experience such a high refresh rate, going back to the old 60Hz screens will feel very laggy. Everything from mouse movement, scrolling and moving windows feels so smooth and responsive. Especially when gaming, this smoothness gives you a much more comfortable experience and also reduces input lag.
The display has small enough bezels such that it doesn't hamper your viewing experience. Below the display, there is the Predator logo again.
The display is quite bright too, going up to 300 nits, which is very good for visibility in outdoor environments. Having such high brightness means that even when turning it down, the screen is decently bright at 30% or 40% brightness.
In terms of backlight bleed, this particular model does have a bit on the lower right corner, but it is to be expected from an IPS display. It is not that distracting, and only appears when viewing darker scenes in movies or games. Otherwise it does not bother us that much.
Also Read :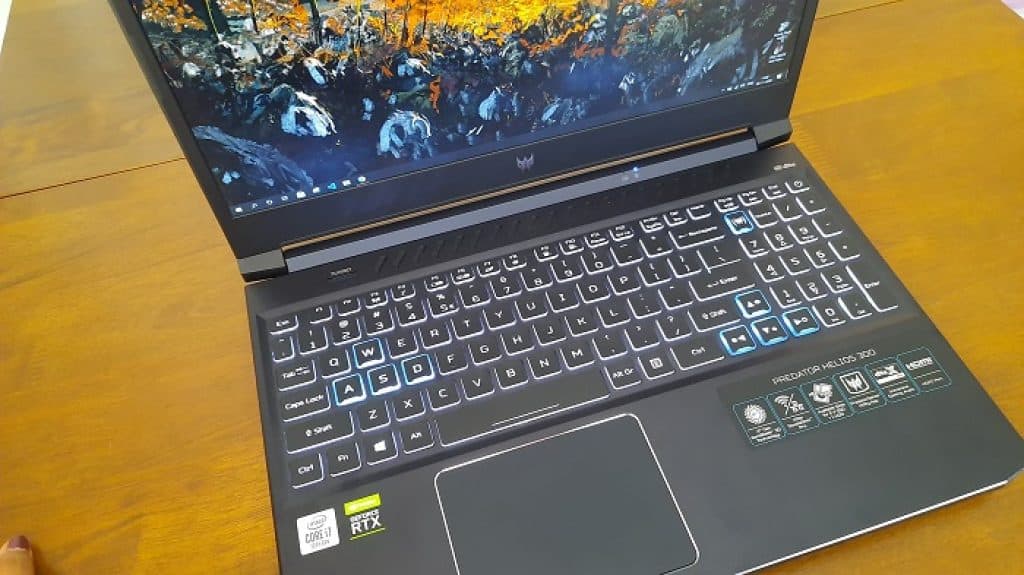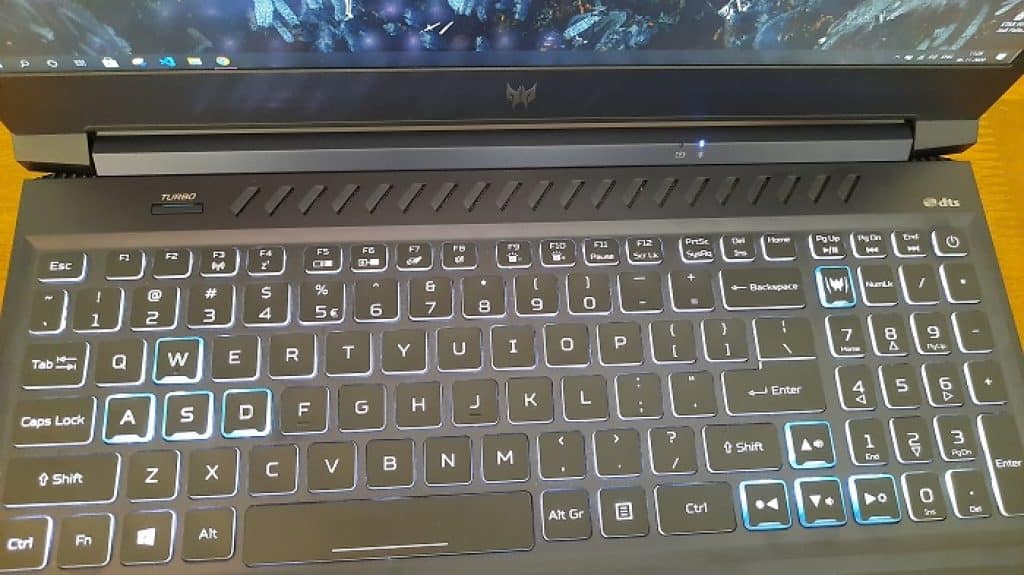 Keyboard
The keyboard on the Helios 300 is a full size one, that includes a numpad. The keys are very evenly spaced and are comfortable to type on. The WASD and the arrow keys have blue/cyan linings for additional styling. There are two other keys on the keyboard that have specific functions too.
First, you have the button with the Predator logo on it, pressing this directly opens up the Predator Sense application in Windows, where you can modify and monitor your laptop's performance. We will go more in depth on this later.
The second button is the Turbo button,located above the keyboard deck. It is a dedicated button to immediately overclock your GPU and max out the fan speeds. This means if you are playing a game or are under heavy loads in a program, pressing this button will help keep the temps down and also boost performance.
Another thing to note is that the power button is located on the keyboard itself. To turn the laptop on, press it for just 2 or 3 seconds. When the laptop is on, accidentally pressing the power button won't turn off the laptop, which is a nice feature.
In terms of lighting, the keyboard is very feature rich. The keyboard has 4 individual zones for lighting and you can configure the color of each one separately. You have various options for lighting effects such as static, color wave, breathing, zoom,shifting and neon. The backlight is bright and the font is easily visible through the keycaps.
Also Read : Best Prebuilt Desktop Computers in India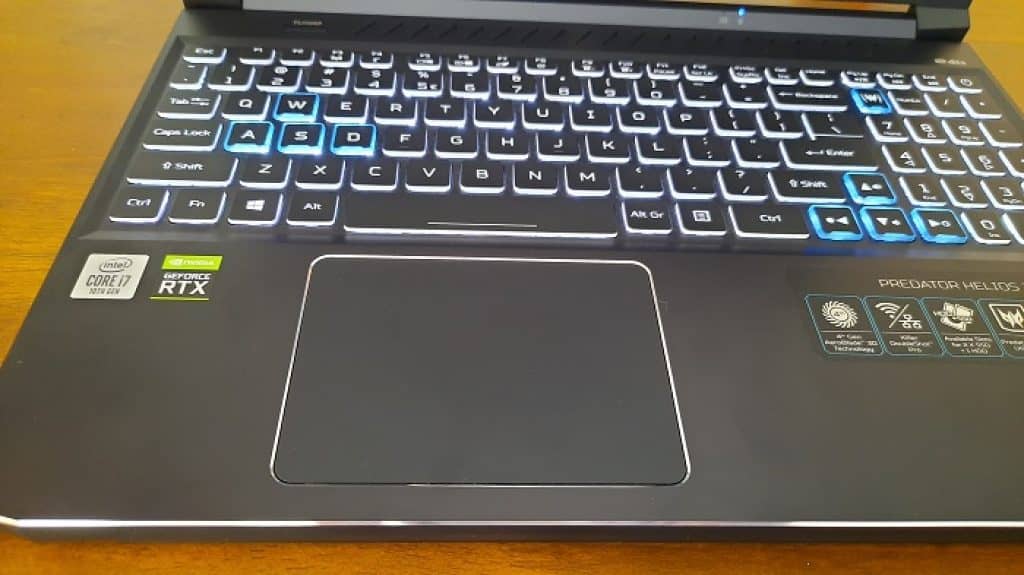 Touchpad
The touchpad is a standard one with a smooth plastic finish. It supports Windows gestures, which is a nice feature. The sensitivity out of the box was a bit less, but that's a personal preference. And if you are a gamer, then you are most likely to use an external mouse anyway.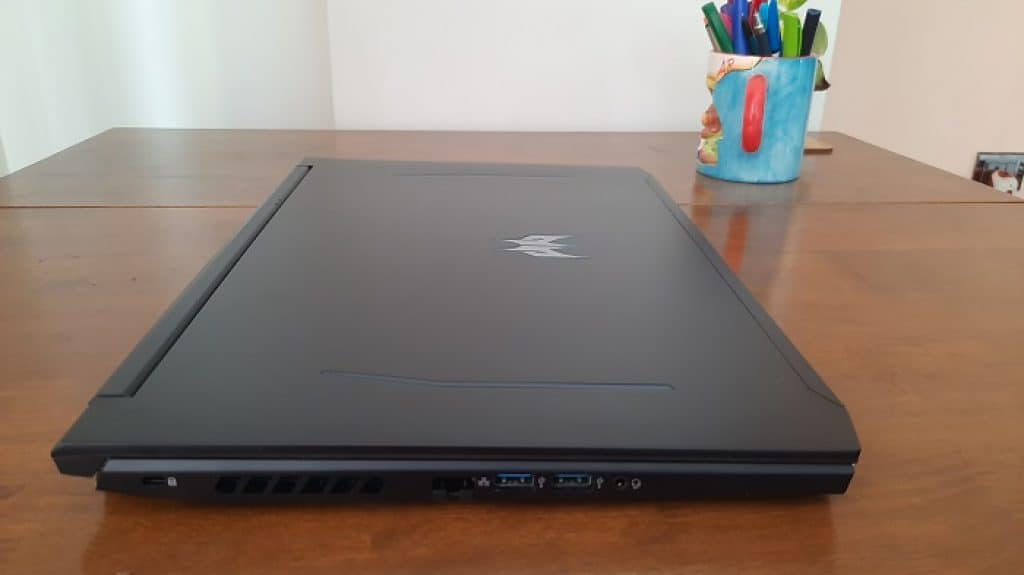 Ports
In terms of ports, this laptop has plenty. On the left side of the laptop,you get two USB 3.2 Type A Gen 1 ports, a headphone jack and an ethernet port. Having USB 3.0 ports ensures that read/write speeds will always be fast and won't bottleneck transfer speeds like USB 2.0.
On the right, you have a USB C Gen 2 port, a USB 3.0 Gen 2 port, an HDMI port, and a mini Display port. The USB 3.0 port also supports power-off charging, which means you can charge your phone or any other device from this port even if the laptop is turned off.
The power adaptor port is located all the way to the back of the laptop, which is actually a great place,since it reduces the clutter of cables on the front of your laptop.
Processor
The Helios 300 comes with the latest 10th Generation Intel Core i7 10750H processor, a very powerful processor indeed. It is a six-core, 12 thread processor which can easily handle any heavy tasks that you can throw at it.
You should know that the processor does tend to heat up but not as much so that it becomes worrying. The undervolt functionality is removed by default,as this generation of Intel CPUs have been given the same treatment. But if you upgrade to BIOS version 1.06, you can even undervolt the CPU and lower temps by quite a lot.
In terms of benchmarks, we tested the Cinebench R20, and scores were quite good, as the i7 scored above 3000 points. Undervolting the CPU yielded 3056 points but with lower temps, which is much better performance for less heat.
Also Read : Best Gaming Laptops Under Rs 70000 in India
Graphics Card
The Helios 300 comes with the Nvidia RTX 2060 graphics card, an excellent GPU for 1080P gaming,and it doesn't disappoint. The GPU comes with 6GB of VRAM and also includes Tensor cores for Artificial Intelligence and Machine Learning work. The feature of RTX cards is that they support Ray tracing, which is a very demanding graphical feature in modern games recently.
From all the tests we did,the RTX 2060 performed very well, providing more than 60 FPS on most AAA games and giving more than 144FPS on competitive shooters like Valorant, Counter Strike Global Offensive, Apex Legends and Fortnite.
Another exciting feature about this card is that it supports DLSS 2.0, a feature that Nvidia has provided in games that support it. It is a very quick and simple way to improve performance without sacrificing graphical quality. For games like Control, Ghostrunner, Metro Exodus and Death Stranding, you can see a boost in FPS in each and every game.
In Ghostrunner, a very demanding game that has many light sources and reflections in the game's levels, if you have RTX on and all the settings at ultra, then the average FPS was only about 35 to 40 FPS. Turning DLSS on however, we could easily get 70 to 80 FPS on the same settings without any loss in visual fidelity.
In terms of temperatures, the graphics card stays fairly cool, going up to 75C on auto fans and hovering on 69-70C on max fans.
Also Read : Gaming PC Assembled Under Rs. 50,000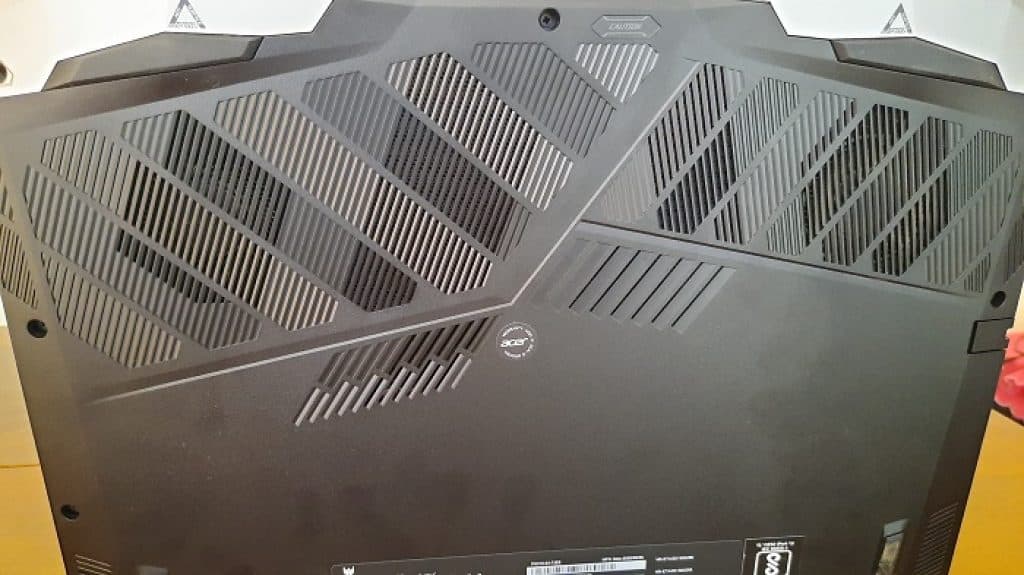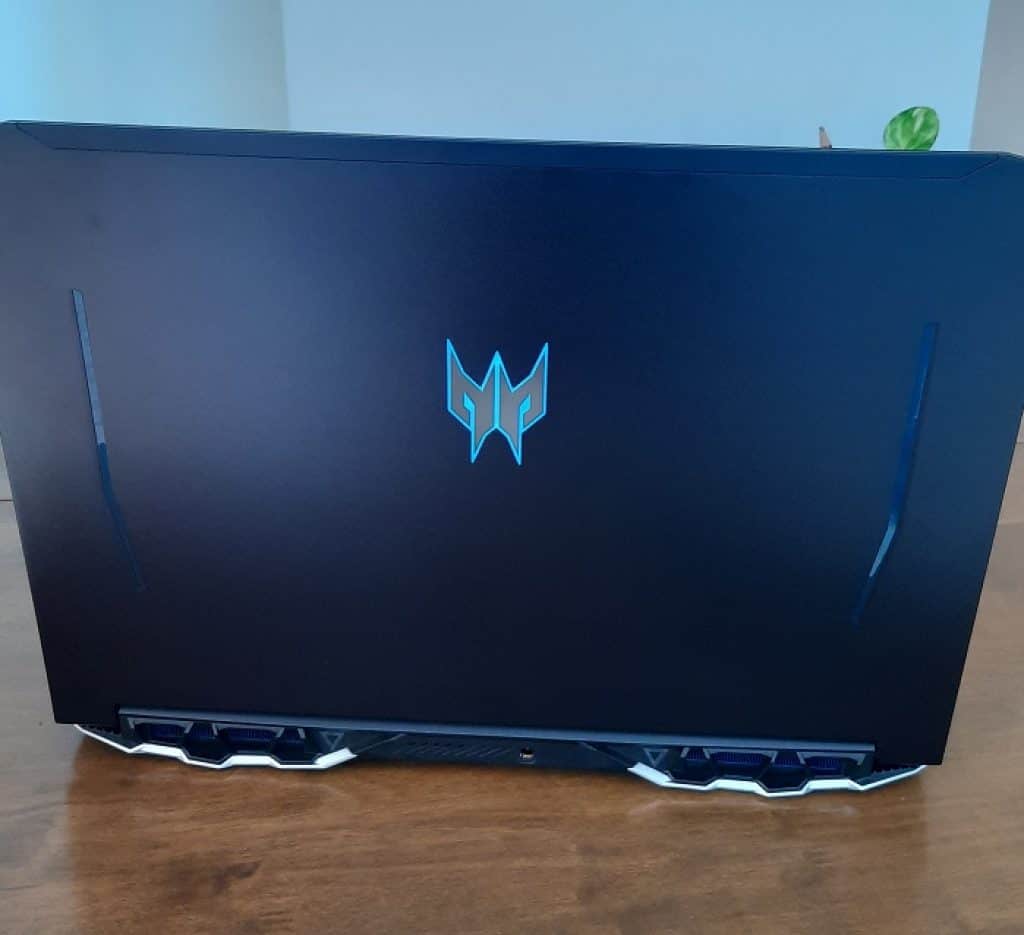 Battery Life
When it comes to battery life on gaming laptops, you can't really expect much. In the case of the Helios 300, it is also somewhat true. If you do not tweak the laptop that much, you won't be able to get more than 3 hours of battery life from this laptop.
But we have a few solutions to increase the battery life by quite a bit. We suggest you make a custom power plan and turn off turbo boost when on battery. And keeping the screen brightness to about 30% to 40% also helps. Changing the refresh rate of the laptop from 144Hz to 60Hz gave us the biggest boost in battery life. After doing all these changes, we saw battery life go from 3 hours to a great 4 to 5 hours of use with Wifi on and bluetooth on. If we turned those off too, then we got about 6 hour of battery life, which is double of what we used to get.
Also Read :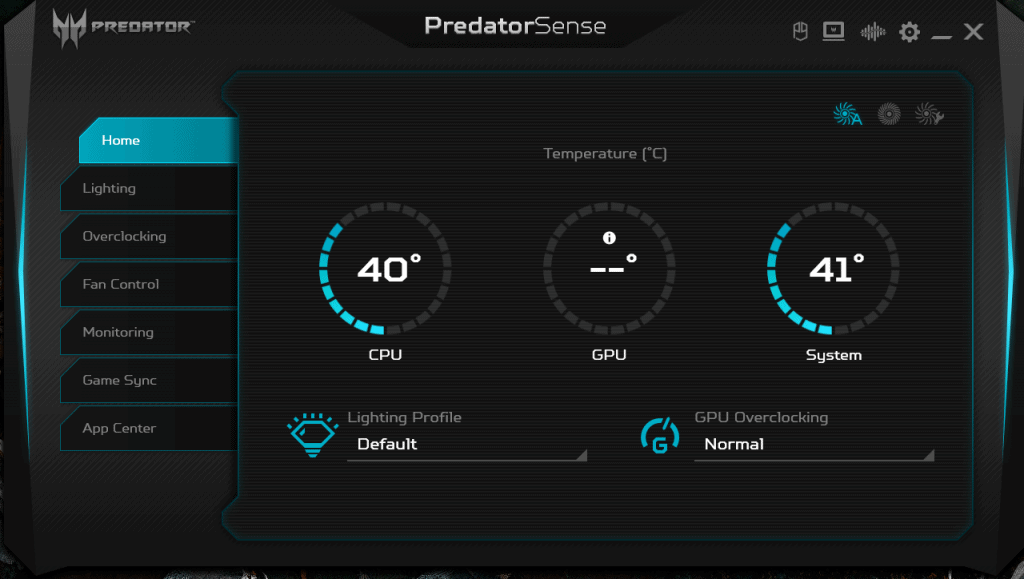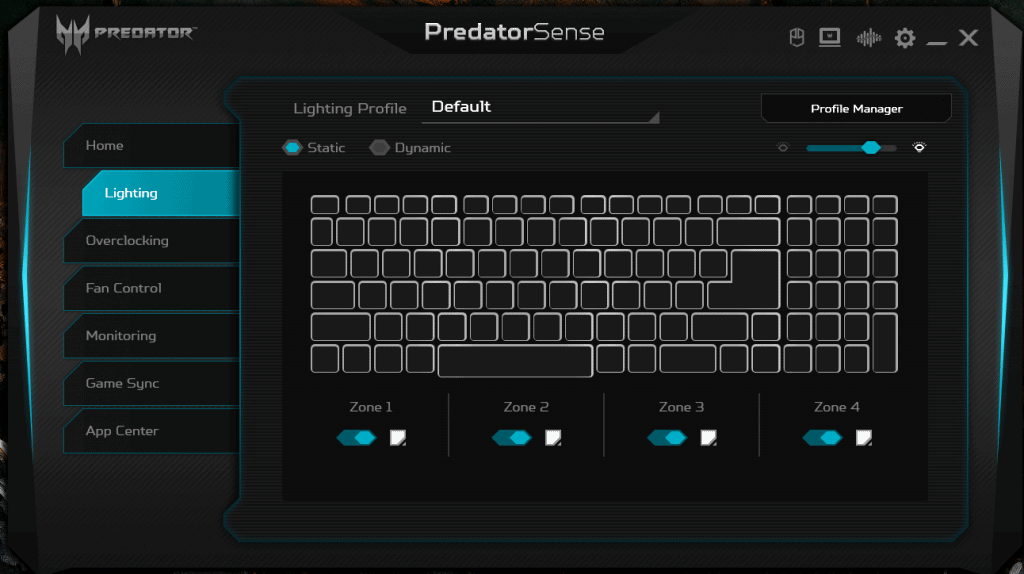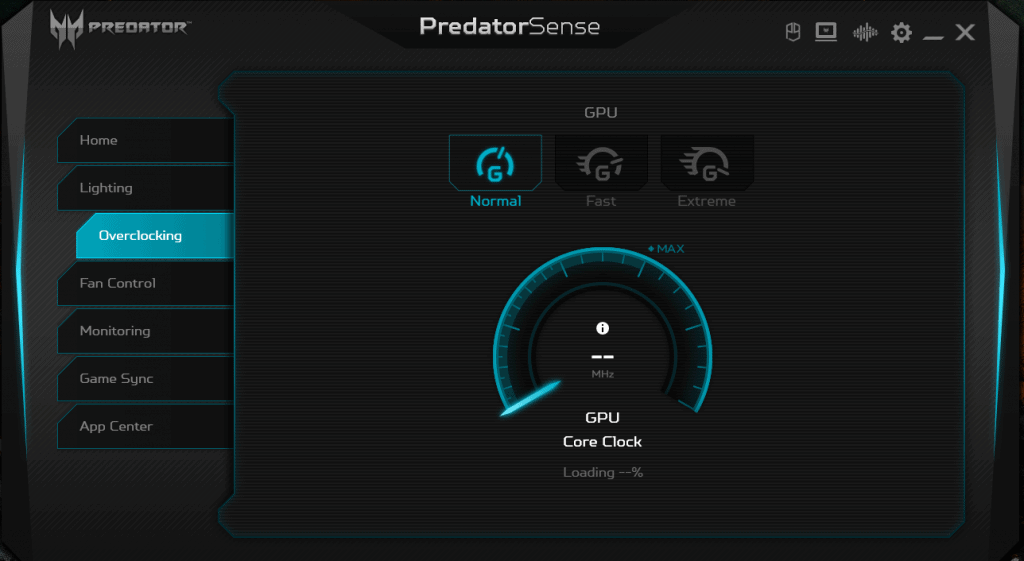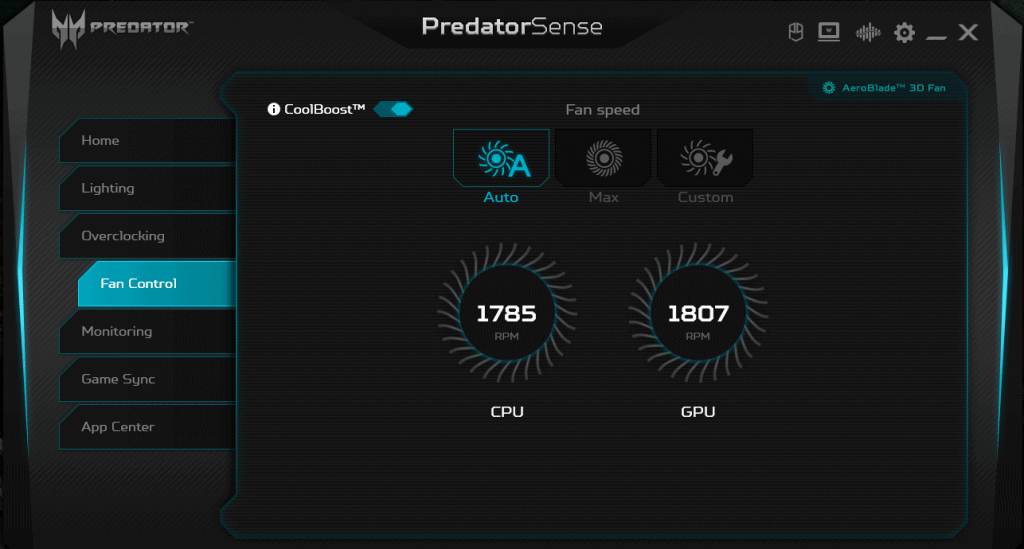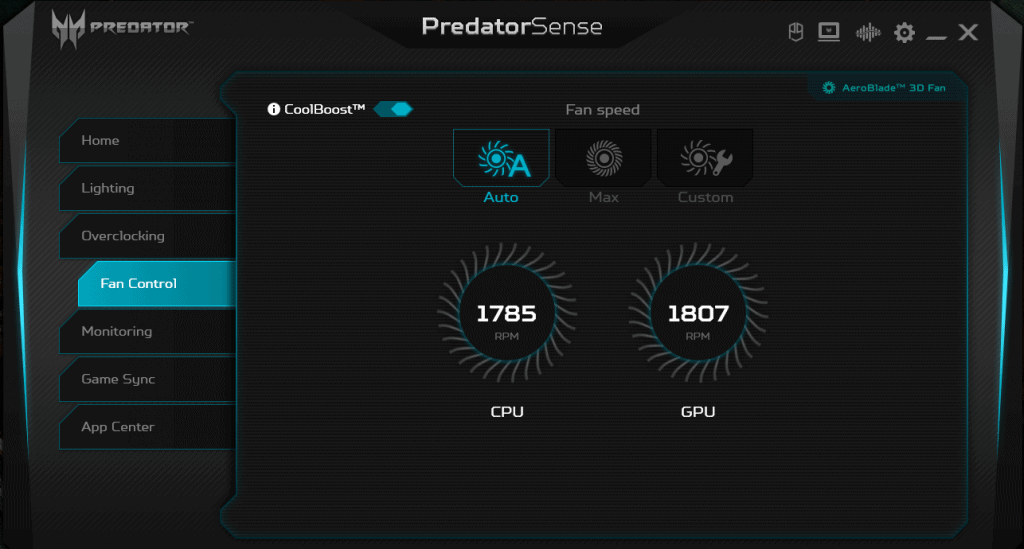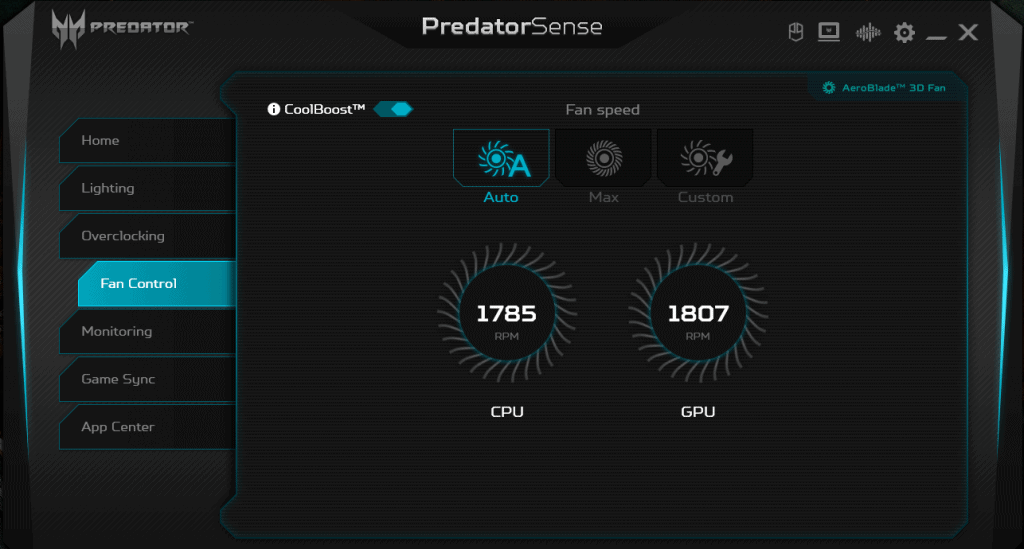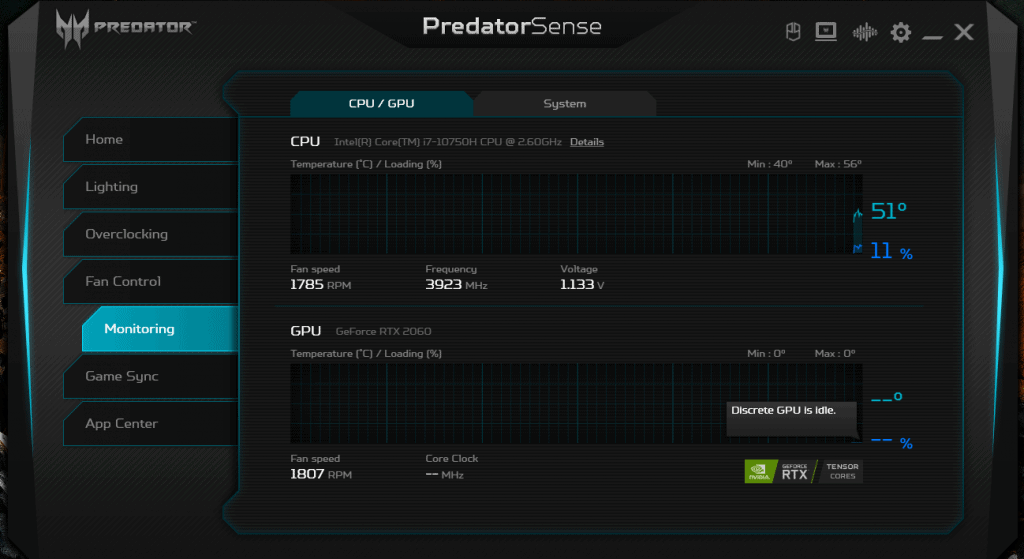 Software
The Helios 300 only has one primary software, which is the Predator Sense app. This is the main program to control your fan speeds, monitor your CPU and GPU temps, change your lighting and also a few other things.
When you start the program, you get the temperature readings of the CPU, GPU and overall system. On the next panel, you have the lighting controls, where you can change the lighting profile, colors and effects on the RGB keyboard. You can save multiple profiles to switch on the fly. And even make profiles for certain games.
Next you get the overclocking panel ,where you can overclock your GPU. It has three modes of overclocking, namely normal, which is the normal clock speed, fast which slightly increases core clock and memory speeds and extreme, which greatly increases the performance of the GPU.
On the next panel, you have the Fan control section. The fans have three profiles : Auto, which automatically adjusts the fan speeds according to the load on the CPU and GPU and overall temps. Max fans turn up the speed of the fans to their maximum RPM, which admittedly is quite loud and sounds like a jet engine starting up. And lastly you get custom fans, where you can manually adjust the fan speeds.
In the monitoring panel, you get a graph for the maximum,average and minimum temps for both the CPU and GPU. This is a great tool to check if your laptop is thermal throttling and if there are any overheating issues.
Next we get the Game Sync panel, which is a very useful tool. Here you can make custom profiles for individual games,such that when you start a game, the fans automatically switch to your preferred speeds. You can also assign custom lighting profiles and GPU overclocking mode from this section itself.
Lastly you get the app center,which includes all the apps that Acer has include with the laptop like the DTS, Killer Control Center etc.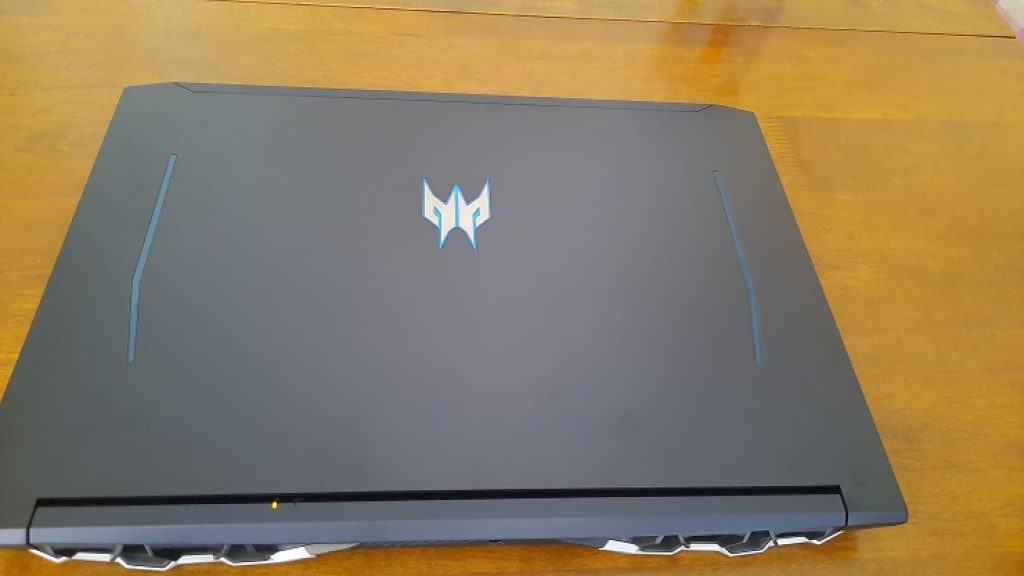 Conclusion
We suggest you wait for a sale for this laptop, since it becomes very good value for money when it does go on sale. It usually retails for around ₹1.3 Lakhs but during the Flipkart Big Billion Days sale, the laptop was available for ₹99,000, and also had further discounts if you used a credit card from SBI.
Be on alert for such sales, since you won't get a laptop of this caliber at such a low price. For around ₹99,000, most other laptops only provide Intel Core i7 but with much inferior graphics cards like Nvidia GTX 1650Ti or 1650. Some may provide 1660Ti but we have not seen any laptop provide an RTX 2060 at such a low price.
The Predator Helios 300 is a very high performing laptop and has very few shortcomings. This year's variant is a slight upgrade from last year's, with very minor tweaks and changes. Since last year's variant won't be in stock, this is a much better choice, since you get the newer 10th generation Intel Core i7 processor too.
Also Read :

Best i9 10th gen laptops in India

12 Best Ryzen 7 Laptops In India

Best Gaming Laptops Under Rs 50,000

Nvidia GTX 1660Ti Laptops in India