Gaming has surged in popularity, captivating a diverse audience. It has evolved to a point where gaming sessions are no longer limited to a mere 5 or 10 minutes, resembling the immersive experience of watching a movie.
With games becoming larger, more immersive, and increasingly competitive, the time devoted to gaming has naturally extended for passionate gamers. However, this prolonged seated activity often results in uncomfortable strain on our backs, diminishing the overall enjoyment of the gaming experience.
Thankfully, gaming chairs come to the rescue, offering ergonomic support and comfort. By using a gaming chair, you can alleviate the potential discomfort caused by extended periods of sitting, ensuring that you can fully immerse yourself in the gaming world without any distractions or discomforts.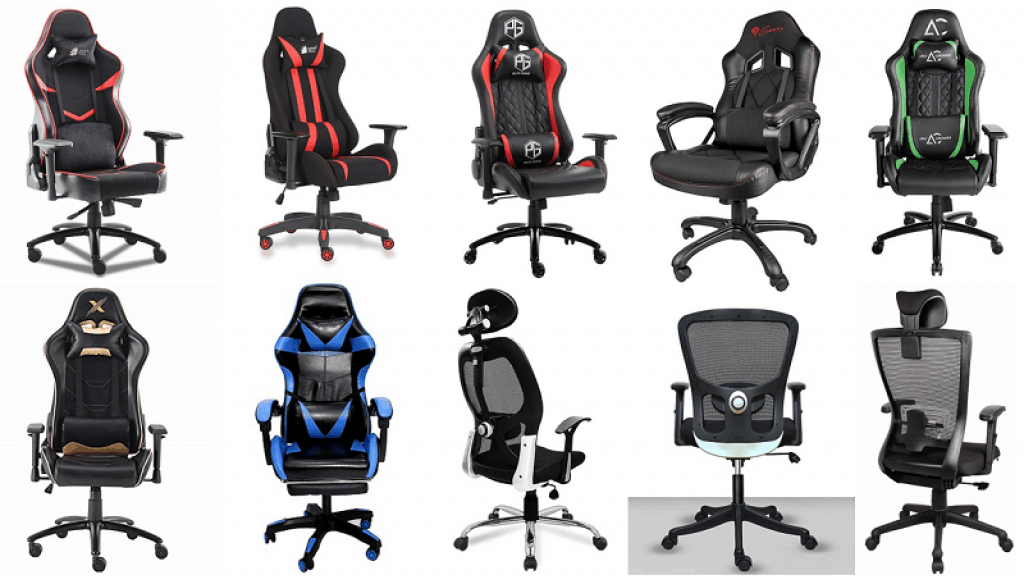 Gaming chairs provide good lumbar support with comfortable padding and a variety of adjustments including armrest adjustments and some chairs can even lie flat.
These features present in gaming grade chairs make sure to prevent stress and strain on the body over long periods of gaming and some useful features that might be helpful even for the non-gamers out there which makes this genre of chair recommendable for even working professionals.
Also Read : Best Gaming Desks Tables In India
There are a lot of expensive gaming chairs that are much costly but it does not make sense for a regular buyer. So, I have listed the gaming chairs that cost in and around Rs 20,000.
Article Contents
Best Gaming Chairs in India
(Disclaimer: These are not in any order)
1. GREEN SOUL MONSTER ULTIMATE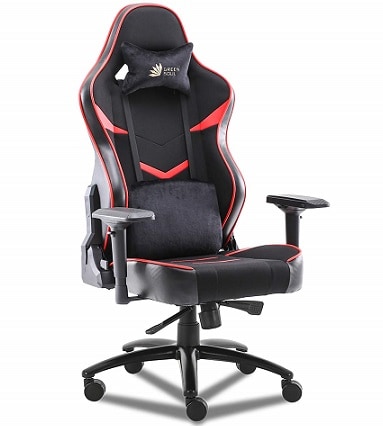 Green soul is an active player in the gaming desk and chair industry. Green soul has a lot of options and Monster ultimate is the top end variant.
The monster ultimate has all the features you could ask for in a gaming chair. It comes with a metal frame for improved rigidity.

Material used in the chair is moulded foam maximising the airflow therefore reducing any kind of heat produced during the long hours of gaming.
Armrests are adjustable and the seat back can be adjusted up to 180 degrees flat. Headrest comes with a pillow for additional comfort.
The chair is wide enough to even sit cross legged and the lumbar support is made of memory foam.
Also Read : 10 Best Office Chairs in India
You can buy the chair in different colours and two different sizes for people of different heights namely a model for people below 6 feet and another for people above 6 feet.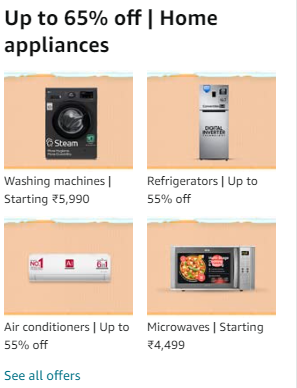 Warranty period for the chair is 3 years which is pretty good but certainly on the shorter side. Monster ultimate is a great chair for those looking for a chair with a lot of features and adjustments but it also comes at a pretty steep price.
Check Cheapest Price : Amazon
---
2. GREEN SOUL BEAST SERIES: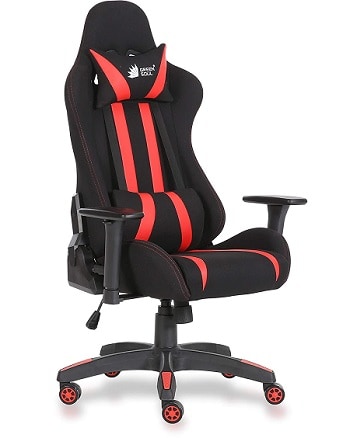 The green soul beast is an excellent chair and might be the more attractive one for a lot of people with smaller body footprint.
This chair is strictly for people below 6 feet and the best series is also considerably smaller than the monster ultimate makes it less spacious to sit cross legged.
It comes with all the important features such as pillow headrests and memory foam lumbar support like its more expensive cousin and comes with 3 years of warranty.
Also Read : 7 Best Flight Game Controllers in India
Green soul beast is a better option than the ultimate as it costs less but the main caveat is that it only fits smaller heights. But if you are one of the smaller heights then you are in for pretty good experience with this.
Check Cheapest Price : Amazon
---
3. PULSE GAMING RACING CHAIR: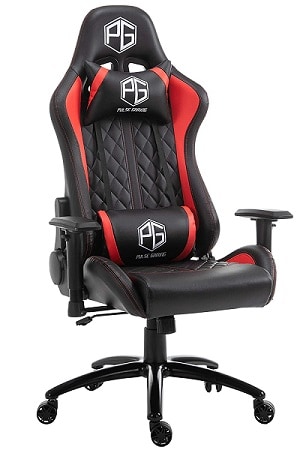 The name of the chair is pretty much non indicative of its use. It is called the racing chair due to its red and black colour combo.
Coming to the features of the chair itself it is just jam packed. The pulse gaming chair is what you would imagine a gaming chair to be.
It has a cushioned headrest and cushioned backrest for lumbar support and the back can be adjusted all the way up to 180 degrees to lie flat and the chair is also pretty sizable to fit a large number of body sizes.
Armrests are also adjustable in two ways to prevent strain on the hands.
Also Read : 16 Gb RAM Laptops In India
One drawback in this chair is the fact that the materials used are not breathable fabrics so it might cog up heat pretty quick so keep that in mind before purchasing. In regards to warranty it comes with 3 years of it.
All in all, for a considerably lower price than the competition with similar feature set pulse gaming chair is a great gaming chair if not the best.
Check Cheapest Price : Amazon
---
4. APEX CRUSADER SAVYA HOME: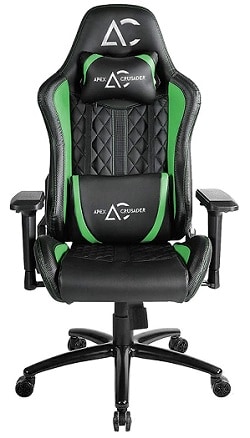 Weird name aside the savya home is an extremely similar looking chair to the pulse gaming chair.
Feature wise it lacks a couple of features that you may care about other than that all other features are the same as the former pulse gaming chair.
For one the back-rest tilts only up to 150 degrees compared to the 180 degrees tilt on the former one and most importantly the savya home comes only with 1 year of warranty which is unacceptable for a gaming chair of this price.
Also Read : Best Ryzen 5 Laptops
You can go for this chair if there is a sale going on and the price has been cut considerably. For all other purposes, the intended pulse gaming chair is a better choice.
Check Cheapest Price : Amazon
---
5. MAJESTIC BEAST: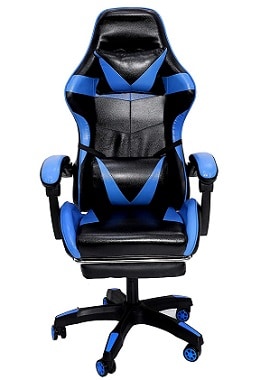 Majestic beast is arguably one of the best gaming chairs for the budget.
No, it does not come with all the features that come with the higher priced offerings but for someone who is looking to enter into the gaming chair market this is a great choice.
Size of the chair is pretty good with high back support and good lumbar support. The armrest is big but does not come with any sort of adjustment like the more expensive chairs.
Majestic beast has a trick up its sleeve. What is meant by that is that the chair comes with extended thigh support. The chair has a small extension rail which helps in accommodating legs even if they are stretched flat.
Also Read : 12 Best Ryzen 7 Laptops In India
Supported maximum weight is up to 120kgs. So, if you want something that could hold more weight look for the other options.
Overall Majestic beast is a really compelling offering for the budget and should serve well for the entry level gamers out there.
Check Cheapest Price : Amazon
---
6. GENESIS NITRO: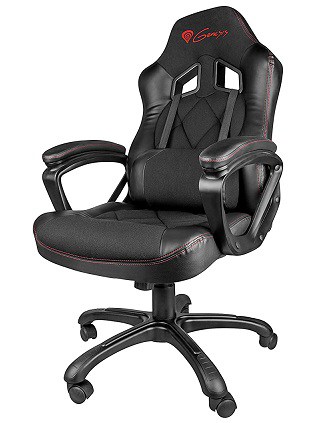 Genesis nitro is the biggest and bulkiest looking and feeling chair in the list and it serves a purpose.
The features list is pretty short as it comes with only up to 135 degrees of tilt and the lumbar support is not that great.
Materials used in the chair are also thick and not breathable which makes it quite uncomfortable during the longer gaming sessions. Armrests are also fixed in place and does not come with any kind of adjustments and the design is also plain black with red stitching accents.
Main advantage of the genesis nitro is that it comes with weight support up to 150 kgs in a world where other chairs usually come with support only to 120 kgs and 135 kgs at max. This proves the purpose for such a bulky and strong construction.
Also Read : Best Ultrawide Gaming Monitors in India
For the individuals looking at gaming chairs or even any kind of chair that could support higher weight this is the best option.
Check Cheapest Price : Amazon
---
7. CARBONXPRO MYSTIC SERIES: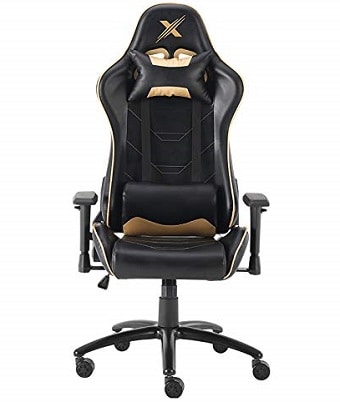 Mystic series is a great alternative to the green soul chairs as it has the same feature sets with just a different colour scheme.
The chair comes with all kinds of adjustments you could ask for in a gaming chair of this price. The backrest is adjustable up to 180 degrees flat and the headrest and the lumbar support come with memory foam for additional comfort.
Covered by leather like material the chair also has a decently premium feel to it.
The main drawback is that the chair officially supports only up to 100 kgs which is on the lower side of the weight echelon but the warranty period is pretty good at 3 years.
Also Read : Gaming Monitors Under Rs 20,000 in India
Buying decision comes down to your brand preference and price. If you can find this cheaper during the sale go for it over the green soul offerings but if it's the other way around then go for the green soul.
Check Cheapest Price : Amazon
---
Best Ergo Chairs For Gaming
8. SAVYA HOME APPOLO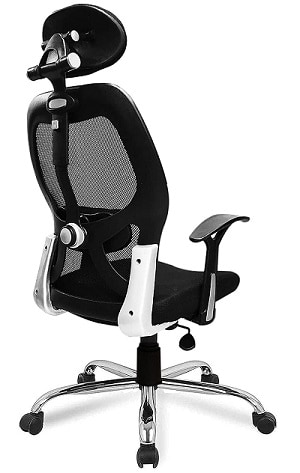 Savya home returns once again in the list with its entry level ergonomic chair.
Basically, this looks like an office chair but with meshed back and good cushioning for the seat. As far as the adjustability goes the headrest is adjustable and the back is flexible for a bit of reclination.
The meshed back results in good airflow therefore resulting in good dissipation of heat produced during long sessions of gaming.
Construction of the laptop is questionable as it comes with a plastic build which is of very average quality and the warranty period is also just 1 year which makes its quite unreliable.
Also Read : Acer Nitro 5 Review . HP omen 15 en0002ax Review , Asus Vivobook Gaming F571GT Review
But for an entry level ergo chair this is pretty good and it is recommended for people on a tight budget.
Check Cheapest Price : Amazon
---
9. CHAIRELABS MEDIUM
Best chair for the people on a budget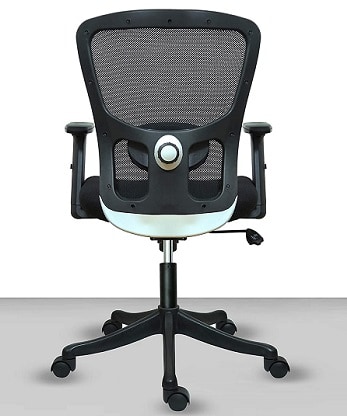 Chairelabs medium is the best looking and probably the best choice for many as it comes with a lot of compelling features at a very reasonable price.
For starters the back of the chair is a single piece and does not come with a headrest. The backrest is perforated for increased airflow and the seat cushioning is also a breathable material increasing the comfort during longer sitting sessions. Lumbar support is also pretty good and can be adjusted to our liking
Unlike most other budget ergo chairs the armrests on this is adjustable for better arm angle. Construction of the chair is also better than any other in this price range.
Also Read : Best Earphones Under Rs 500
The best part about chairelabs medium is that it comes with 5 years of warranty. So yeah take that in for a second. It means that you don't have to worry about reliability issues at least for a while.
If you are on a budget and want something ergonomic for longer gaming sessions then look nowhere else than this.
Check Cheapest Price : Amazon
---
10. GARDENOLOGY ERGONOMICS HIGH BACK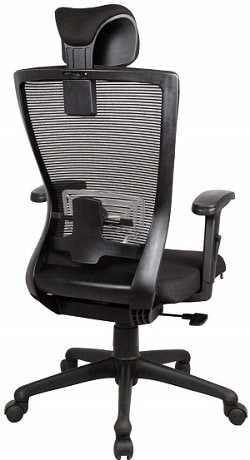 For those looking for an ergonomic chair for gaming that has pretty good build quality with useful features and a high backrest this is a great choice.
As the name suggests the chair has a high back with a headrest which makes it ideal for taller individuals. Apart from the adjustable headrest the armrest is also adjustable in 3 ways maximising the ergonomic posture all day long which is also accompanied by the pretty good lumbar support.
Formfactor of the chair is also quite big which is an advantage for the taller and bigger people.
Only disadvantage of the chair is that it comes with only one year of warranty which makes it quite a big pill to swallow as the chair is pretty expensive and the nylon and breathable materials used in the chair also do not help the fact.
Also Read : ASUS TUF A15 VS ASUS ROG ZEPHYRUS G14
If you are okay with the lower warranty period and want an ergonomic chair for gaming with a high back this is the best option for you at a reasonable price.
Check Cheapest Price : Amazon
---
Things To Look Out For When Buying a Gaming Chair?
There are not many things to worry about in a gaming chair as most of them come with similar feature set one being marginally better than the other and there might be some additional features such as head rests and stuff.
But here is some stuff to look forward to.
GOOD LUMBAR SUPPORT:
Lumbar is the lower back part of the spine. It requires good support from the chair. Lack of support leads to slouching over long periods of time. So, look out for a chair that has good support.
Also Read : 10 Best Racing Game Wheels in India
HEADREST:
Not all the chairs have this but some of the chairs come with headrest and pillow. If you are also looking for a chair with good head support then choose the chair accordingly.
ARMREST:
Pretty much most of the laptops in this segment come with adjustable armrests and it proves to be useful in niche situations.
MISCELLANEOUS STUFF:
Almost all of the gaming chairs come with height adjustment and wheels to move it around. Some chairs also have adjustable backrests which you can even tilt almost flat to imitate lying on a bed.
Also Read : 10 Best Earphones Under Rs 1000
WARRANTY:
Chair with a lot of moving parts has a tendency to fail so make sure the chair has at least 2 years of warranty and anything more than that is good.
ASSEMBLY:
None of these come preassembled out of the box. There is at least some basic level of assembly required but if you find it tough or don't have the tools you can call for assistance.
Make sure to choose the chair that best fits your posture and body as some chairs come in different sizes for different body heights. Some ergonomic chairs also fit well in the gaming category so there will also be some of them on the list for those looking for more minimal looking chairs.
Also Read :