A backpacker's best friend is his rucksack because this is going to determine how smooth or strenuous his/her journey is going to be. A rucksack will be useful for storing all your trekking, camping, etc. equipment so one needs to be careful while choosing a rucksack.
You don't want a heavy rucksack which will weigh you down but a small rucksack also won't be ideal for a long journey. Yes, it can get very confusing when looking for the perfect rucksack for yourself. That is why we have prepared this guide to help you out in choosing an ideal rucksack for your journeys.
Table Of Contents
How to Choose the Perfect Rucksack
Now, before you start looking for a rucksack, make sure that you check out the following tips to help you choose better.
Consider the Rucksack Capacity
First and foremost, you need to decide on the capacity of your rucksack as this will determine how much gear you can carry. This is an important decision because this will reflect on the ease and comfort of your traveling. Ideally, you will find two types of rucksacks: Large rucksacks (50+ litres) and medium rucksacks (30 – 50 litres).
Large Rucksacks
A large rucksack is perfect for camping, hiking, trekking, or around the world trips as it has a large capacity. You can easily find a rucksack with around 85 L capacity which will be able to accommodate most of your gears and will also have numerous pockets for storage. This type of rucksack is perfect if you are going on an extended trip of more than 1 week as you will be able to fit all the clothes and gears easily.

If you are going for a trekking or expedition then a 65 L rucksack will be an ideal choice for you.
Medium Rucksacks
For travelers who are going for a weekend camping, hiking, or trekking trip, a medium rucksack will be a perfect choice. It can easily hold your 3 days supplies and won't be heavy while traveling too.
A medium rucksack is usually perfect for 4-5 days trip and has extra padding to make it comfortable and convenient for you to carry. However, you cannot use this rucksack for long journeys so they aren't really useful for a frequent traveler.
Choose a Rucksack which Fits
Once you have determined the use and capacity of your rucksack, you need to make sure that the rucksack fits you properly before purchasing it. This greatly depends on your back length and your build.
A few rucksacks include adjustable back straps and chest straps which ensure that your rucksack fits your body. However, if you find your rucksack hanging low from your back even after the adjustment then it is not the right fit for you.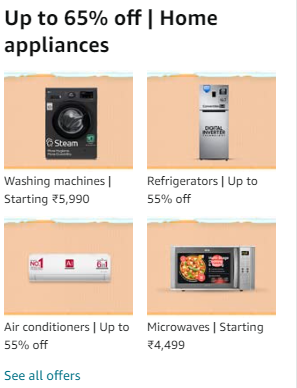 Consider your Comfort and Convenience
Make sure that your rucksack is comfortable and convenient to use. Check for hip belts, back straps, chest straps, etc. which will allow you to adjust the rucksack for comfortable use. A hip belt will ensure that your rucksack gets the proper support and your body doesn't need to bear too much weight.
Also Read : 10 Best Binoculars for Bird Watching
Also, padded chest straps and back straps will allow you to fit your rucksack according to your build and back length. This will make it easier to carry your rucksack during long journeys.
Look for Additional Rucksack Features
You also need to make sure that your rucksack has some additional clips, hooks, pockets, etc. for easy storage. If you are going to hike or trek a lot then external hooks and clips will be useful in attaching your equipment to your rucksack.
And several pockets and compartments both inside and outside the rucksack will ensure that you have enough space to keep your equipment and gears. It will also allow you to keep your stuff organized while traveling.
Another useful feature would be a rain cover to keep your possessions safe from getting wet. A lot of rucksacks usually come with a rain cover which can be stored in the pocket. However, if your rucksack doesn't include a rain cover then you can always buy one separately.
Top 10 Rucksacks to Choose For Yourself
Now that you understand a little more about rucksacks and how to choose one, here is a list of best rucksacks available in the market. Compare their features and prices in order to choose the best-suited rucksack for yourself.
1) Wildcraft 45 Ltrs Grey and orange Rucksack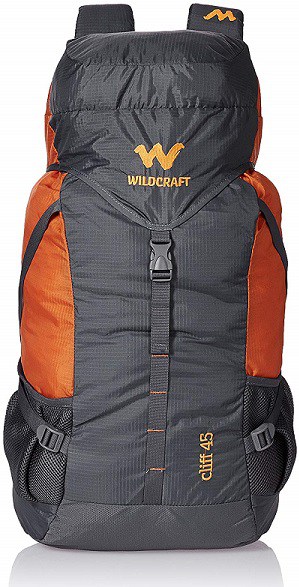 If sturdiness and durability are what you are looking for then Wildcraft's 45 litres rucksack is an ideal choice for you.
The outer construction of this rucksack is of nylon while the inner construction is of airy material which makes it durable and lightweight.
Also Read : 10 Best Luggage Bags For Travel in India
It features adjustable straps for your shoulder height and depth which makes it super comfortable to use during long journeys.
It is a top loading rucksack with drawstring closure which makes it easy to access and the strengthened haul loop allows you to take heavier loads quite easily.
In short, this is a perfect product for camping and trekking trips and will not disappoint you on your long journeys.
Pros:
Light and durable
Adjustable straps
Top loading with drawstrings
Cons:
Best Buy : Amazon
---
2) AmazonBasics Internal Frame (Hardback) Hiking Backpack with Raincover, 55Liters (Black)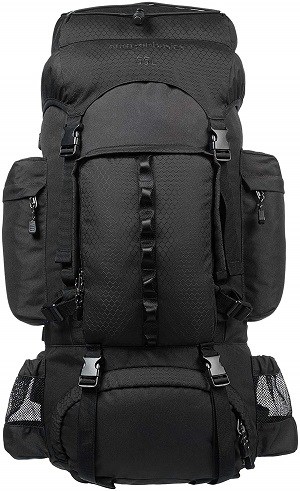 This internal frame rucksack with 55-litre capacity is another great product for hikers and backpackers. It is built out of polyester and has a durable design and can easily fit different body sizes.
This rucksack features adjustable shoulder straps and waist belt for a secure fit which makes it comfortable to carry the heavy load.
Also Read : 10 Best Camera Bags for Travelers
And its water-repellent coating and a water-resistant cover keep your belongings protected from getting wet. It has spacious compartments and a separate compartment for storing your sleeping bag as well.
Pros:
Durable and fits different body sizes
Water protected
Spacious and includes a sleeping bag compartment
Cons:
Best Buy : Amazon
3) Novicz TRAWOC 60L Rucksack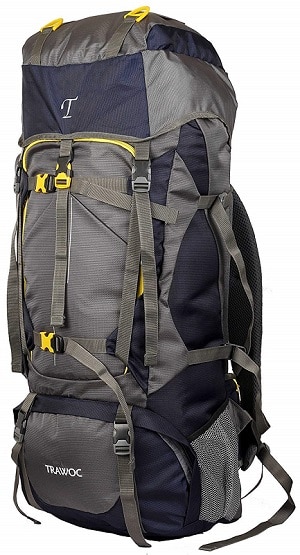 One of the best rucksacks in the market, in both price range and features, is Novicz Trawoc 60L rucksack.
For people who want a waterproof and lightweight rucksack for outdoor activities, this rucksack is a perfect choice. It is made up of durable material and is lightweight and comfortable at the same time.
Also Read : Best Travel Mugs Under Rs. 1000
It features a main compartment which is spacious along with several mesh pockets which allow easy access during hiking/trekking.
This rucksack allows you to carry heavy loads as well since the weight is distributed from your shoulder to hips. And the cushioned mesh design on the back ensures that you don't sweat too much during the activities.
Pros:
Waterproof and lightweight
Durable and comfortable
Distributes load evenly
Breathable material
Affordable
Best Buy : Amazon
---
4) POLE STAR " ROCKY " 60 Lt Grey Rucksack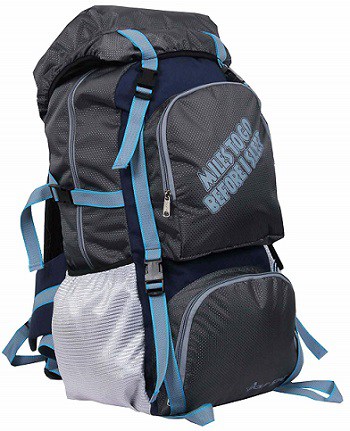 Pole Star "Rocky" 60 litres rucksack is undoubtedly one of the best products on the market because not only it is convenient but it is affordable too.
With its 60 litre capacity and multiple compartments, you can easily store your trekking gear, clothes, hammock, towels, and so on. And there is a separate pocket to hold your bottle too!
Also Read : Top 10 Best Travel Cameras
Built out of high-quality polyester, this rucksack is strong and durable and will last you for a long time.
Also, it is light and the adjustable, breathable padded straps allow you to fit the rucksack to your back length and ensure that the weight is distributed evenly.
Trust me, this is the perfect rucksack for your adventurous and long trips and is a great one-time investment.
Pros:
Affordable
Light and durable
Spacious and several compartments and pockets
Adjustable straps
Cons:
Best Buy : Amazon
---
5) MOUNT TRACK 9106 Nylon 80L Backpack with Rain Cover(Camouflage)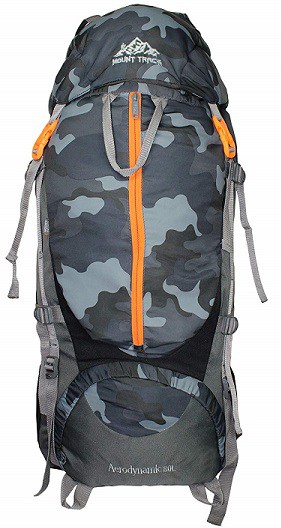 One of the largest rucksacks on the list, this rucksack has a capacity of 80L which is perfect for long journeys and adventurous trips.
It has a metal frame along with padded back which helps in providing adequate support and comfort to your back.
Also Read : Top 10 Best Camera Straps
And it is quite spacious and has a sack opening for its main compartment while you can expand the sack for extra space.
Also, it features a detachable shoe compartment which makes it easy to store clothes, footwear, equipment, etc. for your long trip.
Another great feature of this rucksack is that it includes a rain cover so you can take it with you while it is raining too.
Pros:
80-litre capacity
Metal frame with padded back
Spacious and detachable shoe compartment
Includes a rain cover
Cons:
Best Buy : Amazon
---
6) INLANDER 6001 Black 60L Rucksack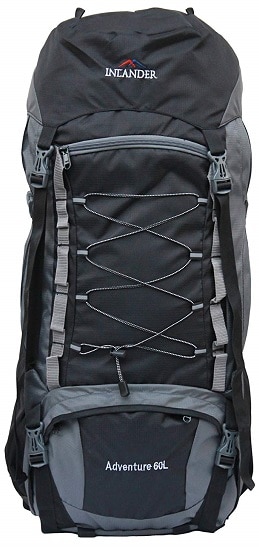 Another great rucksack for seasoned hikers and trekkers, Inlander 6001 rucksack has a capacity of 60L which is perfect for a 3-5 days' trip.
It also has an internal frame which ensures that the rucksack fits you perfectly while durable design makes sure that it is effective and long-lasting.
Also Read : 10 Best Instant Cameras in India
It is spacious and can easily fit different body sizes which make it extremely useful as a family investment.
This rucksack includes adjustable straps, waist belt, etc. to ensure a secure fit and balances the load evenly for a comfortable journey. And, it comes with a rain cover too
Pros:
Comfortable and durable
Fits different body sizes
Adjustable padded straps
Best Buy : Amazon
---
7) Gleam 0109 Climate Proof Mountain Rucksack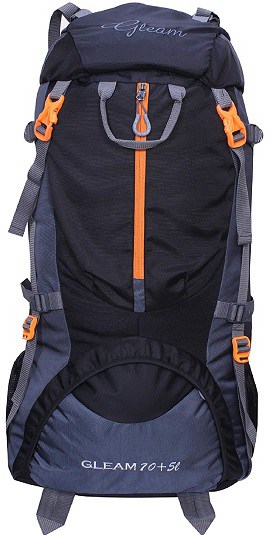 Another amazing rucksack, with a 75-litre capacity, which is perfect for all those hiking/trekking tips and long backpacking trips is Gleam 0109 rucksack.
It includes a rain cover to keep your belongings from getting wet and you can store the rain cover in one of the many zipper pockets available in this rucksack.
Also Read : 10 best travel adaptors in India
The expandable sack offers you more space to store your belongings and the separate shoe compartment makes it easy to keep your bag organized.
And the adjustable waist belt ensures that the rucksack is fit properly and makes it comfortable for you to carry your load on the road.
Pros:
Spacious and includes several pockets
Includes a rain cover
Metal frame and adjustable straps
Cons:
Best Buy : Amazon
---
8) MOUNT TRACK 40L Dark Grey Rucksack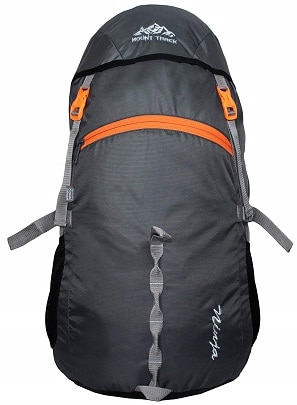 One of my favorite rucksacks is Mount Track 40L rucksack which is a compact and lightweight backpack perfect for daily use and adventurous trips.
This rucksack is made up of nylon which makes it durable and light and is also water resistant, so you don't have to worry about your trekking gear getting wet.
Also read : 10 Best Handbag for Women Under Rs. 500
It also features padded shoulder straps which ensure that the rucksack is fit and has proper back support for comfortable carrying.
There are several internal pockets for storage as well so you can easily take this rucksack for a 2-day trip as well.
Pros:
Affordable
Light and compact
Durable
Water resistant
Cons:
Not ideal for long journeys
Best Buy : Amazon
---
9) Impulse Climate Proof Mountain Rucksack 65L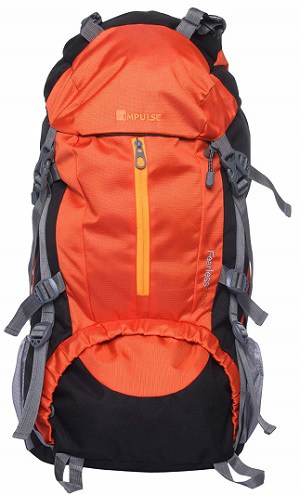 Another great rucksack which is available in multiple colors is Impulse Climate Proof Mountain Rucksack of 65-litre capacity.
This rucksack is made out of water-resistant nylon material which is why it is strong, durable, and lightweight. It is also spacious enough to store your hammock, towel, clothes, etc. and has separate compartments for shoes and bottles.
Also Read : Best Multiport USB Wall Chargers in India
It also features adjustable shoulder straps which fit the requirements of both men and women. As a result, this rucksack is perfect for hiking and daily use purpose.
Pros:
Available in several colors
Water resistant
Light and durable
Spacious
Cons:
Best Buy : Amazon
---
10) Trajectory Blue Rucksack in 60 Ltrs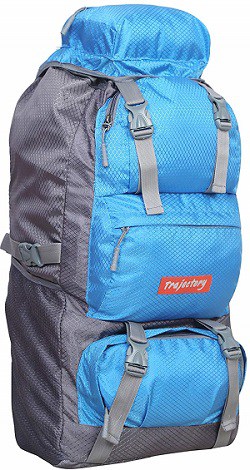 If you are looking for an affordable yet spacious rucksack then Trajectory rucksack 60 litres is the right choice for you.
With its ergonomic design and adjustable straps, you can fit the rucksack to your build and comfortably use it while trekking or hiking trips.
Also Read : Top 10 Best Tripods in India
This top loading rucksack features a drawstring opening which allows easy and quick access.
And it has sufficient space to store your clothes, laptop, gears, etc. with its 4 compartments and 2 zipped pockets. This rucksack is perfect for air travels as well and is good for 3-5 days trekking/camping trips.
Pros:
Affordable
Ergonomic design
Spacious
Adjustable straps
Cons:
Best Buy : Amazon
---
Also Read:
1) Top 10 Best Travel Adapters
2) Best Camera Straps Under Rs. 500
3) Top 10 Best Camera Bags for Travelers
4) Top 10 Best Tripods in India