"You scream, I scream, we all scream for Ice Cream!"
Only an alien wouldn't love ice-cream. Seriously, who can say no to a bowlful of thick, creamy heaven? Ice cream is love! The best way to beat the summer heat is with an ice-cream. Baskin-Robbins, Vadilal, Kwality Wall's are all fine, but what do you do for those mid-night cravings?
Get an ice-cream maker.
Easy-peasy.
An ice-cream machine is one of the most fun appliances to add to your kitchen. You can experiment and come up with your own flavors without having to worry about hygiene offered by commercial outlets. So, how do you select an ice-cream maker machine?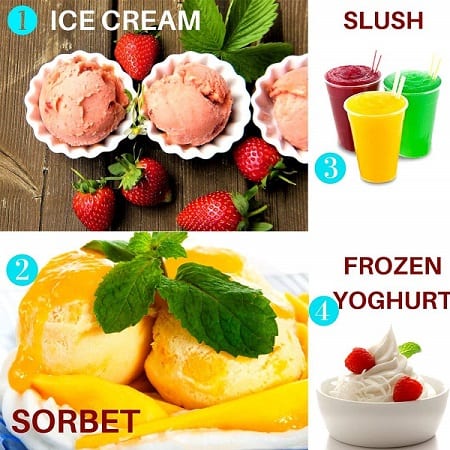 We'll tell you.
How to select the right home ice-cream machine?
There are several options available in the market right now. The deciding factors, as always, are your budget and the features you're looking for.
Cheaper models require pre-freezing of mixing bowl while the high-end models offer features to make gelatos, icy-drinks, sorbets and yogurt besides ice-cream.
Types of ice-cream churners
Currently, there are 3 types of ice-cream appliances available in India right now:
This is the conventional model. It contains an ice and salt bucket, an inner container for ice-cream and a churning motor. The machine uses rock salt and ice and needs to be churned manually. By far, these are the most economical and easy to use models.

These comprise of mid-range machines for ice-cream making. They have a gel-container which you need to put into the freezer for a day to get cold. Then you put its ingredients in your maker and let the machine stir them until your ice-cream is ready.
A bit on the higher end, the compressor ice-cream maker for home use is highly recommended for super smooth ice-creams. The machine comprises of a compressor which chills. Nearly everything is automated. You just need to add your ingredients and press the start button.
Your checklist for the right home ice-cream machine
Before you checkout, make sure you have considered the following aspects; besides looking for the ice-cream maker price:
Component quality
Appliance capacity
Ease of use
Easy of maintenance
Top 10 Best Ice Cream Makers in India
Well, now that you are in a better position to select the right soft ice-cream machine, let's review some of the best loved models in India.
1 Kitchenif Digital
(1.5Lt, White)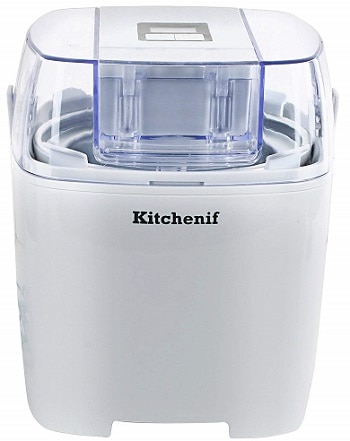 1) Kitchenif is a well-loved brand.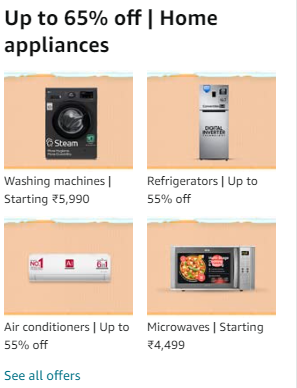 2) Their digital ice-cream maker comes with a built-in timer with automatic on and off feature.
Also Read : 10 Best Rated Split Air Conditioners
3) The ice-cream maker is built along modern design lines and has a capacity of 1.5 liters which is enough to delight your whole family in one go.
Features:
Automatic digital timer which stops the machine after the preset time.
One year manufacturer warranty on the product
Pros:
Free recipe booklet
Durable, ergonomic, modern design
Cons:
It is advised to freeze the ice-cream bowl for 12-18 hours in a double-door or above freezer.
This is because the single door refrigerator does not have the require temperature for freezing the bowl.
Check Price : Amazon
---
 2  Sphere HM-6508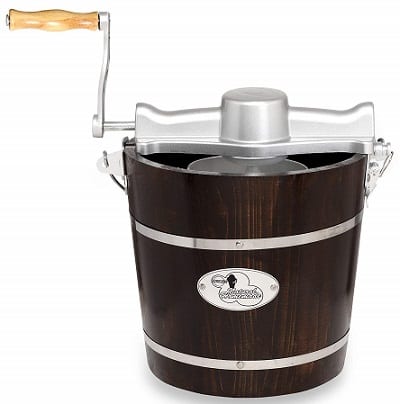 The Sphere Ice-cream maker has an unusual look. It reminds you of the ancient times when ice-cream making was more of a professional thing.
But, before you judge, let us tell you that the rustic look is only topped by a potent electric motor of 250 watt!
Also Read: 1.5 Ton Window Air Conditioners
This means that you get the charm of old times with modern engineering. The ice-cream maker can be used to make ice-creams, gelatos, sorbets and more. You can prepare 4 quarts of your favorite ice-cream.
Features:
250-watt powerful electric motor
Hand-crafted solid wood finish for durability and aesthetics
See-through lid for watching the ice-cream getting made
Pros:
Aluminum ice-cream chamber is dishwasher safe and user-friendly
Ideal for home parties and picnics
Cons:
Some users feel the design to be redundant.
Check Price : Amazon
---
3 Kitchenif Ice-cream
(1.5Lt, White)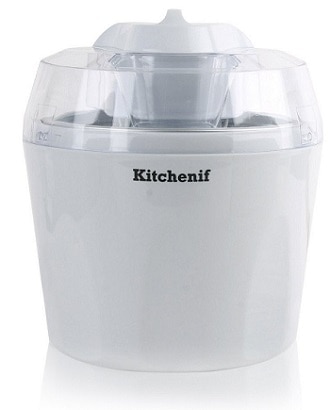 Another Kitchenif product to find a place in our Top 1O list; this ice-cream, slush, sorbet and frozen yogurt maker is an awesome all-in-one appliance for your kitchen!
Also Read: 1 Ton Split AC in India
Supported with an ergonomic design, this all-in-one ice-cream maker works exactly as advertised by the company.
There is an in-built digital timer which turns the maker on or off automatically, accentuating the emphasis on the modern design.
Features:
Super easy to use and clean afterwards
Ergonomic design
Automatic digital timer
Pros:
2 year warranty on the product
Ease of use guaranteed
Cons:
Some users report a whirring noise when the machine is new
Check Price : Amazon
---
4 Cuisinart Ice – 21
(1.5Quart, White)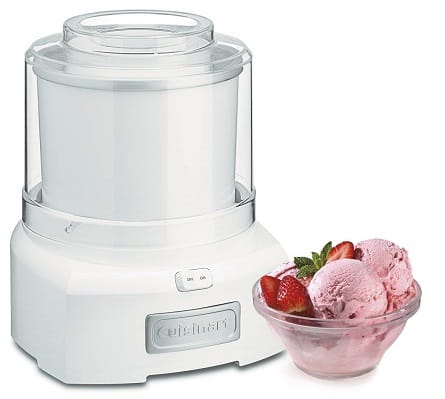 Cuisinart was one of the first companies to advocate electric ice-cream makers for home. Even today, the company continues to bring forth new products which make day to day life easier.
Also Read : 10 Best Air Coolers Under Rs. 6000
The Ice – 21 Ice-cream maker is so easy to operate that even your kids can use it!
The ice-cream maker is fully automatic; with a mixing paddle that can create frozen desserts in less than 30 minutes. The maker also has a large capacity bowl which can create 1- ½ quarts in a single sitting.
The freezer bowl is double insulated which removes the requirement for ice. You can watch as the ice-cream gets made with a transparent lid.
Features:
Double insulated freezer bowl
Easy lock
Large spout for better ice-cream making
High capacity
Pros:
Great product with an ergonomic, modern design
Easy to assemble
Convenience of cleaning
Cons:
Priced at around 12k, this model is very much on the higher end and is rarely recommended for beginners or amateurs.
Check Price : Amazon
---
5 Cuisinart ICE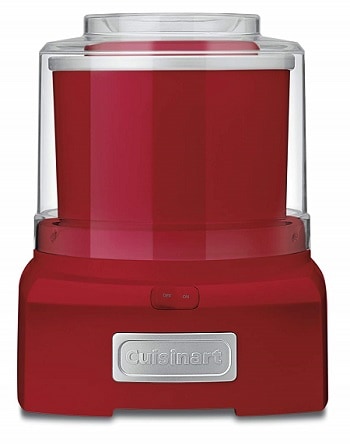 Another high-end product from Cuisinart to feature on our list, the ICE – 21R is guaranteed to savor your taste buds with the smoothest ice-creams ever!
Also Read : 10 Best Pedestal Fans in India
With a modern design and large capacity of 1- ½ quarts, all you need to do is add your ingredients to your mixing bowl, press on and chill! The machine will do it all for you. What's more? You can also make frozen yogurt and sorbet of your choice in less than 20 minutes.
Features:
Imported machine with modern design and features
Double insulated freezing bowl
Pros:
Easy lock with a transparent lid
Fully automatic
Cons:
Being an imported product, the motor is AC driven. You would need to purchase a convertor for changing 60Hz to 50Hz.
Check Price : Amazon
---
6 Nostalgia Electrics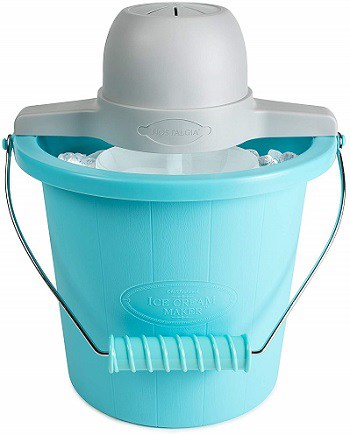 Have you ever wanted to swim in a tubful of your favorite ice-cream? We know, we wanted to. And it seems possible with this beast of an ice-cream machine! You can make up-to 4 quarts of your favorite gelato, frozen yogurt or ice-cream.
Also Read : 10 Best Ceiling Fans in India
Holy moly, that's a lot!
Not only this, the unit has a locking motor mount with a durable and sturdy aluminum canister and a plastic bucket which is easy to clean. The machine is imported from USA, just like its predecessor above.
Features:
4-quart aluminum canister
Electric motor with a locking mount
Pros:
Modern design
Instruction manual included
Imported product
Cons:
You might have to check for consistency with Indian voltage system.
Check Price : Amazon
---
7 Hamilton Beach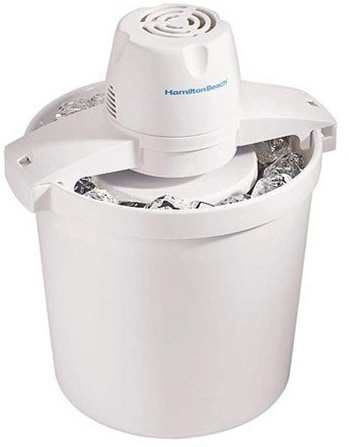 Hamilton Beach is a popular for its pocket-friendly range of kitchen appliances. Their product line is reliable and has premium quality products.
Also Read : 10 Best Table Fan in India
The 68330R ice-cream maker is highly recommended for professionals. Equipped with a 4 quart mixing bowl, you can create multiple batches of ice-creams quickly.
The unit is fully automatic and has a safety lid and easy lock.
Features:
Large freezing bowl
Fully automatic
Over 20 recipes included with the unit
Pros:
Very affordable for professionals
Ease of use and convenience
Temperature can be controlled by adding or removing ice cubes
Cons:
Not for beginners
You will require special adopter for using it in India
Rock salt and ice are required every time you want to make ice-cream
Check Price : Amazon
---
8 Libra Ice-cream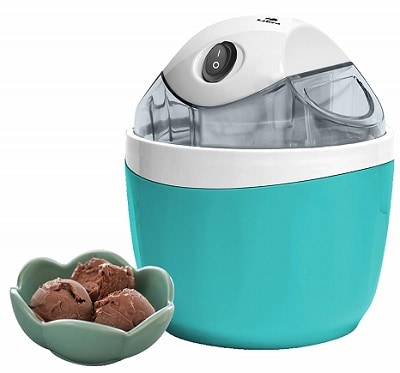 Welcome to Libra's wonderful ice-cream maker for you to make delicious desserts while sitting at home! Anyone including your kids can use this to create yummy ice-creams.
Also Read : 10 Best Current Mixer Grinders
All you need to do is to refrigerate the inner bowl for 12-18 hours before using and then add all the ingredients to it. The rest will be taken care off by the machine!
The sturdy PP pedal inside the machine moves effectively to create smooth, rich ice-cream. The motor is made of 100% copper wire which is long lasting. The top lid is rotating, lock type and is detachable.
Also Read : 10 Best Fruit & Vegetable Juicers
You can also remove the motor section easily for cleaning. The unit works on reverse thermostat mechanism with a double insulated bowl for churning the yummiest ice-creams every time.
Features:
Modern, ergonomic design
Polycarbonate top; bound to remain sturdy and strong
Pros:
Low on electricity; consumes only 12W per hour
Can be used to make sugar-free desserts
Free recipe book with 30 dessert recipes
Cons:
Very low volume of ice-cream and other frozen desserts can be prepared.
Check Price : Amazon
---
9 Perfect Shopo Yonanas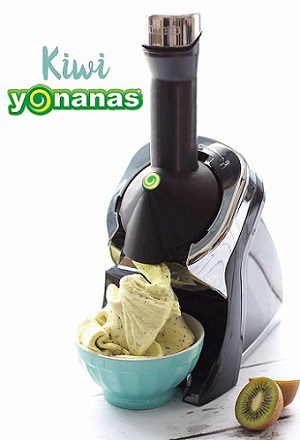 If you are looking for an inexpensive and easy to use ice-cream maker for individual usage, then Shopo Yonanas Ice-cream maker is ideal for you. The unit comes with a built-in handle and is very easy to use and clean afterwards.
Also Read : 10 Best Table Top Wet Grinders in India
You can create tasty frozen desserts with a lot of fruit toppings with this one. The powerful motor will churn them into a smooth, creamy texture for you to savor.
Features:
Built-in handle
Compact design
Pros:
Affordable
Ease of use and convenience
Cons:
Only capable of small quantities of desserts
Not recommended for professionals
Check Price : Amazon
---
10 NutriChef Ice-Cream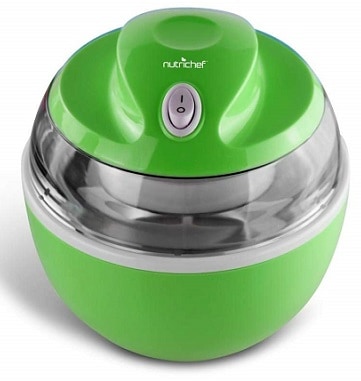 Last but not the least on our list is NutriChef's PKICCM20 Ice-cream maker. Packed with lots of features, this one will ensure that ice-cream making is fun for all ages!
Also Read : 10 Best Personal Smoothie Blenders
You can go with internet based recipes or experiment with home-made ideas with its integrated mixing blade.
The ice-cream maker is easy to operate with a plug-in design. You can create gelato, frozen yogurt, sorbet and ice-creams of your choice.
Features:
Imported from USA
Compact, ergonomic design
Pros:
Cons:
Will only run on 111Volts and you will need to a step down/voltage converter.
Check Price : Amazon
Here's a table comparing different types of ice cream makers:
Type of Ice Cream Maker
Description
Pros
Cons
Manual Ice Cream Maker
Requires manual effort to churn the ice cream mixture
– Affordable
– Portable and easy to use
– Doesn't require electricity
– Requires physical effort
– Churning process can be time-consuming
– Smaller batch size
Electric Freezer Bowl Ice Cream Maker
Uses a removable freezer bowl that needs to be pre-frozen before use
– Easy to use and clean
– No salt or ice required
– Relatively affordable
– Requires pre-freezing the bowl in advance
– Limited batch size
– Longer freezing time between batches
Compressor Ice Cream Maker
Contains a built-in freezer and doesn't require pre-freezing
– Can make multiple batches without waiting for the freezer bowl to refreeze
– Larger batch size
– Allows for continuous ice cream production
– More expensive than other types
– Heavier and less portable
– Requires more storage space
Soft-Serve Ice Cream Maker
Specifically designed for making soft-serve ice cream
– Quick and easy operation
– Can create soft-serve texture and consistency
– Some models offer mix-in options
– Limited to making soft-serve style ice cream
– May require specific mixes or ingredients
– Can be more expensive
Hand-Crank Ice Cream Maker
Requires manual hand-cranking to churn the ice cream mixture
– Nostalgic and fun experience
– No need for electricity
– Larger batch sizes available
– Requires physical effort and time
– Bulky and not easily portable
– Churning process can be tiring
Please note that the pros and cons listed are generalizations, and different models within each type may have variations in features, performance, and quality.
Here's a brief journey of ice cream makers from old to modern times, organized in a table period-wise:
| Period | Ice Cream Maker |
| --- | --- |
| Ancient Times | Hand-Churned Ice Cream: Ice cream was made by placing ingredients in a container surrounded by ice and salt. The mixture was churned by hand until frozen. |
| 18th Century | Pot Freezer: Ice cream was made by placing the ingredients in a pot, which was then submerged in a mixture of ice and salt. The pot had to be stirred manually until frozen. |
| 19th Century | Ice and Salt Machine: Ice cream makers with a hand-cranked mechanism were introduced, using a metal container surrounded by a larger container filled with ice and salt. |
| Early 20th Century | Electric Freezer Bowl: The introduction of electric motors led to the development of ice cream makers with a removable freezer bowl. The bowl was pre-frozen, and the mixture was churned automatically. |
| Mid-20th Century | Continuous Freezer: Commercial ice cream production shifted to continuous freezers, which allowed for a continuous flow of ice cream by freezing the mixture as it passed through a cylinder. |
| Late 20th Century | Compressor Ice Cream Maker: Home ice cream makers with built-in compressors became popular, eliminating the need for pre-freezing and allowing for multiple batches without waiting. |
| Modern Times | Advanced Electric Ice Cream Makers: Modern ice cream makers feature improved technology, such as digital controls, automatic timers, and the ability to make various frozen desserts. |
Please note that the table provides a general overview and simplification of the development of ice cream makers over time, and specific models and advancements may have occurred at different times within each period.
---
We hope you find our list interesting. Ready to buy one for your home or you have any other ice-cream maker that you prefer? Tell us in comments below and we'll include it in our next review!