Recently updated on May 20th, 2023 at 06:38 pm
A Power Supply Unit (PSU) is a critical component in any PC setup, yet it is often overlooked. Selecting the appropriate PSU for your specific configuration can be daunting due to the multitude of options available on the market. To simplify this process, we have created a comprehensive guide to assist you.
In this guide, we will outline the types of PSUs available in the Indian market and provide you with easy-to-follow steps for choosing the best one for your needs. It's important to note that you don't necessarily need the most expensive PSU; you simply require one that is well-suited to your setup.
One crucial consideration when purchasing a PSU is determining how much power it needs to supply. The power requirements depend entirely on your individual PC and its components. More powerful systems with custom cooling, multiple GPUs, and numerous fans will naturally demand more power to operate efficiently. We recommend utilizing a PSU Wattage Calculator, such as the one provided:
By employing this calculator, you can determine the power requirements of your system, ensuring smooth operation without any hiccups. As a general guideline, it is safer to err on the side of higher power wattage rather than falling short. For instance, if your system requires 400 watts, opting for a PSU with a capacity of 600 or 650 watts is a better choice. This decision provides ample headroom for the system to function optimally and accommodates any future upgrades without exceeding the total power draw.
However, it's important to note that using a significantly higher wattage PSU will not enhance performance, so it's unnecessary to go overboard with excessive wattage. Opting for a PSU with approximately 200 watts more than your required power draw should be a suitable choice.
Article Contents
Efficiency (Bronze ,Silver ,Gold, Platinum, Titanium)
Another important thing when buying a PSU is its efficiency. The more efficient a PSU is, the less power it wastes. A low efficiency PSU will also tend to heat up more,which can degrade its lifespan.
Fortunately, to compare efficiency, a rating system is already in place and is standard worldwide. The efficiency increases as the rating increases. They are:
80 PLUS
80 PLUS Bronze
80 PLUS SIlver
80 PLUS Gold
80 PLUS Platinum
80 PLUS Titanium
You should know however, that the more efficient PSUs are much pricier than the lower efficiency ones. So it's a matter of trading off of price vs efficiency.
Also Read : Best RAM in India
Modular vs Non-Modular
The main difference between a modular and a non-modular PSU is that a non-modular PSU has all the cables pre soldered to the circuit board. Which means you don't really get to choose what kind of cables you want in your PC build. And if you have cables you don't need in your system, they will still be connected to the PSU and you will have to conceal them one way or another.
Modular PSUs do not have cables attached to them. This means more freedom to configure but it also means you need to know what you are doing and how you want your setup to be. For cleaner setups,this is the way to go.
There is also a middle ground, a semi-modular PSU. In this type of PSU, only the frequently used cables are pre soldered and the rest you can configure yourself.
Also Read : 10 Best Gaming Chairs In India
Best Power Supply Units For PC in India
Now that we have discussed what you should know when you are buying a PSU, here are some of the best recommendations we have:
1. Gigabyte GP-P450B 80 Plus Bronze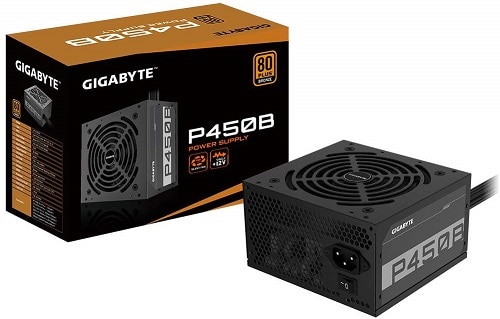 The Gigabyte GP-P450B is an excellent choice for PC builders on a budget. The PSU has 450 watt of power. So it should be good enough for average or moderately powerful builds. The efficiency is 80 PLUS Bronze, which is decent enough given the price. The included cables are very well built and are very bendable/flexible. The unit also has a 120mm Fan which is very silent and won;t make much noise under heavy loads. If you are looking to buy a PSU for a relatively low cost, then this is a good option. For most office PCs and casual users, you won't need more than 450 watts of power.
---
2. Gigabyte P750GM 80 PLUS GOLD Fully Modular PSU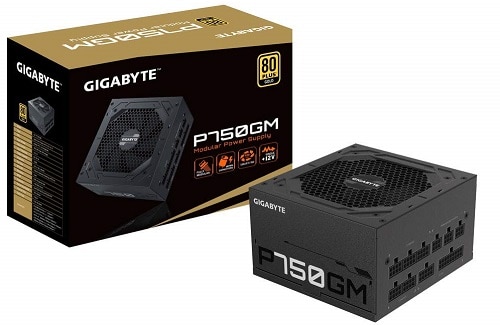 For high end systems, you will need the best equipment to ensure peak performance. The Gigabyte P750GM is a great 750 watt power supply with high end features. The efficiency is great, having 80 PLUS Gold certification, which means it will have excellent power delivery, and will be able to manage heat really well. It is a bit on the higher priced side, but you do get very good features for what you pay. The power supply is also fully modular, which means that you will be able to fully configure your cable routes and choose which cables you want in your setup.
Also Read : 10 Best Racing Game Wheels in India
---
3. Antec HCG850 80 PLUS Bronze 850W Modular PSU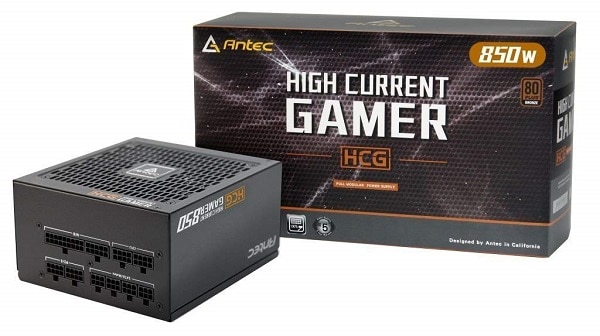 For more beefier setups and for people who are making very powerful PC builds, having a higher wattage PSU is very crucial. Without the power headroom, the components like Ryzen 7 3700x or the Nvidia RTX 2080 won't function to its full potential. This PSU has 850 watts of power,which means there won't be any problems with power shortage. The unit is also fully modular, so you will have a ton of flexibility when you are configuring the cables in your cabinet. The efficiency is 80 PLUS GOLD, so it is much higher than the Bronze ones that you get for this price point. It also has 10 years of warranty,which is a really nice thing to have for PC users. Overall this is a very good choice for enthusiast and high end setups.
Also Read : 10 Best Earphones Under Rs 1000
---
4. Circle Gaming APFC 550watt Modular 80 PLUS Bronze PSU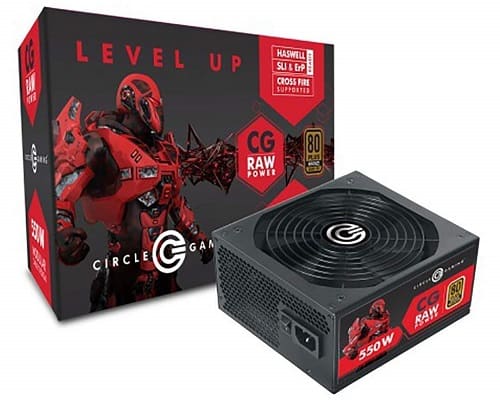 If you want the best bang for your buck 550 watt PSU in the market, then the Circle Gaming APFC 550 watt PSU is the best choice. This power supply has 80 PLUS Bronze certification, which means it will have decent power delivery with low heat production. The power supply also comes with a huge 140mm fan,which is much larger than the 120mm fans found in most other alternatives in this price range. The main highlight of this power supply is that for just ₹4000, you get 550 watts of power, which is very rare at this price point.
Also Read : Best Internal SSD for Laptop/PC in India
---
5. Gigabyte GP-P650B 650 Watt 80 PLUS Bronze PSU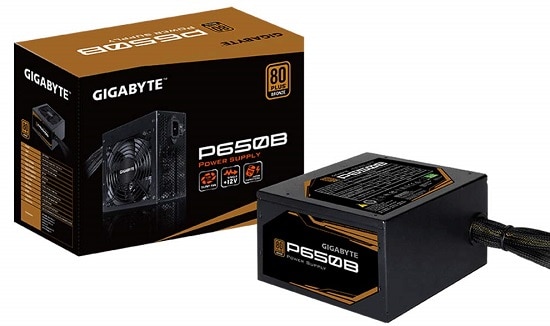 The Gigabyte GP-P650B is an excellent 650watt power supply that is also very cheap. For just under ₹5000, you get plenty of power compared to most alternatives at this price point. The power supply is 80 PLUS Bronze certified, which means it is decently efficient at supplying power without heating up too much. The capacitors in the power supply are also 100% japanese, so they are of top quality. You also get 120mm fans. The cables are very well braided and have mesh covering, so they are well protected too.
Also Read : Budget PC built Under Rs 25,000
---
6. Corsair CV450 450 watt 80 Plus Bronze Non-modular PSU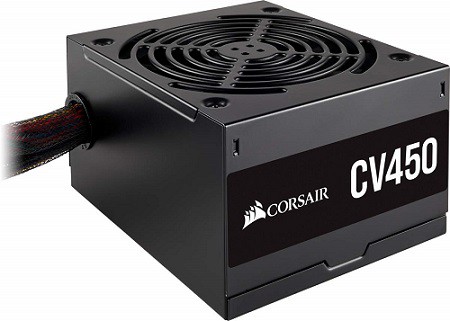 Corsair products are well known for their quality and durability. This 450 watt PSU is an excellent budget offering by the company for entry level setups. It is non-modular though, so you will have to deal with all the pre-soldered cables in one way or another. For beginner builders however, it is good enough as you don't have to plan ahead in terms of cable management and routing. It has a low noise 120mm fan, which effectively spins at high speeds at high loads and maintains a low noise during normal loads. The efficiency is 80 Plus Bronze, which is decent enough for this price point. This unit also comes in higher wattage variants, like the 550 watt and the 650 watt, which are nice upgrades if you require more power.
Also Read : Gaming PC Assembled Under Rs. 50,000
---
7. Cooler Master MWE 450 watt 80 PLUS Bronze, Non Modular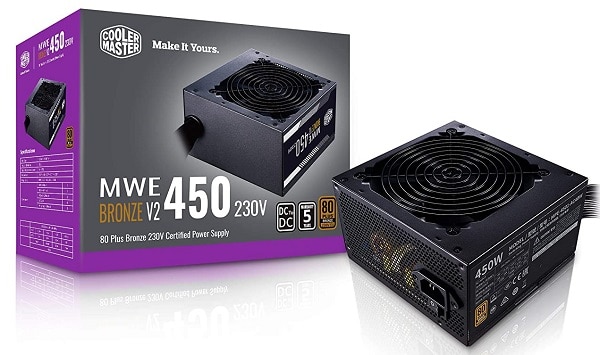 Another great budget PSU on this list is the Cooler Master MWE 450, which is a 450 watt PSU at a very reasonable price. The PSU is non-modular, so expect to properly route the pre-soldered cables. The cables are nicely sleeved and are flat, so they take up less space. The PSU has 80 PLUS Bronze certified efficiency,so it will perform very well without losing too much energy as heat. The PSU has a 120mm fan, which is silent enough at low work loads but properly spins up when under heavy loads. The unit comes with 5 years of warranty by Cooler Master, which is really great, considering PC users generally use the same PSU for multiple hardware generations.
---
8. Antec NeoEco 550M 80 PLUS Bronze 550 Watt PSU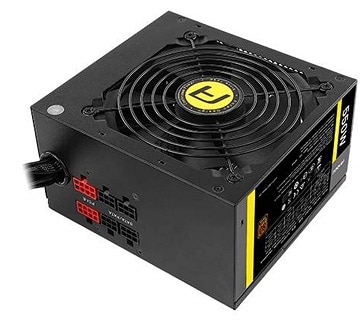 If you need more wattage than 450 watt, but do not want to go too overboard, then a 550 watt PSU will do that job. The Antec NeoEco 550M is an excellent option which is very well priced for its specifications. The unit has 80 PLUS Bronze certified efficiency and has a 120mm fan which is relatively silent. Along with these, there are a few extra features on this PSU. The fan control is managed by a dedicated Thermal Manager, which optimizes heat and noise with regards to power control.
Also Read : 10 Best Gaming Headphones Under Rs. 5,000
---
9. Antec HCG750 80 PLUS Bronze 750 Watt Modular Gaming Power Supply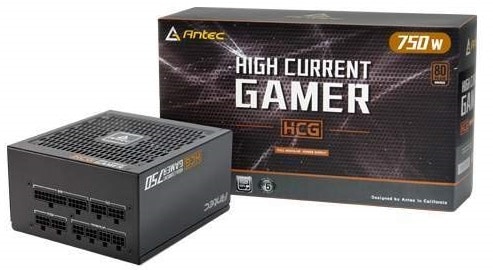 The Antec HCG750 is an excellent 750watt power for the price. This is a completely modular power supply which means you will have complete control over cable management and routing. The power supply is 80 PLUS Bronze certified and has a larger 135mm fan, which is larger than the 120mm fans that you generally get for this price. At just ₹6,999, this is an excellent PSU if you want more wattage for less price.
Also Read : 10 Best Gaming Laptops Under Rs 50,000
---
10. Cooler Master MWE 550W 80 PLUS PSU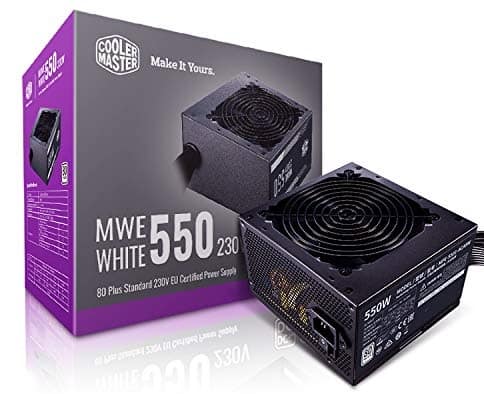 The Cooler Master MWE 550W is a decent PSU for the price, but there is a catch. The power supply is only 80 PLUS certified, which is the lowest certification. It's the only trade off in this power supply. The cables are completely sleeved, which provide some thermal resistance and damage resistance. The fan size is regular at 120mm. If you don't mind a PSU with lower power efficiency, then this is a good option.
---
11. Artis 500 Watt Silent PSU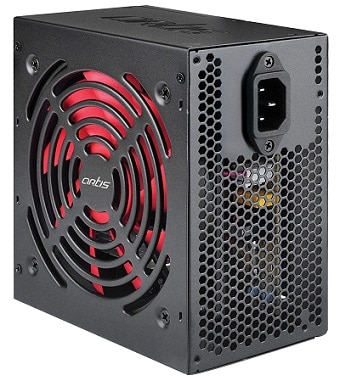 If you are looking for the cheapest 500 watt PSU, then this PSU is your best choice. For just above ₹2000, you get a lot of power for the price. The power supply has a 120mm fan which is extremely quiet. The reason this unit is so cheap is that it does not have any official efficiency rating, so expect lower than average power delivery and more heat than normal. This is the trade off if you want more power at dirt cheap prices.
Also Read : Best Graphics Cards In India
Cables Included in PSU
24 Pin Cable: This cable is for the motherboard. It supplies power to the chipset and the PCIe.
4/8 Pin: This connector goes to the CPU. The pin may be 4 or 8 depending on the model and manufacturer.
6/8 Pin: This connector goes to the graphics card(GPU). Modern GPUs have varying types of connectors but are mostly made up of a combination of 6 and 8 pins. Check your GPU for the right one.
SATA Pin: This connector goes to power your SATA hard drives. Generally you will get one cable, but you can easily add more as you expand your PCs memory.
---
Also Read :
Best Gaming Desks Tables In India
7 Best Flight Game Controllers in India
Gaming Monitors Under Rs 20,000 in India