Recently updated on May 21st, 2023 at 07:41 pm
For hiking and camping enthusiasts, owning a reliable camping tent is paramount. It enables seamless planning of weekend getaways to various destinations and facilitates unforgettable hiking adventures. Nonetheless, selecting the right camping tent is a task that requires careful consideration. Factors such as the tent's capacity, weather resistance, and other essential features must be taken into account.
To assist you in this decision-making process, we have crafted an expert guide on choosing the best camping tent available in India. Additionally, we have curated a list of the top ten camping tents that you can purchase in the country. By following our recommendations, you can confidently embark on your outdoor endeavors, knowing that you have a quality camping tent to rely on.
Article Contents
Best Camping Tents in India
1. Coleman Sundome Camping Green Tents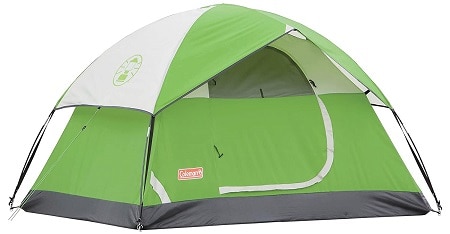 One of the best camping tents in the market, Coleman Sundome Camping Tent has a dome tent that is spacious and comfortable for two people to sleep in. Made from polyester material, this camping tent is strong and sturdy and can easily keep you warm and cozy in a cold climate.
This camping tent is perfect for use in the summer and spring season and comes with a flysheet to keep the tent in place when it is windy as well. Another great thing about this tent is that it is waterproof so it will help you stay dry during the rainy season as well.
Also Read : Best Binoculars for Bird Watching and Outdoors in India
It takes barely 10 minutes to set up the tent and a good ventilation system with floor vents ensure that the air keeps recycling while you are protected from the insects.
Overall, this is a good option for couples, friends, and family who love to camp out a lot.
---
2. AmazonBasics Tent for Camping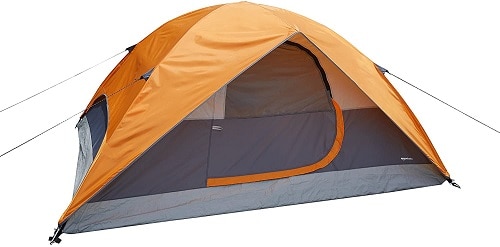 AmazonBasics Tent is perfect for weekend car camping trips or short hiking trips for both experienced and beginner campers. It is a 4-person camping tent that you can set up on a beach, in a forest, or in your own backyard. This camping tent is easy to set up and comes with easy-to-follow assembly instructions that can be used by the campers. Furthermore, the tent features a cool-air port to maintain the temperature and the adjustable ventilation for a comfortable stay inside the tent.
You also have a back window along with a front door to improve the air ventilation in the tent. Another great thing about this dome-style tent is that it includes a rainfly and the walls of the tent have polyester fabric that makes it water-resistant and strong.
Also Read : Best Charcoal Grills in India
While it cannot protect you from harsh temperatures, it is a 3-season tent and has a small mesh pocket for storage to keep your flashlight, keys, and so on.
---
3. Coleman Cortes Octagon 8 Person Family Tent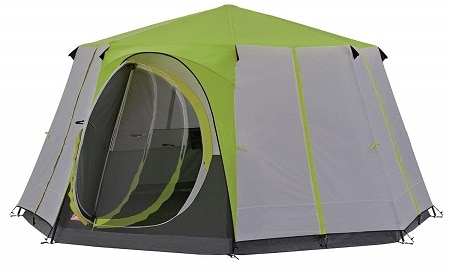 A perfect choice for large families and friends' groups, Coleman Cortes Octagon 8 Person Family Tent is perfect for camping trips during the spring and summer season. It is a 100% waterproof tent that features taped seams and fully sewn groundsheet and can manage 2000 mm water to keep you dry and comfortable. In this tent, you get 6 large windows and a mesh roof for ultimate air ventilation. Also, there is a two hinged door for easy access to the tent.
Apart from that, the tent has full head height throughout it so you can easily stand inside the tent. The tent is quite sturdy and easy to set up as well.
Also Read : Best Portable Bluetooth Speakers in India
You get a large room inside this tent that can be divided into two areas with a partition curtain to be used as a glamping room or your kids' playing area.
---
4. Quechua Camping & Outdoor Arpenaz Tent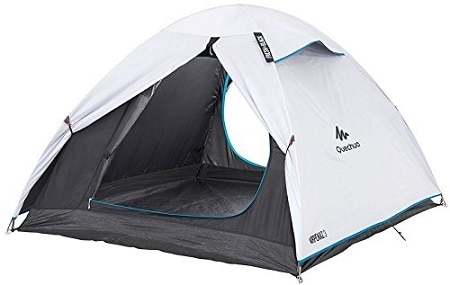 One of my personal favorites is the Quechua Camping and Outdoor Arpenaz Tent that can sleep three people at a time. This dome-style tent is made up of polyester and can resist winds up to 40 km/h. Moreover, it is waterproof and can endure 200 mm water/h quite easily as well. Since the entire fabric used in this tent is black in color, it stays dark inside the tent during the daytime as well.
It takes barely 10 minutes to assemble this tent with the poles and it easily fits inside a small bag that is easy to carry around on your hiking or car camping trips.
Also Read : Best Party Speakers With Good Bass
The tent features a vent at the top for heat reduction and the mosquito net doors keep the insects outside.
---
5. Wildcraft Polyester Tent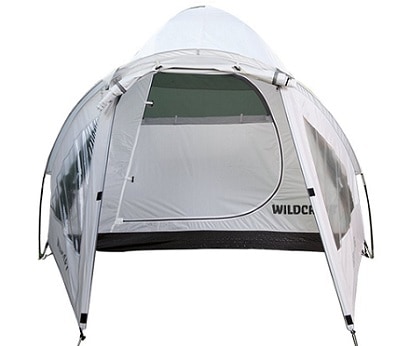 Wildcraft Polyester Tent is a Shield Shack tent that can easily accommodate 2 people at a time. You can use this tent up to 2 degrees Celsius, below which the tent might get damaged and expose you to the cold climate. This tent comes with an attached groundsheet and has a clip hanging system that makes it easy to set up.
The camping tent is quite spacious as well and can easily be used to store your belongings as well. It also has a seam-sealed and double-layered rainfly that makes it waterproof and there are mesh pockets available for better air ventilation.
Also Read : Best Mini Refrigerator
Finally, you also have pockets inside the tent for easy storage of your belongings.
---
6. Coleman Polyester Darwin 2 Camping Tent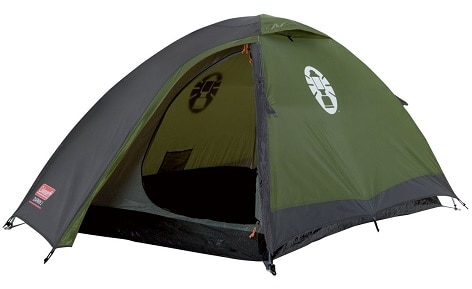 Coleman Polyester Darwin 2 Camping Tent is a little expensive but a great choice for experienced hikers and campers who are looking for a strong and durable camping tent. This two-person tent is spacious and offers sufficient front space as well to enjoy the views.
The outer tent of this product is made from 190T polyester and has a polyurethane coating with a water column of 3000 mm. So, it is strong, sturdy, and water-resistant.
Also Read : Best Telescopes in India
That's not all, this tent is flame and UV resistant as well. The tent is quick to set up and features closable mesh openings for air ventilation. Overall, this is a good camping tent if you wish to camp during a cold climate on your hiking trips.
---
7. Naturehike Backpacking Tent for 1 Person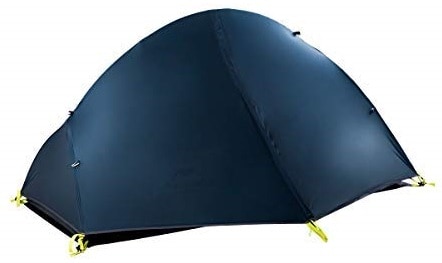 One of the most lightweight and effective backpacking tents for 1 person, the Naturehike Backpacking Tent is a little expensive but completely worth the price. The interiors of this camping tent are made from anti-scratch 20D nylon mesh that makes the tent strong and breathable while the rainfly is coated with silicone so it features PU4000mm water-resistant and UV 50+ protection. It is quick to set up and fits inside an ultra-compact compression bag that makes it easy to carry it around on your backpacking trips.
Since it features double layers, you can use it in different ways in 3 different seasons. And there are 3 different color options available to choose from.
Also Read : Best Portable Car Tyre Inflator
So, if you are looking for a compact and lightweight 1-person tent then this is the best choice for you.
8. Voroly Outdoor 100% Waterproof Portable Picnic Camping Tent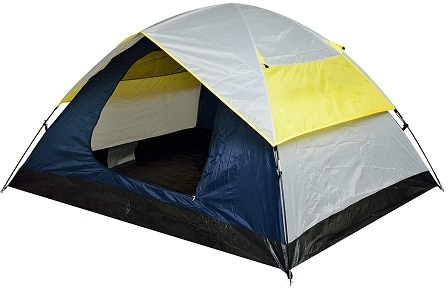 Voroly Camping Tent is a 2-person dome-style tent that can be used in winter, summer, and monsoon seasons. This camping tent can be set up in barely 10 minutes and is good for backpacking hiking trips and camping trips. With large windows and ground vent, you get good air ventilation inside this tent too.
And the patented Weathertech system used in this tent along with inverted protected seams and welded floors allow you to stay dry and comfortable inside the tent.
Also Read : Best Earphones Under Rs 1000 in India
That's not all, the tent is waterproof and was tested under 600 mm water/h. Made from polyester material, this is a strong and sturdy tent at affordable pricing and is a good option for most users.
---
9. SUKHAD Anti Ultraviolet 2 Person Camping Tent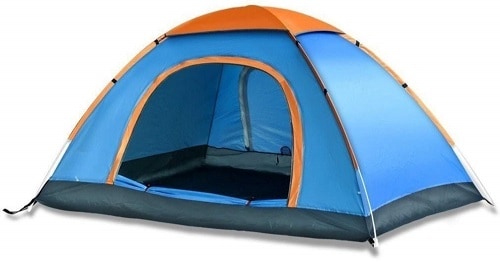 Sukhad Anti Ultraviolet 2 Person Camping Tent has a unique and water-resistant design that will help you enjoy a comfortable and dry experience camping inside a tent while it is raining outside. Made from high-quality polyester material, this camping tent is water-resistant and will keep you dry and comfortable at all times. It is completely sealed and fixed with hooks while the tent walls are strong enough to manage under harsh weather as well.
This camping tent features 2 D-shaped doors for easy access to the tent and there are a large mesh window and ceiling vents for proper air ventilation.
Also Read : Best Earphones Under Rs 500
The tent features a fiberglass frame that makes it sturdy and there is enough space inside the tent to enjoy a comfortable sleep while hiking or camping.
---
10. Egab Picnic Camping Portable Tent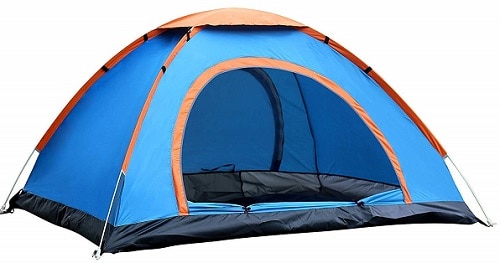 If you are looking for a casual camping tent for light traveling or hiking trips then Egab Picnic Camping Portable Tent is another good product to consider. This is an inexpensive tent that can accommodate 4 persons at a time and is available in different sizes to accommodate a more or lesser number of people. It is extremely easy to set up in under 5 minutes and the D-shape doors make it easy to get in or out of the tent.
The tent is spacious and has enough room to move around a bit. And the full coverage flysheets are waterproof so you will stay dry under rainfall as well.
Also Read : Bluetooth Earphones Under 2000 in India
Apart from that, the polyester flysheets are UV resistant as well and keep you protected from the harmful UV rays.
---
Things To Consider While Buying a Camping Tent?
When you are purchasing a camping tent, here are a few essential things to keep in mind.
Consider the Number of People Using the Tent
The first thing that you need to consider is the number of people that would be sleeping in a tent. Ideally, a 3-person tent will be more comfortable for two people with their belongings and a 4-person tent can accommodate 3 people and their luggage.
If a camping tent mentions that it is a 4-person tent, that means that 4 people can accommodate inside it but it will be a tight fit with no space to keep the luggage. So, make sure that you consider your luggage and weather before deciding to fit in a smaller tent.
Check the Weather Resistant Offered by Your Tent
Another important thing to consider is the type of weather that you are likely to endure on your camping trip. Is it going to be cold and rainy where you are planning to go? If yes, then you would need a camping tent that will keep you dry and warm so you can enjoy a comfortable stay.
Also, check how your camping tent manages in windy conditions. Make sure that the tent has adequate ventilation but will still fare well in heavy rain.
Select a Tent that is Portable
Choose a tent that is lightweight and won't add up a lot of weight in your backpack. This is particularly important if you will be carrying your tent on a hiking trip. Check out tents that can be packed into a compact bag with the poles and other necessary items.
Consider the Ease of Setting Up the Tent
Finally, you need a camping tent that is easy to set up in the dark and won't take a lot of time. Make sure that the tent can be set up by one person even if you aren't planning to go camping alone.
What Precautions To Take While Setting up?
Here are a few precautions to take when setting up your tent:
Set up your tent on a flat surface and avoid setting it up on riverbeds.
Avoid setting up your tent on a ridge or a mountaintop.
Make sure that your tent's entryway is leeward and keep your tent away from rolling hills.
Select a campsite with good drainage and water source and choose a nice grassland.
How To Set it up?
Setting up the tent for the first time can be a little intimidating but once you have the hang of it, it is quite easy. Here is how you can set up your camping tent anywhere you want:
Find a flat surface area to pitch the tent and clear out as much debris as you can.
Next, unpack your camping tent parts such as the poles, stakes, rainfly, and so on.
Now, unfold your tent and place it in your desired area.
Start by staking down your tent in the ground followed by connecting the tent poles and assembling the frame of your tent.
Finally, secure the rainfly on the tent and you are ready to snuggle inside the tent.
Other Hiking Gear We Recommend?
Apart from a good camping tent, you would need a few other hiking gears such as:
Rucksack – A rucksack is essential to keep all your essentials such as food, first aid, clothes, camping equipment, and so on. Make sure you choose a rucksack that is not heavy but large enough to accommodate all your essentials.
Hiking Shoes – Another important item to have is good, waterproof hiking shoes for your trip.
Head Lamp – It is also important to keep a torch or head lamp to find your way at night for peeing or other necessities.
---
Also Read :