Tables are an inevitable purchase for those who are looking forward to buying or building a desktop or gaming rig.
You could always get away with buying a generic table/ desk and place your gaming tower and monitors on it but the real challenge here is the cable management you gotta do to connect the accessories such as keyboard and mouse and the cables that you got to route to the power outlet in the wall.
This process can be particularly painful if you have a generic desk as there are not many ridges or grooves to hide and route the cables toward or away from your computer and it could lead to a messy situation of wires.
There are additional features such as headphone mounts and cup holders integrated within the tables or elevated mounts for monitor and wider frame for dual monitor support. Gaming tables are also usually more ergonomically designed keeping in mind the long gaming sessions that gamers have.

Gaming tables come in here to solve this problem of routing messy wires through channels and clips. As these are designed to be more ergonomic, they usually have better adjustability compared to normal tables.
They are not just for gamers though. If you require some specific features and you do not find them on normal desk's then you can look out for gaming tables.
Also Read :

12 Best Ryzen 7 Laptops In India
Things To Consider While Buying Gaming Tables
Size
Gaming tables come in a lot of sizes and shapes. Some come with support for dual monitors as they are wider than usual or some come in higher heights compared to others.
So, make sure that you choose the desired size for your use cases and that size fits your room.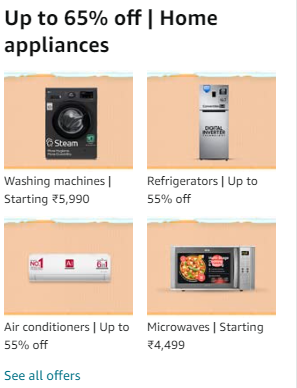 Design
Design is subjective as always and it depends on one's taste. Some tables look minimalistic and some look "gamerish" with a lot of angles and grooves so look out for the design that suits your setup and room.
Materials
Different tables come with the different build quality. Some are constructed from metal frames and plastic tops whereas some are wood or some are completely metal. So, choose your desired material going forward.
Features
Not all the tables come with support for cable management or support to attach additional accessories.
Some tables are just barebones and minimal whereas some are just overloaded with support for additional accessories and cable management which is important for some.
It's important to choose which one suits your needs.
Assembly
All the tables come as separate parts and all need to be assembled out of the box to make sure that you have the needed tools to assemble them such as screwdrivers and stuff.
If you have the required tools then the assembly process should be pretty much seamless.
Some table technicians come to your place and assemble it but it is not free of charge so if you think of saving some money you could assemble it by yourself.
Warranty
Unlike electronics products that have a very low chance of failure out of the box, these have various components that could have minor defects shaping out to be big issues in the long term so as you purchase higher-priced tables consider warranty to be an important aspect.
Also Read :

Best Ultrawide Gaming Monitors in India

Gaming Monitors Under Rs 20,000 in India

10 Best Earphones Under Rs 1000
Best Gaming Tables in India
Now that you are ready to choose your desk here are the best options to buy not in any order.
(There are also some minimalistic non-gamer desks/ tables mentioned for those minimalists out there)
---
1. Mr IRONSTONE L Shaped Gaming Desk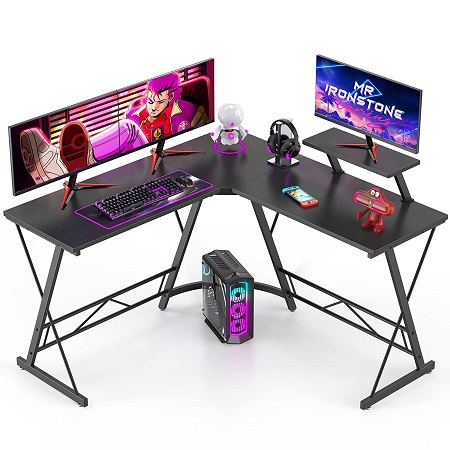 Desk, and I must say it has exceeded my expectations. The fast assembly time of just 30 minutes allowed me to set up my gaming station quickly and get right into the action. The provided assembly instructions were clear and the included tool made the process even smoother.
The durability and sturdiness of this desk are outstanding. The metal frame and P2 MDF eco-friendly board construction ensure a solid and reliable gaming surface. Even during intense gaming sessions, the smooth desktop doesn't scratch, even with rapid mouse movements. The ultra sturdy X-shaped leg design adds to its stability, with the ability to support up to 500lbs of weight without any wobbling.
Maintenance is a breeze with this desk. It is easy to clean, whether it's removing food residues, water stains, or dust. A simple wipe with a towel leaves it looking brand new.
Overall, the Mr IRONSTONE L Shaped Gaming Desk offers a fantastic gaming experience. Its durability, easy assembly, and hassle-free cleaning make it a top choice for any gamer or home office user.
---
2. EUREKA Ergonomic 43′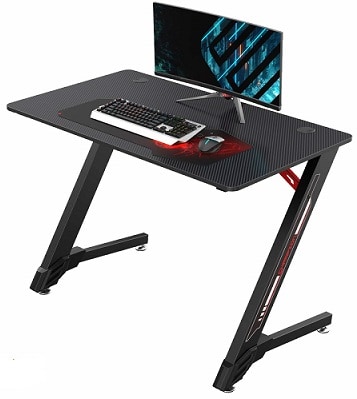 Eureka ergonomic is the entry-level offering from Eureka in their Ergonomic series of gaming desk.
So, if you want basic gamer features such as a larger top deck and cable management then this is a great option to choose.
The Desk looks pretty good for something that is gamer focused. The frame is of a Z-shaped design to maximize room for your legs while sitting and the feet are also adjustable. The top deck is coated in a carbon fiber texture which should help the feel and there are bracket stabilizers to prevent the deck from shaking.
Dimensions of the desk are 60cm in width, 110cm in length, and 75.4cm in height. The bigger top deck allows you to place big monitors as the size suggests or you can place a smaller monitor and the gaming rig on top. The deck can withstand weights up to 200pounds or around 91 kgs.
The feature set in this deck is pretty good as it comes with an integrated power strip box located under the desk and two cable grommets on the top to keep the cables out of the way and for easier cable management. Accessories such as cup holders, controller holders can also be attached and gear hooks can be attached separately.
Surprisingly there is an inbuilt mouse pad with the desk which comes in handy as it eliminates the purchase for a separate mouse pad.
Also Read : Best Gaming Headphones Under Rs 2000 in India
Assembly is required but it's pretty easy as there are not a lot of parts.
This is a good choice for entry-level gamers as the table provides all the basic features needed for a gamer.
Check Cheapest Price : Amazon
---
3. Eureka Ergonomic Z1-S Gaming Desk 44.5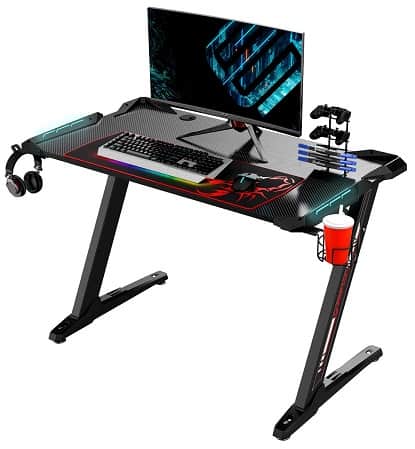 Weird name aside this is pretty much the same desk as the ergonomic 43inch but with some additional features.
Simply put this is a more premium version of the 43inch model.
Design is pretty much the same with those Z-shaped frames and the carbon fiber textured top but additionally, the table also comes with an RGB LED strip on the sides for that sweet gamer look but the strips are small.
The dimensions are also the same except for the height as this is 0.4 cm higher than the 43inch model and the weight of the table is also a bit higher.
Also Read : Best 32 Gb RAM Laptops in India
There are more features in this model compared to the 43inch model. Additionally to the 43inch model, it has only the mouse pad that comes with a headphone holder, controller stand, and cup holder that are optional accessories for the base model.
One should go for this model only if they need those accessories and are pre-fitted and the RGB is a must but for everyone else, the base model should suffice.
Check Cheapest Price : Amazon
---
4. EUREKA Ergonomic 50.6′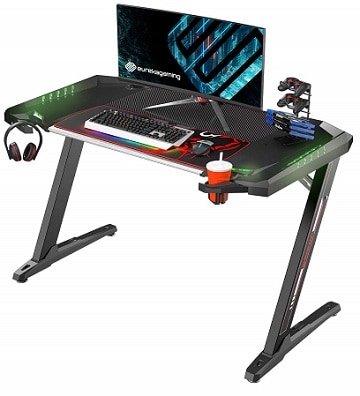 The Ergonomic 50.6' is the bigger brother to the 43inch version and it provides some additional features that the base variant does not provide.
Design is similar to the smaller versions with a Z-shaped frame for maximum efficiency and there are 4 RGB LED strips compared to 2 RGB strips that the 44.5inch provides and also comes with the carbon fiber texture finish.
Dimensions are 128.8cm in length, 68.5cm in width, and 78.5 cm in height. This desk is even suitable for humongous 40 or 50-inch screens.
The Desk is slightly inclined 5 degrees to be exact to provide a more comfortable gaming and typing position.
Also Read : 10 Best Gaming Headphones Under Rs 5,000
As far as features go it comes with a cup holder, headphone holder, and controller holder additionally it also comes with a mobile phone slot to place your mobile.
If you want a bigger desk than the 43 or 44inch model then this is one of the better gaming tables.
Check Cheapest Price : Amazon
---
5. EUREKA Ergonomic Z60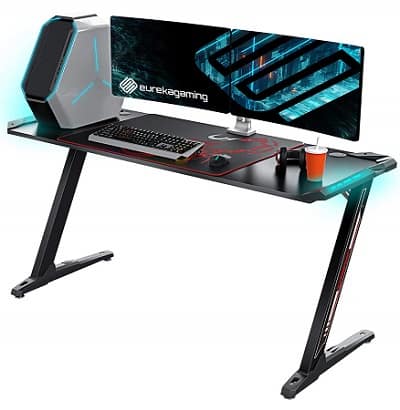 Ergonomic Z60 is the biggest table you could buy from Eureka but there are not any other features that distinguished this from their other offerings.
Design and build are the same and there are only 2 RGB LED strips and the deck comes with a carbon fiber finish.
Dimensions are 153cm in length, 60.5cm in width, and 78.5 cm in height. Not to mention that it is huge, you can easily place very big monitors and have space left.
As far as features go there are not any included except for the cable management grommet and the balancing lever but it comes with support to attach additional accessories.
Also Read : Best Gaming Headphones With Mic Under Rs 10,000
Though the table is very big it comes in two pieces for easy installation and transportation.
If you need the biggest possible surface area for whatever you do then this is your best choice but if you need the maximum number of features preloaded and size is not a matter then the Eureka 50.6inch is the better choice.
Check Cheapest Price : Amazon
---
6. Tarkan Professional Gaming Desk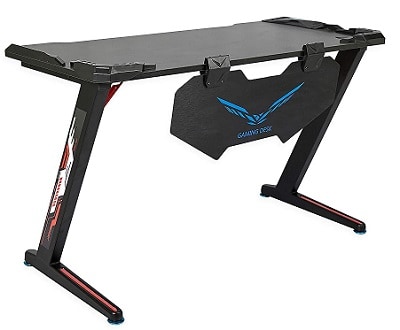 Straight away this is one of the best gaming desks available in the market without RGB lighting.
The design is pretty good but there are a lot more angular lines than needed but it is not that big of an issue considering it is a gaming desk. Like the desks from Eureka, this also comes with a plastic top with carbon fiber finish and also comes with the same kind of Z-shaped frame that comes with the offerings from Eureka.
Size is pretty much perfect for a lot of people as it is neither too big nor too small for the feature set it offers. The dimensions are 47inches in length, 22inches in width, and 30inches in height. This is a perfect size for all purposes intended.
Also Read : Best Prebuilt Desktop Computers in India
Features are also very good as it comes with very good cable management support and holders for cups and headphones and it also comes with raised borders around the edges to protect things from falling.
Assembly is also pretty simple as there is the step by step instructions included in the box.
If you need a gaming table but without any traces of RGB and a size that is not too big and not too small then this is your best choice.
Check Cheapest Price : Amazon
---
7. Green Soul Code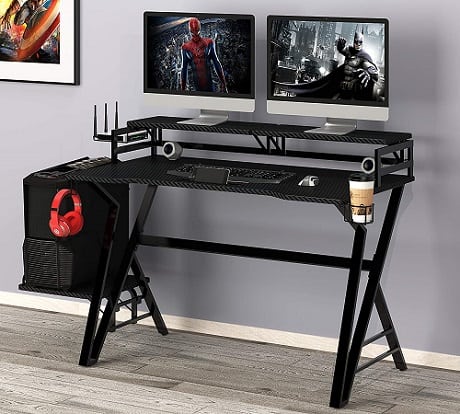 Green Soul code is a multi-purpose table that comes loaded with a lot of features and for the people out there looking for tables that support a dual monitor setup, this is the best option.
This is a clean looking desk which comes in all black or can also be bought with red accents. Design is very minimal but the functions are just overloaded.
The frame of the desk is steel and the top deck is covered with a carbon fiber-like finish for a smooth touch feeling.
The size of the desk is large as expected as this is the best tablet on the list for dual monitor support. The deck is also elevated to a compartment above for easier viewability taking away the stress from the neck.
Features are just jam-packed as it comes with cup holders, headphone holder, phone holder, and even a router holder.
Also Read : All Gear Needed For PC Games Live Streaming in India
There is a CPU holder on the left of the table to keep your gaming rig elevated from the floor.
The keyboard deck is also elevated ever so slightly to help with the typing ergonomics.
Assembly of the desk is not as simple as the other laptops but the company also provides carpenter assistance for putting together the table. The warranty on the table is 3 years which is also a relief.
Overall, this is the most all-rounded table in the list even though they don't come with cable management systems other features provided in this table easily overcomes its other negatives and proves to be a perfect option for both who look for dual monitor tables and normal single monitor tables.
Check Cheapest Price : Amazon
---
Also Read : Best Gaming Mouse Pads In India
---
That was the best pick for the gaming tables in India, there are a lot of options including catering to a wide variety of people. If you find something is missing or have any suggestions make sure to leave the comments below.
Also Read :
Written By - Nirunjan Kumar 
Infinite monkey theorem.
I love how things work.
Tryna make things work!
Instagram