The budget of Rs. 10,000 is quite a handsome one if you're looking for nothing but the best. While you may get some premium wired earphones under this budget, the Bluetooth earphones category reaches its mid to higher range with some decent options.
You can expect best of the best audio quality from these earphones while the feature-set also grows exponentially for headphones under Rs. 10,000.
Having said that, this price segment also brings an all-new set of brands that operate only in the premium segment.
With some of our recommendations below, you will not only be introduced to these brands, but you will also learn a few things they do differently than other conventional brands. Here are the best earphones under Rs. 10,000 in India.
1. Shure SE215-CL-KCE Sound Isolating Earphones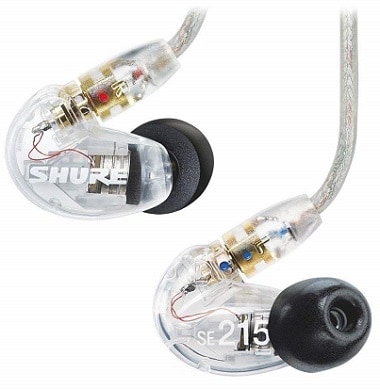 For the people who like a see-through look will find these earphones appealing as their earpieces have a clear plastic casing that reveals the inner circuitry.
Inside the box, you will find a handful of ear tips that are made from silicone and foam. Besides giving you a perfect fit inside your ear, they also help in attaining a level of noise isolation.
Best Earphones Under Rs. 5,000 in India
Shure has used a high-quality braided cable for these earphones, and they have an angled 3.5mm headphone jack at one end.
A sturdy case is also included within the package that has a zipper as a closing mechanism while offering an option to hand it to your backpack.
The product comes bundled with a warranty of 2 years from the company.
2. FiiO F9 Pro Hybrid In-Ear Headphones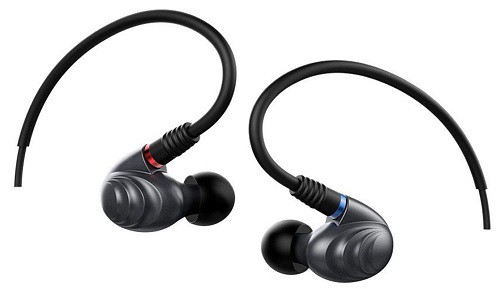 To start with, these FiiO products are monitor earphones that offer a balanced audio quality and none of its aspects will feel overpowering or subduing others.
Its wire goes behind your ears to give you the most secure fit even when you're jumping with music. Plus, the cable can be detached from the earpieces for giving you that extra freedom.
FiiO F9 Pro supports wired connection and has a 3.5mm headphone jack. There is an in-line remote controller that has a three-button interface and works as intended.
Also Read : 10 Best Earphones Under Rs 8000
There is a total of three drivers with the main dynamic driver measuring 9.2mm designed to ensure deep bass. The earphones support hi-res audio for a life-like listening experience
You will find a total of 12 pairs of ear tips inside the package which also includes a water-resistant pouch. The company offers a warranty of 1 year on this product.
3. Shure SE215SPE-A Sound Isolating Earphones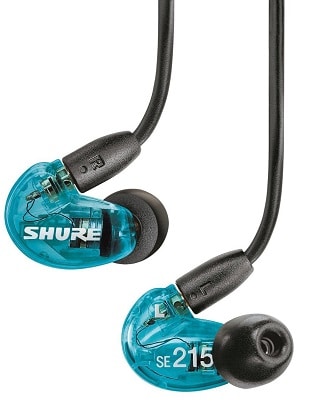 Very similar to the Shure earphones that topped this list, the SE2155SPE-A share the same aesthetics with a translucent body that is now in blue colour.
The earpieces have the ear tips tilted at a certain angle to give a perfect fit inside your ear. Speaking of which, the earphones come bundled with both silicone and foam ear tips which you can choose as per your preference.
Also Read : 10 Best Earphones Under Rs. 1000
You will get the same carrying case that is made using quality material to keep the earphones safe.
A series of dynamic micro drivers help offer the deepest bass it possibly could. While the mids and highs come out quite balanced.
It uses a detachable cable mechanism from the earpieces' side, although the cable isn't braided. It connects via a 3.5mm audio jack.
4. RHA MA750 In-Ear Headphones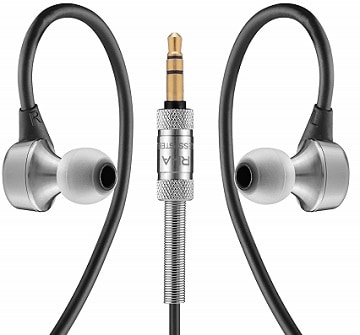 Giving you a truly premium feel, EHA has done a fantastic job by using aluminium as a base material for the earphone's casing.
Its cable tucks behind your ear for a more secure fit while it ends with an audio jack at the other end. There is an in-line splitter that connects both the earphones but there is no microphone.
RHA has carefully and precisely tuned the audio of the earphones to give you a balanced music experience. This is an audiophile-grade pair of earphones that has an unmatched quality.
Also Read : Best Wireless Earphones Under Rs. 1000
A premium zipper case with a leather finish is provided with the earphones besides 10 pairs of ear tips with different shapes and sizes.
These RHA earphones are compatible with almost all devices that sport an audio port.
5. Marshall Minor II Bluetooth Earphones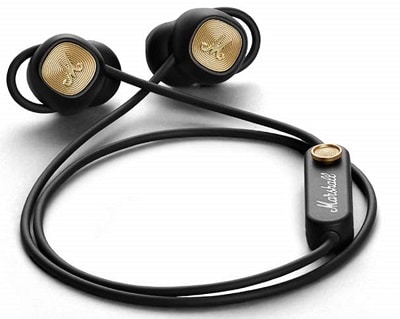 Marshall is another premium manufacturer of audio products and these earphones stand by that trademark quality. All black in design with some gold accents will surely make some heads turn.
These aren't exactly in-ear earphones as they don't exactly have a silicone tip that goes inside the ear canal. Its tip is designed to sit right outside the ear canal, much like the Apple EarPods.
10 Best Earphones Under Rs 500
A wire is present that attaches both the earpieces. It is of just the right length so that it doesn't come in your way. The in-line unit offers a single-button interface and houses a microphone.
On a single charge, these earphones can keep going for up to 12 hours. Quick charging is also supported. They have a 14.2m driver in each earpiece that is custom tuned by Marshall.
The Minor II earphones come with support for Bluetooth 5.0 and Qualcomm aptX that work together to offer an improved range and quality.
6. OnePlus Bullets Wireless 2 In-Ear Headphones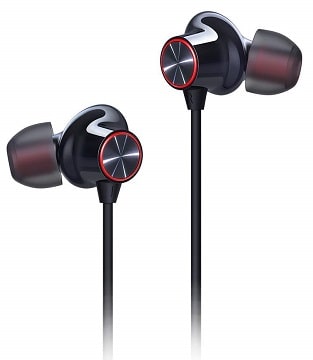 A rather popular name in the mid-range segment, the OnePlus Bullets Wireless 2 are better paired with a OnePlus device for all the extra features like auto pause and play, although they work fine with all Bluetooth devices.
The new model has seen a design change that makes them look more modern and compact as the earpieces attach magnetically when not in use.
Also Read : Best Earphones Under Rs. 2000 in India
They charge over USB Type-C and support OnePlus' Warp charging. 10 minutes of charge can keep it running for 10 hours, while it works for 14 hours on a full charge.
OnePlus has used Qualcomm's noise-cancelling tech along with aptX HD for better audio experience. It connects over Bluetooth 5.0 and has support for Google Assistant.
It comes bundled with a unique silicone pouch that has a magnetic closure. The company offers a 1-year warranty on these earphones.
7. Bose SoundSport Wireless Earphones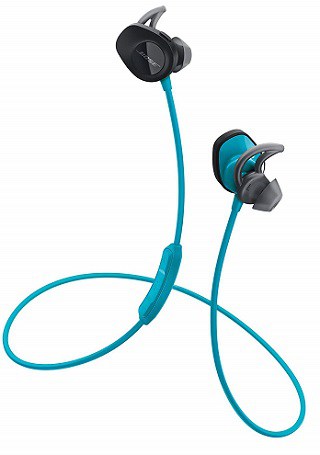 Bose needs no introduction in the audio equipment space. These SoundSport earphones are their Bluetooth earphones that offer an unbeaten audio output that is tuned as per the brand's standards.
Each earpiece houses its own battery, so the in-line unit isn't made all that heavy. On a single charge, the earphones can run for about 6 hours.
For connectivity, you can use Bluetooth, which is a common protocol easily available across devices. If your phone has NFC, then you can use that as well for a faster connection.
Best Earphones Under Rs. 2000 in India
These in-ear headphones are designed for being worn while exercising. This helps them stay in place, thanks to its silicone ear tips that have an ear wing attached.
Bose ships these earphones with 1 year of warranty and a tiny carrying case that can fit almost anywhere.
8. 1MORE Quad Driver In-Ear Headphones with Mic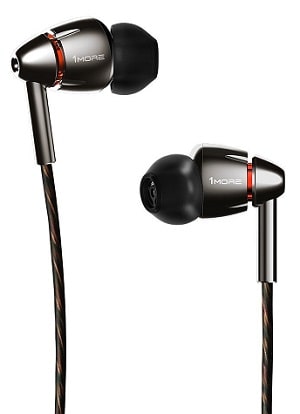 Coming from a popular brand like 1MORE, these earphones are one of the very few to have a four-driver setup. They are specially arranged by the company for enhanced audio output.
The ear tips are positioned at an angle and have a different shape to give you a comfortable and ergonomic fit. A certain level of noise isolation is also achieved using these silicone pieces.
Also Read : Bluetooth Over-Ear Headphones Under Rs. 3000
Made using metal, these 1MORE earphones have an in-line remote unit that can intelligently control all the aspects of your music. Plus, it also has a microphone for calls. The company has used a high-quality braided cable for these earphones.
1MORE ships these headphones inside a luxurious box that includes a leather case, multiple connector adapters and a host of ear tips so that you find the right one.
9. Whizzer Kylin A-HE03 1DD+2BA Earphones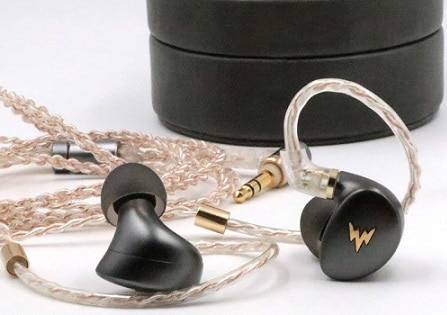 The A-HE03 uses a detachable cable for connecting the two earpieces. It is a braided cable that is made from copper and silver with both ensuring a superior signal transmission.
For the construction of the earpieces, Whizzer Kylin has used magnesium which, besides being lightweight, is sturdy and ensures better acoustics.
Also Read : Bluetooth Earphones Under Rs. 1000
To make sure the earphones sit securely inside your ear, the in-ear headphones are designed to have their cable running from behind your ear.
Within the package, you will get several pairs of both silicone and foam ear tips along with a premium carrying case that matches the earphone's colour.
The three drivers inside each earpiece are designed with a focus on mid and highs. It uses a customized low impedance for improved performance on a phone.
10. Dunu – Titan 1es In-Ear Headphones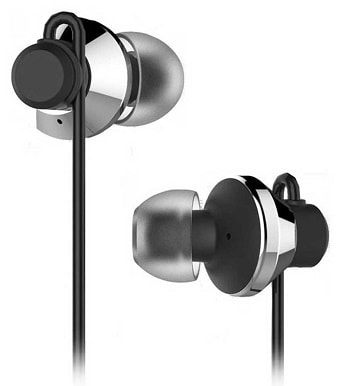 These earphones from Dunu can be the easiest choice for anyone. Their sound signature is suited for most use cases of a normal person and the devices they use.
Dunu Titan earphones come with a metal construction—aluminium, to be precise. Its cable too is made intelligently to avoid breakage at the very ends. There is an L-shaped 3.5mm audio jack on the opposite end.
​​​​​In Ear (IEM) Headphones Under Rs.1500
Its cable attaches to the earpieces in a different manner that allows you the option to have it running over your ears or straight downwards.
The earpieces use silicone ear tips that are positioned at an angle for better ergonomic design and perfect noise isolation. Its titanium drivers are made to offer an excellent sound output.
Also Read :

10 Best Earphones Under Rs 1500