Anyone who has trekked once in their life understands the importance of a good pair of trekking shoes. Trust me, sneakers and other normal footwear don't work well for most treks and can actually result in accidents while trekking on a rough mountain trail.
So, it is important that you purchase a good pair of trekking shoes if you are planning to go on several trekking adventures. And to help you out in choosing the best trekking shoes, we have prepared this guide including a few features to look out for so that you don't make the wrong choice.
Here's a table summarizing the factors and features to consider when choosing trekking shoes.
| Factors and Features | Description |
| --- | --- |
| Weight | Opt for lightweight shoes with good support and grip. Slightly heavier shoes can be beneficial for carrying heavy loads during trekking. |
| Ankle Protection | Choose between low-cut, mid-cut, and high-cut shoes based on the terrain and trek type. High-cut shoes offer the most support and grip, suitable for multi-day treks and various terrains. |
| Cushioning and Padding | Well-padded shoes with proper cushioning protect your heels and ankles, ensuring comfort during long hours of trekking. Look for air cushioning to prevent painful heels. |
| Insulation | Insulated shoes are essential for cold and snowy treks, providing protection from the elements without sacrificing comfort. |
| Size and Fit | Proper fit is crucial to prevent foot blisters and discomfort. Try the shoes on, especially at the end of the day when your feet are swollen. Consider wearing two woolen socks during the fitting to ensure the right size is chosen. |
| Waterproofness | Waterproof shoes are essential for crossing streams, waterfalls, and snow treks. They help prevent frostbite and pneumonia, and ensure your feet stay dry in wet conditions. Investing in waterproof shoes is a practical choice. |
| Breathability | Consider shoes with breathable materials to prevent moisture buildup and keep your feet comfortable during extended treks. |
| Traction | Opt for shoes with a durable and grippy outsole that provides traction on various terrains, including rocky or slippery surfaces. |
| Toe Protection | Look for reinforced toe caps to protect your toes from impacts and collisions with rocks or other obstacles on the trail. |
| Lacing System | A reliable lacing system ensures a secure fit and prevents your feet from sliding inside the shoes. Consider quick-lace systems for convenience and adjustability on the go. |
| Durability | Choose shoes made from durable materials that can withstand the rigors of trekking. Quality construction enhances the longevity of your footwear, making it a worthwhile investment. |
| Arch and Ankle Support | Shoes with proper arch and ankle support reduce fatigue and prevent strain during long treks. Consider custom insoles if you require additional arch support. |
| Terrain-Specific Consideration | Tailor your shoe choice to the specific terrain you'll encounter, such as rugged mountains, forests, deserts, or wetlands. Different terrains demand different features and levels of protection. |
| Brand and Reviews | Research reputable brands and read reviews from other trekkers to gain insights into the quality and performance of different trekking shoe options. |
Remember that choosing the right trekking shoes is essential for your comfort and safety during your treks. Take the time to carefully assess each factor and feature to make an informed decision.

Top 10 Trekking Shoes to Consider
We have listed down a few top-notch trekking shoes that you can consider and compare. Make sure that you check the above-mentioned factors and features before making any choice.
1) Redchief Men's Leather Trekking and Hiking Footwear Shoes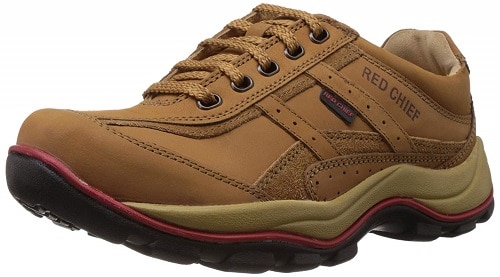 Check Price Amazon
One of the best trekking shoes currently available on the market is the Redchief Men's leather trekking shoes which are quite affordable too. This low-cut pair of trekking shoes works well as casual shoes too. It features padded upper and foot bed that provides flexibility and comfort and is the perfect fit for most people.
This pair of trekking shoes is ideal for people who love hard yet comfortable shoes. It is also easy to clean with a brush or a cloth which makes it easy to maintain. It can feel slightly hard at the back in the start but after a few uses, it breaks in and feels extremely comfortable to wear.
Pros: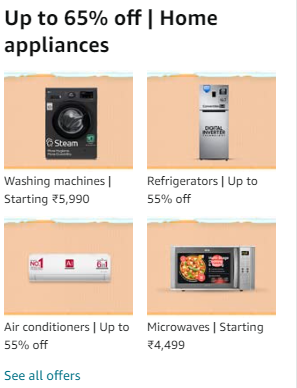 Affordable
Highly padded and comfortable
Low ankle shoes
Easy to clean and maintain
Cons:
---
2) Adidas Men's Ax2 Mid Trekking and Hiking Boots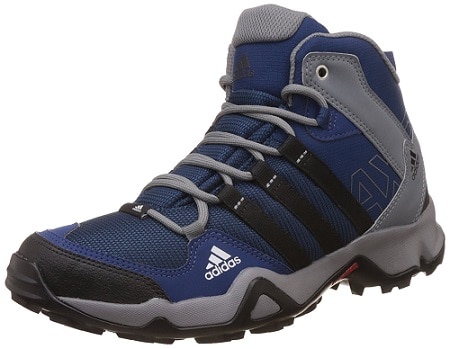 Let's face it, when you are talking about trekking shoes then Adidas trekking shoes easily come out on the top because of their top-notch quality and design. This is why we have listed down Adidas Men's AX2 Mid trekking boots which is light and fast and works well in wet conditions too.
The EVA midsole offers cushioning for a long time and the high traction rubber will offer you an amazing grip in wet conditions too. It has a high grip, support, and cushioning which makes it perfect for multi-day treks.
Pros:
Durable
Comfortable and supportive
Enhanced grip
Light and fast
Cons:
Check Price Amazon
---
3) Wildcraft Unisex Trekking and Hiking Boots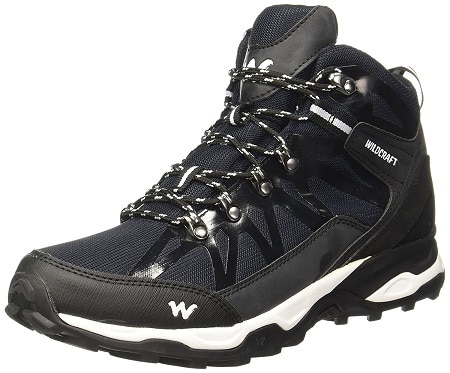 Wildcraft Unisex Trekking Boots can be one of the best investments for trekking enthusiasts as it works well on rough terrains while offering you adequate support and comfort at the same time. This pair of trekking shoes looks good and is made up of mesh material so it is quite breathable too and won't leave your feet too sweaty.
This ergonomically designed pair of trekking shoes are durable and work well on unpredictable roads as well which makes it a good choice for experienced trekkers. However, it is a little expensive but if you are looking for quality then this is certainly one of the best trekking shoes in the market.
Pros:
Durable and comfortable
Breathable material
Stylish design
Supportive
Cons:
Check Price Amazon
---
4) Redchief Men's Leather Trekking and Hiking Footwear Shoes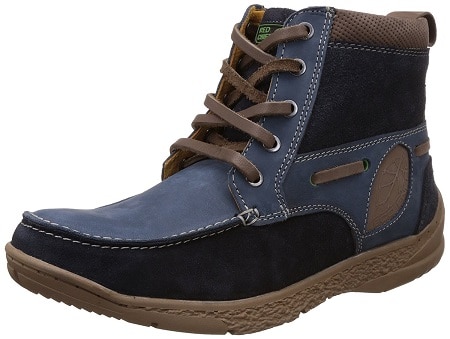 This high-cut trekking shoe from Redchief is easily affordable and perfect for multi-day treks on rough terrains. It requires a little maintenance but has an amazing quality which makes it both durable and comfortable for long use.
It is made up of leather so you don't have to worry about it getting damaged soon but it can get easily dirty so clean it up regularly. And the lace-up closure allows you to fit it comfortably according to your feet size.
Pros:
Amazing quality
Durable and comfortable
Made up of leather
Stylish design
Cons:
---
5) Quechua MH 100 Mid Women's Waterproof Mountain Hiking Shoes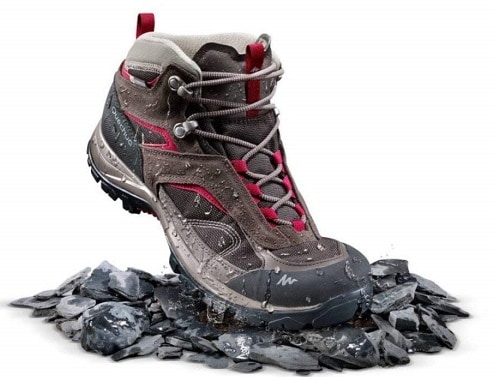 Personally, I think this is the best mountain trekking shoes for women as it works well in all kinds of weather and road conditions. This pair of shoes provides complete cushioning, good support, along with a waterproof membrane to keep your feet dry.
The cross-contact sole of this shoes can handle both slippery and dry terrains and the stone-guard protects your toe from any kind of injury. This mid-cut shoes offers ankle protection as well and is great for multi-day treks.
Pros:
Waterproof
Cushioning and supportive
Works on dry and slippery terrains
Stone-guard protects your toe
Cons:
Check Price Amazon
---
6) QUIPCO Terra Waterproof Trekking Shoes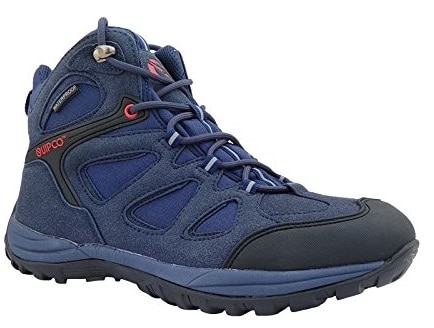 Another popular waterproof trekking shoes which are perfect for long, rough treks is Quipco Terra Waterproof Trekking Shoes. This pair of shoes is quite comfortable and versatile and suitable for both short and long treks.
It includes a durable and tensile sole which ensures that the shoes don't weigh too much and are flexible to use. Also, the stitched tongue leads to better waterproofing and performance and the reflective tape at the back ensures high visibility.
Pros:
Waterproof
Durable and lightweight
Better fit and performance
High visibility
Cons:
Check Price Amazon
---
7) Clorts Womens Nubuck Waterproof Hiking Shoe Outdoor Trail Shoe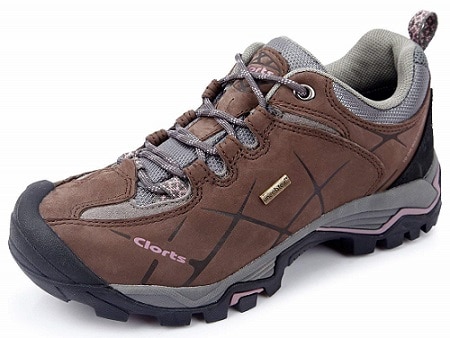 A great pair of waterproof trekking shoes for women, Clorts Women's hiking shoes works well in rain too and offers protection against cold and dampness. It is lightweight and durable and is perfect for trekking, hiking, backpacking, etc. adventures. The Uneebtex waterproof membrane keeps your feet dry and protected when walking on wet rocks or sandy rocks.
Made from breathable materials, this trekking shoes is comfortable and offers adequate cushioning for the entire day use.
Pros:
Waterproof
Durable
Comfortable and cushioned
Cons:
Check Price Amazon
---
8) Unistar PU Anti-Skid High Ankle Extra Cushion Inner Sole Jungle Boots with Dust Proof Bag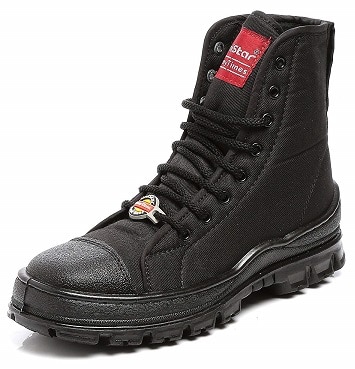 Perfect for long treks on rough terrains, Unistar PU High ankle Jungle Boots has an anti-skid sole which provides great grip and support on the ground. And since it is high ankle boots, you can easily wear it for multi-day treks as it will offer proper ankle protection on the treks and will keep your foot comfortable.
It is also made up of special technology which reduces the chance of bad odor and looks quite stylish and modern. The lace-up closure offers you flexibility and makes it easier to get the perfect fit while being comfortable at the same time.
Pros:
Anti-skid sole
High ankle trekking shoes
Comfortable and flexible
Cons:
Check Price Amazon
---
9) Wildcraft Women's Trekking and Hiking Footwear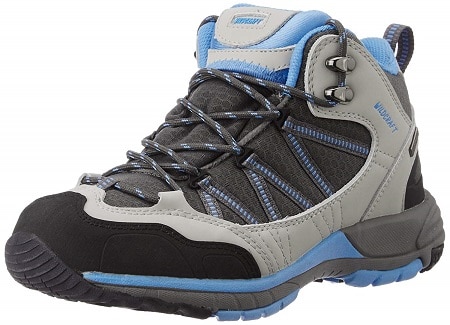 Wildcraft is famous for its durable and sturdy products and this women's trekking footwear is no different. This lace-up closure trekking shoes with flat heels is an ideal choice for normal day treks and would easily last for a long time.
The synthetic material used in the making of this pair of trekking shoes makes it slightly breathable and comfortable to wear. Although you might need to order one size bigger for it to fit perfectly but overall, it is a great choice for beginner trekkers and hikers.
Pros:
Durable and sturdy
Lace-up closure
Breathable and comfortable
Cons:
Size too small
Ideal for short treks
Check Price Amazon
---
10) Coasters Unisex Synthetic Trekking and Hiking Shoes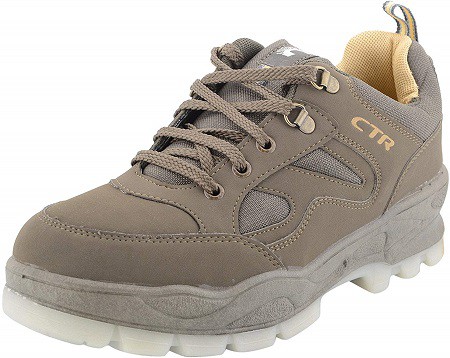 This pair of unisex trekking shoes is simple yet comfortable and perfect for short day hikes. It features sticky rubberized soles which allow you to walk comfortably both on the glass and rocky surfaces. And it is both comfortable and a perfect fit so you can wear it for a long time without feeling uncomfortable.
It is also extremely affordable and has a stylish design which makes it good for casual use as well.
Pros:
Affordable
Comfortable and good fit
Sticky rubberized soles
Stylish design
Cons:
Check Price Amazon
---