Saaf Paani or Drinking Water ,are you sure that you are drinking clean water ? Money hungry brands spreading misinformation and selling unhealthy water purifiers through marketing gimmicks. Denying you of clean water.
But this won't happen after today, because today I am going to tell you the best water purifiers that you should buy.
Hello Friends, I am Shubham from Shubz Gadget Reviews and today I am going to tell you about the best water purifiers that you should buy in India 2022.
This post is not sponsored by any brand.
Important Points Before Buying a Water Purifier
Before buying a water purifier you have to understand what does these filters do inside the water purifier and how they work.
RO Membrane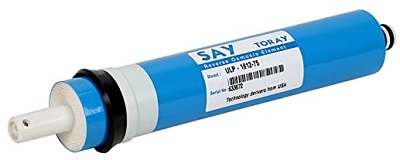 In any old type of water purifier you will find a membrane like this. This membrane can remove 80-90% of TDS from water but the problem is that to give 1L of pure water it consumes upto 3L of water.
The biggest disadvantage is that it removes important minerals like Sodium , Magnesium , Calcium etc completely from water.
Modern water purifiers have solved this problem , which we will see later below.
UV Filter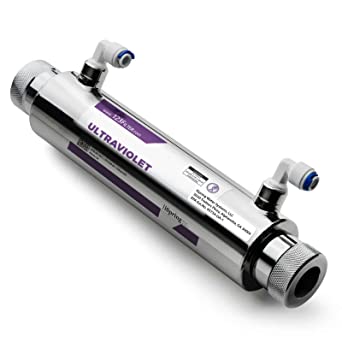 UV filter removes germs, bacteria and viruses from water completely without changing the taste of water. Which is all a completely chemical free process.
UV rays do not stay in water after the process is complete making the process completely safe.
UF Filter

A UF filter removes all suspended solids ,large particles, dead bacteria & germs. But it cannot lower the TDS of water as it cannot remove Total Dissolved Solids from water.
So , UV + UF filters are not recommended to be used in areas with high TDS water levels.
MF Filter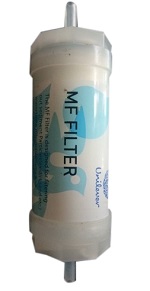 It works in a similar way of UF filter and removes large solids like dirt, sand, rust etc from water. Both UF and MF use a semipermeable membrane to filter the liquid and remove particles depending on the membrane's pore size.
MF is also unable to remove TDS , it is always installed outside of water purifier.
MTDS (Manually Total Dissolved Salts Controller)
Nowadays you will see MTDS or TDS controller in water purifiers. It just mixes purified water with raw water which is not healthy. So I will suggest to stay away from TDS controllers and do not increase the TDS level to improve taste.
Kangen Water
Although people are crazy about Kangen water , but there is no scientific evidence that it slows aging or provide any health benefits. Most likely just a marketing gimmick.
It is useless to drink high alkaline water as body as body automatically brings pH level of everything to 7 which is the normal alkaline level of body.
According to Bureau of Indian Standards (BIS) the TDS level should be 500 ppm while WHO recommends 300 ppm.
If the TDS in your Municipal Water Supply is less than 250 ppm then you do not need RO purifier , just buy UV + UF purifier.
If you get ground water supply or the TDS is above 300 then you should definitely buy RO water purifier and do not buy UV + UF purifier.
To check the TDS level in your water supply at home you can buy this TDS meter which only costs around ₹300 and check the TDS level yourself before buying a water purifier.
Most water purifiers have have a life of 4000 to 6000 liters after which filters will need to be changed so do remember it and change on time. Steel or plastic body doesn't matter as long as it's kept out of Sun.
It is very important to know about the AMC (Annual Maintenance Contract) of the brand your going to buy as every brand has different cost of changing the filters and doing maintenance work. We will try to tell you AMC charges of all brands that we recommend.
Best UV+UF Water Purifier (For TDS Below 200 ppm , Municipal Water Supply)
Eureka Forbes AquaSure From Aquaguard Amaze UV+UF Water Purifier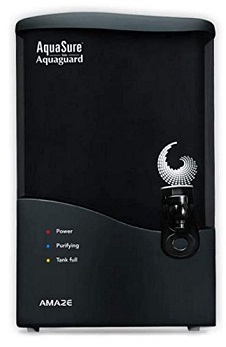 My number 1 recommendation for UV+UF water purifier is this water purifier from Eureka Forbes. I am using this brand since past 4-5 years and service is always on time , they have a dedicated app to raise complaints and monitor you AMC.
The AMC Contract covers replacement of worn-out / exhausted parts, including Ultra Violet Lamp with new / rectified spares for all products / attachments:
A technician is assigned as soon as you raise complaint in App and issue is resolved in 24-48 hours. If your under AMC then all parts are changed for free as long as there is no external damage. My whole chipboard was changed for free after a malfunction.
5 Stages of filtration
15 L/H filtration capacity
Best suitable for Municipal Water, TDS Below 200ppm.
LED indicators for tank full, purifying and power on.
Transparent tank , alerts when service is required.
AMC cost 2400 / year. (Can vary)
7 liter water capacity tank.
1 year warranty.
Good for small families.
I will suggest to turn off MTDS controller for best water quality.
Best RO+UV+UF+Copper+TDS Control+UV in Tank Water Purifier
KENT Supreme Copper RO Water Purifier RO+UV+UF+Copper+TDS Control+UV in Tank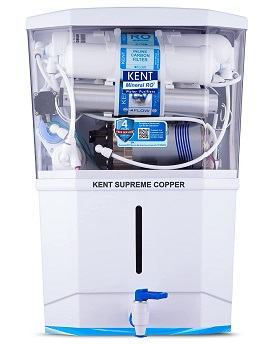 My top pick for a RO based water purifier is KENT Supreme Copper. Kent is a pioneer in water purifiers has a lot of patented technologies which no other brand has.
RO+UV+UF+Copper+ TDS Control
Zero Water Wastage Technology
Wall Mountable
8 litres storage capacity and 20 litres per hour purification capacity
1 year warranty + 3 years extended service free
Don't use TDS control , turn it off. It retains essential minerals , according to Kent.
All electrical parts like pump, adaptor, UV Lamp, etc. and mechanical parts shall be covered under free repair/replacement during AMC.
Consumable parts such as carbon filter, sediment filter, UF membrane, RO membrane, post carbon filter, etc. are not covered in AMC.
In case AMC has not been renewed within one month of expiry, the customer will have to pay Rs. 300/- as service charge + cost of spares if any. For Elite I, service charge will be Rs. 350/-, for Elite II, service charge will be Rs. 450/-.
The AMC cost is around ₹2000 per year but filters etc are not included so it can go upto 4000 to 5000 depending on the quality of your water supply.

Rs.

7,999

Rs. 11,500
2 new from Rs. 7,999
in stock


Rs.

14,799

Rs. 21,500
4 new from Rs. 14,790
in stock


Rs.

15,999

Rs. 21,000
1 new from Rs. 15,999
in stock

---