With the release of Microsoft Flight Simulator 2020, the industry has seen a lot of people jumping onto the hype of flying anywhere in the world and experiencing rich and vibrant landscapes that the game has to offer. Microsoft Flight Simulator 2020 is one of the most ambitious flight simulators we have ever seen, with live weather updates, photo realistic clouds with very believable volumetric details and the vastly detailed cities of the whole world.
Although the Flight Sims does have options to play with a simple Xbox controller, the best way to experience it is with a dedicated Flight Controller. Having such a controller heightens the experience of flying your own aircraft and will make the whole game even more enjoyable for you.
Also Read : Best Racing Game Wheels in India
Main Advantages Of Having Dedicated Flight Controller :
Realism:
You get a very organic and believable feeling when you have a joystick and throttle in your hands. The pleasure of controlling an aircraft with the rumble of your joystick and accelerating with your throttle is exhilarating. Once you experience the joy of using a dedicated controller, it becomes hard to go back to keyboard and mouse setups or even normal PS4/Xbox controllers.

Dedicated Buttons:
On a dedicated joystick, you get all the buttons required to control your aircraft and what's even more interesting is that most joysticks are modelled after actual flight controls, which provides a very authentic feeling. Having these dedicated buttons for landing gears, rudder control, altitude management and perspective change allows you to have a very natural experience. You can also configure all these buttons to any other function of your choice, so the possibilities are endless.
Ergonomics:
If you are in the habit of using your equipment for long flying sessions or you are just an avid gamer, chances are you will be using the controllers for hours on end. Having a dedicated controller ensures that you do not get hand fatigue after hours of usage and you will feel comfortable holding and controlling the joystick and throttle for a long period of time.
Also Read : Best Gaming Desks In India
Ease of Use:
For most beginners, having a basic joystick is much easier to understand and get a hang of, than a controller or a keyboard. The design might look intimidating at first, but the learning curve is very low.
Control:
The primary goal of flight simulating enthusiasts is perfect control over their aircraft and precision over where they are going and moving. A dedicated controller has features that are specially tailored to increase the precision of your aim, maneuvers and your directions.
Intuitive Movement:
The most important difference between a normal PS4/Xbox controller and a dedicated flight controller is movement. A joystick can provide you with precise movements without having to move your hand a lot.Using a D-pad on a normal controller is very cumbersome and often times the directions are not accurate since you do not actually get full 360 degrees of maneuverability.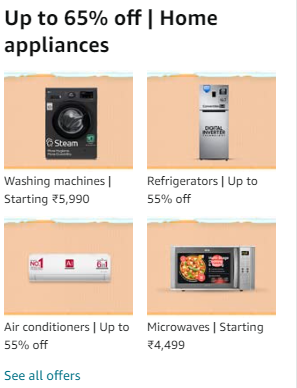 Flight controllers come in various different forms and uses. There are two basic types: universal and realistic. The universal joysticks are more modern and have much better ergonomics. They generally have much more programmable buttons and switches. If you want customizability and like to program your buttons functions to special actions, then these are a good choice.
Realistic controllers are molded and are more akin to real life aircraft controls. If you are going for realism, then these are what you should be looking for.
---
Best Flight Game Controllers in India
In this article,we have listed some of the best flight controllers you can buy,from various price points. We have included budget offerings as well as enthusiast controllers for the ultimate Flight simulator experience.
1. Thrustmaster Civil Aviation Officer Pack Airbus Edition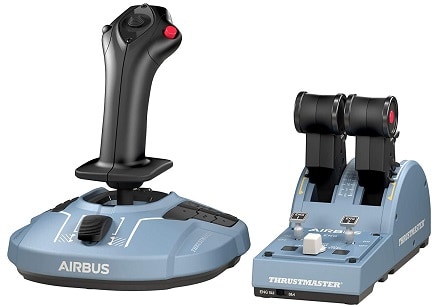 The Thrustmaster Civil Aviation Officer Pack Airbus Edition is a controller for the enthusiast who really wants realism in their setup. The controller is split into two parts, the joystick for controlling the directions and other parameters of your choosing and the thrust levels to control acceleration and similar parameters. Both of them are heavily inspired by the Airbus design and rightly so, since the product is officially licensed under Airbus.
The joystick is inspired by the Airbus sidestick, which is a 1:1 replica. The buttons on the joystick are fully adjustable and customisable. The joystick can also be used as a thrust reverser as it is built into the joystick's mechanism. This means you don't have to use a separate thruster. You can also control the rudder on your aircraft with the joystick if you twist it. The dual thrust levels are also inspired by actual Airbus airliners.
2. Thrustmaster T-Flight Hotas One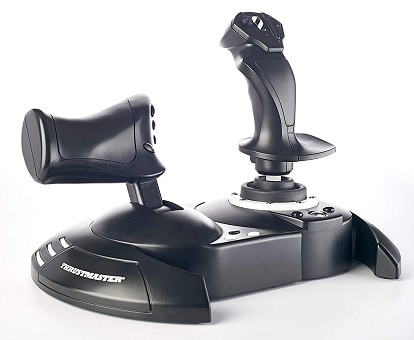 The Thrustmaster T-Flight Hotas One is a great entry level flight controller that has great features without needing to break the bank. The controller has two parts, the primary joystick for directional control and the throttle for speed control. The controller has a total of 5 axes of control, 14 buttons ,1 trigger and 1 hat switch. The throttle is easily detachable and is very responsive. The controller is officially licensed under Xbox which means it will effortlessly integrate with an Xbox One console.
The controllers are very ergonomic and provide comfort for long hours of use.The stick's resistance is also adjustable to the user's needs and preferences.
Also Read :

12 Best Ryzen 7 Laptops In India
---
3. Thrustmaster TWCS Throttle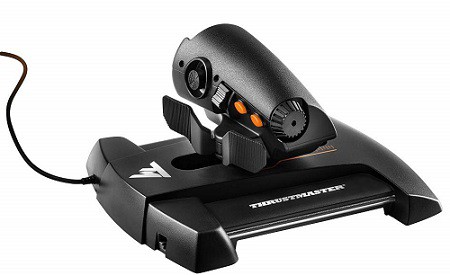 If you only need a dedicated throttle for your flight sim setup, then the Thrustmaster TWCS Throttle is a very good budget offering. The design of the throttle is very cutting edge and industrial. It allows you to have very precise control over the speed controls/ The sliding of the throttle is very smooth and precise. The throttle has a total of 5 axes of control, 14 buttons and an 8 way P.O.V hat switch to change the view of the cockpit. The throttle's friction level can also be adjusted to your personal taste.
Considering you have a ecosystem of flight simulation equipment and you want to add a very good throttle on a budget, this is a great buy
---
4. Thrustmaster T-Flight Hotas 4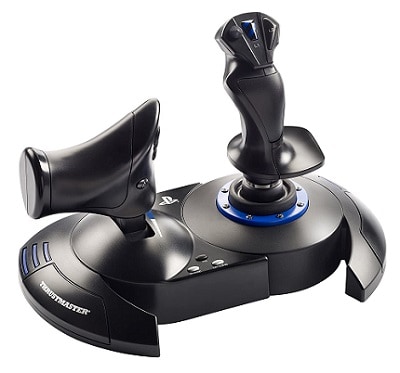 The Thrustmaster T-Flight Hotas 4 is a dedicated flight controller made for the PS4. It has support for PCs too. The controller is very well designed and looks really great. It has blue accents that complement the PS4 system and the rest of the body is black.
The main joystick is very ergonomic and will be comfortable to use for extended periods of time. The joystick's resistance can also be adjustable to your own needs and preferences. The throttle is also well built. It is a full-size throttle which you can use to control the acceleration of your aircraft. The throttle is also detachable, and can be configured in two ways. Completely detached and separated from the joystick or attached to the joystick for more stability and takes less space.
---
Also Read :

Best Ultrawide Gaming Monitors in India

Gaming Monitors Under Rs 20,000 in India

10 Best Earphones Under Rs 1000
---
5. Thrustmaster T 16000M FCS Flight Pack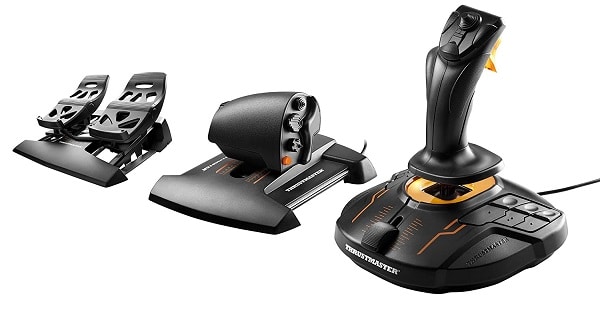 The Thrustmaster T16000M Flight Pack is for the one who wants the complete setup for the price. If you prefer the most realistic simulation you can get for the price,then this pack is a great choice. This pack includes a joystick, a throttle and foot pedals. This is the only product in our list that offers so much. This whole setup is perfect for flight simulation enthusiasts as you get all the major aspects of control for your aircraft.
The main joystick features 4 independent axes and also has rudder control if you twist the joystick. There are a total of 16 action buttons which are fully programmable to your preference. The joystick has pinpoint accuracy and has varying levels of adjustment for its resistance.
The throttle has a total of 14 buttons on it and 2 axes of control over acceleration and other parameters. It has very smooth sliding action and its friction level can be adjusted to your preference.
Another highlight of this pack is the inclusion of the foot pedals. The pedals are mainly for rudder control and are very well built. They are made from industrial grade aluminium. They have very well balanced sliding and resistance too.
---
6. Logitech G Saitek X52 Pro Flight Control System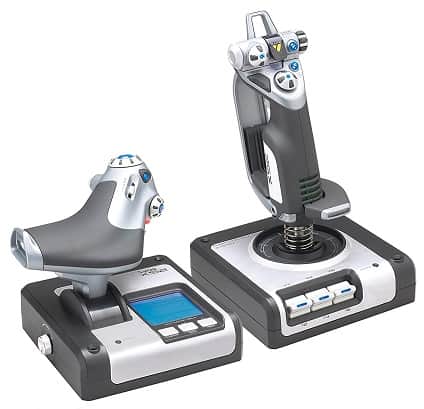 If you are into peripherals and computer equipment, then Logitech is one of the most recognized brands you will find. The X52 Pro is one of the premium controllers you can find in the market. The keyboard has an LCD screen too that displays important data that you can program yourself. It is programmable with a minimum of 104 programmable commands. It also has a stopwatch function.
The joystick is very accurate and has a self centering mechanism, which means the joystick will easily return to the neutral position after you let it go.
The Throttle is fully adjustable and the unit is very responsive. It's tension can also be adjusted to your preference.
---
7. Logitech Attack 3 Joystick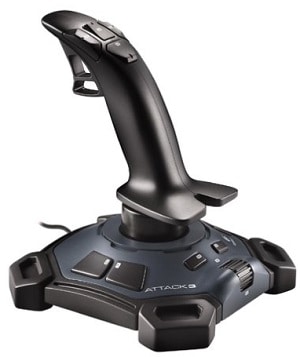 If you want the best joystick for the price, then the Logitech Attack 3 is one of the best options. This joystick has very precise controls and will let you have pin point accuracy when you are flying your aircraft. It has a total of 11 programmable buttons that you can fully customise. It also has throttle control built in, with accurate handling and a stable weighted base. The handle is also ambidextrous, which means it is usable by both right as well as left handers.
Also Read :