If you're looking to upgrade your processor or building a PC, the toughest decision is to know just which processor is right for you and picking the one that suits your needs and your budget can get tricky especially when there are just so many choices out there. We'll take a look into the Top 10 AMD processors to buy in 2020.
You may have already thought just reading the title that why AMD and not Intel? Let's talk about that. Now whatever stance you may have on Intel vs AMD, AMD has been giving Intel a run for its money by chugging out some exceptional processors for an even more exceptional prices especially with the current 3000 series and the recently launched 5000 series already out performs Intel's current line.Up until now Intel had an advantage when it came to gaming as core intensive games took advantage of Intel's higher power single core performance but with AMD's 5000 series that is going to change.
The single core performance on AMD's 5000 series has left Intel's top of the line chips behind and overall AMD does provide a better value for your money. The price to performance ratio with AMD is definitely something worth considering here guys. And that's one of the reasons AMD has been growing in popularity in recent years and becoming a favourite among the masses.
Article Contents
Best AMD Processors in India
Finally coming to the list you guys were waiting for. We will look at the top AMD processors to go from starting from the lower end models to high end one's. Let's take a look on our list.
1. AMD Athlon 3000G
Entry level chip suitable for low end PC's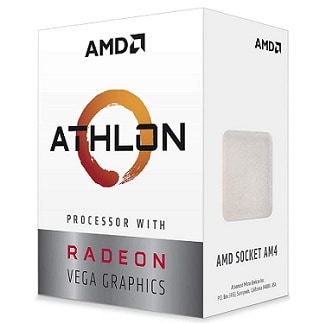 | | |
| --- | --- |
| Cores/ Threads | 2 cores and 4threads |
| Base Frequency | 3.5 GHz |
| L3 Cache | 5 MB |
| TDP | 35W |
Starting off our list we have the AMD Athlon 3000G. The G here denotes that this is an APU which means it comes with an built in graphics card specifically the VEGA 3. This is an entry level chip suitable for low end PC's used for word processing and browsing. It does come with multithreading which is a plus point at its price and the onboard graphics card means you don't have to invest in a seperate graphics card.
---
Also Read : Best RAM in India (Mhz, RGB, DDR4)
2. AMD Ryzen 3 3100
Can easily perform most of your day to day operations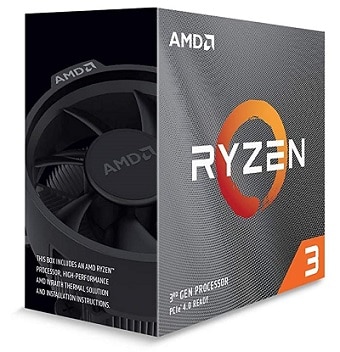 | | |
| --- | --- |
| Cores/ Threads | 4 cores and 8 threads |
| Base Frequency | 3.6 GHz |
| Max Frequency | 3.9 GHz |
| L3 Cache | 16 MB |
| TDP | 65W |
This is quite a capable chip that is available for an extremely affordable price. It can easily perform most of your day to day operations with an ease and given it comes with 4 cores and multithreading on top of that. So each of your cores can carry out two tasks simultaneously without any hassle. A great choice for basic needs and it also supports PCI Express 4.0 support which means when paired with an SSD you can reach read and write speeds of 5GB per second.
This is not an APU so you'll need to have a seperate graphics card. You can use this one with an entry level graphics card or any graphics card from Nvidia's 10 series and you can play older and modern titles at 1080p medium settings at 60fps. You also get a Wraith cooler bundled in with this CPU. All in all it's a bang on for the budget PC'S
---
Also Read : 10 Best Gaming Chairs In India
3. AMD Ryzen 3 3200G
Budget friendly , Definitely not built for gaming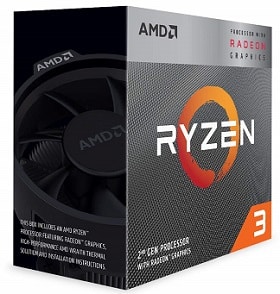 | | |
| --- | --- |
| Cores/ Threads | 4 cores and 4 threads |
| Base Frequency | 3.6 GHz |
| Max Frequency | 4 GHz |
| L3 Cache | 6 MB |
| TDP | 65W |
Ryzen 3 3200G is a budget friendly offering from AMD. This is a quad core processor based on 12 nanometre architecture which for the price is quite good. But it doesn't come with multithreading support as you can see in the specs table.
This is one of the few APU's available in the Ryzen series and it comes with the VEGA 8 integrated graphics that means if you're building a budget PC you don't need to look out for a seperate graphics card. And when it comes to built in GPU, Vega 8 is no slouch as you can play older AAA titles at 720p 60fps and 1080p but with half the frame rate that might go even lower. This is definitely not built for gaming but the fact that it can handle this much is impressive in itself.
---
Also Read : 10 Best Racing Game Wheels in India
4. AMD Ryzen 5 3400G
Budget beast , Low FPS Gameplays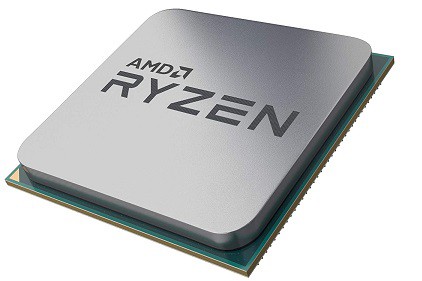 | | |
| --- | --- |
| Cores/ Threads | 4 cores and 8 threads |
| Base Frequency | 3.7 GHz |
| Max Frequency | 4.2 GHz |
| L3 Cache | 6 MB |
| TDP | 65W |
This is another quad core processor from AMD that is based on a 14 nanometre architecture and comes with integrated graphics. It's the higher end of the 2 APU's available in the Ryzen series but unlike the 3200G, this one comes with the multithreading support. It also comes with higher clock speeds so all this gives a boost to performance when running multiple CPU intensive applications.
It comes with VEGA 11 integrated graphics which is definitely a step up from the VEGA 8 found in the 3200G. The higher price of 3400G gives you higher clock speed and boost in graphics performance as you can play older and some modern AAA titles on 720p 60fps on medium settings no issues and 1080p 30fps on medium as well which you can take as high as 60fps by sacrificing on quality. All in all it's a budget beast for what it's priced at.
---
Also Read : Best Internal SSD for Laptop/PC in India
5. AMD Ryzen 5 3600X
Highly recommended for serious gamers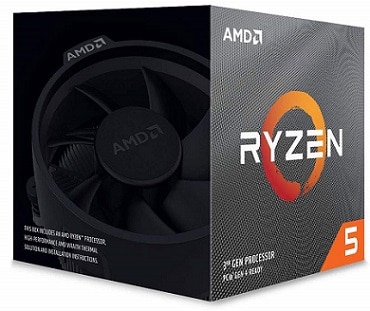 | | |
| --- | --- |
| Cores/ Threads | 6 cores and 12 threads |
| Base Frequency | 3.8 GHz |
| Max Frequency | 4.4 GHz |
| L3 Cache | 35 MB |
| TDP | 95W |
Ryzen 5 3600X is an all rounder processor when it comes to performance be it for gaming or for multitasking. This one delivers on all aspects and the advantages that it offers don't cost you that much either. The 6 core and 12 threads ensures that it takes care of most of the heavy core dependent applications without sacrificing much in performance. It also comes with PCI Express 4.0 support when you pair it with compatible motherboards like B550 and is based on the Zen 2 micro architecture.
This one is highly recommended for serious gamers. It doesn't come with an integrated graphics card but if you hook this processor up with a decent graphics card from Nvidia's 20 series and it will not only play your modern titles without any sweat but you can go even higher and play 4K games at 60fps too. Games like GTA 5, Far Cry 5 can be played at high settings pushing over 100 fps at 1080p.
You can even go for it's older variant 3600 but you will lose out on the PCI express 4.0 support or if you can get a good deal on the newer 3600XT then I'd recommend going for that one.
---
Also Read : Budget PC built Under Rs 25,000
6. AMD Ryzen 5 5600X
Can handle even 4K gaming at high settings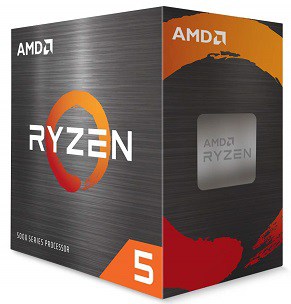 | | |
| --- | --- |
| Cores/ Threads | 6 cores and 12 threads |
| Base Frequency | 3.7 GHz |
| Max Frequency | 4.6 GHz |
| L3 Cache | 32 MB |
| TDP | 65W |
This is the latest one of the latest processors coming from AMD's 5000 series. This is a really powerful processor for its price as of writing this review. It's based on the new Zen 3 architecture and also comes with PCI Express 4.0 support.
The raw performance of this processor shines exceptionally when it comes to gaming. It can handle even 4K gaming at high settings like a champ when paired up with a decent discrete graphics card giving you over 60fps in almost all of the modern titles. It also comes with a Wraith stealth cooler which is out of the box so you don't have to go out looking for a separate cooling solution.
---
Also Read : Gaming PC Assembled Under Rs. 50,000
7. AMD Ryzen 7 3700X
Can do your 3D rendering, editing and demanding tasks with ease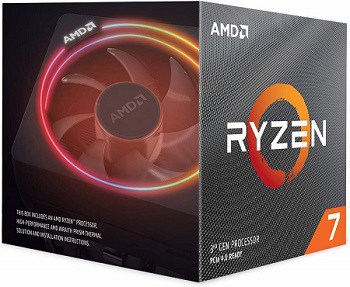 | | |
| --- | --- |
| Cores/ Threads | 8 cores and 16 threads |
| Base Frequency | 3.6 GHz |
| Max Frequency | 4.4 GHz |
| L3 Cache | 36 MB |
| TDP | 65W |
Coming back to the 3000 series we have our next contender the Ryzen 7 3700X. Again a favourite among the PC community but why? Answer is that it can do your 3D rendering, editing and demanding tasks with ease without making a hole in your wallet.
While talking about gaming, it can deliver high fps gaming with Ultra settings on in 1080p and 4K and the difference between it's gaming performance and performance of Ryzen 9 3900X which is a much more expensive and powerful chip is meager. This level of performance and affordabilityIt still falls behind affordability is the reason it has been a popular choice and is a definite recommendation from us.
---
Also Read : 10 Best Gaming Headphones Under Rs. 5,000
8. AMD Ryzen 7 5800X
Great for productivity and creative tasks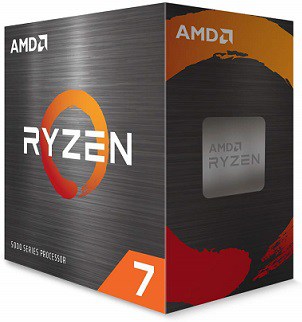 | | |
| --- | --- |
| Cores/ Threads | 8 cores and 16 threads |
| Base Frequency | 3.8 GHz |
| Max Frequency | 4.7 GHz |
| L3 Cache | 36 MB |
| TDP | 105W |
Another CPU from AMD's 5000 series. This is the one that puts it's competition to shame. Not only it performs great for productivity and creative tasks like rendering and 3D animation, it wrecks at gaming even outperforming Intels i9 series. Even with 2 cores less than the i9 it jumps ahead of the competition. The new Zen 3 architecture starts flexing its wings with this one and if you have a budget for it and want to go with a powerhouse of a CPU then this one should appeal to you.
---
Also Read : Best Graphics Cards In India
9. AMD Ryzen 9 3950X
Render those massive 4K videos in minutes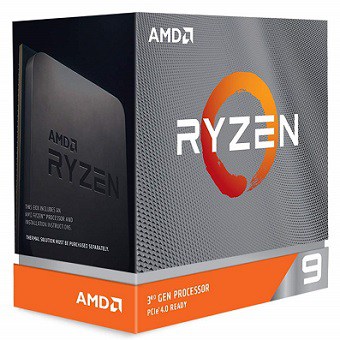 | | |
| --- | --- |
| Cores/ Threads | 16 cores and 32 threads |
| Base Frequency | 3.5 GHz |
| Max Frequency | 4.7 GHz |
| L3 Cache | 72 MB |
| TDP | 105W |
This is the top of the line high end flagship of AMD's Ryzen series of processors. It's the best the 3000 series has to offer and this one is no joke. It's a monster of a CPU that can help you render those massive 4K videos in minutes. It kills when it comes to multitasking and carrying out intensive heavy tasks with it's 32 threads you shouldn't have a problem no matter what you're doing.
---
Also Read : Best Gaming Desks Tables In India
10. AMD Ryzen 9 5900X
No issues with 4K gaming pushing higher than 60fps with max settings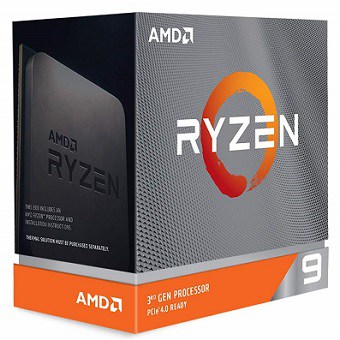 | | |
| --- | --- |
| Cores/ Threads | 12 cores and 24 threads |
| Base Frequency | 3.7 GHz |
| Max Frequency | 4.8 GHz |
| L3 Cache | 64 MB |
| TDP | 105W |
This is also the high end of the latest 5000 series of chips from AMD. Again it's a beefy production level CPU that comes with all the bells and whistles the Zen 3 architecture has to offer. Similar to the 5800X and 5600X it's based on the 7 nanometre finfet process.
This is not a cheap processor. It's for people in productions or who are working on 3D animation processes. This chip has no issues with 4K gaming pushing higher than 60fps with max settings when used with a top of the line graphics card. It even performs almost as good as the Threadripper series which is why I excluded them from this list as not only you'd require a seperate kind of motherboard for it but the premium price you will be paying for Thread Ripper gives you only a marginal improvement compared to this one.
Also Read : 7 Best Flight Game Controllers in India
---
Get Familiar With Processor terms (Core , Multi Threading, Clock Speed, TDP , iGPU , Cache)?
There are a lot of things to consider when picking a processor. There are a lot of terms which differ depending on brand and different generation of processor which might get confusing when you take a deep dive into it but don't worry, we did all the homework so you don't have to.
Cores:
Every CPU consists of cores. These are like Tiny processors within a processor. These cores carry out your tasks that you're doing on your computer. In early days CPU's used to to come with a single core processors which used to be enough as those were lightweight task which didn't require much power but as the software and gaming innovated it became more and more resource hungry and a single core couldn't handle multiple resource hungry task at once leading to sluggish performance as that single core was responsible for handling all the operations hence it struggled. This leads us to using multi core processors which distribute these tasks among multiple cores and provide a smoother experience with minimum to no lag whatsoever. It is recommended to go with at least a quad core processor if you're in the market for a CPU today. One thing to remember is a multi core CPU is as good as the software it's used for. Not every software can utilise all the cores at once.
Also Read : Gaming Monitors Under Rs 20,000 in India
Multi Threading:
Having a higher number of cores is just the one part of the equation. Yes these cores can carry out multiple tasks at the same time but for a demanding use this might not be enough. Threads is the number of processes a processor can handle at once. Now you would think the number of cores in the processor equals to the number of tasks it can carry out simultaneously right? Well in theory you would be correct but here's where multi threading comes into play. Multi threading allows the cores to carry out two individual tasks at once. This is done by leveraging the unused part of the core to another task which basically not only enhances your multitasking experience but also provides great performance overall. AMD calls this process Simultaneous Multi Threading (SMT) and Intel calls this Hyper threading. This is why you would see 4 cores 8 threads or 8 cores 16 threads when you look in the description. Multi threading basically doubles the capability of cores.
Clock Speed/ Frequency:
The frequency or clock speed of the processor shows how fast it can operate. It is measured in Hertz (Hz) and processors generally come with Gigahertz (GHz) of frequency these days. The rule of thumb used to be the higher the frequency, the better the performance up until a decade ago. This does not hold up nowadays as the processors are built on different architecture which means not in every case higher frequency means higher performance. Performance can vary based on the architecture of the CPU and it's boost speed.
The boost speed or also known as the practice of overclocking is where you push your CPU's clock speed to its limits higher than it's stock frequency it came with out of the box. This will obviously give you enhanced performance but it also comes with its quirks. Like first of all your CPU must be unlocked in order to be overclocked. Luckily almost all of AMD's lineup of processors are unlocked. Next you'll need to invest in a motherboard that supports overclocking, a cooler to keep you overclocked CPU cool as boosting increases the temperature at which your processor operates in so investing in an expensive cooler is a must or your processor might end up crashing. This practice is enjoyed by many enthusiasts but I wouldn't recommend doing it unless you know what you are doing and you really need that extra clock speed.
Cache:
Cache is just like the memory on your computer. Cache is the on board storage of your processor which speeds up the access to storage of data and instructions to be carried out by the processor. It has extremely fast memory and since it's located nearest to the processor, it allows the processor to retrieve files from it very quickly. A cache has 3 levels. L1 is the fastest but it's really small in size, L2 is slower than L1 but has a little more amount of storage and L3 is the slowest of the 3 but has the most memory. Whenever you read specifications of a processor, they'll let you know the amount of L3 cache available on the processor. The higher the cache the more amount of instructions and data it can have access to quickly and carry them out. But I would say it's hard to equate how cache actually helps out in real world performance so I would recommend not to prioritise it over other features.
Also Read : Best Gaming PC Cabinets Under Rs 5000 in India
Thermal Design Power (TDP):
TDP is the specification of the maximum amount of heat your CPU can output. When put through heavy loads of working a CPU can get really hot and TDP is the measure of the stock temperature a processor can reach although this varies from processor to processor and also the architecture of the processor. It is generally measured in Watts.
With the help of TDP specification you can find out what kind of cooling system suits best for your CPU to dissipate heat. A proper cooling system will keep your CPU around 65° to 75° mark. This will also help you know what kind of power supply you will need for your PC so that the cooling system gets enough juice to keep your precious processor nice and cool. Most AMD chips come with a cooling fan so if you're buying AMD you shouldn't worry too much. You should also keep in mind that overclocking will drastically increase the temperature generated by your processor so if you're planning on overclocking or might overclock anytime later on then do consider a sufficient cooling system.
Integrated GPU (iGPU):
When building a budget PC, iGPU can play a key role. iGPU are graphics processing units that come pre-integrated with your CPU. They will carry out all the graphic related tasks including games to certain extent. These can be helpful when you are not looking for a heavy gaming build or short on money to buy a discrete graphics card.Do not that these won't be able to give you extreme gaming performance. Don't even expect gaming at 1080p as they can't fulfill those demanding resources. Not all CPUs come with iGPU as usual discrete graphics cards are more preferred. If your processor does not come with an iGPU then you will need a graphics card. The processors that come with iGPU are called Accelerated Processing Units (APU). AMD chips that come with iGPU will have a "G" at the end of product name and are APU's.
Compatibility:
When talking about processors, compatible or socket compatibility to be more exact should be an important concern. If you're not familiar with socket compatibility then it's just the interface between your chip and the motherboard. What makes it a concern is not all motherboards will support all chips although the difference usually varies in generation to generation rather than individual chips. So if you have an existing PC and are looking to upgrade then you should keep in mind what kind of socket your motherboard has and which chips are compatible with it. Same way alternatively if you are building a new PC then you should consider the kind of socket required for your preferred processor. When talking about AMD specifically, almost all of their Ryzen and current Athlon series of processors is compatible with AM4 socket architecture although with the 3000 series things did get a little confusing as they launched so many variations of chips but if you have a motherboard with AM4 compatible socket then it's likely the current Ryzen chips will support it. As I've mentioned earlier, if you are planning to overclock your processor then make sure you have a motherboard that supports that as well.
Also Read :
Asus Vivobook Gaming F571GT Review
How to choose the right processor?
I hope by now you've gotten familiar with all the basic components and specs you should look out for when buying a CPU. You might want to just go out there and buy the best one in the market or might think to yourself if you'll get the performance you need on a tight budget. Don't worry, we will now let's talk about what kind of processor will best suit your needs and then we'll jump right into our list of processors.
Basic:
Let's say you just want to do some office work. Nothing heavy or intensive just browsing web, online shopping, watching web series to pass the time or maybe some light games on the side. Then you don't need to go all out on a beefy powerful processor. Your needs are simple and most processors, even the cheapest entry level one with 4 cores at max can carry out these tasks fluidly without any issues. These processors can cost anywhere from 6000₹ to 11000₹ at maximum. Most processors these days, even the cheapest one's are can output decent performance. It is also recommended to go with a processor with integrated GPU as you won't have to invest in a seperate graphics card and it's unlikely you will require it. The integrated GPU will be able to handle some amount of gaming as well but nothing intensive or high end. You won't face any major drops in performance unless you start pushing it with heavier gaming and have like 15 tabs open in chrome. Instead you can use the money saved and invest in other components. Remember that the processor is as powerful as the components used along with it.
Gaming:
If intensive gaming is what you're planning to do and what to enjoy most of current AAA titles and the upcoming one's as well on your PC and you want those sweet high FPS at 1080p or 1440p with high settings then you'll definitely need to invest a lot more into your processor. Ryzen 5 series of processors will definitely fulfill most of your gaming needs for the next few years without costing much although any processor with frequency of 3.6 GHz or higher will suffice your needs. These can cost anywhere around 16000₹ to 35000₹. Make sure to keep the TDP into consideration as intensive games can get really demanding and can heat up your CPU. Most importantly you need to understand that when it comes to gaming, a graphics card plays a much important role so you will need to invest a lot more on graphics card compared to CPU so plan out your build according to that. Going with APU's with integrated graphics is not recommended here since the integrated GPU won't be able to handle heavy games and won't provide high frame rates on higher resolutions so if you're planning on using a discrete graphics card or saving money for one then go with a powerful processor.
Also Read Gaming Laptop:

10 Best Gaming Laptop Under 60,000

Best Gaming Laptops Under Rs 50,000
Editing, Workshop and Streaming:
Now if you're into graphics designing, video editing or streaming then you will have to look for a core heavy CPU that can handle multitasking. You don't want to sit till your video finishes rendering and work on other things while at it like creating a thumbnail or adding after effects or maybe you're creating 3D animation models so these things need a processor that can handle multiple tasks. Or if you want to play your favourite game on high settings while also streaming it then you want to take a look into Ryzen 7 series. These are the high end line of AMD's Ryzen series and have higher number of core count like 8 cores, with high frequencies and multithreading is where they excel at. They are also a good option if you want a reliable chip that is future proof and can last for around 3 to 5 years. They can decrease the amount of time to render that video you're working on while you can also carry out other other tasks without facing any hiccups and lags or you can stream at 1080p 60 without having any performance drops on the game you're playing.
Workshop and Production:
If you're tired of waiting for hours for that 4K video to render or looking to get the most out of your computer and push the limits of current computing then you should splurge on the top of the line Ryzen 9 and Thread Ripper series from AMD. These are extremely powerful processors with the core count that can go as high as 24 cores and 48 threads. Forget stutters or performance drops these beast of chips. They provide extreme multitasking power so you can Stream, play your games at Ultra settings with 120fps or higher and stream all at the same time. Maybe you're going to use it for corporate purposes where a large amount of data needs to be computed. These chips can handle any number of operations thrown at them without any hassle but one caveat here with going so high end is that these are not affordable and can only be recommended if you really require all this raw power. Not only the chips themselves are quite expensive but you will also require other high end components to go with them as under powered components will not be able to take complete advantage of the CPU plus the cost of running that PC will reflect on your TDP as they can get really hot too. So keep that in mind to go with these only if you have the heavy duty requirement for it.
---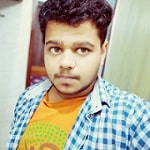 This Article is Written By Anshuman Jain
I'm a college student pursuing computer science and indulge myself in tech and video games. I'm great at nitpicking and pointing out even the smallest flaws. Instagram
---
Also Read :
10 Best Earphones Under Rs 1000