You may have bought the world's best projector but it stands wasted if you have a not-so-worthy projector screen to pair it with. The screen quality is equally important as the projector since that's the surface where your content will be displayed.
The fabric needs to be perfect for good visibility, so is its size to make it visible even in the opposite corner of the room. Coupling the right screen with your projector can be a difference between day and night and you must know how to choose the screen that is good for your setup.
Who is this for?
True movie buffs who cannot have anything below a cinema-like experience in their own house will definitely invest in a high-quality projector that needs to be paired with a similar-quality screen. Movie watching experience in a home theatre is miles better than what a standard TV can offer, majorly because of size limitations.
On the other hand, office managers who indulge in a lot of presentations and corporate videos will definitely need a projector screen placed in their conference room. The screen will come in handy on several occasions when it will be readily available to begin presentation without having to waste any precious time.
Best Projector Screens in India
1) Elite Screens Sable Frame B2 100-Inch Projector Screen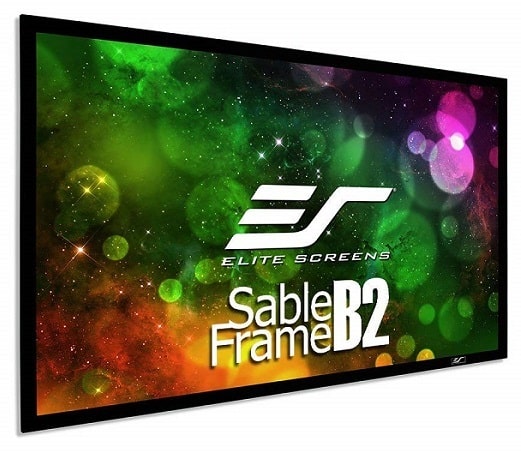 Pros:
With its 100-inch size and 16:9 aspect ratio, you will be able to enjoy all kind of video formats, from olden 4:3 TV shows to widescreen movies. This screen comes with support for 4K and 3D videos, which have become a standard now.
Setting up the screen is quite easy with its sturdy aluminium frame that has a combination of a tensioned rod and spring to hold the entire setup in place. On the sides, there is a thick black border that absorbs the projector overshoot to give you a clean, theatre-like viewing experience.
Cons:
A bit on the higher end of the market and requires an equally premium projector to fully utilise its potential.
Check Price : Amazon
---
2) ELCOR Motorised 106-Inch Projector Screen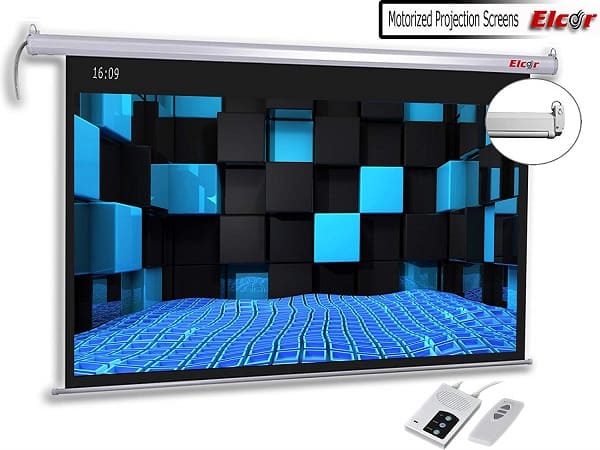 Pros:
Possibly one of the most complete packages in this list, the ELCOR projector screen can be rolled in and out using a motorised mechanism that has a companion wireless remote controller.
The screen allows you to place it both on the wall and on the ceiling as per your convenience.
Also Read : 43 Inch Smart LED TV
Its motor is well-lubricated to run for a really long time with silent operation.
The company has used a special fabric together with an anti-UV coating to keep your eyes safe.
With all its features, including support for 4K and 3D content, the screen is an ideal product both for homes and offices.
Cons:
This screen is available only in one size and anyone looking for something bigger or smaller may not find either.
Check Price : Amazon
---
3) Inlight Autolock 120-Inch Projector Screen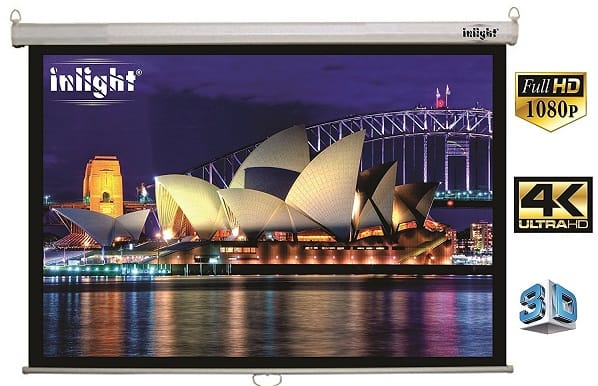 Pros:
People looking for a projector screen only for the official purpose, like displaying presentations, then there cannot be a better screen to accompany your projector, especially given its 120-inch of diagonal size.
With the included auto-lock feature, the screen won't be required to be nailed when unfurled.
Also Read : 32 inch Smart LED TV
The screen fabric itself is fire retardant and offers a 180-degree viewing angle to stay visible even from extreme angles.
Projector overshoot is also masked with a thick black border on all the four sides of the display.
Cons:
Being in the conventional 4:3 format, the screen wouldn't be particularly ideal for a home theatre setup where movie watching is the primary goal. Most modern videos are shot in 16:9 or wider imaging format.
Check Price : Amazon
4) Punnkk E7 Motorised 100-Inch Projector Screen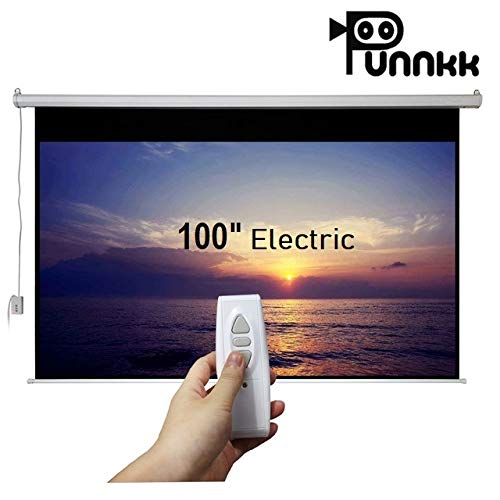 Pros:
Punnkk has created a projector screen that is easy to operate using an attached and a remote controller.
The remote controller itself is well-designed and looks fantastic with just three buttons.
Also Read : 10 Best Smart 55 Inch LED TV in India
The included pins allow you to mount the screen on the wall or the ceiling, depending on the room setting.
Toward the back of the screen, a black material has been provided that keep the images super bright and lively for better viewing.
The high-quality motor is concealed within the top unit and no machinery is visible from the outside.
Cons:
Besides the awkward 4:3 aspect ratio of the screen which isn't ideal for all use case scenarios, this projector screen offers up to 150-degrees of viewing angles that are kind of limiting considering many other products offer full 180-degree support.
Check Price : Amazon
---
Top 20 Best Inspirational Sports Movies
---
5) Inlight 120-Inch Projector Screen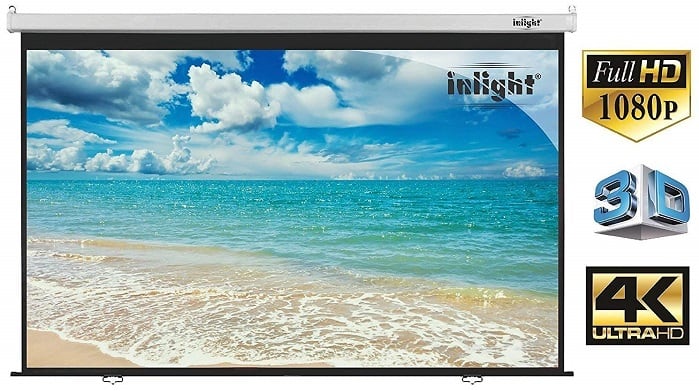 Pros:
This is another projector screen model from Inlight that shares most of its features with the aforementioned one and it comes with a slightly lower price tag without sacrificing much.
This one uses the same premium fabric for the main screen that is great for displaying all kinds of content.
Also Read : 10 Best Party Speakers With Good Bass & Sound in India
It is a pretty massive screen measuring 120 inches from one edge to the other.
Pulling the screen down is made effortless with a spring mechanism, while the screen itself is quite easy to clean.
Cons:
Unlike the Inlight model mentioned previously, it lacks the auto lock functionality meaning you will have to manually hook the screen to a nail from the bottom. Plus, this one also comes with all the negative points that the other model has which can bother a few.
Check Price : Amazon
6) Inlight Map Type 84-Inch Projector Screen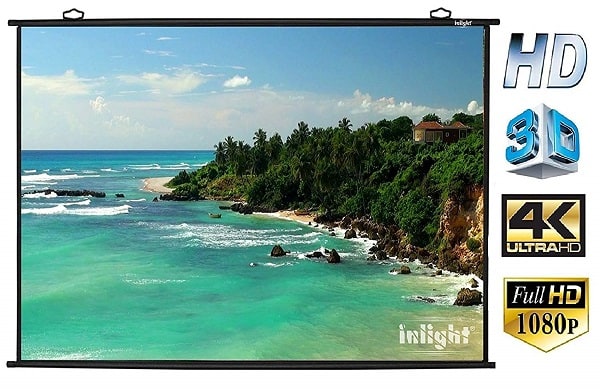 Pros:
Possibly one of the cheapest projector screens on this list, Inlight has made use of the same high-quality fabric for the main screen.
The screen is fit for displaying content in 3D with a resolution of up to 4K.
Also Read : 10 Best Car Coaxial Speakers in India
It is in 4:3 aspect ratio which makes it fine for presentations and there are black borders on the sides to prevent projector overshoot.
Cons:
This is a basic projector screen that doesn't offer any of the premium features that more expensive variants bring to the table. The screen will be hung on the wall like a chart and will have to be pulled down manually for being tucked using nails. With that, some people might find 84 inches small if they're looking for something bigger.
Check Price : Amazon
7) Punnkk I6 Insta Lock 84-Inch Projector Screen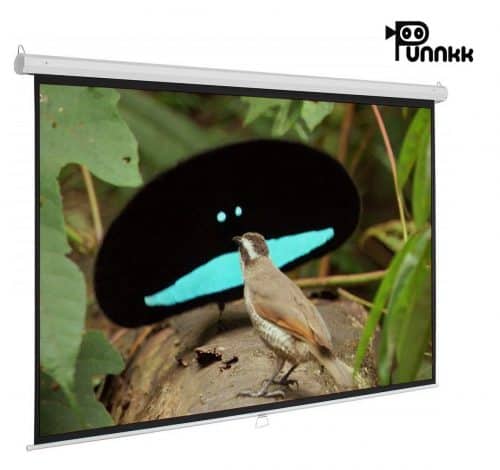 Pros:
Looking for a budget solution for your projector screen needs? This product from Punnkk gets the job done without being way too expensive.
Unlike many screens in this price range, this one comes with an auto-lock feature that locks it in position when unfurled.
Also Read : 10 Best Bluetooth Speakers Under Rs. 1000
The entire display is in 4:3 aspect ratio, but with the locking feature, you can fix it in any position midway to watch widescreen content like movies.
Its back side has a black fabric coating that makes the content being displayed much more vivid and pleasing to eyes.
The size of 84 inches is good for most purposes including those in offices and homes.
Cons:
No motorised mechanism to unfurl the projector screen, which you will need to do manually.
Check Price : Amazon
8) Inlight Cineview Tripod Type 84-Inch Projector Screen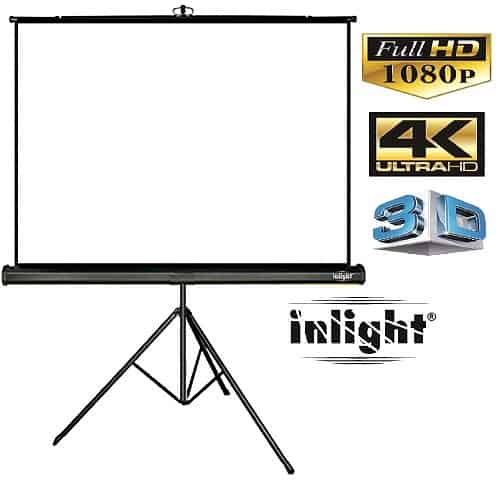 Pros:
For those temporary setups, this tripod-mounted screen is just perfect as it can be packed and unpacked within seconds and get it out of the way when its job is done.
It carries a fairly large size of 84 inches for a portable screen and it should be good for larger groups.
Also Read : 10 Best Bluetooth Speakers Under Rs 2000
Inlight has used the same fabric material as its other models that is specially designed not to strain your eyes and protect them from UV rays.
Black borders and back come together to make the content better visible.
Cons:
Meant to be mounted on a tripod, this screen isn't ideal for settings where you might want it placed permanently. A wall or ceiling mounted screen would suit you better if you'll be using it frequently.
Check Price : Amazon
9) ELCOR EL-84-MT-PRE 84-Inch Projector Screen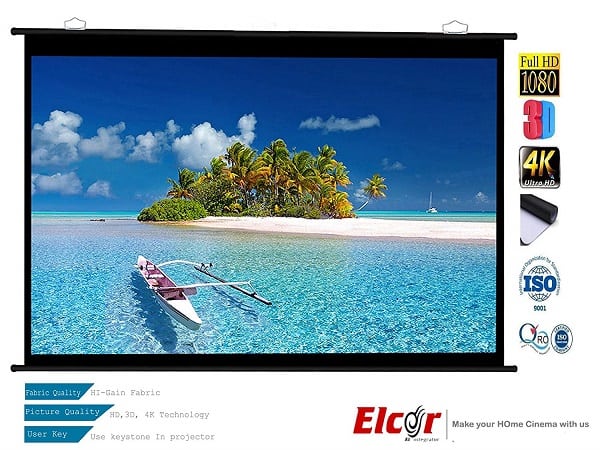 Pros:
On the lower end of the spectrum sits this fantastic projector screen from ELCOR that measures 84 inches from corner to corner in the 4:3 aspect ratio.
If this size is too small as per your needs, then the company also offers an option to go for a larger one measuring up to 150 inches.
Also Read : 10 Best 4.1 Channel Speakers in India
The use of high gain fabric allows for viewing premium content like 3D and 4K, while the blackened borders and back improve the content visibility.
This map type projector screen is extremely easy to up.
Cons:
Like any of the basic projector screens, you can't expect any of the additional features to come packed with this budget screen as well. With a chart-like installation, you will have to set it up manually.
Check Price : Amazon
10) ELCOR Tripod Mount 84-Inch Projector Screen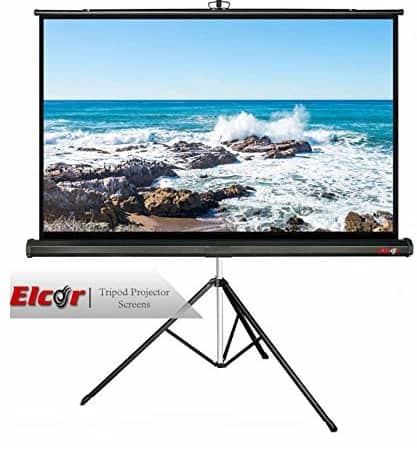 Pros:
ELCOR has made use of a fabric material that is up to 2 times thicker than the one used in the most screen in the budget segment, making it brighter and better visible.
This is aided by a black coating on the back along with black borders on all the sides.
Also Read : 10 Best LED TV in India (Smart / Non Smart)
A sturdy tripod has been included in this package that is designed to take the weight of the screen without tripping.
Its base material is solid metal that will last for many years to come.
Cons:
It is not ideal for permanent setup and will be more of a hassle since the tripod will also be taking a lot of space. If you don't have a specific need for this type of screen, then it'd be better to avoid it.
Check Price : Amazon
How to choose the right projector screen?
Fixed-Frame, Retractable, Motorised, or Portable?
Like its name, a fixed-frame screen remains in its place permanently and cannot be moved by oneself once it's installed professionally. As you'd guess, they need a dedicated wall to be mounted but offer a much better set of features. The retractable screen will be an option for the ones looking not to devote a greater section of their wall.
Even some premium retractable screens come fitted with a motor so that you don't need to unfurl them manually. A remote controller generally accompanies them to make them easier to use. There are chances that you might not want to place a screen in a room permanently, then a portable one will be your best bet. You can pack it within seconds and is lightweight enough to move around.
Screen Size and Aspect Ratio
Depending on the size of the room and the viewing distance for the people in that room, you will have to choose the screen's size. Projector screens are generally larger than conventional LED TVs and the price difference between sizes isn't as prominent. Coming to the aspect ratio, most modern content is produced in 16:9 aspect ratio with movies utilising an even wider ratio. Based on your use, you can choose either.
Gain and Viewing Angle
Gain matters when the room where the screen will be placed cannot be dimmed appropriately, like a conference room in an office. In such cases, you might want to get a screen with a gain of more than 1.0 which will help brighten up the content. Anything below that would need a pitch-dark environment. Again, in an office setting, where many people collectively watch a presentation, you will need a screen with a greater viewing angle.
---
Also Read:
Top 10 Best Portable Scanners in India
Review of the TENHZ P4 Pro Earphones
Top 10 Best Closed Wired Headphones Under Rs. 10,000
Best Multiport USB Wall Chargers in India