Console gaming has come far and beyond from what it used to be. To compete in the rapidly growing environment where PC has been dominating the gaming genre with powerful specifications, Gaming consoles have found their own niche with providing exclusive titles and a complete media experience for your living room.
Console gaming isn't just for the casual gamers, it can be a complete multimedia experience for you and your family and gaming is as easy as plug and play. Sure you don't get to tweak every single element of the game like PC gaming but you get to experience but maybe you are not the kind of person to get so technical with their games, maybe you just want to sit back and relax and play your favorite games.
With the arrival of next generation of consoles, games are just going to look prettier and more life like with additions like Ray Tracing, support for 4K 60fps gaming and super fast loading thanks to the integration of SSDs so if you're wondering what console might be the right fit for your living space or gaming dungeon then look at our list for the best gaming consoles to buy in India right now.
Top 5 Best Gaming Consoles in India
1. PS5/ PS5 Digital Edition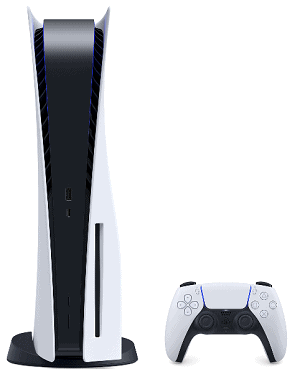 Super fast SSD
Backwards compatibility with all PS4 games
Dual Sense controller feels great
Takes up lot of space
Low internal storage (You only get 667GB of available storage)
PS5 is a next generation console by Sony. It has an unusual design that none of us could have expected. A two tone white and black design with a subtle hint of the iconic playstation blue led which looks like something out of the future. It will definitely be the highlight of wherever you place it and will be a conversation starter. It has a USB type C and USB 3 ports on the front with a suite of ports on the back. But enough about the looks let's get down to specs.
| | | |
| --- | --- | --- |
| | Playstation 5 | Playstation 5 Digital Edition |
| Resolution | 4K 60fps, support for 8K | 4K 60fps, support for 8K |
| CPU | Custom 8 core AMD 3.5Ghz Zen 2 CPU | Custom 8 core AMD 3.5Ghz Zen 2 CPU |
| GPU | Custom AMD RDNA 2 10.28 Teraflops 2.23Ghz GPU | Custom AMD RDNA 210.28 Teraflops 36 CUs at 2.23Ghz GPU |
| RAM | 16 GB GDDR6 | 16 GB GDDR6 |
| Storage | 825 GB SSD | 825 GB PCIe 4.0 SSD |
| Weight | 4.5 Kg | 3.9 Kg |
So as you can see, this console is packing some heat. From the custom processor and GPU to a 16 GB RAM, this is a massive upgrade from the PS4. But I do want to highlight the SSD here because it has a read speed of 5.5 Gbps, there is an expansion M.2 SSD drive as well. Ray tracing is also a major highlight because it provides real life like lightning effects and shadows making games look more true to life.
Backwards compatibility is a tricky one with PS5 as thankfully it supports all PS4 games with only a very minor exception so most likely you will get to enjoy all your PS4 favorites on PS5 too.
PS5 has a new controller called Dual Sense which carries the two tone look and matte finish with a headphone jack and type C port for charging. The controller bears little bit of similarity to the Xbox controller as it has got a little chunky but the stand out feature is the haptic feedback in the triggers which can create a various degrees of stress and vibrations so in a shooter game, pulling the trigger on different guns will give you a different vibration effect.
Coming to PS5 and it's Digital edition. This time both Sony and Microsoft decided to launch two versions of their consoles. A normal one and an all digital one. In the case of PS5 and it's all digital counterpart, you only lose out on the 4K Ultra HD Blu Ray Disc drive so if you have PS4 games on disc then it's a better option to go with the normal version than Digital one.
Also Read : Best Gaming Chairs In India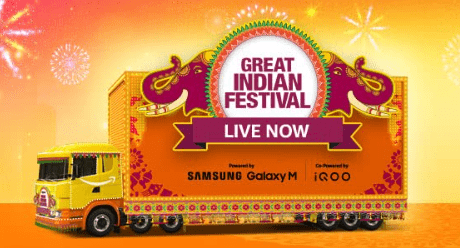 When it comes to price, the digital edition is 10,000₹ cheaper than the normal PS5 at 39,990₹ but in the long term it will end up costing you more since the only way to play games will be digital so goodbye to second hand discs or borrowing one from your friends. Whichever one you decide to go with, you will surely enjoy gaming on the PS5 for the next few years. It's a worthy purchase in all sense of the way.
---
2. Xbox Series X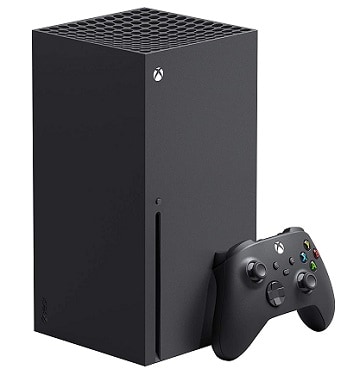 12 Teraflops high performance GPU
Dolby Vision and Dolby Atmos 3D support
Backwards compatibility all Xbox one and Xbox 360 games
Proprietary storage expansion solution
No rechargeable batteries (Will need to use AA batteries)
Xbox series X is the next generation console in the Xbox series by Microsoft, confusing name aside it goes toe to toe with the PS5 and exceeds it as well in certain aspects. From the looks standpoint it looks like a black rectangular box. That's it, nothing fancy just a black box with a cut out for the disc drive, a USB port and an Xbox logo that lights up when you turn on the console. Rest of the ports are at the back of the console including a slot for memory expansion but we will talk about it later. It's a minimal design compared to PS5 and it's even smaller than PS5 too. Coming to the specifications of this console.
| | |
| --- | --- |
| | Xbox Series X |
| Resolution | 4K 60fps, support for 8K |
| CPU | Custom 8 cores AMD 3.8Ghz Zen 2 CPU |
| GPU | Custom AMD RDNA 2 12 Teraflops52 CUs at 1.825Ghz CPU |
| RAM | 16 GB GDDR6 |
| Storage | 1 TB NVMe 4.0 SSD |
| Weight | 4.45 Kg |
When it comes to the performance, on paper the Series X has an edge over the PS5 with higher clock speed on the CPU and a higher Teraflops which in real world shows as well. The approach of Microsoft to have more performance and miss out on the looks is commendable risk and given it is priced at 50,000₹ similar to the PS5, it will give a tough competition to it.
As with the trend of next gen consoles we do have a SSD on board which has a higher capacity than PS5. The issue here is how you get to expand the storage. With PS5 you got a M.2 slot and you could use any M.2 SSD out there in the market but Xbox partnered with Seagate to create their own proprietary SSD that you can use in the expansion slot provided behind the console. You can use an external SSD but you will need to first load your games on the internal drive to play them which just makes it a hassle to have more storage.
The highlight of Xbox Series X is the backward compatibility with all the previous Xbox consoles so you can have a vast majority of games from different generations to play, add to that you also get Game pass which gives you access to online multiplayer and a number of free games.
The controller hasn't seen many changes but has better trigger sensitivity and a resigned D pad, other than that it's similar to the Xbox One's controller.
Also Read : Best Ryzen 5 Laptops in India
For media experience we have Dolby Vision HDR and Dolby Atmos 3D so you will have a great experience no matter if you're playing games or enjoying movies. All in all Xbox Series X is a step in the right direction with specification that will last you this entire generation for a reasonable asking price at 49,990₹.
---
3. Xbox Series S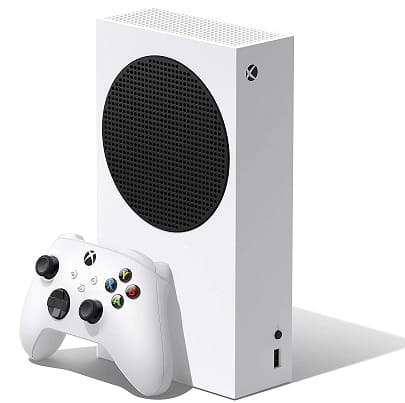 Support 60fps and 120fps
Ray tracing capabilities
Cheapest Next gen alternative
Low internal storage
No support for 4K output
Microsoft released Xbox Series S as an all digital counterpart to the Xbox Series X but unlike the PS5 digital edition which had all the identical specifications as the PS5, the Series S lacks more than just the Blur Ray disc drive compared to the Series X. As for the looks, it looks quite similar to the Xbox One S. It's a white rectangular box with a circular vent and an Xbox logo which doubles as a power button. It's similar in height to the Series X but quite smaller in width and doesn't take up that much space, that is also thanks to its lower end specification which we will take a look at now.
| | |
| --- | --- |
| | Xbox Series S |
| Resolution | 1440p 60fps |
| CPU | Custom 8 core AMD 3.8Ghz Zen 2 CPU |
| GPU | Custom AMD RDNA 2 4 Teraflops20 CUs at 1.565Ghz |
| RAM | 10 GB GDDR6 |
| Storage | 512 GB NVMe 4.0 SSD |
| Weight | 4.25 Kg |
Just by looking at the specs you might be able to tell why I didn't pair it up with the Xbox Series X. Although it's a new gen console, it falls behind a lot when it comes to performance with a significant difference in the GPU. You also get half of the storage compared to Series X which might not be enough for most of the next gen games but there is an expansion slot similar to the Series X.
For media, it has the same Dolby support so movie watching and gaming experience is well handled and ray tracing is also supported so newer games will be able.to take advantage of that.
With this being an all digital console I would recommend you to use it for playing some older games from the Xbox 360 or Xbox one era. The resolution also caps out at 1440p so no 4K. The Series S is priced at 34,990₹. It's not a bad console by any means, just don't buy it as a cheaper alternative to the Series X and instead save a little more for the PS5 digital edition which is more powerful and doesn't even cost that much.
Also Read :
4. Playstation 4/ Playstation 4 Pro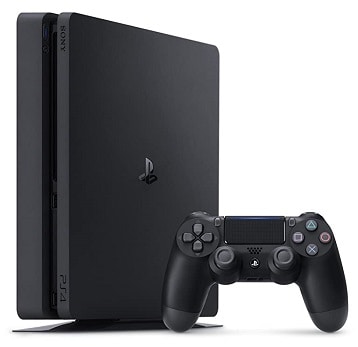 Massive game library with amazing exclusive games
Support for PS VR
HDR support
Loud fan noise
UI lags and stutters at times
Sony's Playstation 4 has proven to be the best console in the current generation selling about 114 million units by November 2020. This is enough to show it's popularity and player base. If that's isn't enough, it has some of the best exclusive games that have won awards every year.
As for the looks, the PS4 and it's Pro Variant share a similar design of a matte black box with a PS logo engraved on top of it, a blu Ray disc drive at the front and 2 USB ports with the Pro variant being slightly taller. It looks sleek and elegant and blends well with the environment. Now let's talk about specification.
| | | |
| --- | --- | --- |
| | Playstation 4 | Playstation 4 Pro |
| Resolution | Full HD 1080p with HDR | Support for 4K HDR |
| CPU | AMD Jaguar1.6Ghz 8 Core | AMD Jaguar1.6 Ghz 8 core |
| GPU | AMD GCN Radeon 1.84 Teraflops | AMD GCN Radeon4.20 Teraflops |
| RAM | 8GB GDDR5 | 8GB GDDR5 |
| Storage | 500GB, 1TB | 1 TB |
| Weight | 2.1 Kg | 3.3 Kg |
With the specifications you can see it has aged, the 7 year old specification with both systems do show their age in 2020 but they still can do some impressive gaming. Don't expect 60fps even with the Pro version but still it can play some of your favourite titles and some of the best looking games that can even give a competition to the next generation system.
The controller in the PS4 has a touch pad on top which isn't that useful in most games other than some exclusive titles. The rumble feature makes a comeback here with better vibrations and a light changing LED indicator at the front. There is a Share button which lets you take screenshots and capture gameplays directly so you can share them and even broadcast live gameplay on twitch or youtube.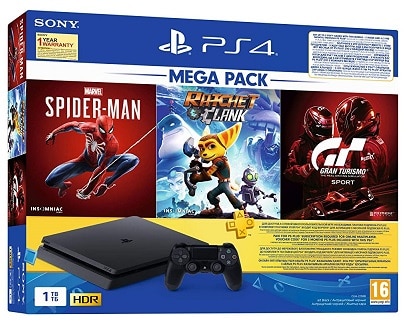 When it comes to media consumption it has all the apps you need, with support for external storage expansion but lack of SSD means you will face those load screens but that doesn't really hinder the overall performance. At today's day and age I would recommend going with the PS4 Pro over the base PS4 just because of the better GPU and performance even if you don't play on a 4K TV but Sony has discontinued the PS4 Pro so if you can find one for a reasonable price then do go with one or else wait for PS5 or if you're short on budget and patience then go with the base PS4 as it is still a great console to this day.
What PS4 Offers?
1) PlayStation is the most popular gaming console in the market right now with a large library of games.
2) The PlayStation 4 pro has fantastic Dual Shock 4 controller allowing for a thicker handgrip.
Also Read : 10 Best Gaming Headphones Under Rs. 5,000
3) PlayStation 4 is enriched with dazzling graphics and a brilliant remote play. PS4 is cheaper than rival Xbox One.
4) PlayStation 4 has extra dedicated RAM allowing for ease of switching between applications.
5) The Pro version is especially Sony's upgrade and the technology of PlayStation 4 is similar to the hardware found in personal computers making it easier and less expensive for game studios to develop games for PS4.
6) One unique thing about PS4 is its ability to offer superior performance over Xbox One when it comes to third-party games.
PS4 however has the following drawbacks:
1) PlayStation 4 lacks backward compatibility, meaning that PS3 games can't be played on PS4 and neither does PS4 supports PS3 accessories.
2) Controllers, Blu-ray remotes and mouse, Blu-ray headsets, etc. used with PS3 just won't work with PS4.
Also Read : 10 Best Laptop Under 60,000 in India
3) The PS4 can't play audio discs, CDs or MP3s. This may be because Sony is trying to promote its cloud-based music subscription service. And it is slightly expensive.
---
5. Nintendo Switch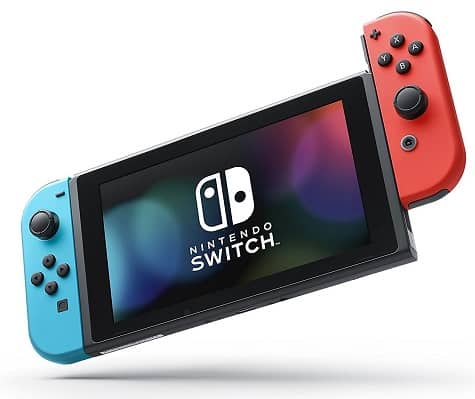 Portable and Can be used as handheld
HD rumble is a great addition
Battery life is quite good
Small screen with only 720p resolution
Low internal storage
Nintendo surprised us all back in 2017 with the Nintendo Switch. This is the first hybrid console with some modular features too. It works as both a handheld console and a home console with it's dock attachment which comes in the box. It basically looks like a tablet with two controller attachments on the side called Joy Cons. This controller can attach to the side of the tablet like screen and can work as individual controllers if you are playing with friends or you can use them when you put the console in dock mode. Let's get the specifications out of the way first.
| | |
| --- | --- |
| | Nintendo Switch |
| Resolution | 1080p output when docked,720p output through in built screen |
| CPU/GPU | NVIDIA custom Tegra processor |
| Screen Size | 6.2 inch LCD 1280 x 720 |
| Battery Size | 4310 mah lithium ion |
| Internal Storage | 32 GB internal can be expanded |
The specification will make you wonder if it's a console or a mobile but that's the thing with the Switch. It's a portable handheld console with the ability to turn into a home console via dock. In docked mode it can output at 1080p via HDMI cable and in handheld mode it outputs at 720p.
The Switch comes with 2 Joy Cons on either side of the console which can be taken out and used as a separate controller or can be used together. They come in a variety of colors and even third party options are available giving you more options and variety. They also feature HD rumble which is a step up from the normal rumble you have seen on playstation controllers. It's crisp and feels better while playing games.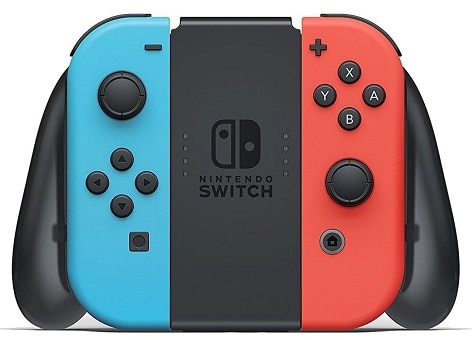 The games on switch don't come in your traditional discs. You can either download them from the Nintendo store or they come in small SD cards like cartridges. For memory it has a 32 GB internal storage which definitely isn't enough but the good thing is you can add more storage using your SD cards. Yes the same ones you use on phones. I would recommend a higher capacity memory card.
The Switch is not going to go against your traditional home consoles, it has created its own niche and people do love this console. It has a great library of all Nintendo exclusive games, a ton of great indie games and some newer heavier titles like Fortnite, Doom and the Witcher 3 too. It is great for kids, casual gamers or people who want to take their games on the go. It is slightly expensive but then again it is one of a kind in it's category.
We have researched the top five gaming consoles that fits your entertainment needs with adequate consideration and comparison of their features, hardware and interface and their digital library.
Points To Remember For Nintendo Switch
1) The Nintendo Switch is well known for its portability, accessibility and it's best for mobility which allows for on-the-go gaming.
2) Though not as powerful as PS4 but Nintendo got out of the game a decade ago. However, the Nintendo Switch has revolutionized the way we play game.
3) The Nintendo switch also enables social gaming which is a trend that continues to grow exponentially in the gaming industry.
Also Read : Best Gaming PC Build Under Rs. 2,00,000 in India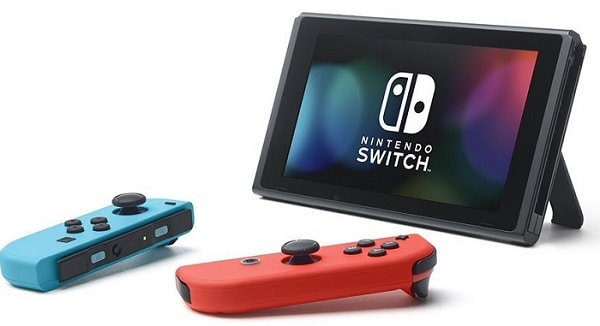 4) It has features for adding friends to connect to other gamers. The combination of social gaming, versatile consoles, sensors, and HD rumble makes the Nintendo Switch enhance gaming experience.
5) The Nintendo Switch's interface allows for easy switch between TV and hand-held devices.
Check Price : Amazon
---
Older Ones
Xbox One X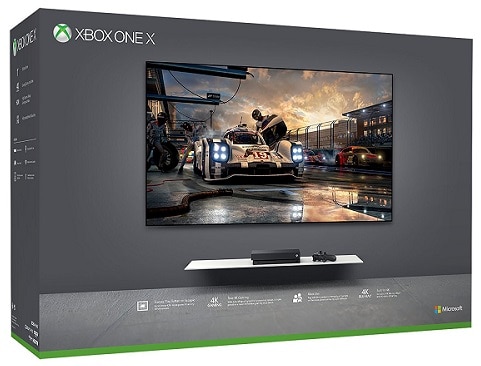 1) The Xbox one offers a very great gaming experience and does what no gaming console has done before : 4K HDR Gaming with 4K Blu-ray player built-in and improved 1080p experience.
2) The Xbox one also offers other benefits beyond gaming especially for social media and entertainment enthusiasts.
Also Read : 10 Best Gaming Laptops Under Rs 90,000
3) For example, if you have a Netflix account you can watch your favorite movies and shows through Xbox One.
4) Furthermore, Xbox one is also a social media machine which improves gamer's gaming experience in a way that keeps players engaged and encourages players to spend more time with their consoles.
5) The Xbox one S allows you to link up to your twitter and Facebook account. With Facebook, you can find more friends to play with. And with Twitter, you can share game clips and screenshots.

6) The X Box One console is however growing more controversial over time. The Xbox One while powerful and wonderful has 1TB hard drive.
7) Gears of War 4 and Quantum Break about 100GB. Rise of the Tomb Raider 51.3GB. This makes Xbox one downloads extremely gigantic and this poses problems in terms of space.
8) Although one should keep in mind that HD features don't come cheap.
Check Price : Amazon
---
PlayStation 3
1) PlayStation 3 is unique for its backward compatibility, meaning that you can play your old PlayStation 1 and PlayStation 2 games.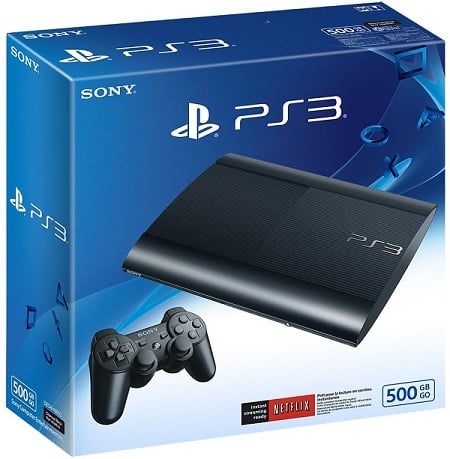 2) Although the newer slimmer version does not have this feature. The PS3 comes with a single wireless Dual Shock 3 controller which connects wirelessly via Bluetooth and is charged with a mini USB cable.
Also Read : 10 Best Gaming Headphones Under Rs 2000
3) Gamers enjoy a wide range of media streaming services with applications for YouTube, Amazon Video, and Netflix making PS3 a far more media machine than PS4.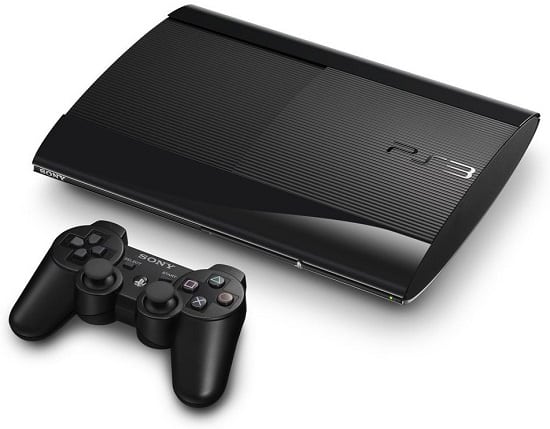 4) Sadly, there's not yet DLNA support for PS4 except through Universal Media Server (UMS). The PS3 can also wireless stream files form other devices. The PS4 does not have this feature except with the use of Plex app.
Also Read : Best Budget PC built Under Rs 25,000
5) PlayStation 3 however has some drawbacks, PS4 has better gaming resolution than PS3. It is undeniable that the PS4's 900p/1080p HD resolution makes even the cross platform game so much better.
---
New Nintendo 2DS XL
1) It gives you access to a huge library of great games, including past DS, NES and SNES classics.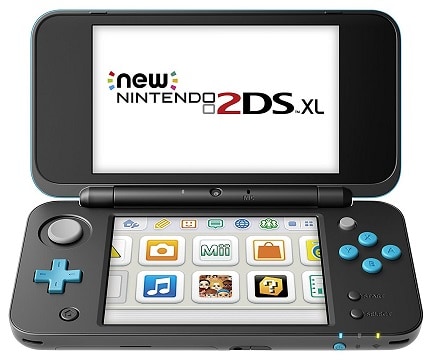 2) It is also portable and built to go anywhere and allows for gamers of all ages to play and it is more user-friendly than the new 3DS XL.
3) Gamers enjoy easy access to external storage and it is affordable. It also comes with a charger.
Also Read : 10 Best Gaming Laptops Under Rs 50000
4) The Nintendo 2DS XL however has shorter battery life than the new 3DS XL, short and this makes gaming experience slightly uncomfortable.
5) Also, the hinge design exposes a small proportion of the camera lens and renders it susceptible to damage if you are not careful.
Check Price : Amazon
---
Also Read:
Best Gaming PC Assembled Under Rs. 80,000
10 Best Professional Gaming Mice Under Rs. 2000
Top 10 Best Customizable LED Gaming Keyboards Under Rs. 5,000